Easter is coming up…are you ready for it? I know I need to get busy getting all of my goodies ready to fill the Easter baskets. Today, we have a list of 87 thrifty and fun Easter basket filler ideas. The basket can't just have grass inside. It's nice to put a few things in there so the kids are excited Easter morning. So look at our list, and I'm sure you will find lots of ideas to fill your baskets up this Easter.
Easter Basket Ideas for Babies (Age 0-2)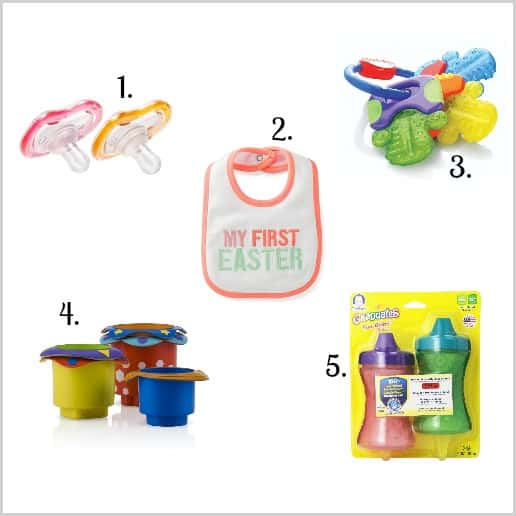 1. Munchkin Latch Lightweight Pacifier
New pacifiers are always a good thing for the babies. It seems you can never have enough of them.
2. Carter's Unisex Holiday Teething Bib
You can only use this once, but it's a must. Keep that Easter outfit clean with this bib to celebrate a first Easter.
3. Nuby Icybite Hard/Soft Teething Keys
Babies love keys. These are perfect for your little one that might be teething.
4. Nuby Splish Splash Stacking Bath Cups, 5 Count
Fun, colorful and great for bathing.
5. Gerber Graduates Fun Grips spill Proof Cup, 2 Count
These are my favorite sippy cups. We have gone through so many of these exact cups over the years. Again, you can't have too many of them!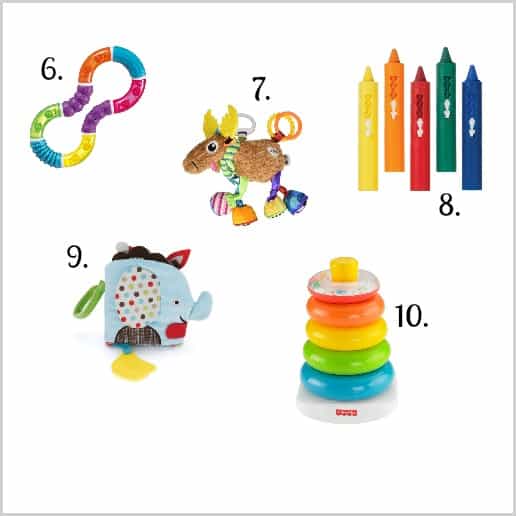 6. Munchkin Twisty Figure 8 Teether
These teether toys are so great! They keep your baby happy and occupied!
7. Tomy Lamaze Play and Grow Take Along Toy, Mortimer the Moose
This little guy is so adorable. Babies will love to play with little Mortimer the Moose!
8. Munchkin 5 Piece Bath Crayons Set
Drawing all over bathtub is such a novelty. Your kids will love these!
9. Skip Hop Alphabet Zoo Soft Activity Book
This is a great quiet book for appointments or church. So cute and soft, too.
10. Fisher-Price Brilliant Basics Rock-a-Stack
I love classic toys like this. Babies love this stacking toy.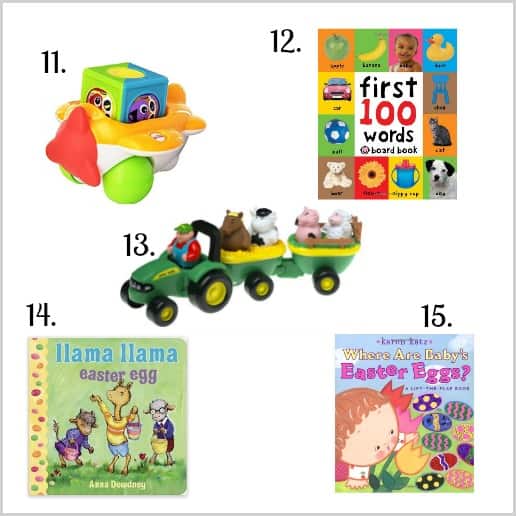 11. Fisher-Price Roller Blocks Airplane
Such a great gift for a toddler boy.
12. First 100 Words
This is a perfect book for the ones learning to talk.
13. Ertl John Deere Animal Sounds Hay Ride
I love this set. Such a cute little hay ride, don't you think?
14. [Llama Llama Easter Egg
I love Llama Llama books. So cute. This board book is so great for your little one.
Little ones will love lifting the large, sturdy flaps in this sweet board book.
Ideas for kids Easter Baskets (Age 3-10)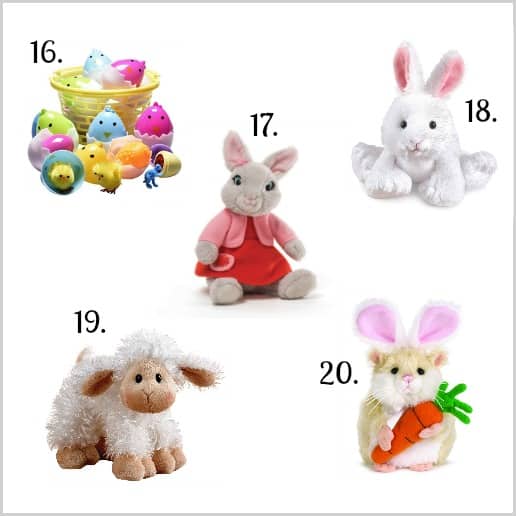 16. 10 Easter Filled Chicken Shaped Eggs in Easter Basket
This will get you started filling the baskets.
17. Gund Lily Bobtail Beanbag Stuffed Animal
I'm a sucker for a cute stuffed animal. Especially in an Easter basket. You gotta have a little rabbit in the basket!
18. Webkinz Rabbit
My kids love Webkinz. They like to play with with them, and then get online and play games with them too.
19. Webkinz Lamb
I know. He's an adorable little lamb. Precious!
20. Webkinz Carrots Mazin Hamster
I'm not going to be able to resist this little dude. I mean, the ears and the carrot? And his name is CARROT! The cutest!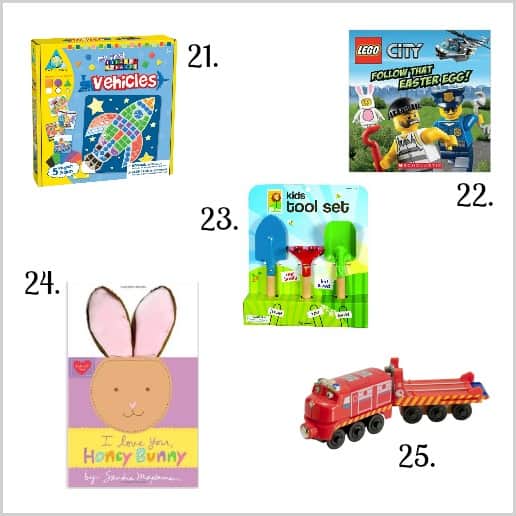 Decorating with sticky mosaics are so much fun for kids of all ages.
You can't go wrong with anything involving Legos! Legos and Easter = great combination!
23. Kid's 3-Piece Garden Tool Set
Since Spring is right around the corner, the kids would love their own garden tool set.
24. I Love You, Honey Bunny (Earesistables)
A cute Easter book is a good gift to fill the basket with.
25. Chuggington Wooden Railway Wilson and Mega Mover Vehicle
Boys love trains. This is a great train if your child likes Chuggington.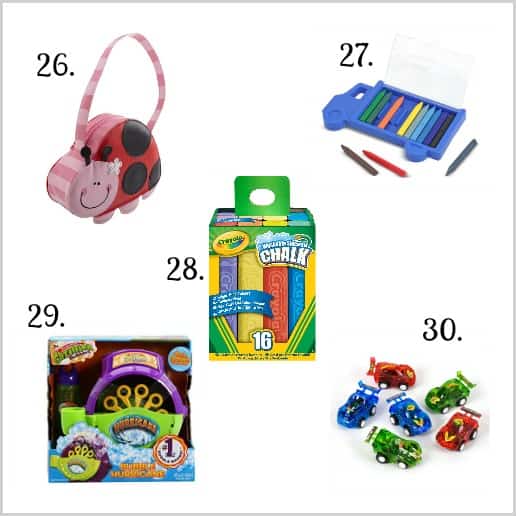 26. Stephen Joseph Little Girls' Go-Go Purse
I am so in love with this adorable purse! I don't think I can pull it off, so I guess I'll put it in my little girls' Easter basket.
27. Melissa & Doug Truck Crayon Set
I can totally see a little boy carrying around this cute set of crayons.
28. Crayola 16 Count Sidewalk Chalk
Sidewalk chalk is a must in our Easter baskets. Easter marks the start of Spring, so we all need new sidewalk chalk.
29. Gazillion Bubble Machine
New bubbles are also a must for Easter. This new bubble machine will be a big hit!
30. 12 Pull Back Racer Cars
These pull back racer cars are so fun. I can already see the races going on across the kitchen.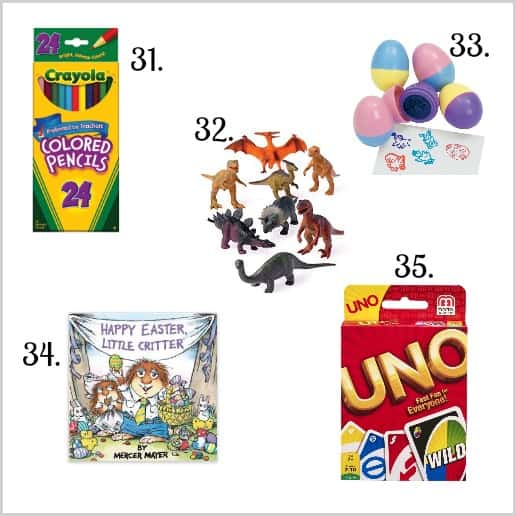 31. Crayola Colored Pencils
We just love colored pencils at our house. Don't you? A fresh set is always so nice.
32. Toy Dinosaurs Play set figures.
Playing with dinosaurs is so fun for little boys. This is a great set for a great price!
33. 6 Easter Egg Stampers – Measure 1.5 Inches for Easter eggs hunt game, Party, Kid's stamps activities
These would be fun to have in the Easter baskets. Kids love to have stamps.
34. Happy Easter, Little Critter
I've always love these little critters. They have great stories that kids love too.
This classic game is welcome treat for kids of all ages.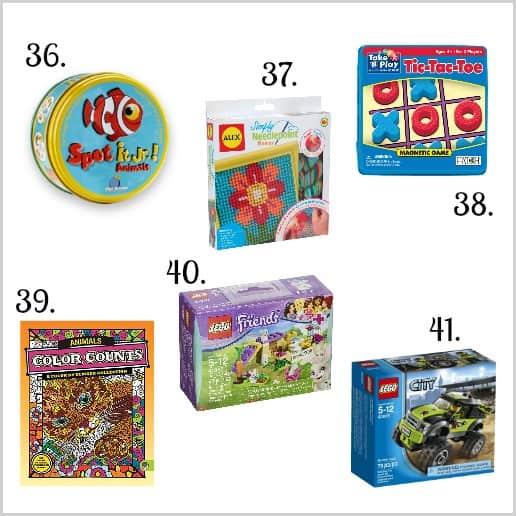 The older kids will get a kick out of this Easter basket filler.
This is the perfect activity for busy little hands to create a masterpiece.
The classic tic-tac-toe game in magnetic, travel-size form! Yes, please!
My kids love these updated coloring books–and so do I!
40. LEGO Friends Bunny and Babies
I think we get Legos for every holiday at our house. Easter is no different! This set is so cute and perfect for a basket!
41. LEGO City Great Vehicles Monster Truck
Can't forget the boy Legos! Monster trucks for boys? Of course!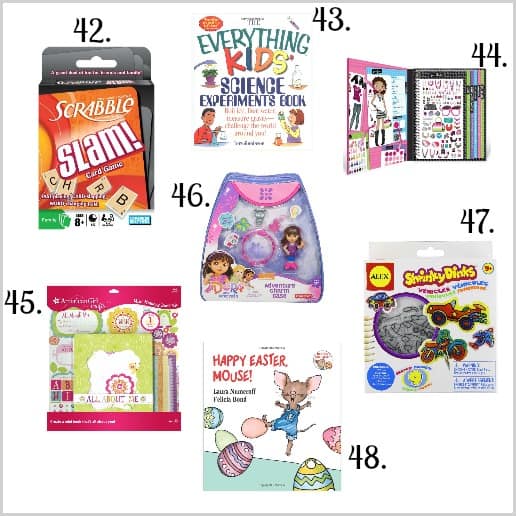 42. Scrabble Slam
A new game is fun for Easter. A great day to spend with family playing a new game together.
43. Science Activity Book
Do you have a budding scientist at your house? There are lots of great ideas in this book.
44. Sticker Stylist Book
So much fun for your girl to showcase her style and learn how to accessorize.
45. American Girl Memory Book
Do your girls love everything American Girl? Yet another great product to add to your AG collection.
46. Fisher-Price Nickelodeon Dora and Friends Adventure Charm Case
Dora is still as great as ever! This cute charm case will make your girl very happy on Easter Sunday.
47. ALEX® Toys – Craft Shrinky Dinks-Vehicles 493V
Such a fun craft idea that is also a little "science-y" too. (I know that "science-y" is not a real word. :))
48. Happy Easter, Mouse! (If You Give. . .)
This mouse is hysterical. He never ceases to amaze me. I didn't realize he had an Easter book too! So great.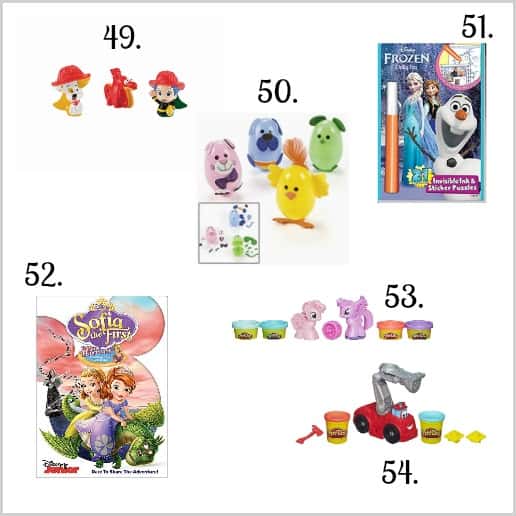 49. Fisher-Price Nickelodeon Bubble Guppies Gil, Bubble Puppy and Water Dragon Bath Squirters Toy
Getting new bath toys just make a bath so much more fun. It's always good to rotate those bathtoys, and everyone loves Bubble Guppies!
50. Animal Easter Egg Decorating Craft Kit ~ Makes 12 Eggs ~ Self-adhesive Foam Stickers
I thought these might be fun to use as place settings at the kids table for Easter dinner.
51. Frozen 2in1 Activities Chilly Fun (Pen Colors Vary) Book
Frozen is still so popular and kids love these activity books.
52. Sofia the First: The Curse of Princess Ivy
I just think Sofia the first is adorable, don't you? This movie would be so fun for an Easter basket.
53. Play-Doh My Little Pony Cutie Mark Creators
Play-Doh is the best! These My Little Pony stampers are so cute and a great price, too!
54. Play-Doh Diggin' Rigs Boomer the Fire Truck
The boys need some Play-Doh too, don't you think? This has 3 year old boy written all over it! Perfect!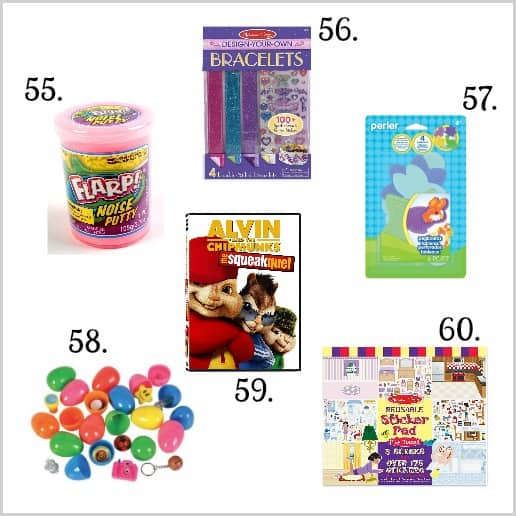 55.Flarp Fart Noise Putty – Single
I know, I know. You don't WANT to buy this, but you know your kids will get a real kick out of this. Lots of giggles too.
56. Melissa & Doug Design-Your-Own Bracelets
These slap bracelets never get old, and if they can be decorated…so much better!
57. Perler Beads Small Shaped Pegboards, 4-Pack
This is such a great way for kids to keep busy and it's great for all ages.
58. 24 ~ Toy Filled Easter Eggs ~ Approx. 2.25 Inch ~ New (Assorted Pastel Colors)
Sometimes you gotta make it easy on yourself by getting pre-filled eggs. No judgements here…so easy and not candy. Love that, too!
59.Alvin and the Chipmunks: The Squeakquel (Single-Disc Edition)
My kids think Alvin and the Chipmunks are so funny. They would love this DVD!
60. Melissa & Doug Play House! Reusable Sticker Pad
This reusable sticker pad could be fun for hours for your little one.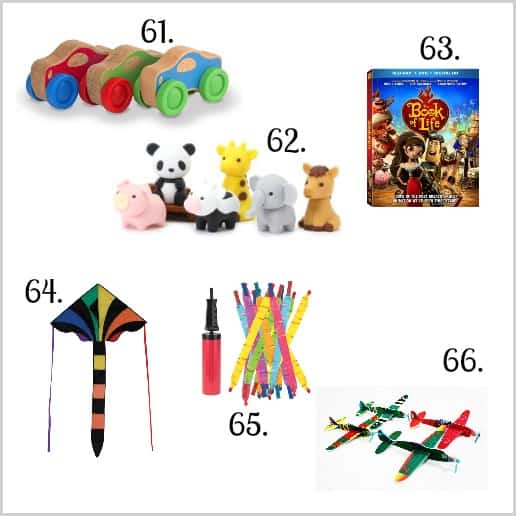 61.Melissa & Doug Stacking Cars
Melissa & Doug makes the best toys for those little ones. These wooden cars are so fun.
62. Iwako Japanese Puzzle Take Apart Erasers Zoo Animals Set of 7
These are always a big hit for the kiddos. It's a puzzle, toy AND eraser.
63. Book of Life [Blu-ray]
We haven't seen this movie yet, but I hear it's good. Might be a great addition to the Easter baskets this year.
64. In The Breeze Rainbow Sparkler Fly Hi Delta Kite, 46-Inch
This is a beautiful kite. My kids love to fly kites, and Easter is a great time to start for the season.
65. Rocket Balloons with Pump
We have had these rocket balloons before, and there were many good times and giggles as we watch them fly and scream. So much fun!
66. Glider Planes – 12 per unit
The kids can take these outside and have fun for hours and they watch the planes glide through the sky.
Teen Easter Basket Ideas (Age 11 – teen)
For me, the hardest to shop for is the older kids when it comes to Easter. There has to be something cool in the basket to get their attention. We have found some ideas I know you will love!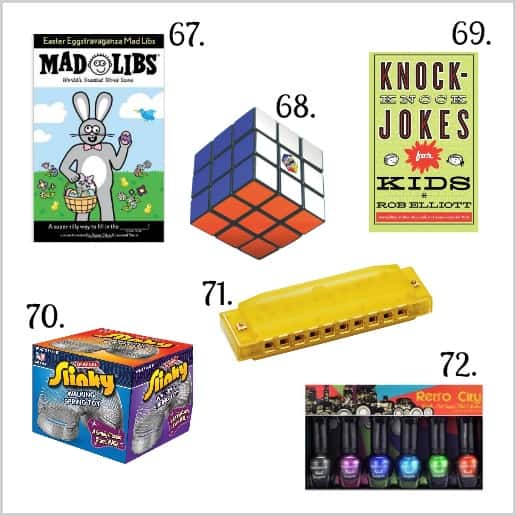 67. Easter Eggstravaganza Mad Libs
Kids are never too old for a Mad Lib. This is fun for all ages, really.
68. Rubik's Cube
These babies are making a comeback. It is a retro toy that kids are loving again. It's timeless. Boys and girls will BOTH love a Rubik's Cube!
69. Knock Knock Jokes
My kids love these easy jokes. Makes for a fun afternoon for everyone!
70. Original Slinky
A slinky is a fun addition to the Easter basket.
71 Clearly Colorful Translucent Harmonica – Yellow
I put this with the older kids, because they might be able to actually play a song. If you give it to a younger child, go ahead and pick up some ear plugs for yourself. 🙂
72. Klean Color Retro City Metallic Nail Lacquer .17 oz Mini Collection KleanColor
A new set of nail polish will make someone very happy. I love these bright colors!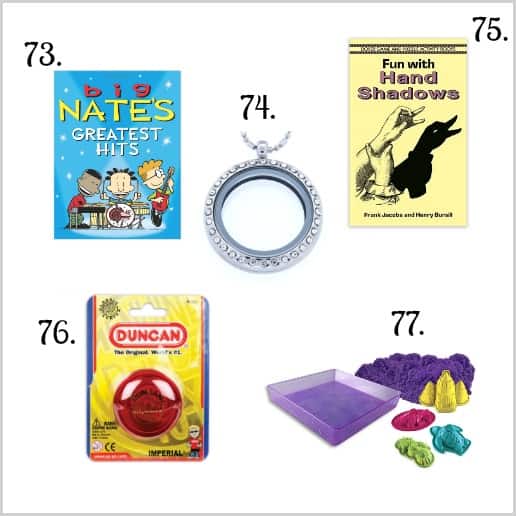 73. Big Nate's Greatest Hits
Big Nate is great for boys or girls. Kids love to read comics, and this is a greatest hits, so it should be a good one.
74. Locket Necklace
These necklaces make such a wonderful and personal gift for your girl. She will love the added personal touch of the charms inside!
75. Shadow Activity Book
This will keep the kids busy for hours. Nothing better than good, clean fun!
76 Duncan Yo-Yo Imperial (Assorted Colors)
Do you know how to yo-yo? I bet the kids would love to learn! They might even let you have a quick turn with it too.
77. Kinetic Sand
Have you tried kinetic sand yet? It is SO cool! Kids love it, but you might get to play with it a little as well.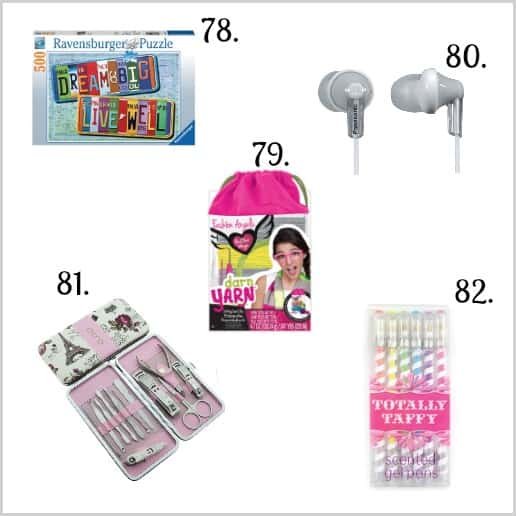 78. A License to Life 500 Piece Puzzle
A puzzle is a great family activity that everyone can participate in. This one looks like a fun puzzle!
79. Infinity Scarf Kit
I know it's getting warmer, so we won't need scarves, but it's a always fun to do a craft and learn a new skill
80. Ear Buds
These are #1 Bestsellers and a GREAT price. I'm sure your tween could use a new pair of earbuds. I know mine can!
81. Manicure Set
This set is so adorable with the cute little Paris case. I would love this set myself, come to think of it!
82. International Arrivals Totally Taffy Pastel Gel Pen
A new set of pens will make your girl happy, and these are adorable. I love that they are called "totally taffy".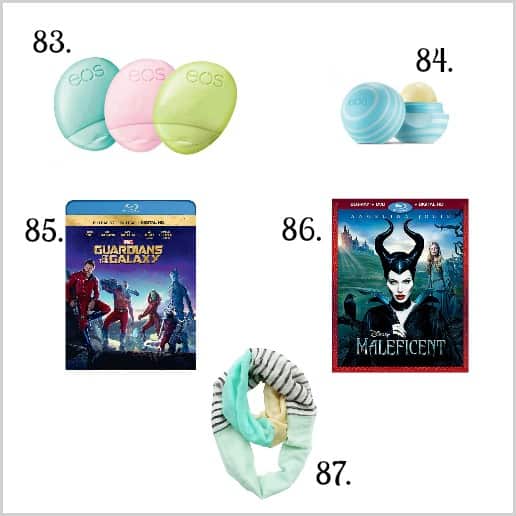 83. EOS Hand Lotion Pack: Berry Blossom, Cucumber & Fresh Flowers, 1.5 Oz.
These lotions are great, and they are are already in Easter colors!
84. eos Visibly Soft Lip Balm -Vanilla Mint
I love EOS lip balm. This one even looks like an Easter Egg! So fun!
85. Guardians of the Galaxy Blu-Ray
I think the older boys love this movie. I mean, it's superheroes, but they aren't babyish. Perfect!
86.Maleficent Blu-Ray
This is a GREAT movie! I watched it with my tween girl, and we loved it.
87. Soft Light Weight Stripe Mosaic Sheer Infinity Scarf
Fun colored scarf for spring would be a perfect choice to add to the Easter basket.
I hope you have been able to fill your Easter baskets with all 87 of these Easter basket filler ideas. Enjoy and Happy Easter!