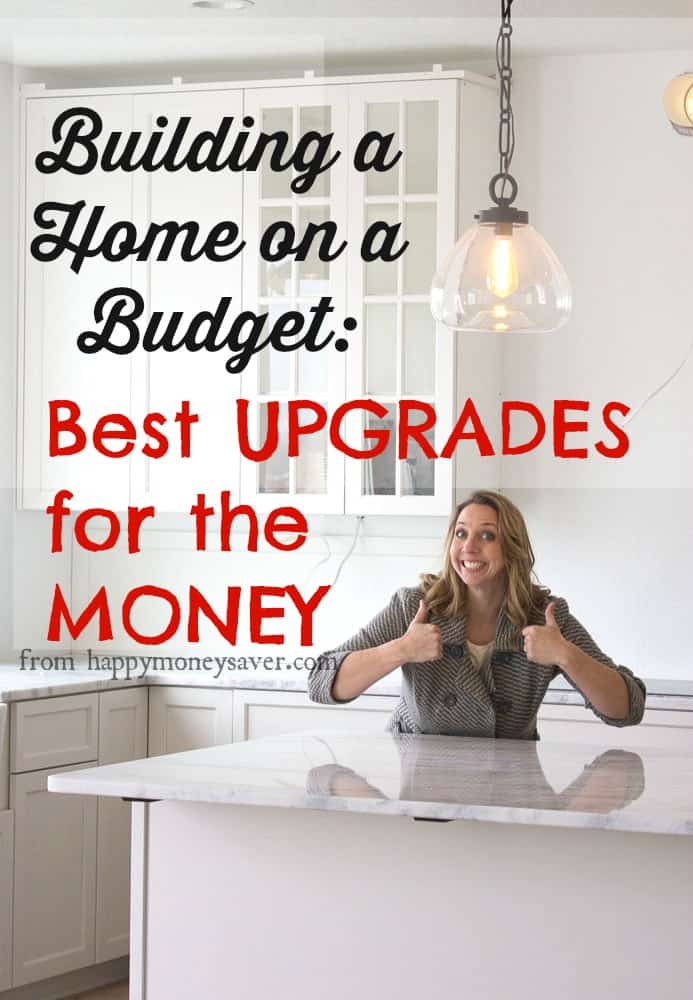 We're about to get all down and dirty with numbers, baby.
First off, before we get into the meat of this post I want you to know that I'm not an expert by any means. I'm just a country girl who bought 5 acres of land to build my dream house on. I've just finished going through the whole crazy process of building my home on a budget and been asked by my readers to share all the secrets and tips I have learned. Because, you know… I want to save YOU money too!
But before I go any further, I need you to know something amazing. Something that shows I did an okay job on picking my upgrades.
OUR NEWLY BUILT HOME APPRAISED FOR $90K MORE THAN WE PAID!
How we did it:
After we had the base price of building our home figured out, and after getting the quotes from all the different land development costs, we knew about how much money we had left within our budget. Of course it wasn't enough to have every single upgrade I wanted to have – bummer!!! Darn those husbands and wanting to stick to the budget too. Poo. Where's the fun in that, right?
We had to prioritize and figure out the best use of our money and what would make us happy. It was also important to have a high re-sell value for not only for our loan process (house has to appraise well), but just in case the time ever came that we had to sell it. Of course we want this to be our forever house, but you never know what life can throw you. So my husband and I negotiated back and forth, trying to find a balance in what we both really felt was important.
This is about the time I think I lost my mind. When I had to choose what I could afford, and what I couldn't. I spent so many hours online researching upgrades and looking at carpet samples, lighting stores, paint stores, counter tops, and tiles. Most people can probably see something they like and know right away…but I'm the kind of person that can spend 15 minutes picking out the right candy bar. Not kidding. It's very hard for me as I hate it when I mess something up. I don't like having regrets! Choosing floors, paint colors, and all other updates is freaking SCARY! I'm not an interior designer, and it's not like I've always known what my dream house would look like. So I had no idea about it all and every single choice was important to me.
I admit that I was not the best mom during these months. Kids never seemed to be able to find anything, we ate cold cereal and hot dogs more times than I care to mention at dinner time, and appointments were sometimes forgotten. Dirty clothes piled up to mountain sizes until no one had any clean clothes and we were forced to wash. I spent all that time researching so I wouldn't mess everything up. My husband couldn't understand why I was so stressed about it all. He was all like " What's the big deal? Go with any of those carpet samples…they all look the same to me! Which one costs less money?" Yeah. Men just don't understand… hmph.
I did a lot of praying during this time too. I needed help with all these seemingly small decisions and often felt the Lord guiding me to make wise choices.
In the end we absolutely LOVE our new home, and with choosing all the right upgrades under our belts, we felt like pros! And to top it all off, getting that appraisal back and it being so much higher than what we paid for, made all the stress worth it. Score! So here are my best tips for you to get the best upgrades for the money.
WHAT WE UPGRADED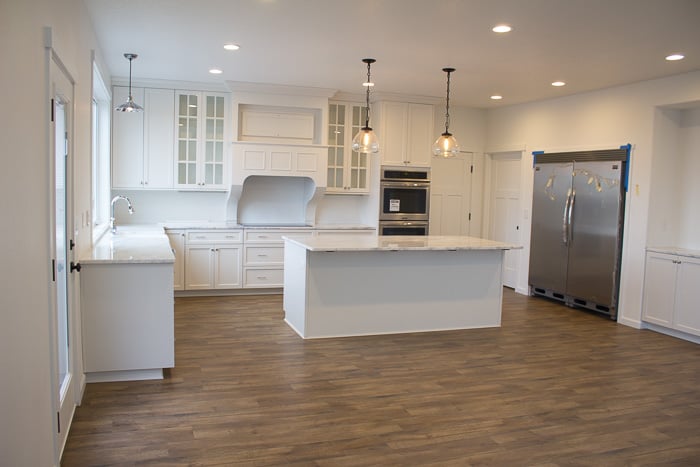 The Kitchen: BEST upgrade for the money
I'm sure you've heard this as well but the best places to upgrade in your home for keeping or increasing resale value is your kitchen! Some people may not like to cook however the kitchen is often the one area that people really notice first when looking through a home to buy. It's rarely a bad move spending your upgrade allowance on the kitchen so keep that in mind. Here are the upgrades I personally chose in my kitchen and why.
Kitchen Appliances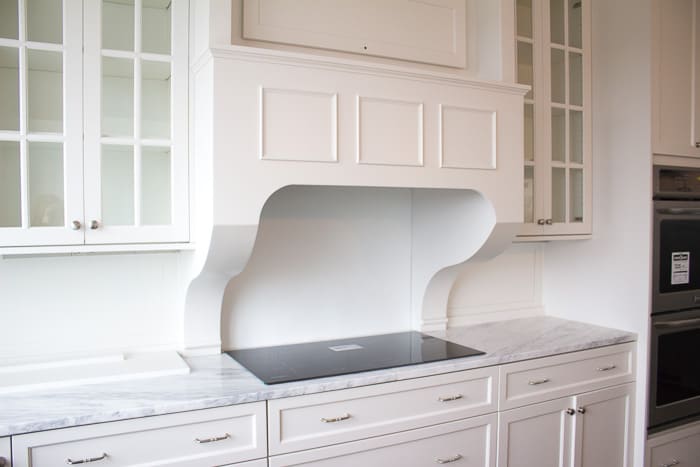 I wanted a show stopping kitchen appliance set that people really noticed for resale value. However as you know sometimes you can spend a huge amount of money on appliances and with a limited budget I had to be choosy. While walking through a local kitchen appliance store I stumbled upon the amazing Frigidaire Gallery All Refrigerator and Freezer combo. As a thrifty shopper I first fell in love with the price tag and how beautiful the set was. Then I opened it up, noticed the features and knew instantly that this was the set for me. It was the perfect way to get the built in look for less. Because I fell in love with this set and knew it was meant for me, I decided that it would also be nice to have matching appliances, so the rest of my kitchen is from the Frigidaire Gallery stainless steel line as well. I have an induction flat top, double ovens, dishwasher and all fridge and freezer. Stainless steel is really popular and if you can afford it I would recommend it as it can add to your resale value. I'm sure having this nice appliance set helped with having my house appraise higher as they make my kitchen just oh so lovely, don't you think?
A Big Island and Kitchen counter tops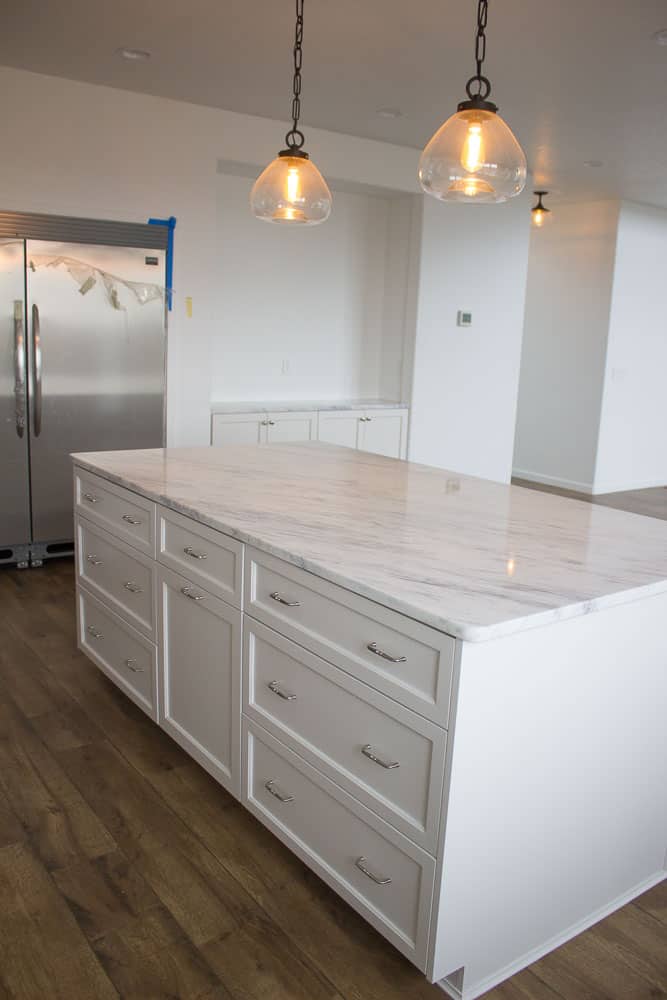 My island is a nice big size at 8 feet x 4 feet. I didn't want another mini sink or appliance in my island because I wanted a giant workspace for kids projects, big freezer meal cooking days and for entertaining. I have almost all drawers in my island except for the center where I put in a pull out garbage can system. I also really wanted to have stone counter-tops. I was thinking I could probably only afford my island in stone and the rest would have to be laminate (which I found some really amazing laminates by the way here…good stuff). But after going around to all the local stone yards I found a stone that was just in my price budget. I paid around $5,000 at Costless Carpet which paid for my whole kitchen and all my bathrooms to be installed in Quartzite. My quartzite was called Mont Blanc and it's white with a little bit of gray in it. Kind of looks like a marble but it's a bit stronger. It does and has etched as we've used it, but I love it anyways. The reason I was able to get such a great price is because the slabs were so big and with my smaller bathrooms they all fit on two slabs.
Kitchen cupboards
I upgraded the standard package from my builder as they only had a basic plan with a microwave above the stove. I had big dreams of how I wanted my kitchen so I paid around $7,500 for all my kitchen cabinet upgrades through Tri-City Cabinets. I chose one of the standard faces, but had to pay extra to have them painted white. I had them build me a custom hood, upgraded to two of my cupboards to glass to fit my farmhouse theme, and upgraded to a few big drawers for pots. If you are saving money updating to drawers probably won't change the value too much but I really liked the idea of better storage. I saved a little bit of money by not having a cabinet above my Frigidaire Gallery set, and not having more cupboards on the back side of my island. I wanted those things but needed to save some money after upgrading the other stuff, and figured it wouldn't be a big deal.
Sink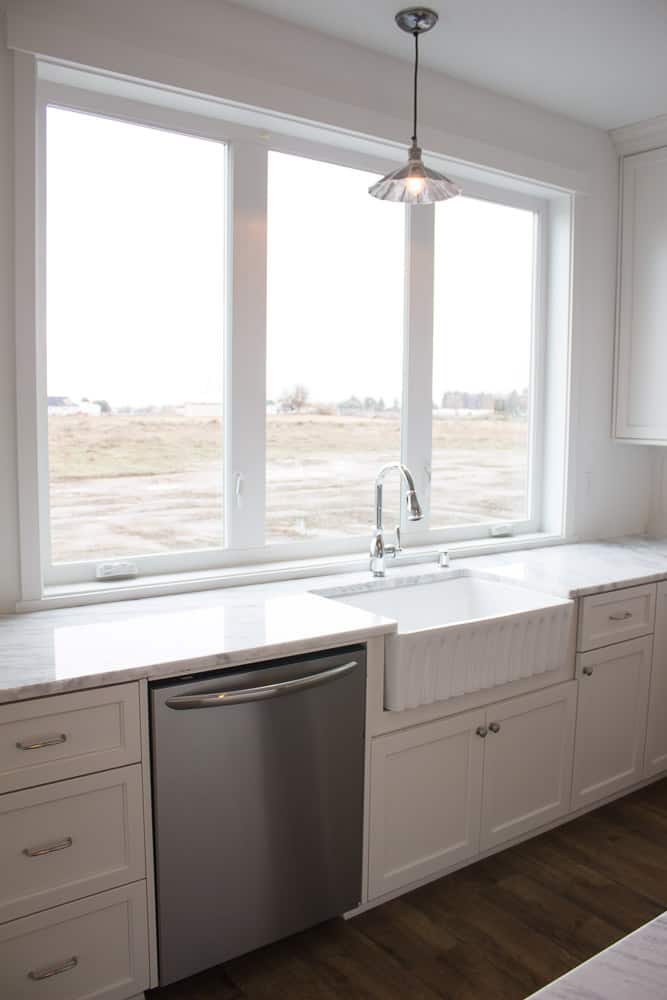 I wanted a farm house sink and when I priced them out in shops they were really expensive (like $700-$1000). I was going to purchase the Ikea farmhouse sink as it's only around $300, but the cabinet shop had a farmhouse sink for $300 left in their shop. It was a great score!
I will probably do a whole blog post later about my kitchen features but just know this is where the majority of my upgrade pricing went.
Siding & Soffits
Somethings to look for when you are using a spec home builder is what kind of siding options are included. With our builder only the front of the house included 30 year hardi siding, so we upgraded to having siding all the way around. We also upgraded to closed soffits as we have a huge bird and wasp problem in this area. I do believe upgrading to full siding adds value. We really wanted stucco but the upgrades were just too much for us.
High or Vaulted Ceilings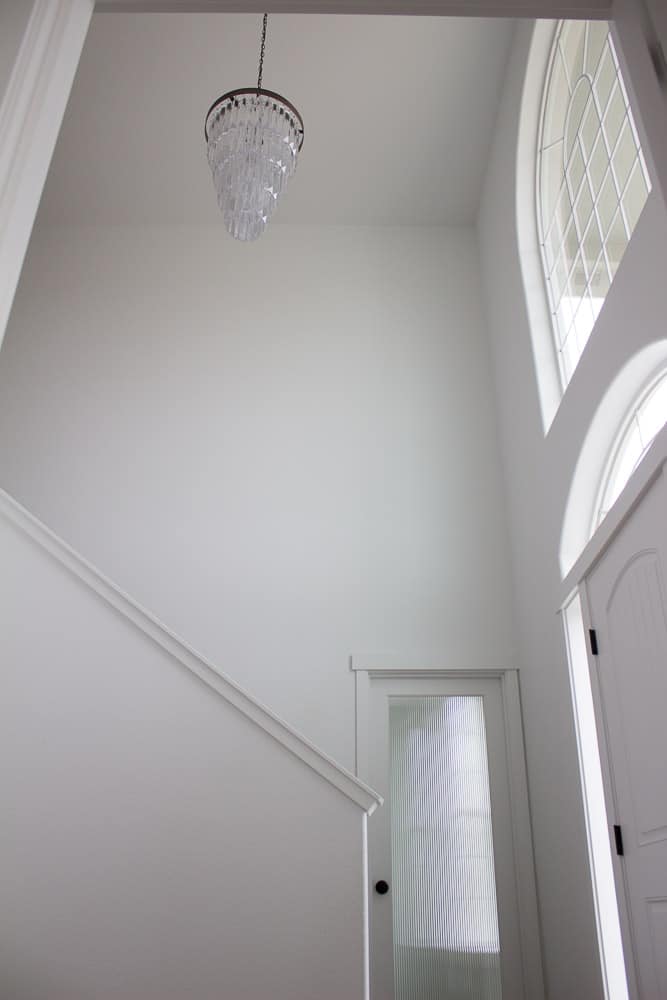 We have a two story family room, a two story entryway and upgraded to 9 ft. ceilings on the mail level of the house. We left the upstairs at 8 ft ceilings. Having high ceilings is a great way to upgrade your house as it's a structural upgrade and makes people feel like the house is more spacious. Almost all the other upgrades out there can be changed later but it's really hard to change things structurally. We are so happy we added this upgrade.
The Garage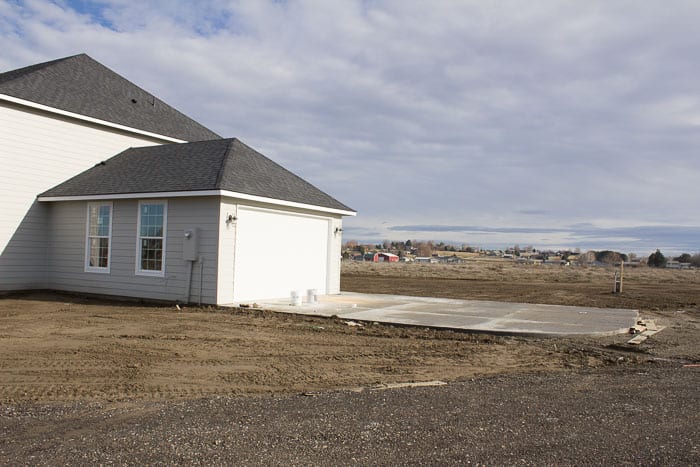 We totally messed up on this one. The builders plan said our garage was a two car garage and we didn't think about the sizing. I know…morons! Who doesn't think about the garage when you live in the country? This girl that's who. After it was poured we realized the error of our ways. It was so small. Don't make my mistake. Make a garage at least 30×30 if you can at minimum.
Electrical & Lighting
One of the last things while building the house was the electrical upgrades. We hadn't really considered that we would have a lot of upgrades in this area, but we were surprised and should have looked into this earlier. We were hit near the end with $4,000 worth of electrical upgrades but they were necessary. Things like the extra washer/dryer hookups, a generator connection outlet, extra outlets in rooms (I'm regretting I didn't get one in my laundry room), led lights, and different switches. Also consider going beyond the standard light fixtures as having custom lights makes your house stand out and look unique. It adds charm, character and can increase the value in my opinion if done right. I will be talking about where to find cheap lighting in another post soon.
Flooring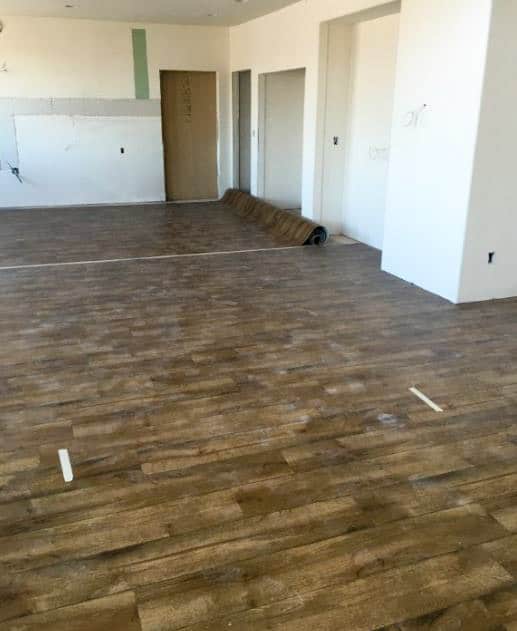 Okay I have a little secret to share with you… almost 75% of my house has sheet vinyl flooring that looks like real wood. And I LOVE IT. It looks so amazing and everyone compliments it when they see it. They all think it's real wood or laminate flooring. And the vinyl floor came standard. It's called Armstrong Station Square: Chestnut X2091. The picture on the main website does not do it justice. It's wonderful in real life and I don't have to worry about anyone spilling water on it. Woot! Woot! As for carpet I did upgrade about $600 worth for a slightly better carpet. I wanted a carpet with a shorter pill to it as I hate when carpets get all flat after walking on them. But I don't think carpet probably makes a big difference in upgraded price so much. More of a personal choice.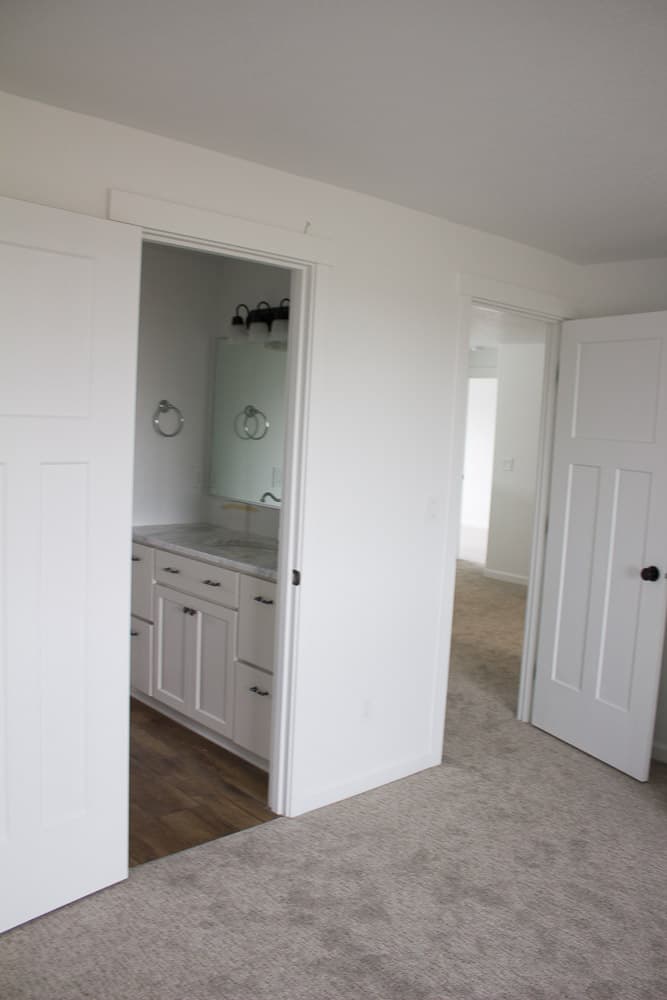 Insulation
We ended up spending a tiny bit extra with insulation, mostly by sound proofing the TV room, bathroom and master bedroom walls. Ain't no one want to be hearing noises coming from any of those rooms. We also upgraded to have energy complete air sealing on the inner walls before insulation is laid. The standard R levels of insulation in our builders package was amazing so we didn't feel the need to upgrade that and have been really happy with our well insulated new home.
Doors & Hardware
I kept the doors and hardware as standard choices however the door style I ended up with wasn't featured at the model home. I happened to be meeting with the door guy and found this door style and it was still a standard option.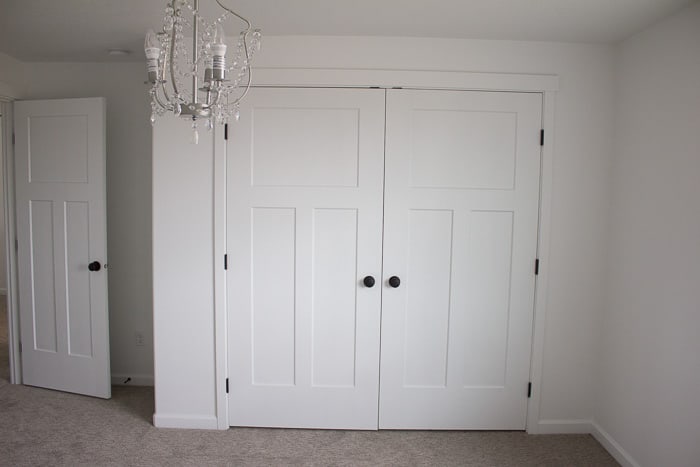 Master Bathroom
The master bathroom is also a really great place to do some upgrades that can help with higher appraisals. The upgrades I chose for my master bathroom include stone countertops, painting the cabinets a darker color, a large full size mirror, two shower heads, faucets and a glass two door shower door. The tile backsplash, vinyl floor, large tub, lights and rest of the bathroom was standard for my builder.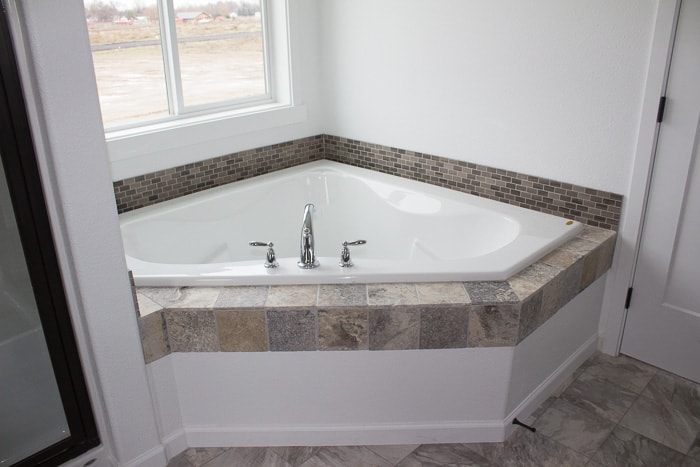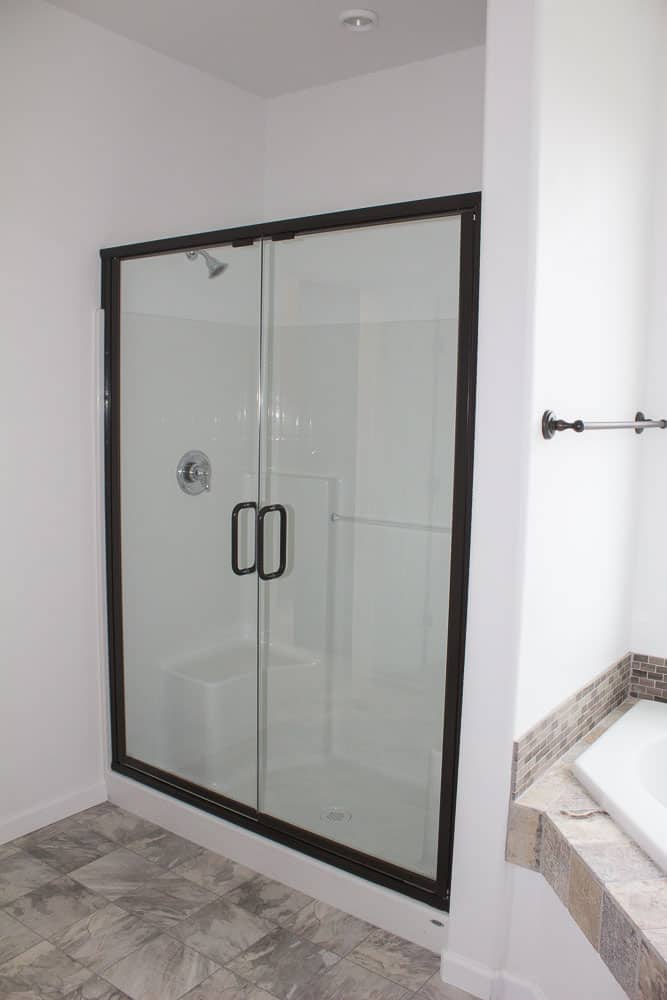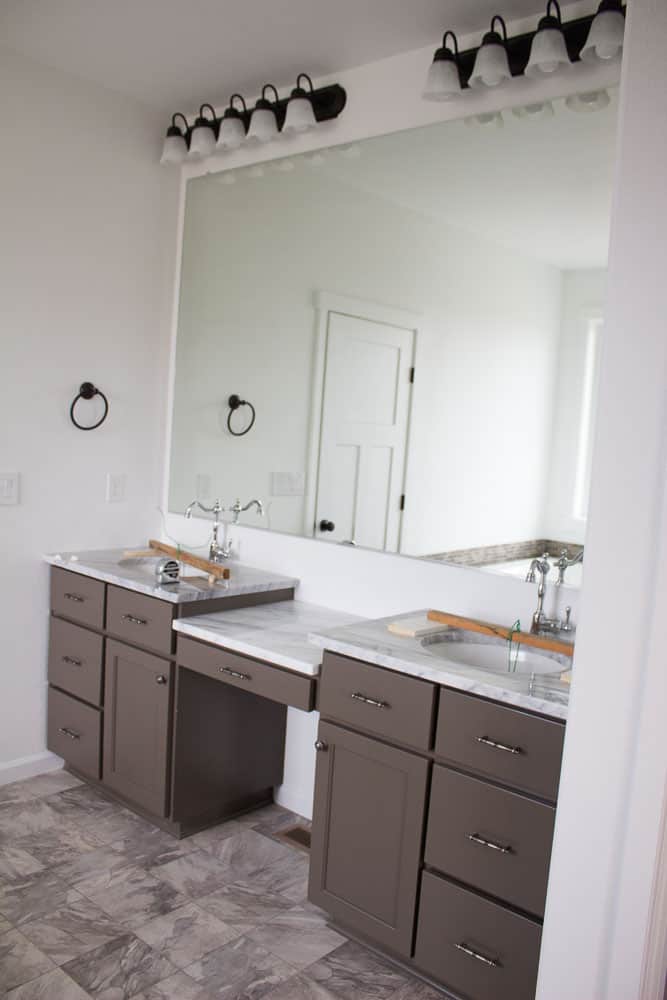 Everything else we kept standard for the most part. We did add a little bit of concrete work for a back patio and extended our driveway a bit so that was an upgrade. And we also upgraded a little bit with our trim in the house, paint and a glass office door, and my kitchen windows that open up and out, but these were smallish changes.
So if you're thinking of building a new home…do your homework and make sure your marriage is strong. 🙂 Hee hee. It can be a long process and you will have to make a lot of decisions to make through the process. I hope my suggestions for best upgrades for the money were helpful! Feel free to leave a comment asking me any other questions you may have. Happy building!