I have another amazing freezer meal recipe to share with you which has been sponsored by Frigidaire Gallery®.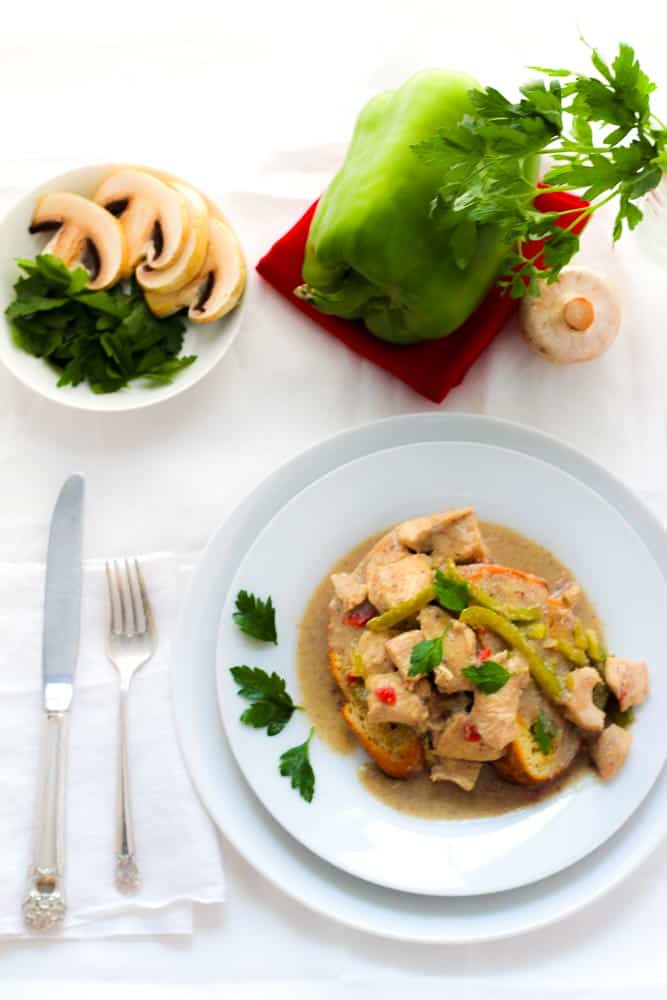 It's called Chicken A La King, baby. Not only is it my newest freezer meal creation, but it's also really delicious! Creamy, rich mushroom based gravy poured over toasted french bread makes me feel all warm and giddy when eating.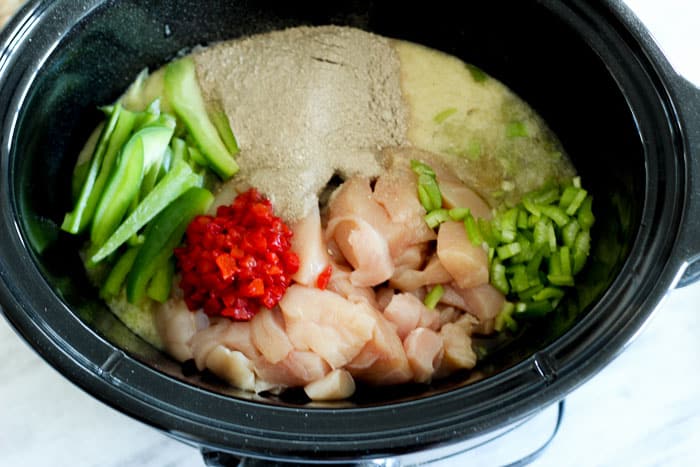 Plus it's a slow cooker meal which makes it even better. Slow cooker = dinner cooking while I get other things done which = one happy mama.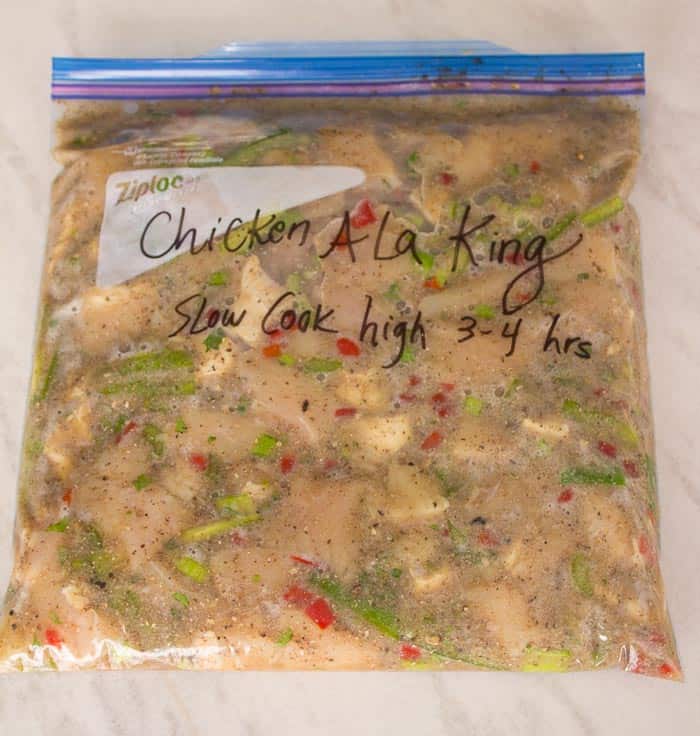 Freezer meals are the best, aren't they? And I'm a little bit spoiled. Because I have the Frigidaire Gallery® All Freezer right in my kitchen so all those freezer meals are just a few steps away. I have been there, done that with smaller box freezers, and they are fine if it's what you have. That's what I used for my freezer cooking for years and years. But when you love freezer meal cooking as much as I do you want to make more and more at once to save time and money. So having this big freezer allows me to make a ton of freezer meals for my family and enjoy the days when I can just grab a meal from the freezer, toss it in the oven and set the timer for a healthy delicious dinner an hour or so later. If you are big into freezer cooking, or are looking for a new appliance I would recommend the Frigidaire Gallery® All Freezer and Frigidaire Gallery® All Refrigerator set as they not only are big, spacious and help with keeping organized, but they can give you the built in look for a lot less than those expensive commercial sets.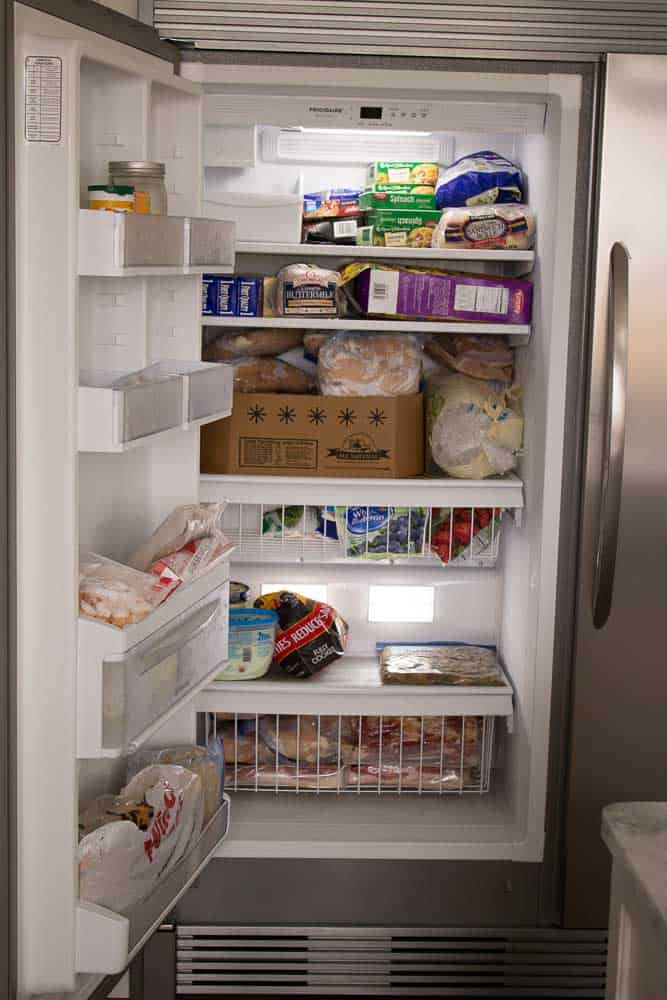 This Chicken A La King freezer meal is so easy to make. Here are the directions and printable recipe.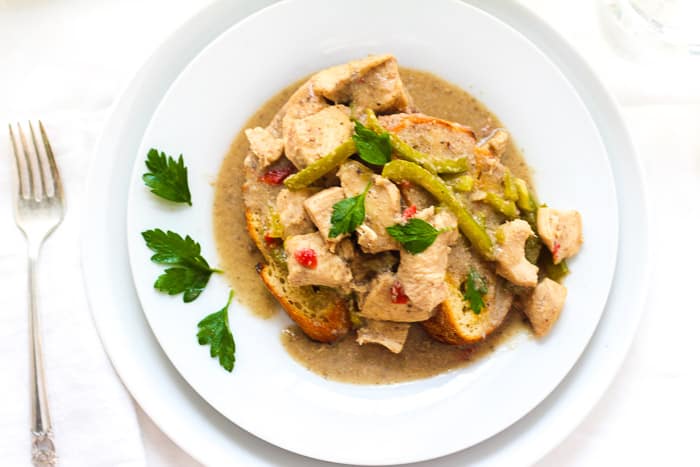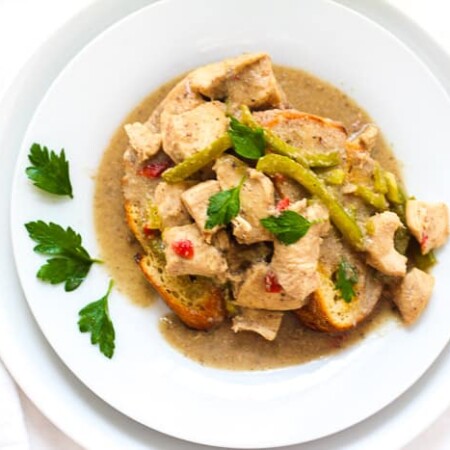 Recipe Card
love it? rate it!
Freezer Slow Cooker Chicken A La King
Servings 6
Freezer Friendly Slow Cooker Chicken A La King is a simple slow cooker meal and really delicious!
Ingredients
1.5 lb Chicken breast cut into 1 inch chunks
2 cups Chicken Stock
1 1/2 cups fresh Mushrooms sliced...or (if you have a family like mine where everyone hates the texture of mushrooms) 1 Oz. Dried shiitake mushrooms, powdered in a food processor
3 Tbsp Diced Pimentos
1/2 cup Onion pureed
1 tsp Garlic minced
1 Large Bell Pepper Diced
1/4 cup cooking Sherry optional
2 Stalks of Celery diced
1 Tbsp Parsley
1/2 tsp Ground Nutmeg
1/2 tsp Salt
1/4 tsp Ground Black Pepper
1 pinch Cayenne
1 Gallon sized freezer safe bag
Day of cooking ingredients
1/4 cup Corn Starch
1 cup Cold Milk
2 tbsp Minced Chives optional
Instructions
Place all the ingredients listed above, except for the corn starch, milk, and chives, into a Gallon Freezer Bag, remove all air, seal, label and freeze flat.

When ready to cook, remove from freezer day before and allow to defrost in the fridge.

4 hours before dinner; place all ingredients from the bag into the slow cooker. Set to high. Cover, and walk away.

Check the chicken around 2-3 hours after cooking. If chicken is cooked through continue to step 5.

Whisk the milk and corn starch together, and slowly stir into the slow cooker. Cover, let cook another 30 minutes, or until Chicken Ala King is thick and creamy and ready to serve. Note: ONLY add this cornstarch mixture 30 minutes before you are ready to eat it, if you leave the cornstarch in for over 30 minutes it may separate and make for less smooth looking gravy.

Top with fresh parsley or chives, serve over starch of choice. Enjoy!
Notes
Chicken Ala King is quite versatile. It can be served over Rice, Toasted French Bread Slices, Homemade Biscuits, or *Noodles. *If you want to make this an easy noodle dish, add 1 ½ cups of water to your gallon bag before freezing. Then add 8 oz. of your favorite noodles (I used egg noodles) when you add the milk and cornstarch. Cook until the noodles are done and the dish is creamy and beautiful. Serve in bowls for easy cleanup!
Nutrition
Serving: 86g | Calories: 348kcal | Carbohydrates: 14g | Protein: 25g | Fat: 19g | Saturated Fat: 5g | Cholesterol: 91mg | Sodium: 420mg | Potassium: 540mg | Fiber: 1g | Sugar: 5g | Vitamin A: 1120IU | Vitamin C: 35.3mg | Calcium: 69mg | Iron: 1.5mg
See more of happymoneysaver's freezer meal recipes here.