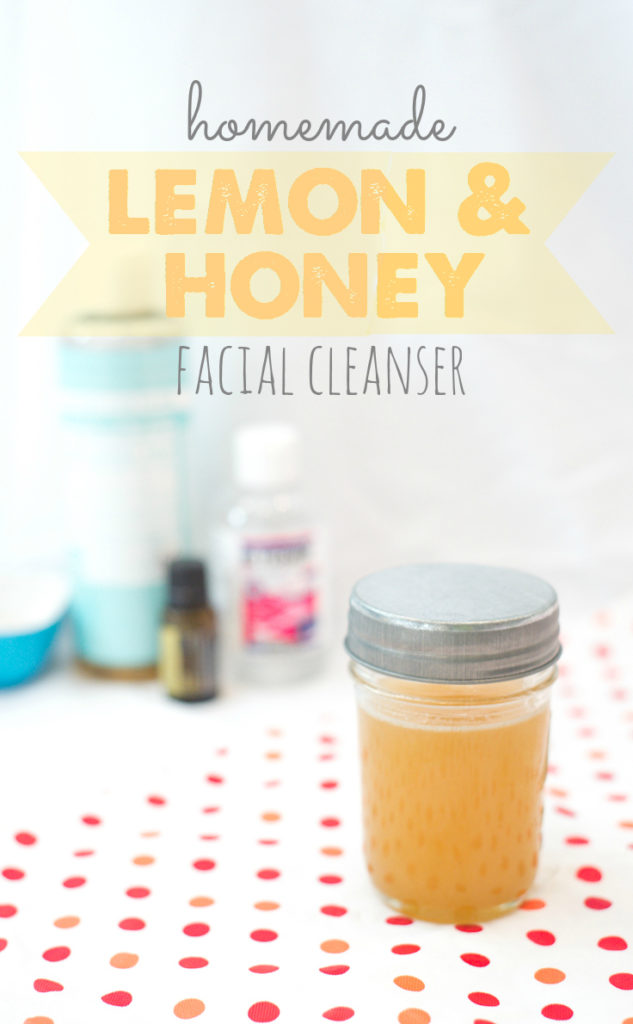 It was a dark and stormy night, and the ships were out to sea (stay with me). And sailor Jim reached for a popular store-bought facial cleanser to wash his face before he tucked in for the evening: PEG-80 Sorbitan Laurate, Benzalkonium Chloride, Red 40, Disodium EDTA, blah, blah, harmful blah. The ingredients that Halloween tales are made of. Doesn't exactly sound like something you want smothered all over your face? Right? Anyone??
Enter this fabulous homemade facial cleanser I've recently discovered. Life changing, my friends. This fine visage of mine (ha!) has never looked better au naturale. It's made of some powerhouse ingredients that also happen to be extra gentle for sensitive skin. I love knowing exactly what I'm putting on my body.
Let's get right to it, shall we?
Ingredients for Homemade Lemon & Honey Facial Cleanser
½ cup vegetable glycerin
3 tablespoons honey
2 tablespoons liquid castile soap
3-5 drops lemon essential oil (order from my absolute fav brand here)
Directions for Making Homemade Facial Cleanser
Mix ingredients together in a small bowl and pour into container of choice. Apply to face and neck and massage into skin for at least 30 seconds, allowing the cleanser to loosen dirt and debris. Rinse face with warm water. This will store on a counter just fine for a long time. That's it! Simple, honest directions for some simply honest facial cleanser.
So what exactly are we putting on our face? Why these ingredients? Let's talk about it.
Vegetable Glycerin: While being incredibly moisturizing, glycerin also has anti-aging properties, drawing oxygen into the cells, which lends a hand in helping one appear more youthful.
Honey: What can't honey do? It's a natural antioxidant and moisturizer while also being a big bacteria fighter. Adios, acne. I also love that it's especially clarifying – opening up those pores to get all of that hidden dirt out.
Castile Soap: Natural gentle acne fighter and a great cleanser on its own for people with sensitive skin.
Lemon Essential Oil:Lemon oil acts as a natural toner and brightener, evening out skin tones while removing dead skin cells.
Let's chat about cost savings.
Cost of Ingredients for Homemade Lemon & Honey Facial Cleanser
Glycerin $4
Honey: $0.31
Castile Soap: $0.50
Lemon Essential Oil: $0.21
Total Cost: $5.02
The popular store bought brand costs about $5.50, so our homemade version is only about 9% cheaper, thanks to the price of glycerin. Because it's so important to me to keep toxic chemicals off of my skin, it's worth the small effort to throw this mix together even though I'm not saving much. Also, I only need to use a tiny amount for this homemade facial cleanser to work effectively. I found when I used the store bought stuff, I would use at least a dime sized amount, so this recipe should last much longer than the store bought version.
I buy my glycerin from my local pharmacy for about $9 per 6 oz bottle. I've heard that Joann's is also a great place to find it also – so use a coupon and save even more! If there was a Joann's closer by, I'd totally check it out.
What about you? Any homemade facial cleanser recipes you've found work extra well? I've heard plain jane castile soap works well, but I love using at least the glycerin in addition for its moisturizing benefits. I'd love to hear all about it!