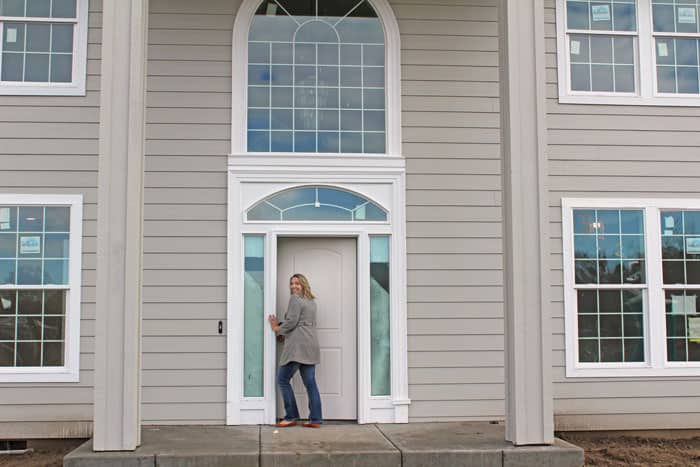 This is the second post in my Build a Home on a Budget Series. We're talking all about which house plan or layout to choose from that will be the most cost effective. Every step of my house building process sent me into a crazy must-research, price comparison mode. I searched on Pinterest, Googled, and read articles after articles. I wanted to get the best quality home with lots of upgrades and still keep my budget. I really really HATE wasting money and wanted to do the whole process right. I spent way too much time trying to get everything perfect (I can admit it!) and even though I went through countless days of feeding my kids cereal for dinner and building mounds of laundry up by neglecting my daily routines for research purposes, I feel like it was worth it. I adore my new home. It's even better than I dreamed it would be and I was able to stay within my budget.
WHO WILL BUILD YOUR HOME?
If you have the ability, know-how or connections to be your own builder/contractor you will save the most money doing it that way. However, as a newbie building my first house there was no way I was going to be able to do that. Looking back now though, it seems I could have easily done it as all it takes is someone who's really great at scheduling and (ahem) nagging. As I mentioned in my dream house post here I looked into all the local home builders in my area to find the one with the best prices per sq. ft. and one that had great prices for upgrades as well.
There are all kinds of builders and building companies out there.
Spec Home Builders: these builders usually purchase a large lot of land, subdivide it and build many houses on the lot with their floor plans. Often times the builder saves money doing this and so they seem to have the best prices from what I've found. Some of them will do a custom house plan and some won't. Some will build on your lot and some will not. Make sure and research all the different companies, visiting them, picking up their price sheets for home base prices as well as upgrades, viewing their homes and asking them if they will do a custom layout and what the price starts at. You must do your research. Even when you find a house plan you LOVE check into all the builders in your area. Because you never know if you can find a builder that can make nearly the same plan you just fell in love with for a lot less.
All other builders: the other builders out there will usually have great reputations as making quality homes and maybe that is important to you. But honestly whether you build with a spec home builder or a "more quality" builder you can oversee every step in the building process to make sure everything is done right if you want to. You can usually upgrade your windows or doors to get the best quality you desire. Plus the quality builders seemed in my area to charge 50% higher prices per sq. ft. than the spec home builders – Yikes! I found that building my house with a spec builder saved me money, and I still have a wonderful quality house.
So, my advice is to research, research, research. Find a builder that will give you the most for your money and one you can trust.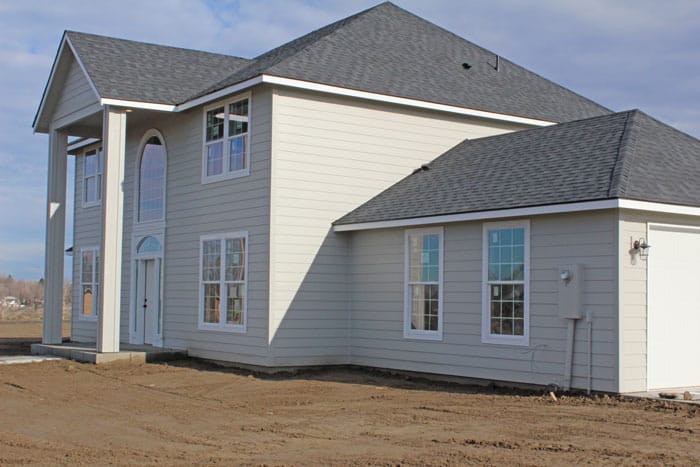 PICKING YOUR HOME LAYOUT PLAN
A lot of the time when you go to spec home builders they have a whole bunch of house plans for you to choose from. Sometimes they allow you to tweak their plans a little bit by adding a closet, changing a door location, expanding a bedroom etc, so keep that in mind. If the plan is almost what you want you may be able to tweak the plan and make your dream house. But those changes can cost money so make sure and check on those prices.
If you don't find any layouts that you like in your price range, you are most likely a custom home plan person like me!
I kind of liked one spec house plan, but it wasn't exactly what I wanted. So I went online and searched house layouts. There are tons of different sites out there that let you search by house type, bedrooms, sq. feet and more. Yep, you got it…more research.
Seriously, the research never ends! 🙂
Tip #1: to save money on a house layout look for house plans without too many edges. The more exterior corners, the more expensive it can be to build.
I searched until I found a layout that was almost exactly what I wanted. My dream house was a combination between the spec house and the online house layout. I went and used a free online program called floorplanner.com and started making my own layout. Here is my house layout – as you can see there is not too many edges or pop out exterior rooms. This saves money as many times builders have to pay more for framing houses with many edges.

Tip #2: Try to find a spec home builder that will do a custom built home for a great price.
I feel so fortunate to have found my builder (Olin Homes). My house plan was around 2700-2800 sq. feet and they gave me the same starting base price of one of their homes with the same sq. footage. I would have to pay a little more for my layout having additional windows or doors, but this was the best price around by far. So I got a custom house design for the spec house builder price. Basically the best of both worlds. The best part was that the builder took my online designed layout and for a fee re-created an actual blueprint design for building with. Bada – bing- bada- boom.
Tip #3 The more square footage of the house, the more expensive it can be. Make a few rooms smaller & save big.
When making my custom house plan with the free online program as mentioned above I reduced room sizes whenever I could to save money. Even reducing a foot off of a room can save thousands of dollars. So I made my master bedroom smaller, and had a two story opening in the family room. I could have used that space above the family room for a bonus room, but by opening it up I saved money and made my home feel much more open and spacious. I kept my master bathroom and kitchen area big however because those are usually rooms that add value to a home. So figure out what rooms you can shrink and save yo' self some money.
Well, that's about all I can think of right now. Do any of you out there have any other awesome tips for saving money on your house plan design? If so please leave a comment below.