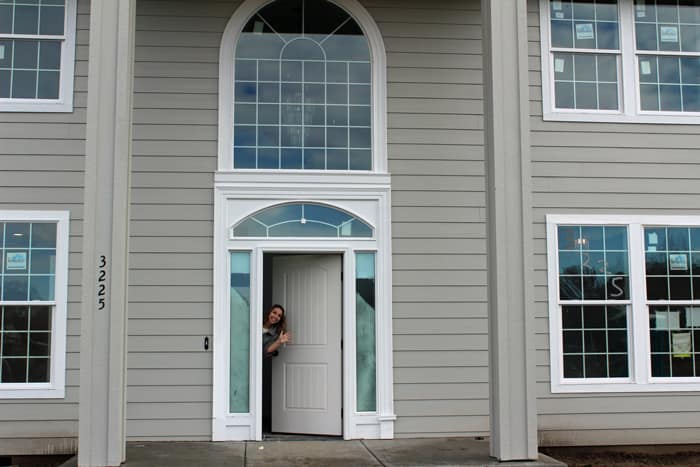 It's overwhelming to see my dreams come true. I honestly feel so spoiled and that I don't deserve this the majority of the time. My house is turning out more beautiful than I imagined, and it all feels so surreal. I mean, you are talking to the cheapskate girl who loves to shop at value village, who has struggled many times in life financially and who always dreamed of just being happy – with or without having money. But having this blog has allowed me an income which has allowed these dreams to come alive. So thank you dear readers, for following along with me over the years, and sharing my site with others.
After we bought the 5 acres of land, we started researching what would be the best house plan and which builder to choose.
Y'all know I am a cheapskate.
And we had a pretty tight budget as well. So I knew we couldn't afford a house probably bigger than 2700-2800 sq. feet. So we went to sites online like dreamhousesource.com and my husband really liked the look of this house's exterior. We also went to all the less expensive building companies such as Lexar and Adair to look at their house plans. I really liked this Adair house plan and we were going to go with it. However with all the upgrades needed I felt a little bit ripped off by all these companies. The base price was great for these companies, but the upgrades would get you. At this time I talked with my future neighbor who also purchased one of the 5 acre lots and she recommended I look at the prices of Olin Homes as that's who she was going with. I went down, talked with them and fell in love. The prices were the best I had seen, and they didn't gouge you with the upgrades. It was the perfect fit for me.
The house plan.
I showed our builder Dean Olin some of the designs I loved and layout choices and together we figured out the perfect layout. The house is around 2800 sq. feet, has a beautiful exterior (which my husband loved) and an open layout design (which I loved). My husband and I have always been a bit old fashioned and love the look of colonial homes so we chose a grand front porch with pillars. Everyone that sees the house thinks it's a lot bigger than it is which is great! Dean created the layout for us and we have been happy ever since. The price, the layout and the builder were a perfect combination and we signed away to build it.
Here is the house layout design. (click on image below to see it a little bigger)

My favorite is the open dining/living room/kitchen area and huge walk in pantry. I literally cannot wait to see the cupboards put in later next week. My husband and I wanted our house to be our forever house. A house to grow old in. So we built the house with everything we need on the bottom level. Our master bedroom, the kitchen, and we added washer dryer hookups in our walk in closet. That way if our knees don't want to climb the stairs someday… we won't have to hike it up to the main laundry room. I wanted big windows to look out on our 5 acres so we have plenty of windows all over the place. We saved money by having a smaller master bedroom and garage. We do regret making the garage so small – so someday we may have to build a shop or something when we can afford it.
So here's the house…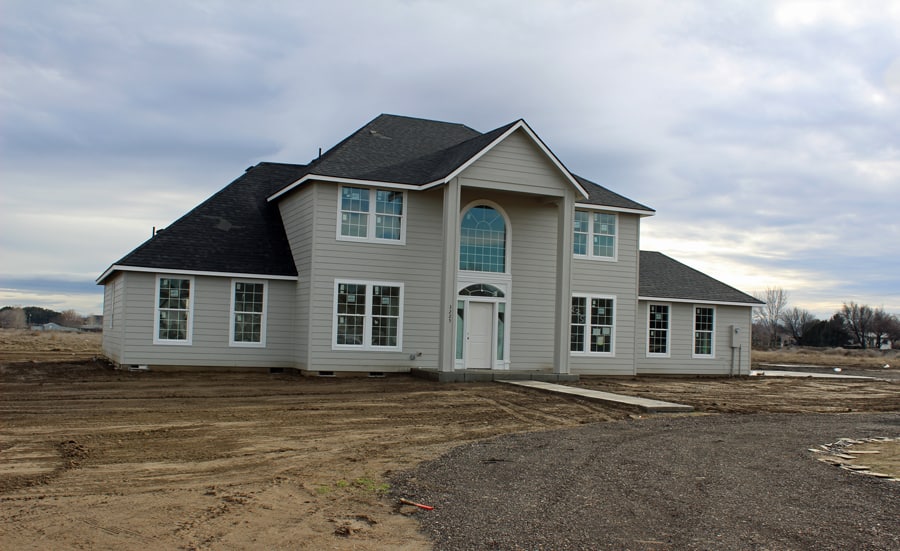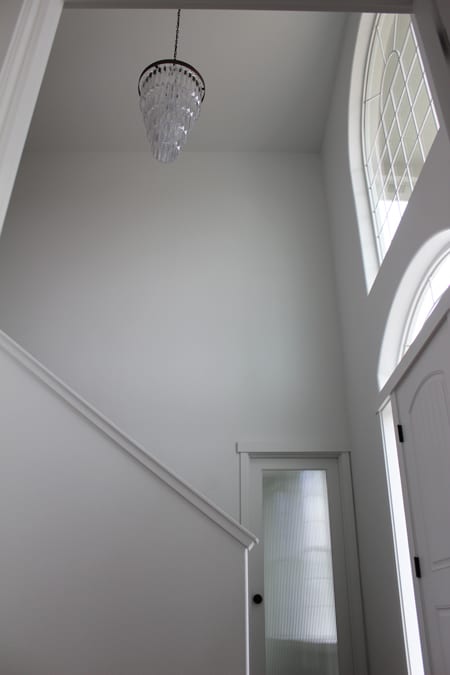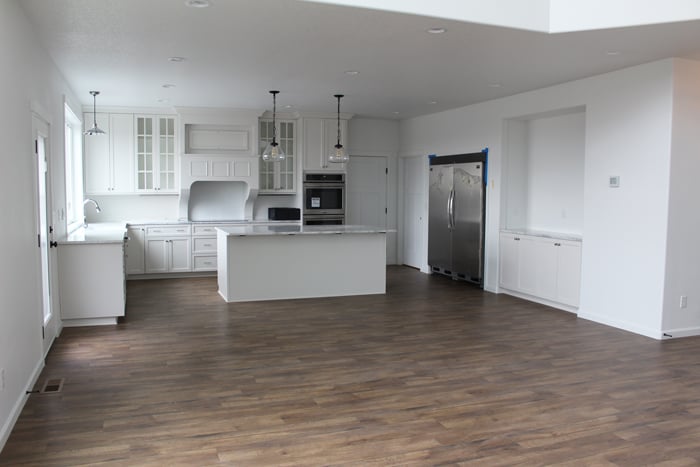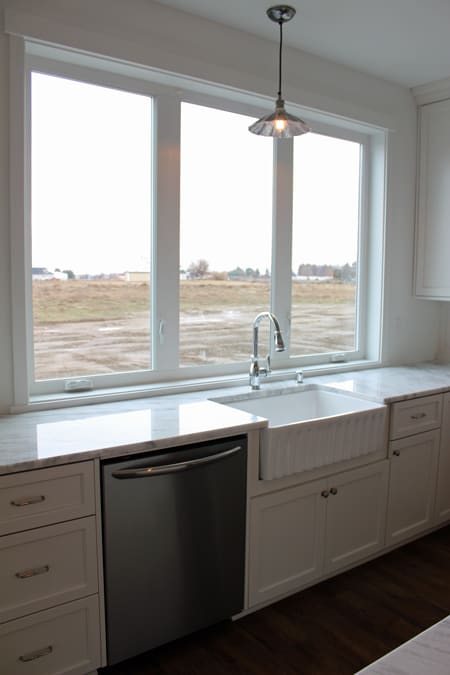 My favorite place is the kitchen… I am in awe every time I look at it! I will likely be spending all my time in there…and that view out of the kitchen sink? Oh it's just heavenly.
I know, I don't deserve something this nice when so many people struggle in the world with no home or place to live. I feel almost a bit ashamed sometimes when I think about it, but then I know I have also worked really hard for many years to save up for my dream to come true. I have always wanted to have my kids learn the value of hard work on a farm, and to know how to grow fresh delicious food from the garden. I hope I can do something good with my 5 acres someday. Maybe be able to give back in some way to those in need.
I want to let you know that the Lord my Heavenly Father is amazing and has been with me throughout this process, guiding me with his strength, helping me make decisions, helping me to stay on budget and not want more than I need. Helping me with patience, love and understanding and I am so grateful for that.
So anyways… I will be sharing many other great tips and tricks I have learned throughout this new home building process just in case there are others out there that want to save money while building a new home. And may you all be able to one day live your dreams as well!