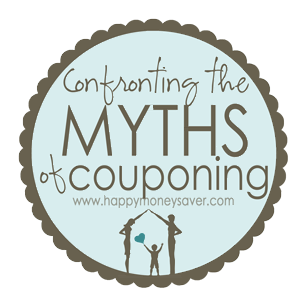 This series is for all those myths, questions and comments many of us couponers get from the non-coupon users out there. If you missed the first posts in this series I have great news — you can still read them:
Coupon Myth #4: "The Things I get on Coupons are for Things I Don't Buy Normally"

Guest series of posts by Bonnie H.
I will be the first to admit it: a lot of things that there are coupons for are for processed foods. Brownie and cake mixes, frostings, fruit snacks, granola bars, the list goes on and on. When I first got into couponing, I bought everything that was a good deal! But, over time I learned what kinds of things we did and didn't use, and now I am a lot more picky. For example, no matter how cheap applesauce or jam are, I never buy them. Never. I make my own. I also learned that we really don't eat things like poptarts and granola bars. However, I still buy a lot of 'processed' foods at times though, and I will be the first to admit that I LOVE having a supply of snacks to grab for traveling, or when my son has the snack basket at preschool, or when we are going on a picnic. It's also extremely nice to pick up a whole bunch of yogurt to keep my fridge stocked with for my kids or husband to grab when they're hungry.
I am a huge advocate for donating to those less fortunate as well! I love the holiday season with all of the food drives, because that is when I feel like we are able to share our bounty. If I am able to pick things up for next to nothing, I am happy to do so even if my family won't eat it, because I know that I can donate it to a good cause.
I had a friend at my house awhile back who loved the juice that I poured for her, and when I told her what kind of was, she said that she'd never even heard of it, and certainly wouldn't have bought it, since she wouldn't have known if she liked it or not. The only reason I personally had bought the juice was because I had been able to get it for 46 cents with a coupon, and since I'd had several coupons, I tried all of the flavors. I am frequently trying new things that I wouldn't buy normally, all because I have coupons that allow me to try it for very little out of pocket. And, in the process, I have found many things that I or my family has ended up enjoying!
Another thing that I have ended up with a large number of, thanks to couponing, is cough drops. Now I will admit, it is something I have acquired even though (gasp!) we don't use them. I ended up donating them to a local house of worship where my husband's parents volunteer, and they were greatly appreciated by the other volunteers there!
I would love a discussion on this topic – do you feel as a couponer you buy things that you wouldn't normally buy?