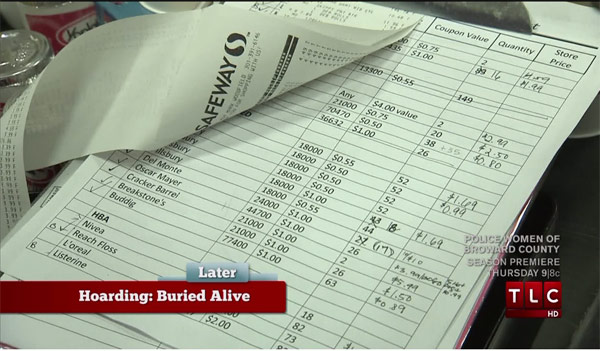 Recently I posted about a new show on TLC called Extreme Couponing.  I've also expressed how I feel it doesn't show us couponers in a good light. Well unfortunately I read some shocking news that one of the contestants on the TLC Extreme Couponing Show may have committed coupon fraud. We all know that there are unethical and sometimes illegal ways to coupon.  There really is a dark side of couponing.
When I read about  TLC's Extreme Couponer Jaime Kerlew, and how she might have committed coupon fraud on the actual episode I was shocked.   Jaime Kerlew awhile ago posted a couple of YouTube videos showing fraudulent couponing tactics at Target on some forums bringing a lot of negative attention. She did things like use Crest White-strips coupons to buy  Tide, Olay Body Wash coupons  on Secret deodorant, and so on.  Jill Cataldo's Blog has a post more in depth about how they think she committed coupon fraud on TLC. Very interesting read.
On Jaime's facebook page it looks like people are very upset as well over there. In fact she is being called all kinds of names and people are saying they hope she is arrested. She turned off the comments after the 213th even.
UPC Coding is illegal and unethical couponing. It is when you would look at the barcode and if it matched the coupon would go ahead and use that coupon even if  the coupon doesn't list the correct product.  For example Jaime may have used a $1/1 Buddig 12-16 oz size product coupon on the little 3 oz packages because the bar codes were the same. This is a crime and illegal. I know in the future the stores will be changing their UPC systems so as to avoid these kinds of problems. Make sure and follow the words exactly on all coupons.

Also NEVER ever ever photocopy internet printable coupons or manufacturers coupons. Each internet printable coupon has its own unique tracking number so if you photocopy them the store will not get reimbursed for the duplicates. It is like stealing from the store as they have to take the loss on duplicates. Plus the coupons are also tied to your own IP address as well, which is linked to you and coupon fraud is illegal.  Never photocopy any coupons.
I know from reading a lot of your emails and comments over the years most of us couponers are good people who are just trying to do the best for our families. I know that most couponers are the most generous people in the world.  That's why its so hard to see a couple of bad apples painting all of us as either weird hoarders or sneaky and dishonest.  Experienced couponers know there are many ways to commit fraud but I would never teach this or endorse it.  There are just so many great deals to be had honestly!
Feel free to add you thoughts to this this issue.