Did you know you could create your own homemade drano? Well, it's not really like drano because drano is full of a lot of scary chemicals and toxins, but it can get the clog out of backed up sinks and tubs like drano, and I think that is pretty awesome.
Last week, my tub decided it did not want to drain for me. I thought about going to the store to buy something to fix the clogged drain, but instead, decided to create my own solution (this doesn't sound like me at all, wink wink) and it surprisingly turned out to be quite an easy task. My tub that took 15 minutes the night before to drain, now drained in 3 minutes. I couldn't believe it. All this time I had been using those harsh chemicals, when I could have been using simple and safe ingredients to make my own.
My Homemade Drano Recipe uses safe all natural ingredients, unlike the store bought stuff which is full of scary chemicals. I love that it uses ingredients that I always have on hand, and is still effective. Are you ready to find out how to unclog a drain the natural simple way? Lets get to it.
My DIY Homemade Drano Recipe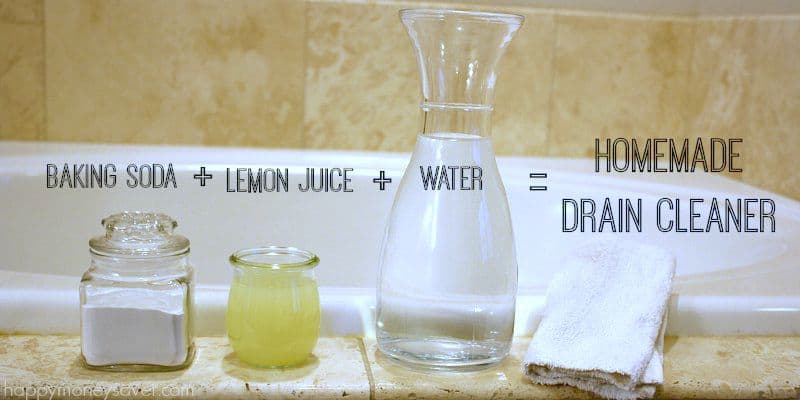 1 cup baking soda
1 cup lemon juice or vinegar
boiling water
First make sure water is drained from tub or sink. If it is slow draining, just be patient and wait for all the water to drain.
Remove any drain plugs or stoppers from the tub or sink. You want an opening big enough so you can really get the solution down the drain.
Next pour boiling water down the drain to help losen up any gunk. Let water drain again.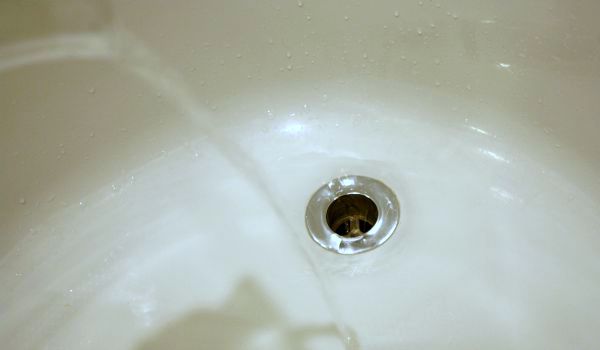 Next pour baking soda down drain. This was by far the hardest and most time consuming part. Try your hardest to get all of the baking soda down there. Use a funnel if you have to!
Next slowly pour in the lemon juice, and also vinegar works just as good! The lemon juice will cause a reaction with the baking soda and this will result in some fizzing and bubbling action. Cover the drain with a cloth, or tub stopper so that the baking soda can work. We don't want it to come up, we want it to break up the clog down below.
Leave the cloth or drain plug for 30 minutes. During this time the foaming action will be breaking down the clog.
After 30 minutes, uncover the drain and very slowly pour more boiling water down to flush the clog out. If you have plastic piping, it is best to avoid boiling water and instead use very hot water.
Depending on how stubborn of a clog you have, you may need to repeat the process a few times, but it should work if you follow these steps. If you're still having troubles it may be time to humble yourself and call the plumber. 🙂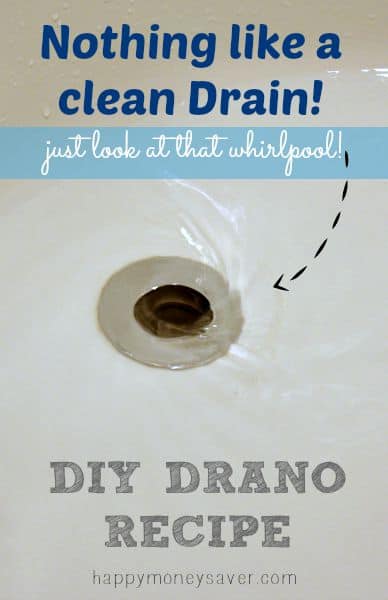 Lemon Juice-.48
Baking soda-.31
Water- Free

Total Cost-$0.79

A 32 oz. bottle of Drano cost about $4.00 at Walmart and my homemade version is only pennies! So yes, it is definitely worth the cost, and time to make. I love that it uses products that I already have in my kitchen, which means I don't have to take an extra trip to the store. Plus, I don't feel like I am going to die a horrible death from breathing in nasty chemicals and toxins. I love that this recipe is safe to use around my kids!
Check out more of my homemade recipes >>> here.