Some gardeners worry about deer, squirrels, rabbits, cats and even birds. But have you ever heard of the problem being your family dog?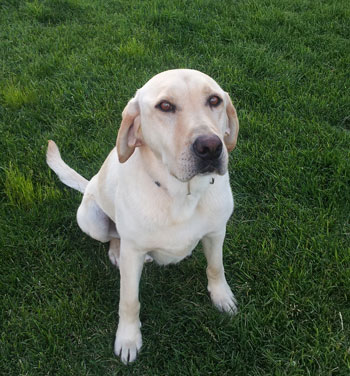 This is our yellow lab Comet.
Yes, hes is pretty dog-gone cute. And now he's for sale. Real cheap.
You see, this dog thinks the garden was made for him.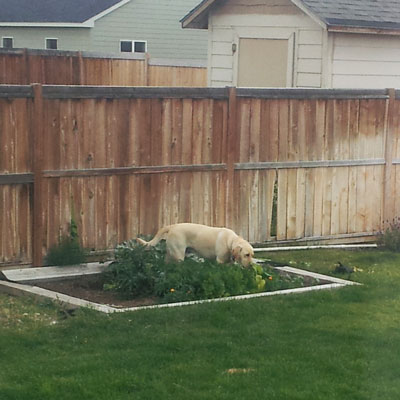 PS – it's pretty sad that I was spying on the dog for about an hour to get this picture. I watched him do so many things before I caught him in this dirty deed. In fact I almost gave up… but ha! Worth it.
A few weeks ago he ate half of my sugar snap peas before trampling them so bad they died. He also devoured all my strawberries!! He waited until the strawberries were ripe and ate them as soon as they were red before we could get to them.
He also took a doo doo by my lettuce a few weeks ago too. Not cool Comet, not cool.
And this week it was the final straw. He dug out and ate up a whole row of my carrots.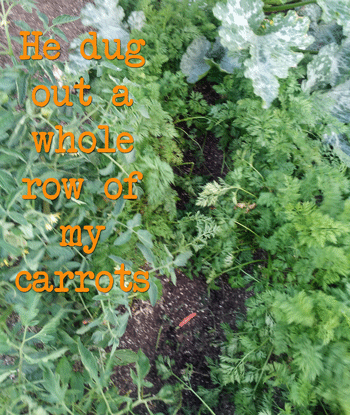 I am really upset about the carrots. My garden only had 3 rows of carrots to begin with since its a small garden. Now we are down to 2 rows. Very sad.
So anyways, I really don't want to have to fence off my little bitty box garden, but I don't know what else to do. Any advice?
On a positive note here are some things that are growing well right now – So far Comet doesnt seem to care for my Zuchinni, and its growing like crazy! We have had enough for 2 dinners already. Also I have lettuce, basil, and some green beans starting to flower.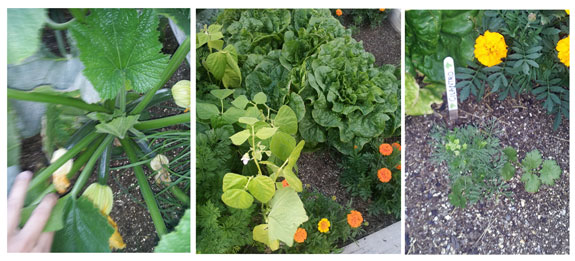 I will end this post with a picture of my little tomatoes growing I took a picture of tonight. Yep – he had to take a sniff of them which made me really really nervous. Help!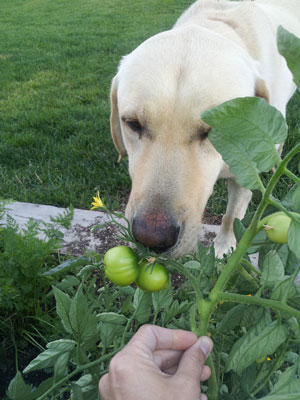 See other posts in my Adventures in Gardening series so far: