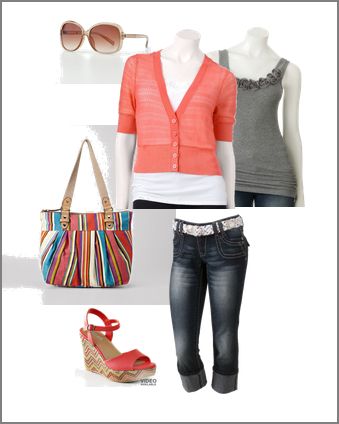 If you are new to my blog I am doing a series called Fashion boards on a budget using stores like Old Navy, Gap, Kohls, Target to show you that you can get full outfits at a discount. You don't have to spend big money on those designer brands where just one pair of shoes may cost you $90.
This first set  is really nice n colorful. Isn't this so cute for summer?? I am in love with how cute, fresh and simple it looks. All these items are from Kohls.com at discounted prices.
Note: This weekend at Kohls.com you can get 20% off your entire purchase + FREE shipping on orders over $50!
use promo code LUV20AFF to get 20% off your entire purchase from 3/16-3/18
+ use promo code LUCKYSHIP at checkout to get FREE shipping on orders over $50. You should be able to use both promo codes at once.
To Buy This Set:
Kohls: SO® Open-Stitch Cardigan – $20.99 ($16.79 after 20% discount)
Kohls: SO® Rosette Tank (the white tank would work too)- $11.20 ($9.00 after 20%)
Kohls: Angels Folded Cuff Denim Capris– sale $29.99  ($23.99)
Kohls: Mudd Platform Wedge Sandals – sale $38.49 ($30.79)
Kohls: Relic Gia Striped Pleated Tote– sale $32.40 ($25.92)
Kohls: Apt. 9® Barefoot in Barcelona Round Sunglasses– sale $18.99 ($15.19)
Total: $125.49 with free shipping for this entire set if you use promo codes.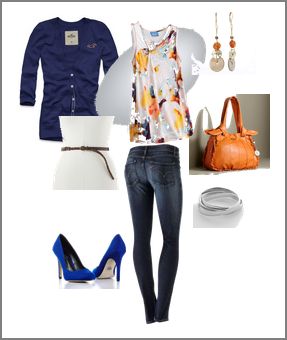 This second set is also really cute and dressy. A little more on the pricey side, but since you are shopping at Kohls you are getting designer brands at lower prices.  PS – I would never wear those heels..I would instead use a cute pair of summer sandals, I am just too much of a casual gal. But I know there are lots of you trendy girls that love you some cute heels!
To Buy This Set:
Hollister: Avalon place blue cardigan – $34.65
Kohls: Simply Vera Vera Wang Floral Chiffon Tunic– sale $30.80 ($24.62)
Kohls: Levi's 535 Denim Leggings – prices vary
Kohls: Rock & Republic High Heels– sale $48.99 ($39.19)
Kohls: Chaps Braided Leather Skinny Belt– sale $21.00 ($16.80)
Kohls: ELLE™ Reece Ruffled Knotted Shopper– sale $49.50 ($39.60)
Kohls: SONOMA life + style® Gold Tone Disc Linear Drop Earrings– sale $8.40 ($6.72)
Kohls: Apt. 9® Silver Tone Woven Bangle Bracelet- sale $14.00 ($11.20)
Hope you are enjoying these fun outfits.