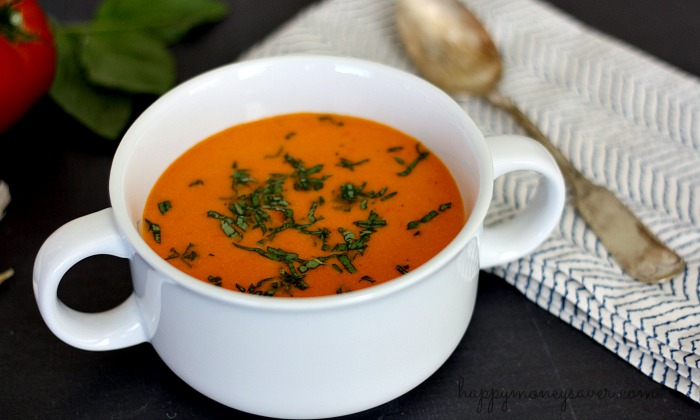 So many tomatoes…. so little time!! With fall upon us I know it won't be long for the first frost to follow. If you are anything like me, then you are realizing that you have too many tomatoes left on those tomato plants in your garden. I don't want them to go to waste so it's time to use em' up. Here is my recipe for Garden Fresh Tomato Soup. This recipe is simple to make and the best part is that you can freeze it and savor those garden tomatoes all year long! I love adding recipes to my growing list of freezer meals and this garden fresh tomato soup is the perfect addition. It is easy, inexpensive and tastes awesome.
Garden Fresh Tomato Soup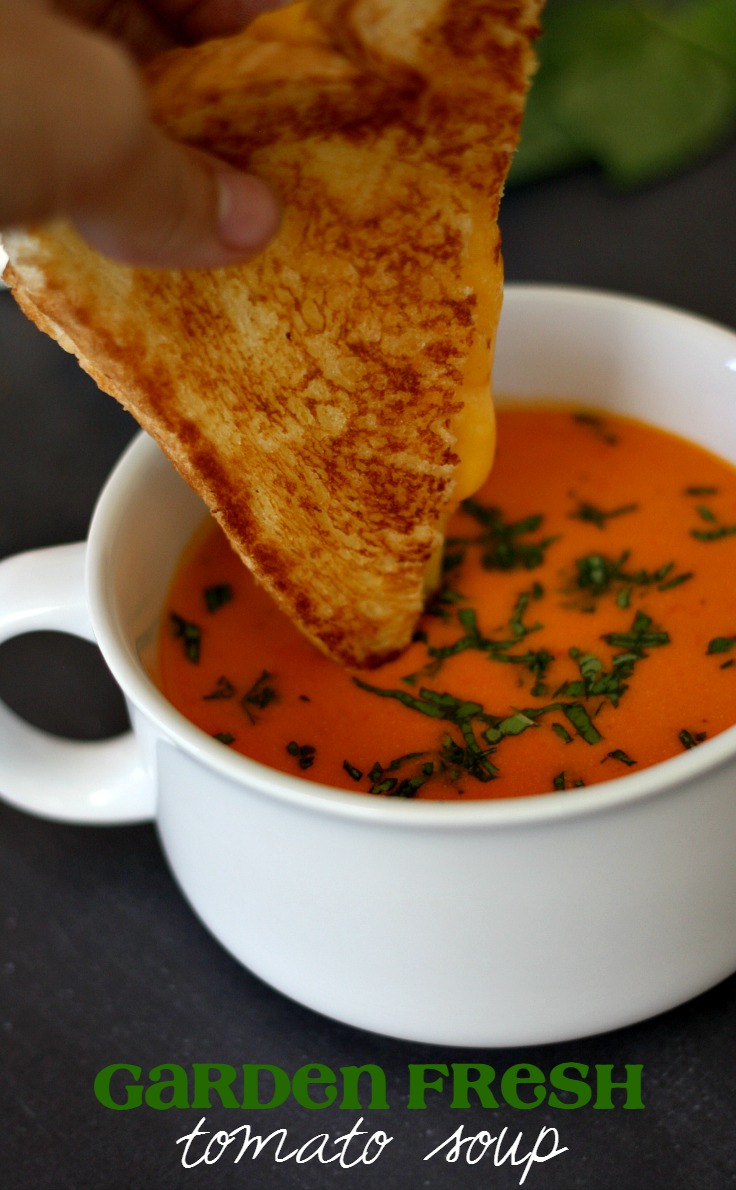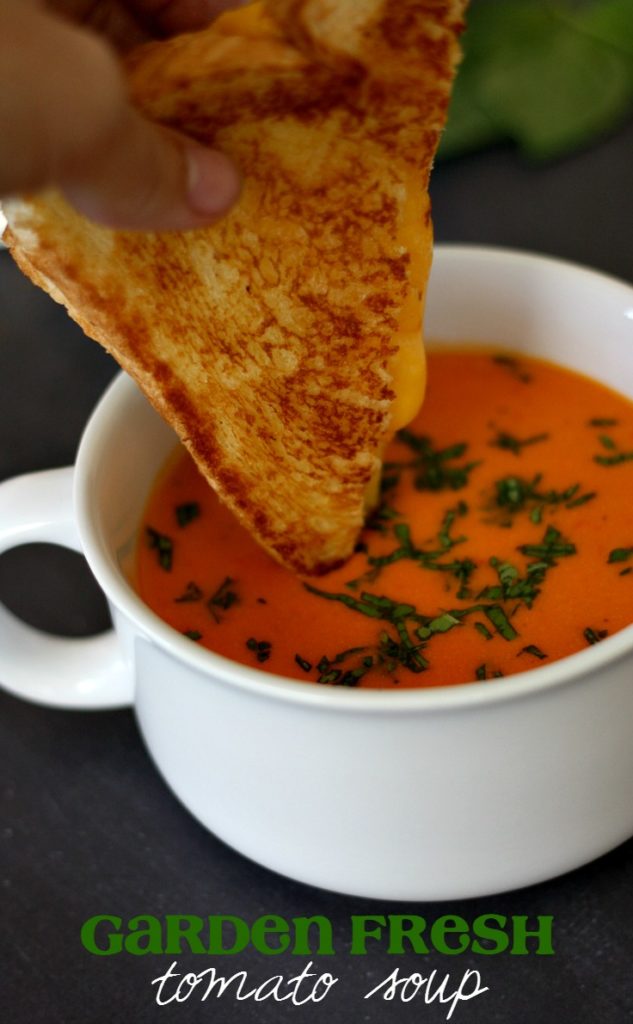 Gather together all the tomatoes you want to use. For a double batch I used about 15 medium sized tomatoes.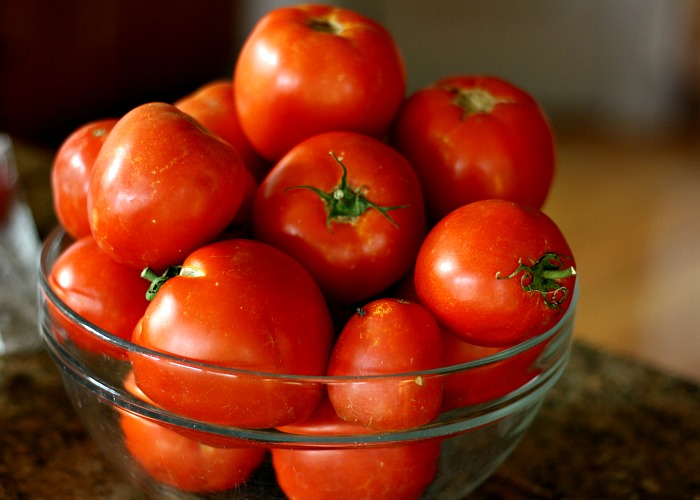 Chop them up making sure to salvage any and all extra juices.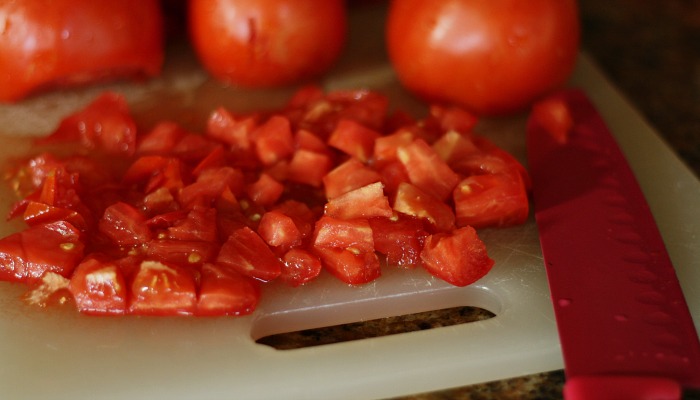 Mince up 4-6 cloves of garlic depending on how garlicky you like your soup.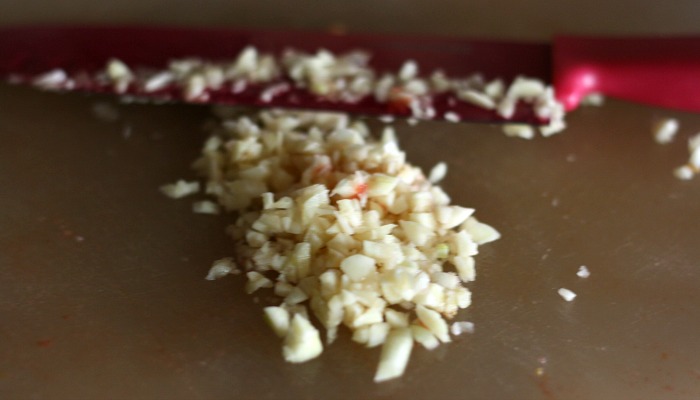 Sautee that garlic with a few tablespoons of olive oil over low-medium heat. Add in some salt and pepper. Be careful not to burn the garlic, just cook it until it becomes translucent and fragrant.
Add in your chopped tomatoes. I got roughly 13 cups of chopped tomatoes for my double batch.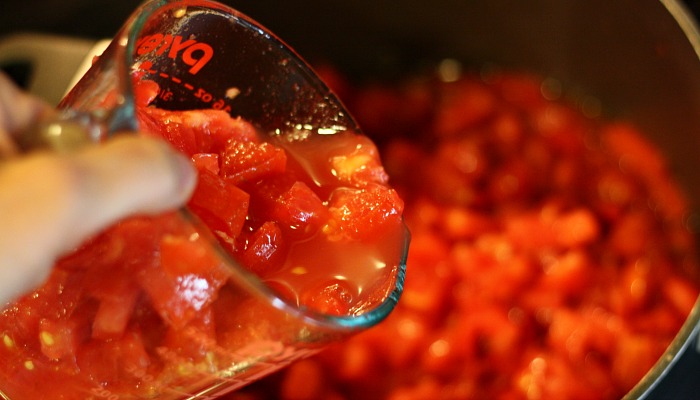 Simmer tomatoes for 15 minutes. Next remove from heat and add in 2 cups of chicken stock.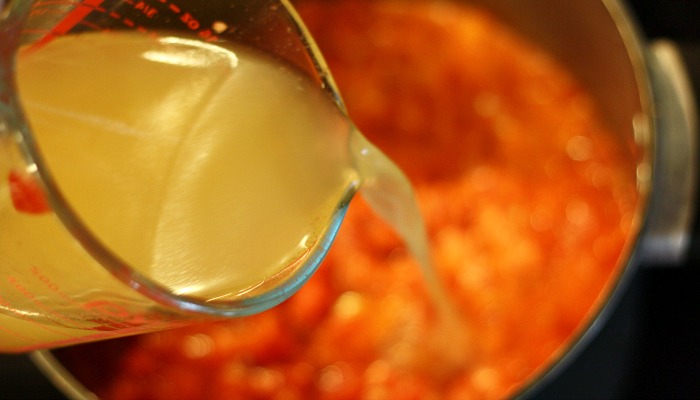 Let cool for about 20 minutes before adding it to a blender. Blend until you get a perfectly smooth consistency. It doesn't take long.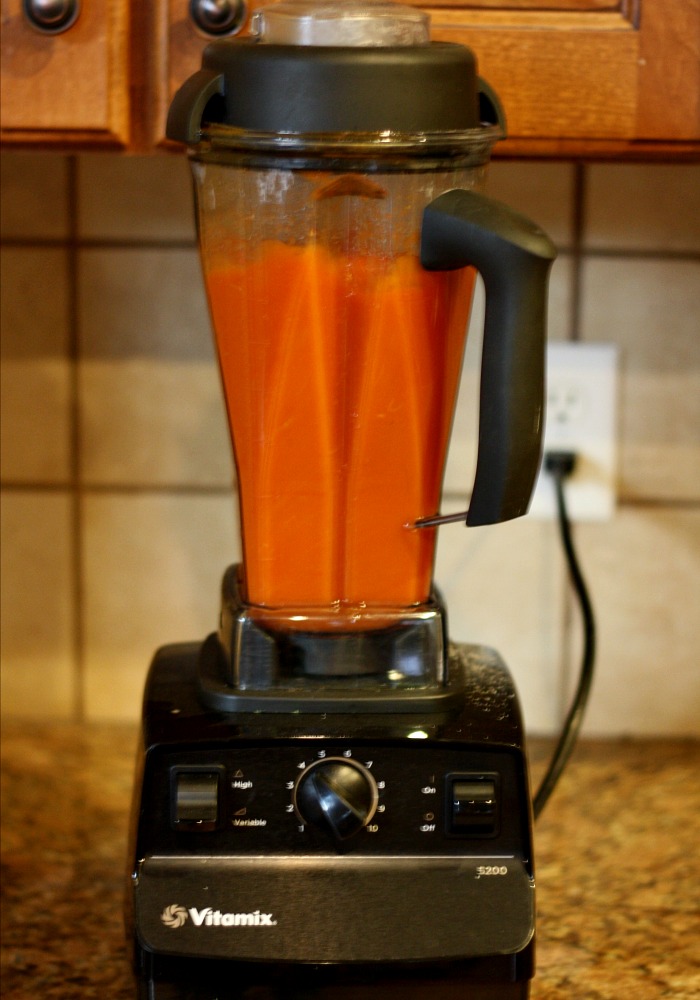 Look how pretty it is. At this point you can separate it equally between 2 gallon sized freezer safe zip lock bags and place them in the freezer to be used in the dead of winter when you are craving something yummy and fresh from your garden.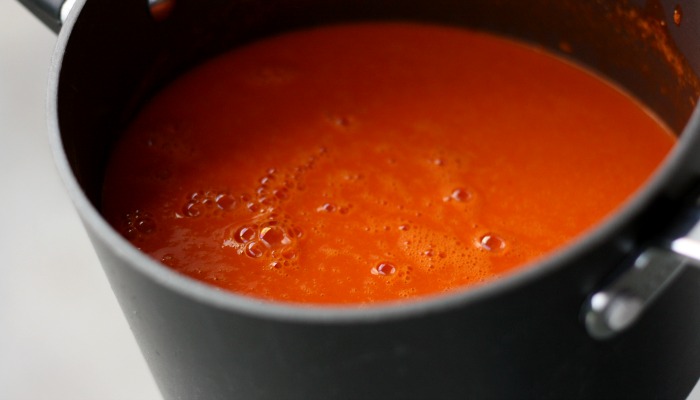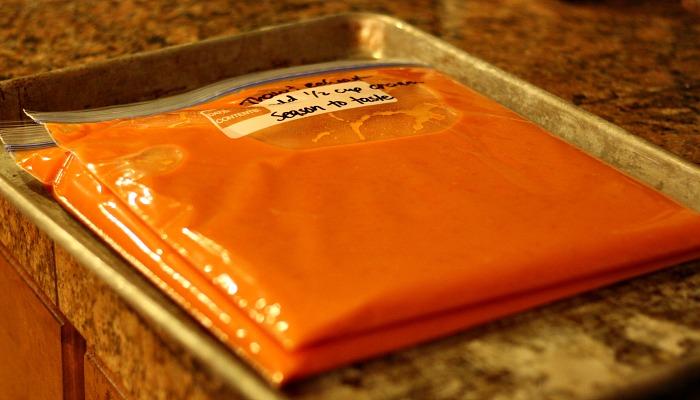 When you are ready to eat, just thaw out soup, warm up on the stove and add in 1 cup of heavy-whipping cream (per batch/bag).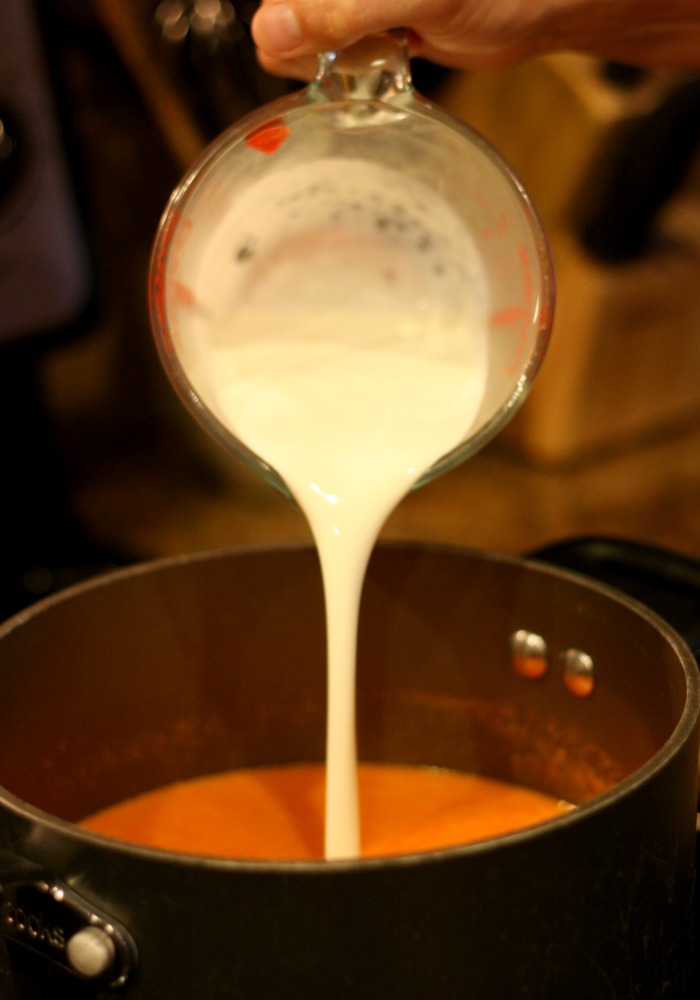 Stir it together and add in seasonings of your choice. We add in salt, pepper, celery salt, white sugar and brown sugar.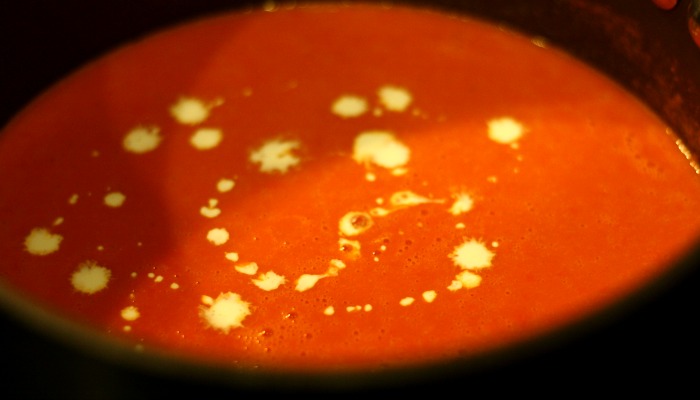 When heated through,top with some fresh basil and enjoy with what else than a yummy grilled cheese sandwich. Oh yeah baby!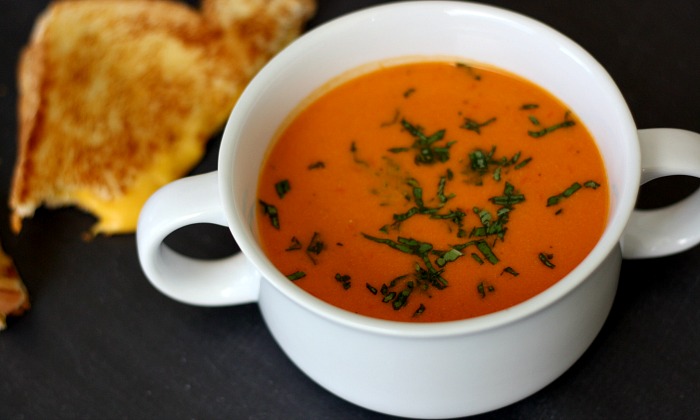 Below is the recipe. I hope this inspires you to use up those blessed tomatoes all winter long. Enjoy!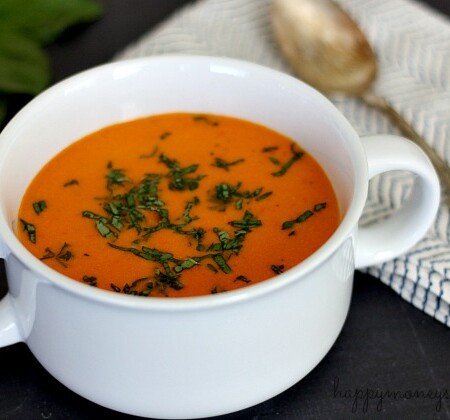 Recipe Card
love it? rate it!
Garden Fresh Tomato Soup
Servings 16
Garden Fresh Tomato Soup is easy, inexpensive and tastes awesome!
Ingredients
15 cups medium sized garden fresh tomatoes 13 chopped
4-6 cloves garlic
3 tbsp olive oil
2 cups chicken stock
2 cup heavy whipping cream
2 tbsp brown sugar
2 tsp white sugar
2 tsp salt
1 tsp pepper
2 dashes celery salt
Fresh basil
Instructions
This recipe is for a double batch, which fills two 1-gallons bags. I make this much for my freezer meals. 1 batch is enough to feed a large family of 6-8, so keep in mind that the recipe is for double that amount.

First chop tomatoes with skins intact. Make sure to keep as much of the juices as possible. Set aside.

Mince up 4-6 cloves of garlic and sautee them in the olive oil over low medium heat until translucent in color and fragrant. Make sure not to overcook them. Sprinkle in a few dashes of salt and pepper.

Add in the chopped tomatoes (roughly 13 cups) and simmer for 15 minutes over medium heat.

Remove tomatoes from the heat and add in 2 cups of chicken stock. Stir and let cool for 20 minutes.

Once the tomatoes have cooled enough that touching it doesn't burn you, add them to a blender. Blend until the consistency is smooth.

Split soup into 2 freezer safe zip loc bags and freeze.

When ready to prepare and eat, thaw and reheat tomato base and add in half the amounts of sugars, salts and pepper and cream since the soup is split in 2. If you are cooking up both just add it all in.

Once heated through add some freshly chopped basil on top. Enjoy!
Nutrition
Serving: 1Cup | Calories: 170kcal | Carbohydrates: 9g | Protein: 2g | Fat: 14g | Saturated Fat: 7g | Cholesterol: 41mg | Sodium: 352mg | Potassium: 387mg | Fiber: 1g | Sugar: 6g | Vitamin A: 1600IU | Vitamin C: 19.6mg | Calcium: 37mg | Iron: 0.5mg