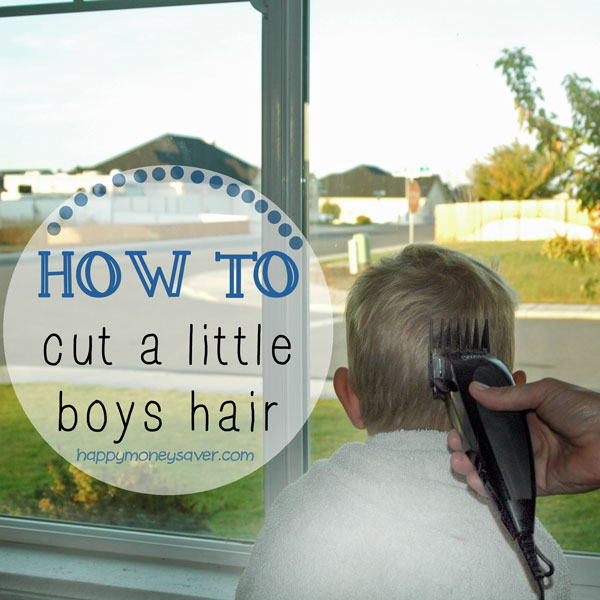 For this weeks Happy Homesteading post I wanted to talk about how to cut your little boys hair.
Haircuts can be expensive. As a mom of 2 boys and one happy husband, going to the salon every month really adds up to some serious cash. If you can learn how to cut boys hair at home and give the boys a nice cut; you will be save a ton of money for years to come.
My youngest son is 6 years old and I finally decided to take the time to learn how to cut my little boys hair. I was really afraid of messing up his hair, cutting him, or shaving him bald. So the way I learned to do it was by taking some lessons from my sister in law who is a professional hair dresser. Finally one day gave me some lesson and I have been cutting my boys hair ever since. I have only messed up once so far, so like with everything.. there is a learning curve. It's nice since hair always grows back so you can try, try again.
HISTORY
As you know I like to bring in a couple of pictures from my family history in these Happy Homesteading posts..so I looked through all my albums to see if I could find any evidence of some bad hair cuts. I found a couple for your enjoyment. See… even if you try this out and fail a few times, it won't be the first time.
This first cut I thought was funny was of this boy Herbert Olson (my great uncle). Looks like a definite bowl cut to me! Plus it's a little bit shaggy too. 🙂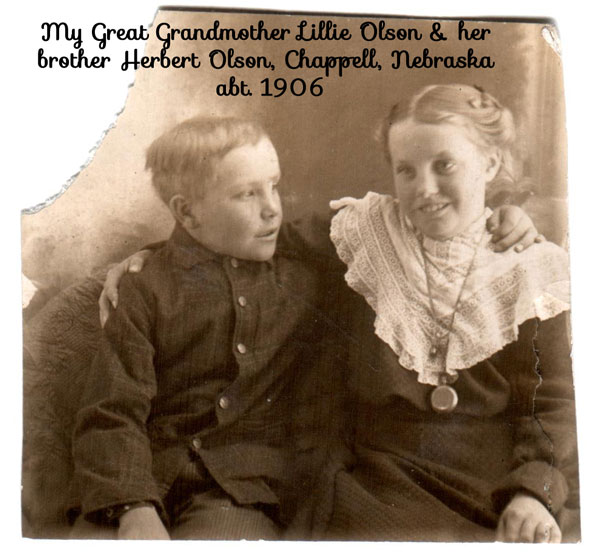 And of course…this picture of my Grandmother Marilyn in 1935 cracks me up! If that isn't a haircut done at home I don't know what is.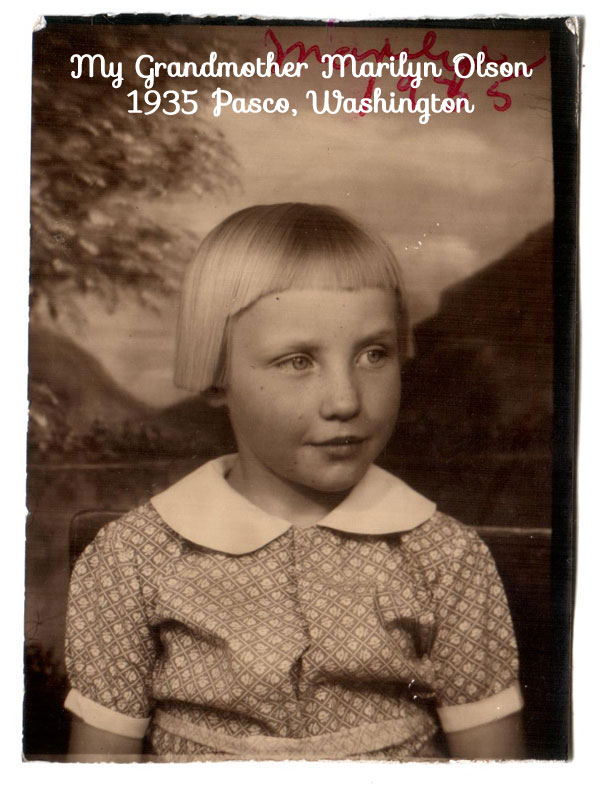 She is still absolutely adorable though…
HOW TO CUT YOUR LITTLE BOYS HAIR
I started with the clippers. I purchased a clippers set from Walmart for around $20. I used the clipper guard with the number 3 on it for my son. You can also buy a nice clipper set on Amazon for under $20 as well. You want to have a comb, some scissors, your clippers and the numbered guards.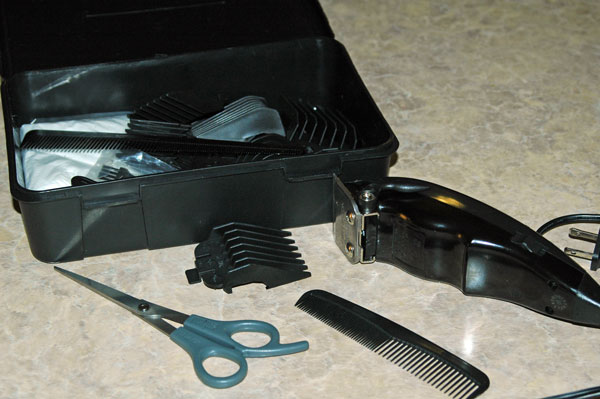 Next, find one silly boy and make him drape a towel over his shoulders (they hate getting all itchy…).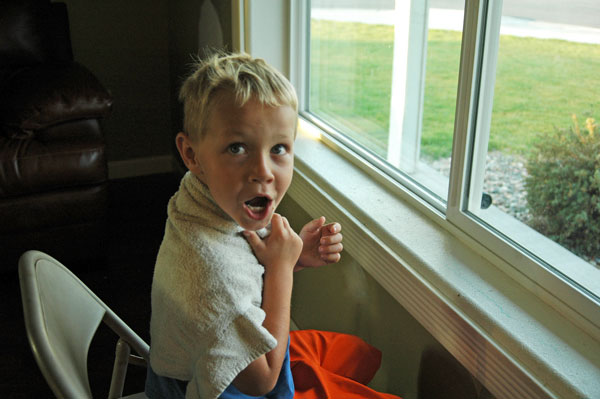 Start by putting on that plastic Number 3 guard on the clipper and plugging it in. Hold the clippers in a 90 degrees angle and go straight up from the base of the neck. Cut it in an upwards motion. Do this all around his head.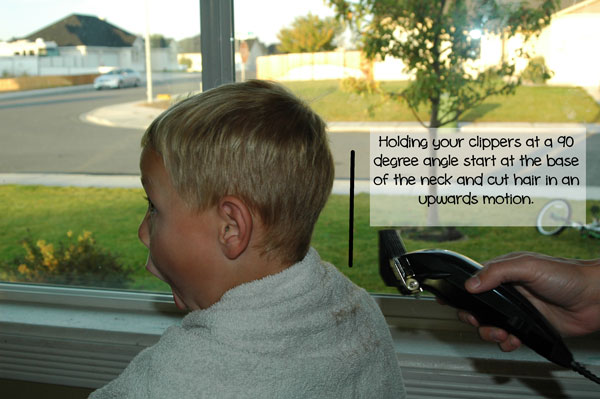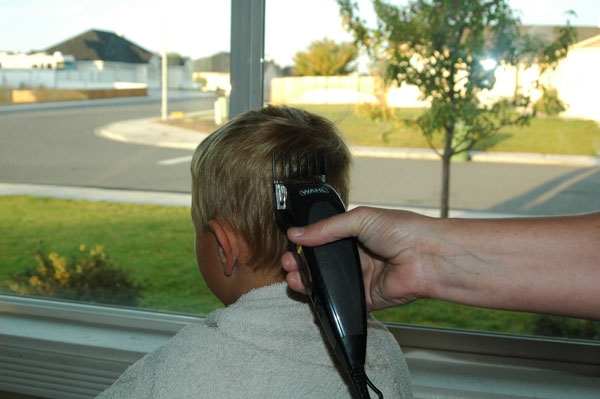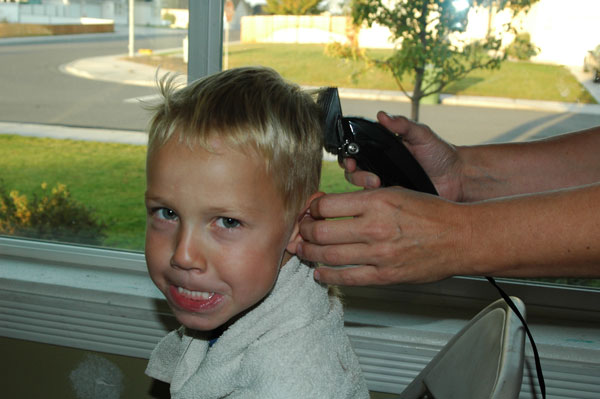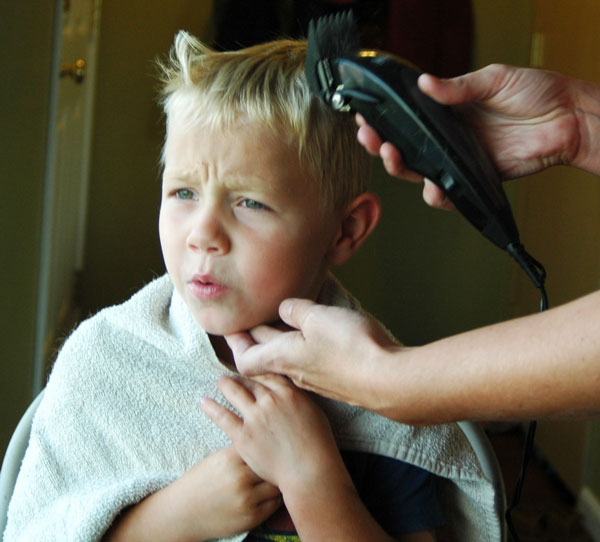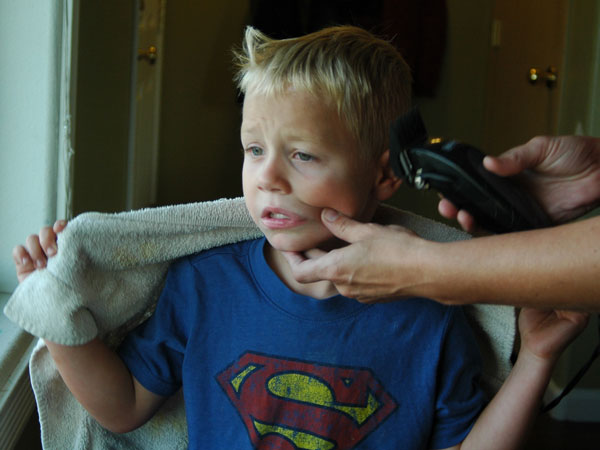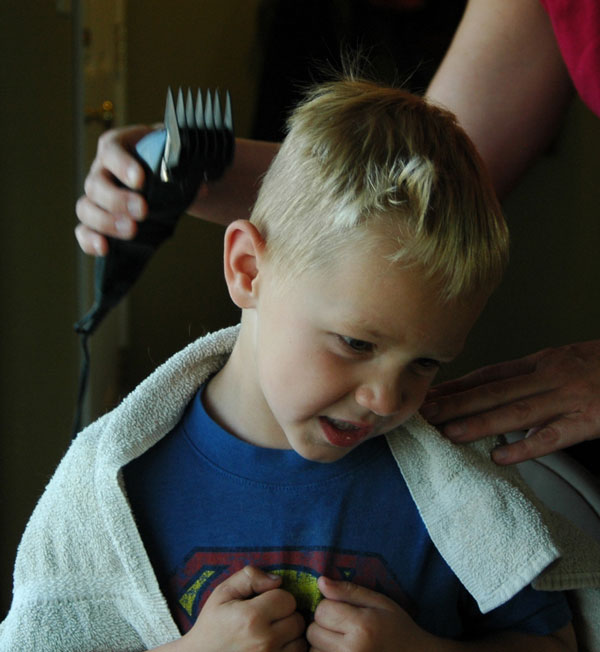 THE EDGING
Take the guard off the top of your clippers, and do some cleaning up around the ears and the back of the neck. You can also use your scissors at this stage as well if you prefer. Be very careful not to nick his little ears, those clippers can be sharp.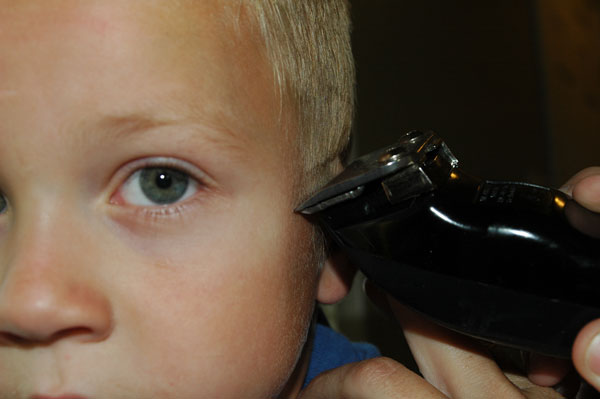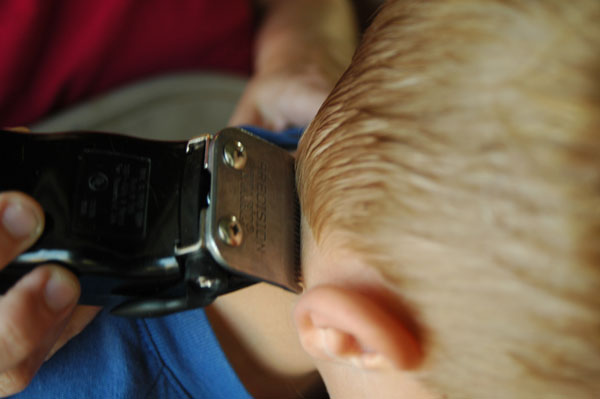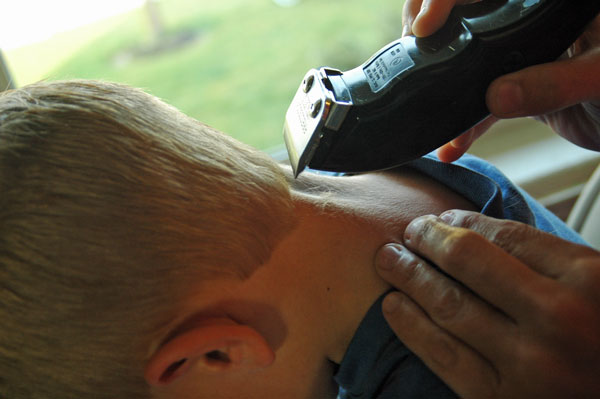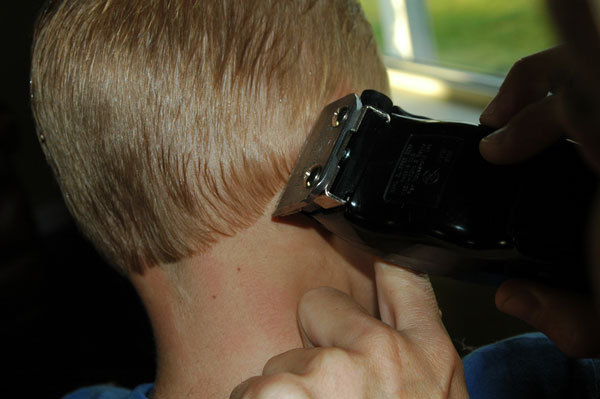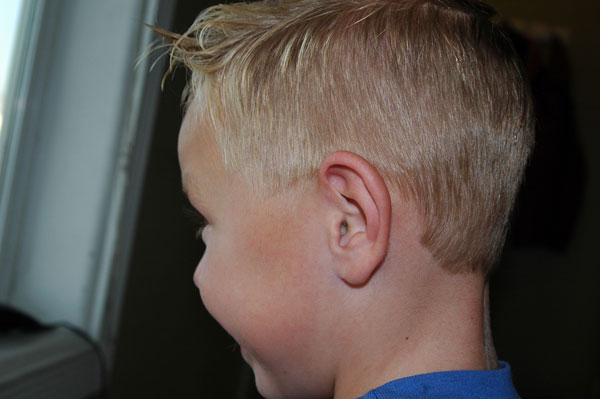 Now you are DONE with the clippers. Get your scissors out for the rest! First step is to get his hair wet. My dollar store spray bottle broke (big surprise there…) so I just used a cup of water. My son LOVED that as you can tell (said sarcastically).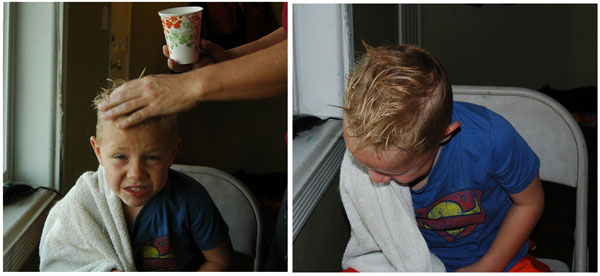 MAKING YOUR GUIDE CUT
To begin trimming the top of his hair, take a section in the front and make your "GUIDE". Choose the length you want his hair to be for this guide.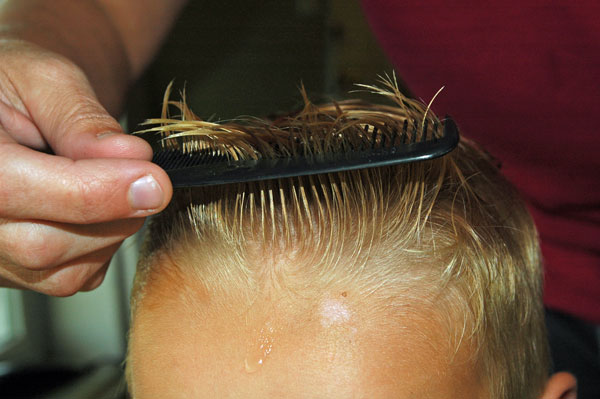 Then holding your fingers as level across as possible cut the hair away.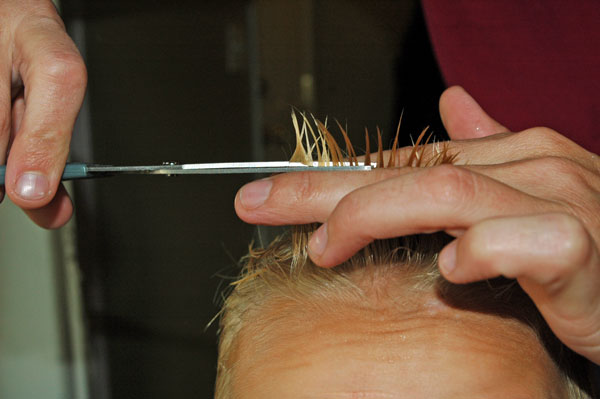 Then if once you have your guide you will be cutting the rest of the hair that length.
View the top hair in 3 sections, the middle and the two sides. Starting at the front and working your way to the back do the middle section. Comb a section on his head up level with your fingers and snip away the longer hair to the length of the guide hair you cut. Use the guide cut all the middle section, then the sides.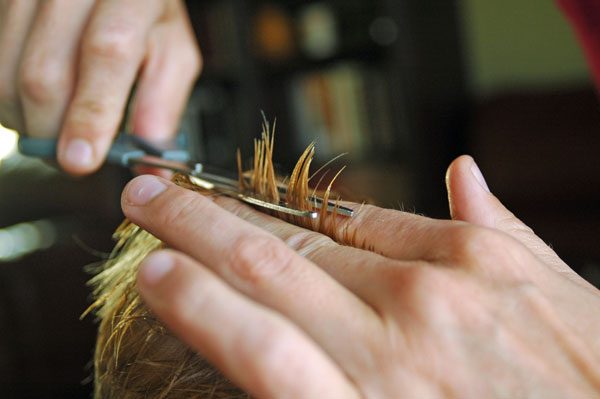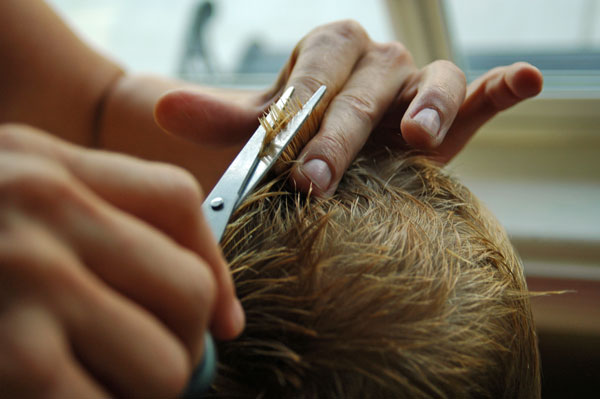 Your last step will be blending the top of the hair with the shorter sides. To do this you need to cut at a 45 degrees angle like the angle this comb is at in this picture.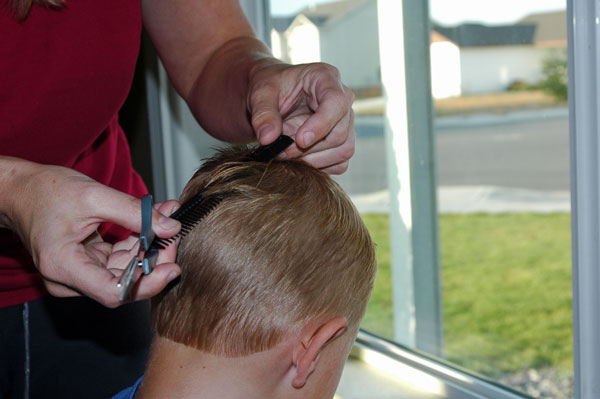 I used my fingers and just gently clipped the hair at that 45 degrees angle.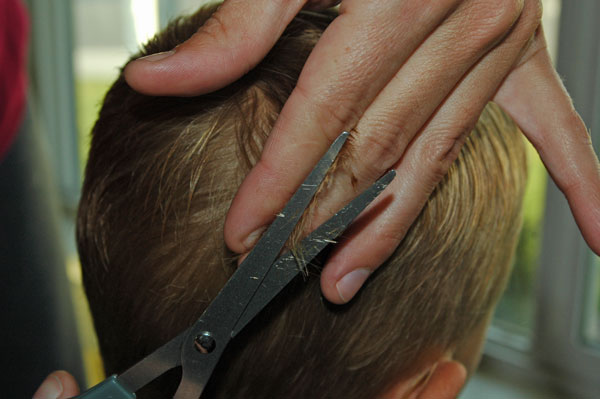 PS – Have I mentioned to you all how much I love this face? I do, I really do.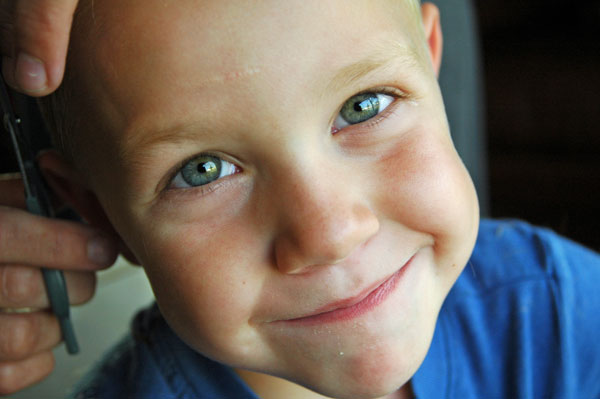 And then you are all DONE! Woo hoo! Another $15 saved. Here is the end result (just like at the salon!)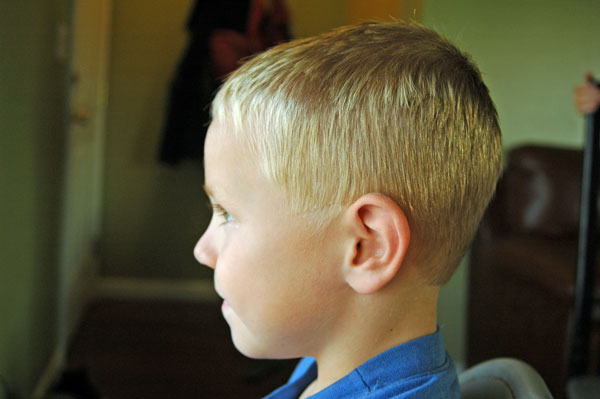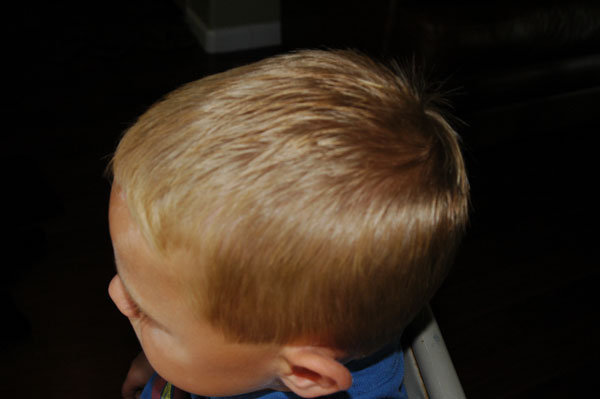 My son was thrilled to be done…and get all that hair off him. Time to head on over to shower off!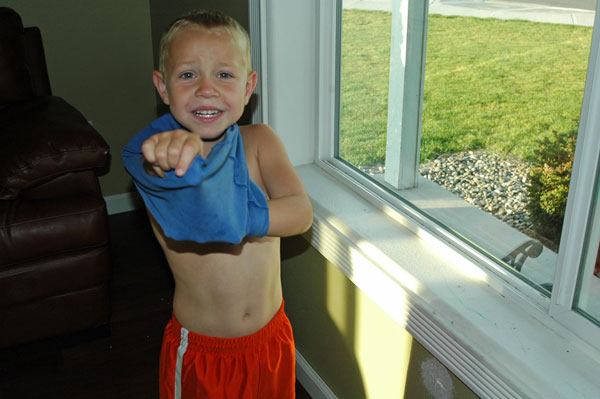 Because getting a haircut can be ITCHY!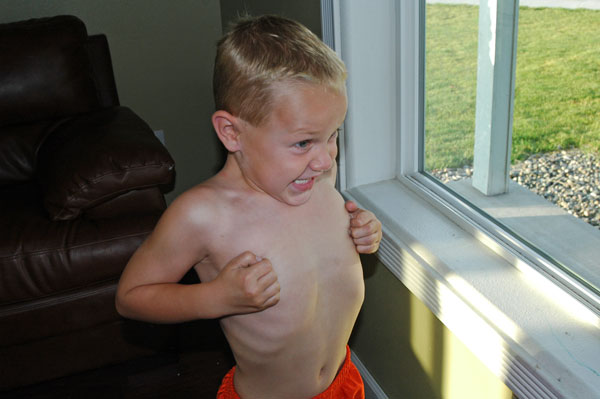 Thanks for reading… I hope you try to cut your own son's hair too to save some money. I haven't yet tried to cut my daughters hair, I need another lesson from my sister in law for that one.
And if you are looking for a nice Clippers Kit – check out this one on Amazon for under $20.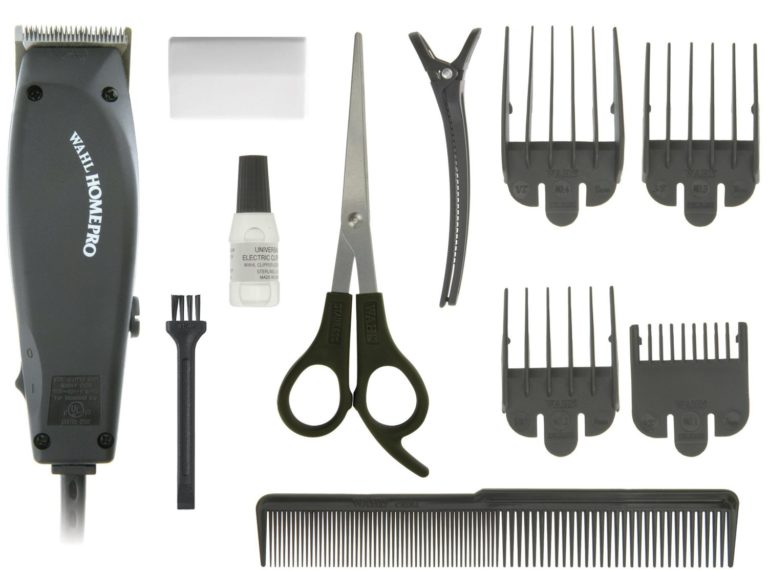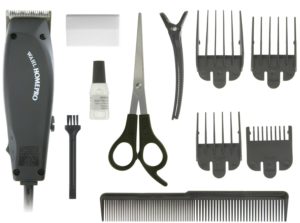 For the cost of one haircut (around $15) you can buy some clippers, do it yourself and save lots of money.
Savings Breakdown:
Cost of 1 Haircut around $15 w/tip
My son gets a haircut at least once every 2 months ($15 x 6 = $90 per year)
$90 per year x 2 sons + one husband = $270
Buying Clippers – $20
Final: $250 per year saved by learning to cut your own boys hair!
Final thoughts. If you don't feel comfortable trying this out yourself first, ask someone who does it to come over and teach you how. Or watch some youtube videos on it. But you can do it! Even if you mess up the first time keep trying. It is so worth it to save all that money.
Do you cut your own boys hair? Any tips or other helpful info you can add to this?
Oh and if you liked this post make sure to "Pin It" on pinterest and subscribe to Happy Money Saver's email newsletters so you don't miss any more of these fun posts.