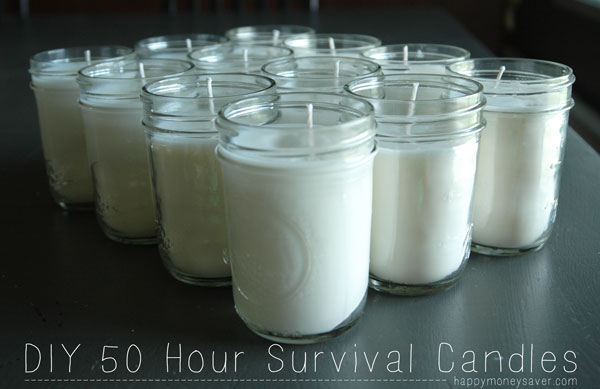 Save money and be prepared by having these 50 Hour Soy Survival Candles on hand.  I have seen stores charge a lot of money for survival long-burning candles, but you can make your own for less than $2.00 per jar and it is so easy to do!
I swear I am reaping so many benefits from doing this Happy Homesteading series of posts, as I get to learn these new skills and find out to to survive on my own a little bit more. Plus doing these projects are so much FUN!
All you need are some half pint glass canning jars, a 5 lb. bag of soy wax, some wicks, aluminum foil and a #10 can.
WAX: I found that the most cost effective price for soy wax was on amazon : The Milliard Wax 5 lb. bag is $12.99 plus free shipping if you have amazon prime. I checked my local craft stores and unless you have a coupon this is still a better deal. I used soy wax because it is all natural, renewable, non toxic, burns clean, helps support the American farmer and has a longer burn time than many other types of paraffin waxes.
WICKS: I ordered these Candlescience 6 inch Soy wax coated candle wicks for $8.99 (50 pack).  I think you might be able to also find a smaller pack of 6 inch wicks at your local craft stores for less, but since I get free shipping with Amazon prime, I love ordering my items online, saving a trip.
GLASS JARS: The 5 lbs of soy wax will fill 13 half-pint sized glass canning jars. You can buy these half-pint jars online at Amazon, or at your local Walmart/Target store for around $8-$12 a case. Also keep your eyes out on craigslist or yard sales for canning jars. Luckily I had a box of unused jars sitting in my garage from a time when I was going to make some jam and didn't (ahem.)
#10 CAN: You can use a double boiler pan if you like,  but for ease in cleaning I wanted to use an old #10 can to melt my wax in. I can throw the can away or reuse it again the next time I make candles. If you do use a #10 can, make sure and bend one of the edges so it will be easier to pour the hot wax in the jars.
How To Make 50 Hour Soy Survival Candles
Start a double boiling system by bringing a larger pot of water to boil. Only fill it half-way so when you add your can of wax the water won't overflow. I filled my number ten can with 2.5 lbs of soy wax flakes.
While the water was heating up, add the wicks to each of your jars. Tip: if you have a hot glue gun add a drop of hot glue on the bottom of the metal part of the wick and stick it straight in the center of the jar. It helps the wick to hold up straighter after you pour the wax.
Once the wax is melted, using hot pads I poured the wax into the jars with wicks.
To help hold your wicks straight while it cools poke hole in a little square of aluminum foil, thread the wick through and seal around the jar.
I then melted the other half of the soy wax flakes and poured them into jars as well.
After they all cool, trim the wicks to 1/4 inch. I just set the scissors across the jar so all the wicks would be the same size after being cut.
Then enjoy your 50 Hour Soy Survival Candles! Just put the lids on them (adding in a pack of matches) and pack them away until your next power outage or disaster. Then you will have heat as well as light for up to 50 hours each candle.
Note: I did add some essential oils to one of the candles and it smelled lovely. I was thinking that if there was a power outage or disaster it would be better to have non-scented candles so it wouldn't give me a headache, so keep that in mind. And only use products that are safe to use with melted oil so you don't get exploding wax or something.
WORTH THE COST? YES – can cost as low as $1.18 per candle, which is an amazing price for Soy candles with a 50 hour burn time.

WORTH THE TIME? Yes, for the amount of money you can save, and how quick and easy it was this is very worth the time.
Price breakdown:
I paid $8.99 for 50 soy wicks ($0.18 each wick = $2.34 for 13 wicks used)
I had the jars sitting in my garage.  If you didn't you would pay $8-$10 at Walmart or online.
Note: I was able to fill 13 jars  with the 5 lb.s of wax
Final cost for me was $1.18 each candle, but if you needed to purchase the jars it would run you $1.79-$2.00 per jar.
Have you ever made your own homemade candles? Any other tips or tricks you have found to save even more money?