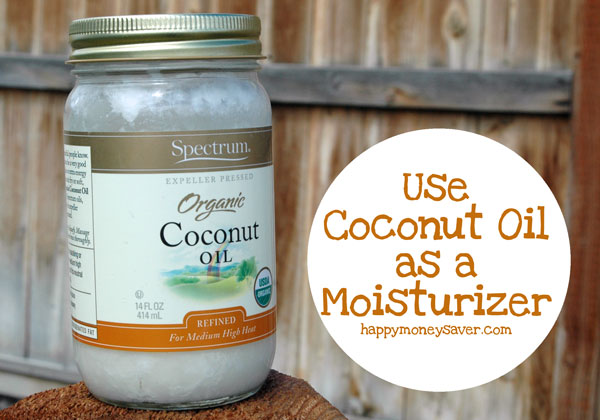 Today's Happy Homesteading post is all about me trying out Coconut Oil as a Moisturizer. WARNING!! You may see pictures below of my face before bedtime with greasy looking Coconut Oil on it. It may scar you for life. I also cannot be held responsible for any nightmares my naked face may give you. 😉
A couple of months ago I asked you all on the HappyMoneySaver Facebook page how you save money on facial moisturizers. I had quite a few lovely readers say they used Coconut Oil and if I am being honest I was a bit grossed out. Coconut Oil? Wouldn't that be greasy? I wondered if it would make my face break out or make my skin look gross.
Coconut Oil as a Moisturizer 30 Day Challenge
I decided to try out that Coconut Oil as a moisturizer for 30 days to see how it worked. Because if it does work I would be saving a lot of money!
Before I started this challenge I was using Sephora's Instant Moisturizer (1.69 oz. for $20). I know! So flipping expensive.. If this would work I knew I would be saving a lot of money. But I anticipated breaking out or not liking the feel and going back to my Sephora kind (which I do love!)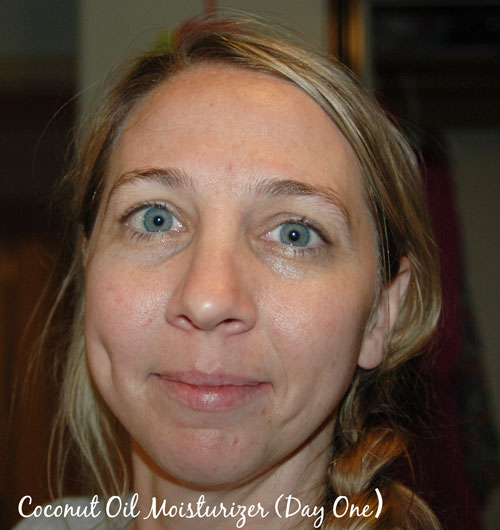 DAY 1
Before I went to bed I washed my face with warm water, and took out my first bit of Coconut Oil from the container. For those of you who have never used Coconut Oil before it has the consistency of hard shortening. The heat of my fingers started melting the coconut oil which I quickly rubbed all over my face.
I won't lie..it felt greasy. I felt like a greased pig. A greased pig in need of an eyebrow wax (hee hee). 😉
But in about 5 minutes it started soaking into my skin and I felt much better. Off to bed I went. I may or may not have had a dream that night of me working as the Greasy Fry girl for McDonalds…
DAY 2
Woke up in the morning, no new zits or breakouts! And my skin felt fine, not to dry or oily – Wow! That night I did the same thing, washing my face with warm water and adding coconut oil. No new breakouts all week long. It took some getting used to feeling that greasy feeling for 5 minutes, but soon it stopped bothering me.
DAY 7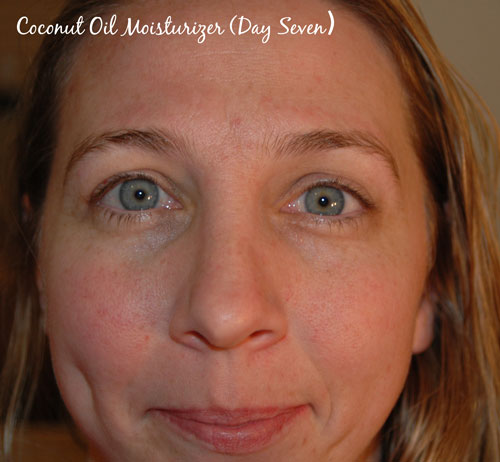 After one week of using Coconut Oil I was happy with the results. I mean I wouldn't say it was a miracle youth serum or that it does anything fancy except be natural and save me money, but I was happy. No breakouts, no zits, no big changes.
DAY 30

After using Coconut Oil for 30 days, I am happy with the results! It works as a decent moisturizer, and I didn't get as many zits as I normally do during that (ahem) time of the month. I know these pictures are horrid of me with no makeup after a long day, but I wanted to keep it real and show you how this really worked.
I love the fact that I have Coconut Oil on hand and that jar will literally last me a year for around $5.00. That is some serious savings as usually I would spend $20 on that Sephora stuff and it would last maybe 2 months. I love this homemade natural way to trying things out. Next time I want to try a homemade body butter recipe and see how that goes. I am sure I will love that too.
The only concern I have is that there is no sunscreen in Coconut Oil and I need protection from that sun. What do you think? Should I mix sunscreen in with some melted Coconut Oil? Or buy some ingredient? Or just apply sunscreen on over the coconut oil every day?
WORTH THE COST? YES – it works, and costs around $5.00 for a years supply vs. $20 for a 2 month supply of what I was using.
WORTH THE TIME? Yes, there is no extra time involved.
Coconut Oil…is there anything this stuff can't do? You can cook with it, I use it in my Burt's Bees Lip Balm recipe and now for a moisturizer. –>Go here for high quality sources of coconut oil.

Please share in a comment what YOU use Coconut Oil for? Any natural remedies or treatments you make?