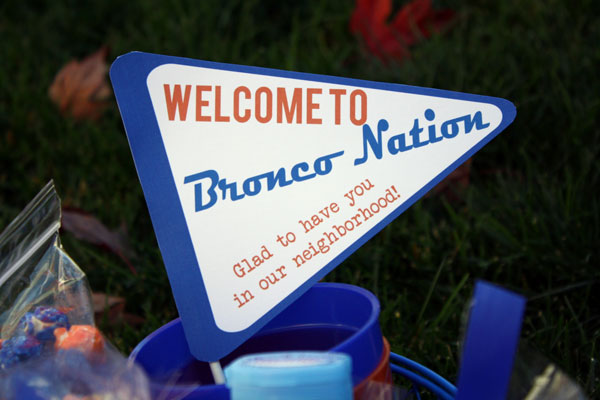 [pinit]
This week I decided to welcome some new neighbors to the neighborhood. What better way to welcome out-of-towners than a package of things unique to Boise.
Go Broncos!
Here is what I used to put this gift together:

Blue basket- $1 at the dollar store
Blue and orange football shaped sugar cookies- You can get a cookie cutter like mine HERE.
Blue and Orange popcorn-Make your own. Check out this RECIPE!
Boise State cups- Walmart for $1 each
Blue and Orange nail polish- Walmart for $1 each
Orange Tic Tac's-$1
Blue Mentos Gum-$1
To make this gift look complete, I made a little pennant flag and taped it to a sucker stick. The new neighbors thought it was pretty awesome and couldn't help but chuckle at our attempt to make them Boise State fans. 🙂
This gift can easily be tailored to any town or sports team. WSU Cougars, Oregon Ducks, or even Idaho Vandals.