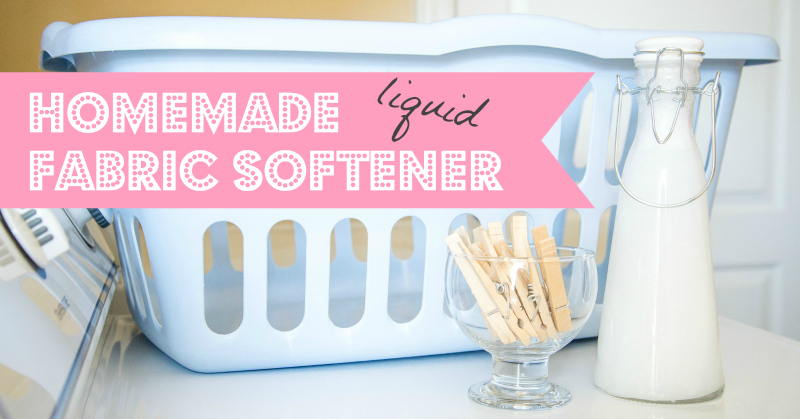 Once upon a time, I set out to find the best homemade liquid fabric softener that could be found in the great vast land called the internet. And whadayaknow, I found there really aren't that many variations. 2, in fact.
Sure there were some slight variations in the amount of each measured ingredient, but most recipes gravitated toward 1 of 2 main recipes. And with so very many posts with the same recipes out there, I decided instead of reinventing the wheel, it would be smarter to test each recipe out to see if either of them really worked, if they were cost effective, and how they compare to the other. Welcome to your local elementary school science fair.
Without further adieu, let's meet the contestants.
Recipe #1: Vinegar & Baking Soda as Fabric Softener
fIngredients
6 cups vinegar
1 cup baking soda
15 drops essential oil (optional) — here is my favorite brand
Directions
Pour the vinegar into a large bowl. Add your essential oil, if using. I chose to use lavender since that seemed like a nice smelling fabric scent to me. Add your baking soda. When fizz has settled, pour into storage container of choice. Use up to 1 cup (depending on load size) per load. I poured mine right into the regular fabric softener location. Note: Prior to adding the baking soda, the oil sat on top of the vinegar. After pouring in the baking soda and letting it dissolve, the oil no longer sat at the top. Whalah! I had no issues with any oil spots on my clothes.
Cost
Vinegar: $0.66 (I buy my vinegar from Costco for cheap!)
Baking Soda: $0.50
Essential Oil: $1.01 (optional, and price will vary depending on oil and quality used)
Total Cost: $2.17
Without the essential oil, this recipe would be much cheaper. I got about 8 loads out of this recipe because I typically run larger loads and used closer to a cup per load. That's $0.27 per load when using the essential oil.
How did it work?
On a softness scale of 1-10, 1 being super stiff and 10 being the stuff that dreams are made of, I gave this recipe a 7. Softened well enough, but not as much as a typical store bought softener. I doubt my family noticed a difference. The lavender scent was very, very faint. Faint enough, that I don't think it's worth adding. If you're wanting a strong scent, this isn't the recipe for you. If that isn't an issue, just use the vinegar and baking soda and you'll be great!
Recipe #2: Hair Conditioner for Making Fabric Softener

Ingredients:
5 cups hot water
3 cups vinegar
1 cup hair conditioner
Directions:
Mix hot water and conditioner together in medium bowl. (The hot water helps smooth any clumps from the conditioner). Mix in vinegar and pour in container of choice. Use the same amount as you would a store bought softener and add to the regular softener spot in your washer or during the rinse cycle. Note: I used a regular cheapo conditioner from the dollar store. The higher quality conditioners won't make any noticeable differences, so don't waste your money!

Cost
Water: Free
Vinegar: $0.33
Conditioner: $0.71 (I bought a large size from Family Dollar for $2)
Total Cost: $1.04
This provides anywhere from 30-40 loads worth, depending on load size. That works out to be $0.03-$0.05 per load. SUPER CHEAP.
This recipe would also work great with any organic conditioner as well. If you use organic, make sure you price compare to a similar type softener like 7th Generation. The price will definitely be more than our regular recipe, but will still be much cheaper than buying regular organic softener.
How did it work?
On the softness scale from 1-10, 1 being super stiff and 10 being the stuff that dreams are made of, I give this recipe a solid 8. Very close to what a regular fabric softener does. When it comes to smell, the scent was light but still there. It's definitely not overpowering, but when you take a big whiff it's definitely there. This may also vary depending on your conditioner. Maybe other scents will come through stronger/softer?
Conclusion for which homemade fabric softener works best:
Overall, I preferred the conditioner based recipe. It was much cheaper per use and worked better than the straight vinegar and baking soda. I like having a soft scent to my clothes as well.  Also I like any excuse to use a cute bottle to store it in!
What about you? Have you tried homemade fabric softener? How did it work out for you? I'd love to hear your thoughts!