Have leftover Turkey? Here is what I do every year with our Thanksgiving Leftovers.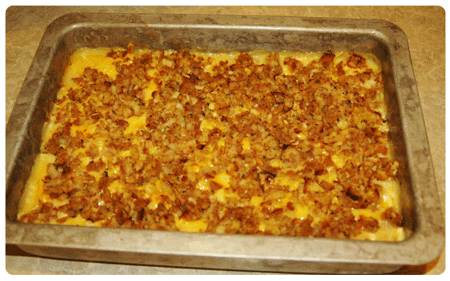 After Thanksgiving Casserole
Ingredients:
1-2 Cups Chopped Turkey
2 Cans Cream of Chicken Soup
1 Cup Sour Cream
1 Cup Grated Cheddar Cheese
Cooked Stuffing Leftovers (or make a new box)
Directions:Take your leftover Turkey. I normally chop it up a bit and mix it with the Cream of Chicken Soup and Sour Cream. Layer in the bottom of 9×13 pan the Cream of Chicken/Turkey Mix. Sprinkle Cheddar Cheese on Top. Then sprinkle cooked stuffing mix. Bake at 350 degrees for 30 minutes!
This is quick and easy and a great way to use up your Thanksgiving leftovers. Enjoy!
What do you make with your leftover turkey?
Pssst… a little tip. This is also a FREEZER MEAL FRIENDLY recipe! Throw it together and put it in the freezer and pull it out to enjoy later.