Have you ever seen the closet of a really wealthy person? Me neither. But I have seen the closet of almost every Real Housewife on Bravo. Every item of clothing has its own personalized home. There are doors and compartments and sometimes even a beautiful chandelier. Yeah, that's not my closet. 🙂
My closet is full of disheveled clothes interspersed with empty wire, plastic and wood hangers. I have piles of sweaters and sweatshirts mixed along with my summer clothes that I tried to shove in the corner shelf. Now before you judge me too much, I should tell you, this USED to be my closet. I don't have the money to make my closet as fabulous as a tv star's but I have do have great tips on how to organize closet space on a tight budget.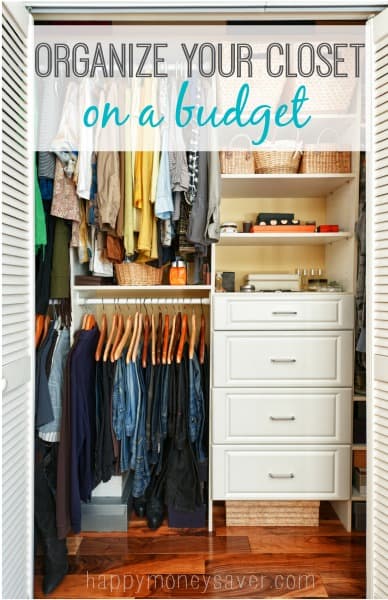 How to Organize Closet Space on a Tight Budget
Keep an empty bin in your closet for empty hangers. This could be a box from Costco or the old laundry basket with the broken handle! When you take an item of clothing off of the hanger, place it in the bin. It makes the hangers easy to find on laundry day and also keeps a cleaner look in your closet.
Store your most-used items at eye level, less-used items below, and least-used items up high because let's face it–no one likes to reach all the way up in the top of the closet in the morning!
Do your dresses fall off the hangers like mine do? An easy solution is to wrap pipe cleaners around your hangers so that your clothes don't fall off. Speaking of hangers shop at garage sales or second-hand stores for them. I love having matching hangers but buying them can get expensive. Buying them used is a great way to get them a bargain price.
Use command hooks on your closet wall for purses, bags or even jewelry. These hooks are cheap and sturdy and help the purses keep their shape without being smashed against one another.
Always keep a laundry bin in your closet. Then as you are changing your clothes they instantly go into the laundry bin—and not on the floor!
Organize your clothes into categories. For example short sleeve shirts, long sleeve shirts, dresses, etc. This makes it easier to find what you are looking for on a busy day and also to stay organized when putting your laundry away.
Get rid of old clothes no matter how attached you are to them. You are never going to wear your old ratty high school basketball shirt so part ways and let it go.
Add a lamp or battery-operated stick-on tap lights in those dark corners. When your closet is well-lit you can make decisions faster and you are less likely to shove things in that dark corner. C'mon we've all done that at least once…right?
Make more room in your closet by storing out-of-season clothes in boxes up high or under the bed. I love to save the bags that new comforters come in. They are pliable and see through so you can see what clothes are stored in them in case you need to get an out-of-season item out of storage. You can also use suitcases to store out-of-season clothes, blankets or sweaters.
Do you have any budget-friendly closet organization tips?
If you like this post, check out these tips.
100 Beautiful & Cheap Womens Jewelry