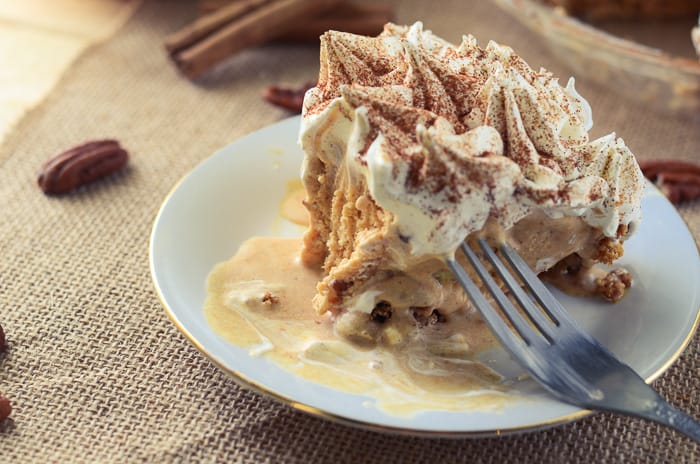 So, I've checked Great Grandmother's Vintage Pumpkin Pie off of my November-To-Bake list, and now I'm gonna shake it up a little bit. I stumbled across an interesting recipe for Pumpkin Ice Cream in the old recipe box. It's not a handwritten one; it looks like something she picked up from her power company recipe collection – maybe an in-home mailer.

So, no, this is not a Great Grandmother original, but if she saved it, it must be good, right?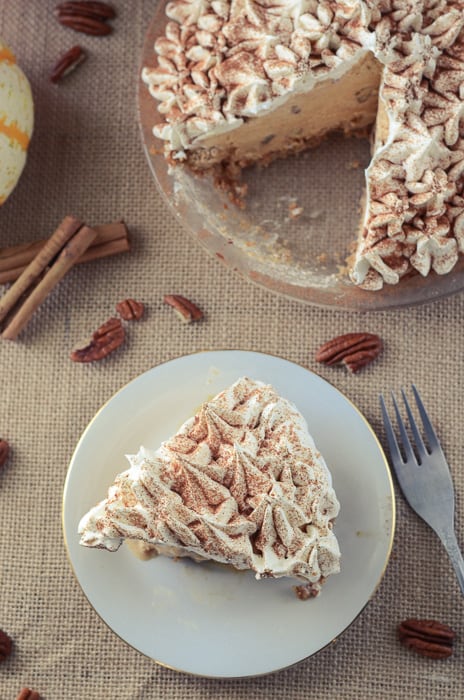 First of all, know that I have never made homemade ice cream before. I'll be honest, reading the instructions on the card kind of took me aback. It doesn't need an ice cream maker? Of course not, Karrie, this recipe was written decades ago. Instead, you freeze the ice cream in electric refrigerator trays? What?! Do they even make those anymore? Did these people assume that I would work in an ice cream shop? I tried to look it up and I can only assume that it meant ice cube type of trays…sort of like these.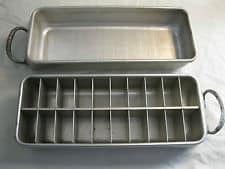 Thankfully, I have my trusty (still in the box) KitchenAid Ice Cream Attachment that will do all the work for me!!
Well, not all of it. Here's to trial and error, folks.
I set a metal mixing bowl over a pot of boiling water and scalded the milk AND the cream (they'll need to cook together to form the base since we're not using the electric trays), then cooked it with the sugar, cornstarch, spices, and salt until it was thick enough to coat my spoon. I added in the eggs and dissolved gelatin, and it started to get a little bit thicker! Progress! Finally I whisked in the pumpkin puree and orange zest (which smelled so good together!) before dumping it all ever so gently in to my ice cream maker.
I set it and forget it for 15 minutes, add in the pecans when my timer went off, and another 15 minutes later, I had soft-serve! I admit, I snuck a few spoonfuls before freezing it in my metal mixing bowl overnight! The next morning, after baking up my favorite graham cracker crust, I put together the beautiful, mile high pie you see here!
Here is a closeup of the recipe card if you would like to make this too! Click on it if you want to see it bigger.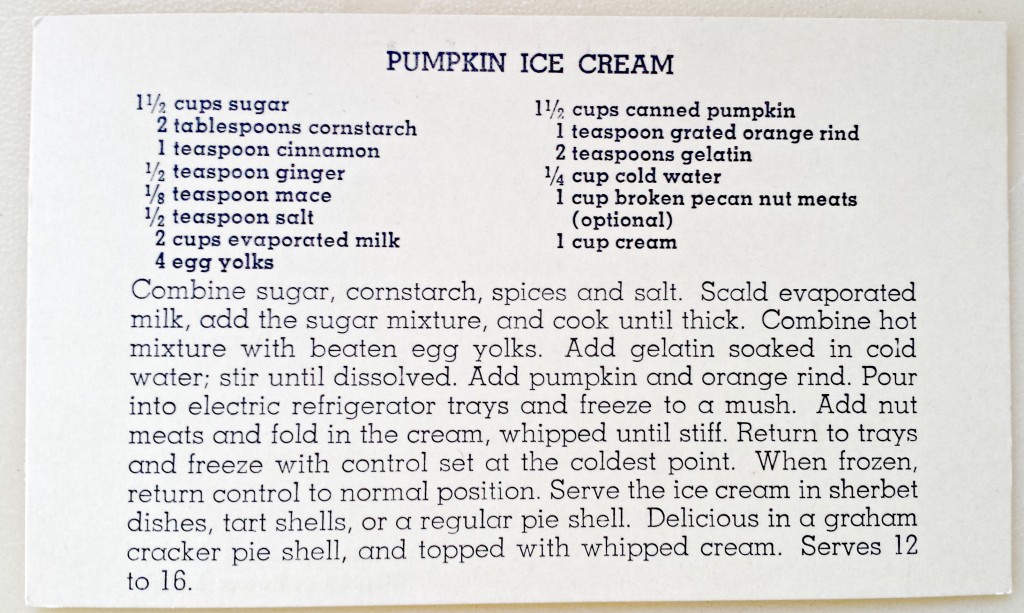 Even with the weather getting colder and drearier and more wintry by the day, I can see myself enjoying a slice of this refreshing pie! It's a great spin on a classic fall dessert, and you and your family deserve it. Good call, Great Grandmother, on another successful recipe box creation!
Although, maybe next time, I'll use a chocolate crust…