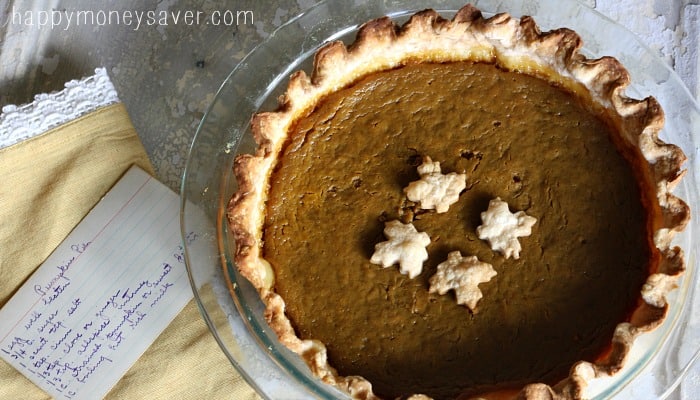 November is here and that means Thanksgiving is just around the corner! Last week I posted my Great Grandmother's recipe for homemade noodles. I was a little disappointed in my Great Gran… but she has redeemed herself! This week I made her recipe for pumpkin pie and it turned out perfect! The flavor was mildly sweet and the spices were perfectly balanced and not at all overwhelming. The texture of the pie was smooth and silky which contrasted nicely with the flaky tender pie crust. This was my first time making pumpkin pie and it turned out beautifully. Great Grandmother, if you're reading this up in heaven, I give you 2 thumbs up!  I really enjoyed making and eating this 1900's vintage pumpkin pie recipe!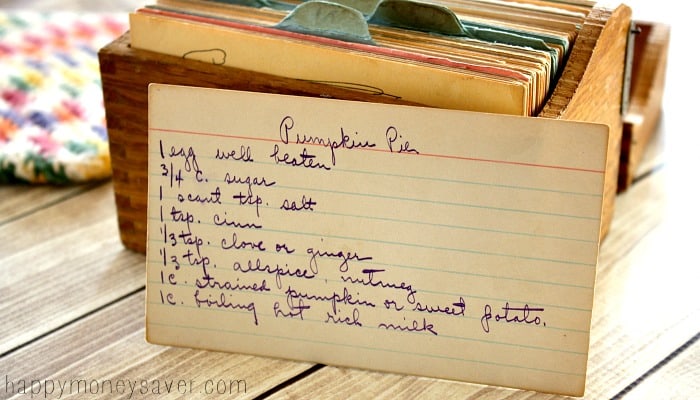 Lets get to the recipe card. First off, no directions just ingredients. I so badly wish she gave a little more detail in her recipes but it's okay I can google how to make pumpkin pie no problem. The ingredients are pretty clear except for a few things. It says 1/3 tsp. allspice, nutmeg. I assumed that meant one or the other but I could be wrong. Maybe I was supposed to add 1/3 tsp. of each? That was a little confusing. I also found it funny that the recipe called for strained pumpkin OR sweet potato. If I used sweet potato wouldn't that make it a sweet potato pie? I thought that was funny. Lastly I found out that rich milk is a term they used in the old days for whole milk, none of that skim or low fat milk for this pie. Check out below how I made this recipe.
 Vintage Pumpkin Pie Recipe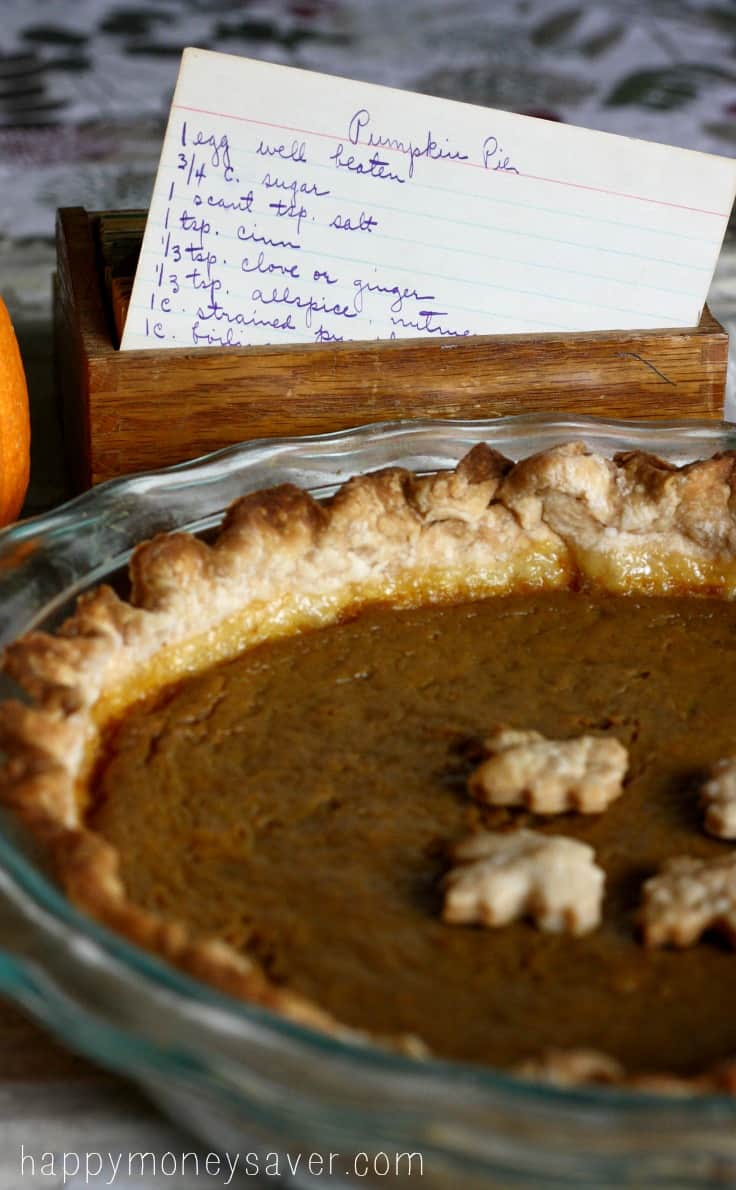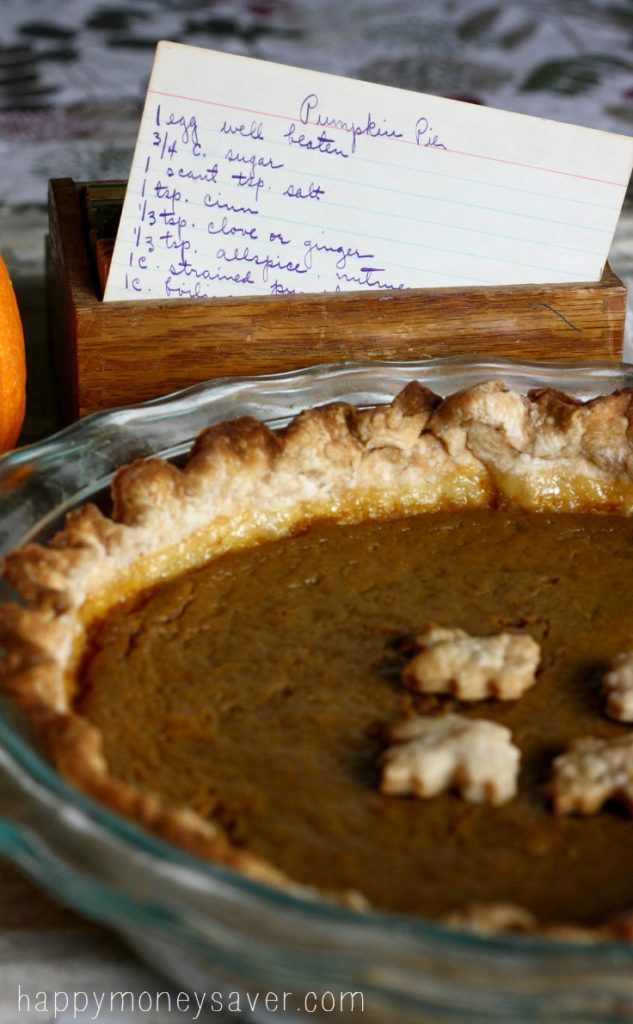 I first blended up all the ingredients in my blender except the whole milk.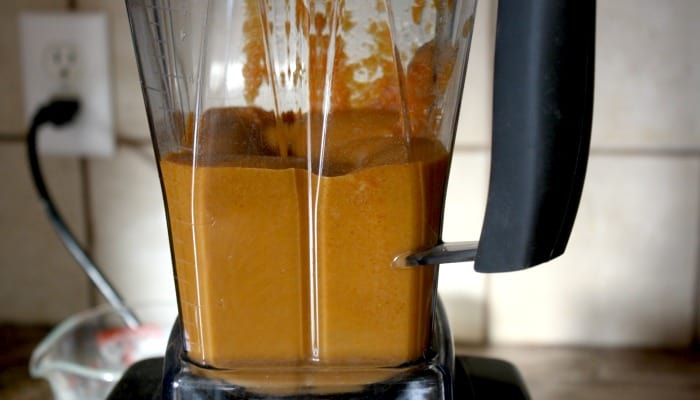 I brought my milk up to a boil and then slowly poured it into the pumpkin mixture and blended until smooth and creamy.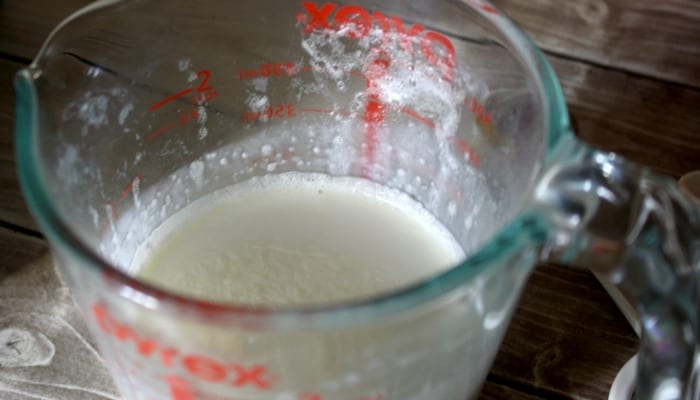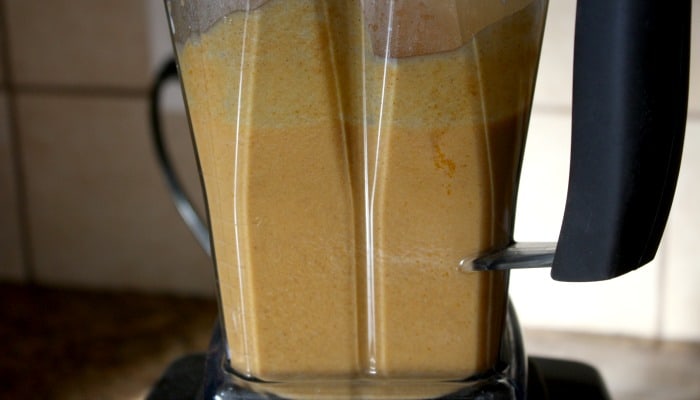 Next I poured this into a homemade pie crust that had been baked for 15 minutes.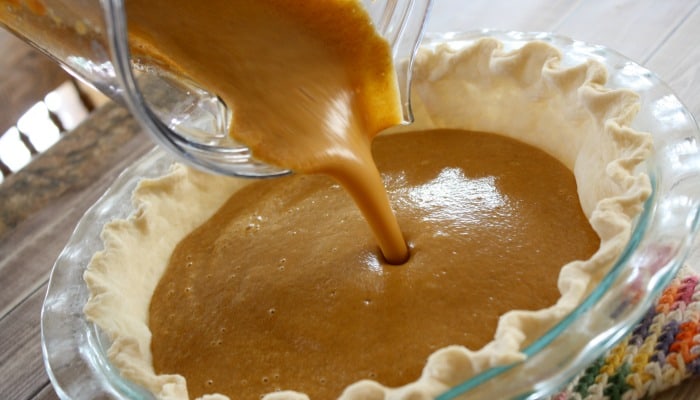 I placed the pie in a 450 degree oven for 15 minutes then turned the heat down to 350 degrees and cooked another 45 minutes. Remove from the oven and let cool completely. Place in the fridge a couple hours to chill. With the leftover pie dough I cut up and baked these cute leaves to garnish the pie.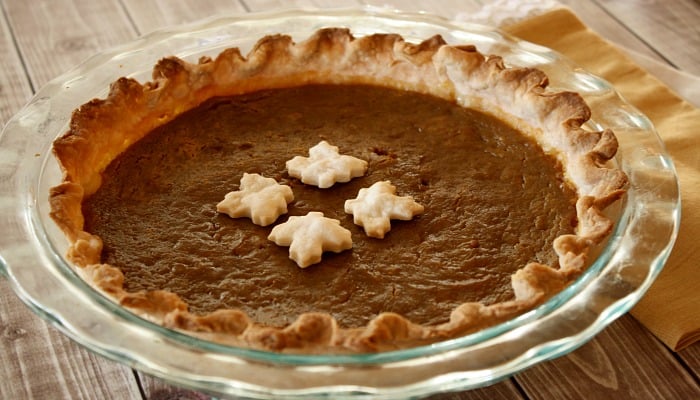 It turned out perfectly and tasted just as good as it looked.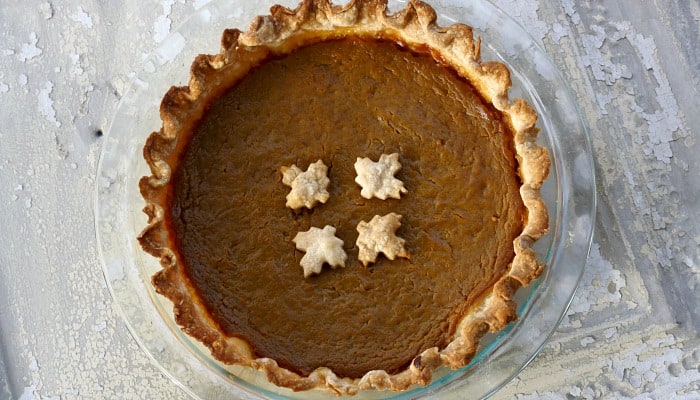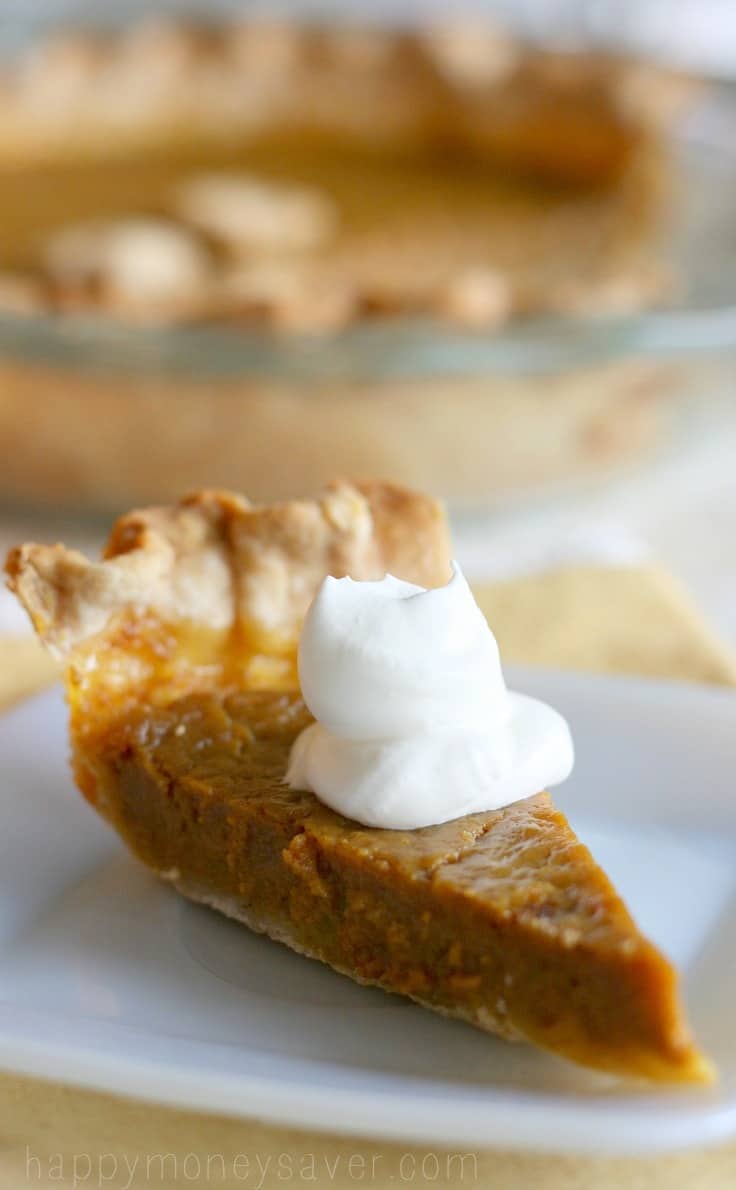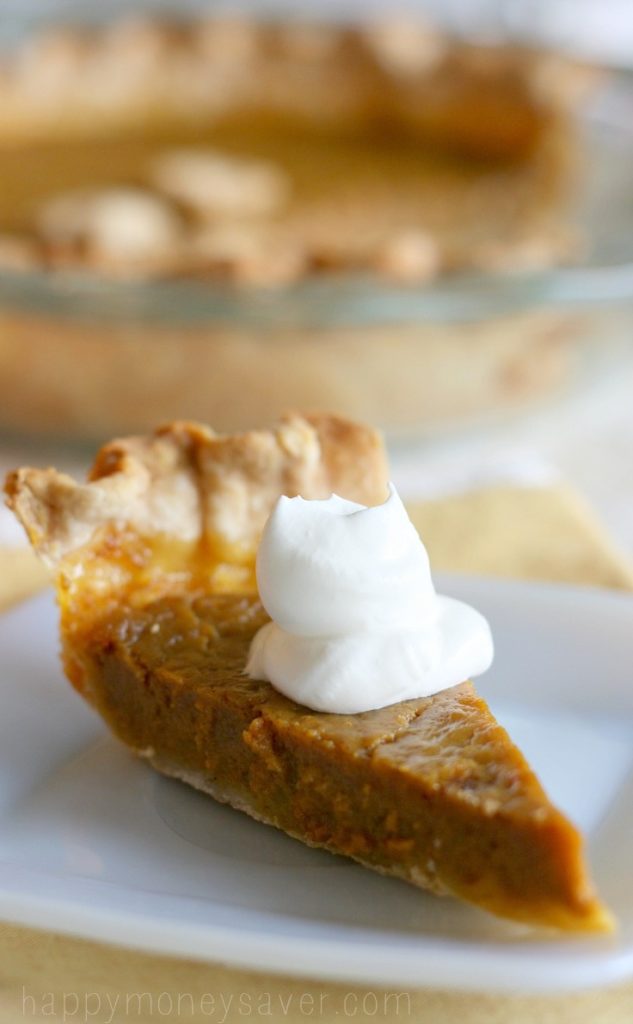 I think it's time to go have another slice.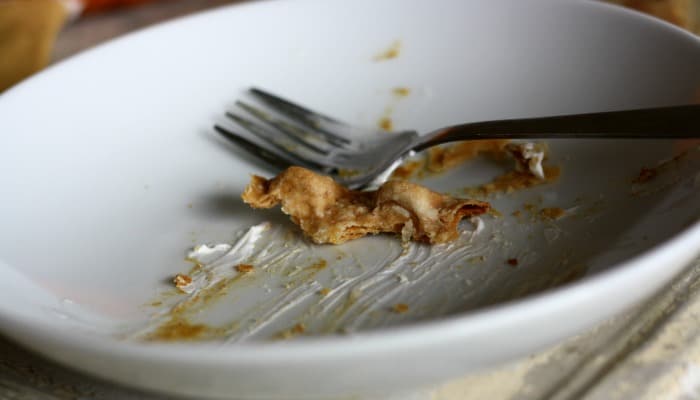 Below is the printable recipe card for this vintage pumpkin pie. Enjoy!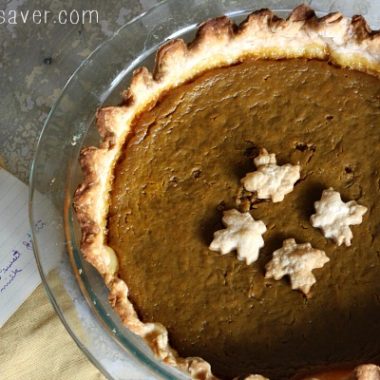 Vintage Pumpkin Pie Recipe
Vintage Pumpkin Pie are easy to make and it is so delicious!
Print
Pin
Rate
Total Time:
1
hour
15
minutes
Ingredients
1

egg well beaten

3/4

cup

sugar

1

tsp

scant . salt

1

tsp

cinnamon

1/3

tsp

clove or ginger

1/3

tsp

allspice or nutmeg

1

cup

strained pumpkin or sweet potato

1

cup

boiling hot rich milk

whole milk
Instructions
Preheat oven to 450 degrees.

Place well beaten egg, sugar, salt, cinnamon, clove/ginger, allspice/ nutmeg and 1 cup strained pumpkin or sweet potato in a blender. Blend well.

Bring to boil 1 cup of whole milk.

Slowly pour the boiling milk into pumpkin mixture and blend until smooth and creamy.

Add the mixture to a homemade pie crust that has been baked for 15 minutes.

Bake pie for 15 minutes in a 450 degree oven. Then turn heat down to 350 degrees and continue cooking for an additional 45 minutes.

Remove from oven and let pie cool completely. Chill in the fridge before serving.
Nutrition
Serving:
1
Pie
|
Calories:
156
kcal
|
Protein:
3
g
|
Fat:
1.6
g
|
Saturated Fat:
0.7
g
|
Cholesterol:
31
mg
|
Sodium:
429
mg
|
Potassium:
196
mg
|
Fiber:
1.4
g
|
Sugar:
29.1
g
|
Vitamin A:
200
IU
|
Vitamin C:
14.9
mg
|
Calcium:
60
mg
|
Iron:
1.4
mg