Moqueca is a traditional Brazilian fish stew recipe using salt-water fish, tomatoes, onions, garlic, and cilantro all slowly cooked together into a delicious and brightly colored flavorful stew.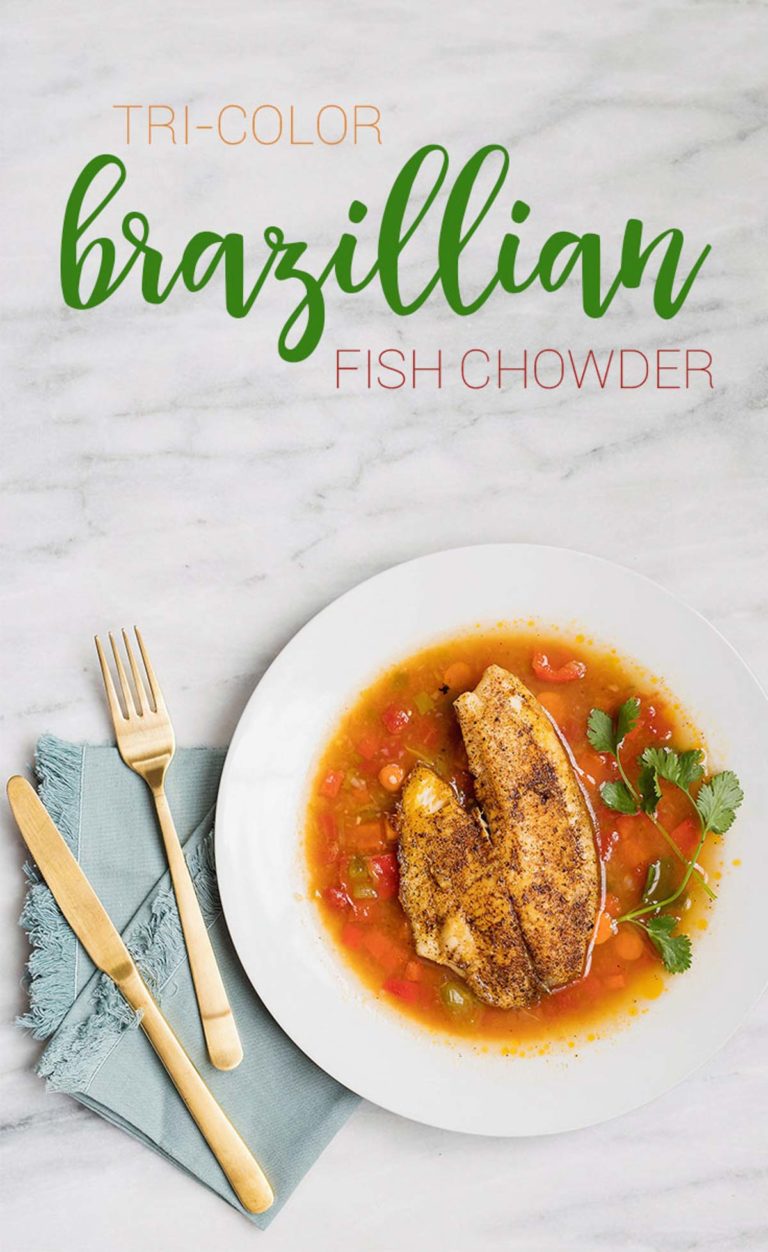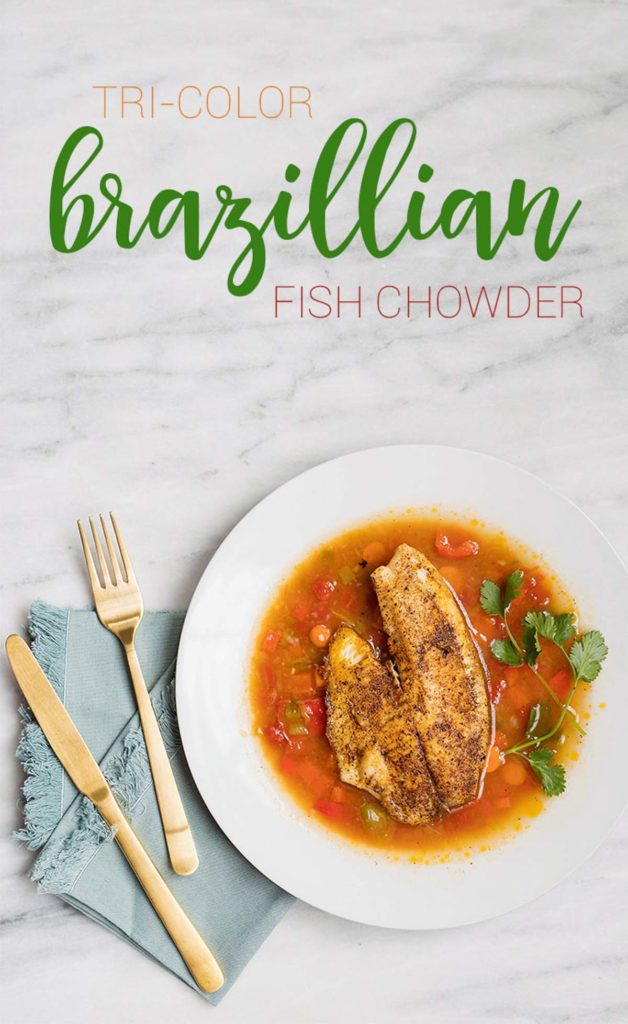 This Moqueca fish stew recipe is truly a wonder. A wonder because it's so friggin' easy to make! I mean, honestly, I had almost all the items needed for this recipe (except the fish) in my pantry! And it took about 10 minutes to throw together.
I have a few Brazilian friends, and whenever we start talking about food…and traditional Brazilian dishes, they always would bring up their favorite… Moqueca.
So I decided to chat with them, talk about what they loved in their versions and I came up with a slow cooker Brazilian fish stew recipe that is fast, easy and can be made into a freezer meal. Don't you just love having lots of options? It's freedom, baby!
To any Brazilians that might be reading my blog ( Olá!!) let me know if you have a favorite version of Moqueca you love – just leave me a comment below!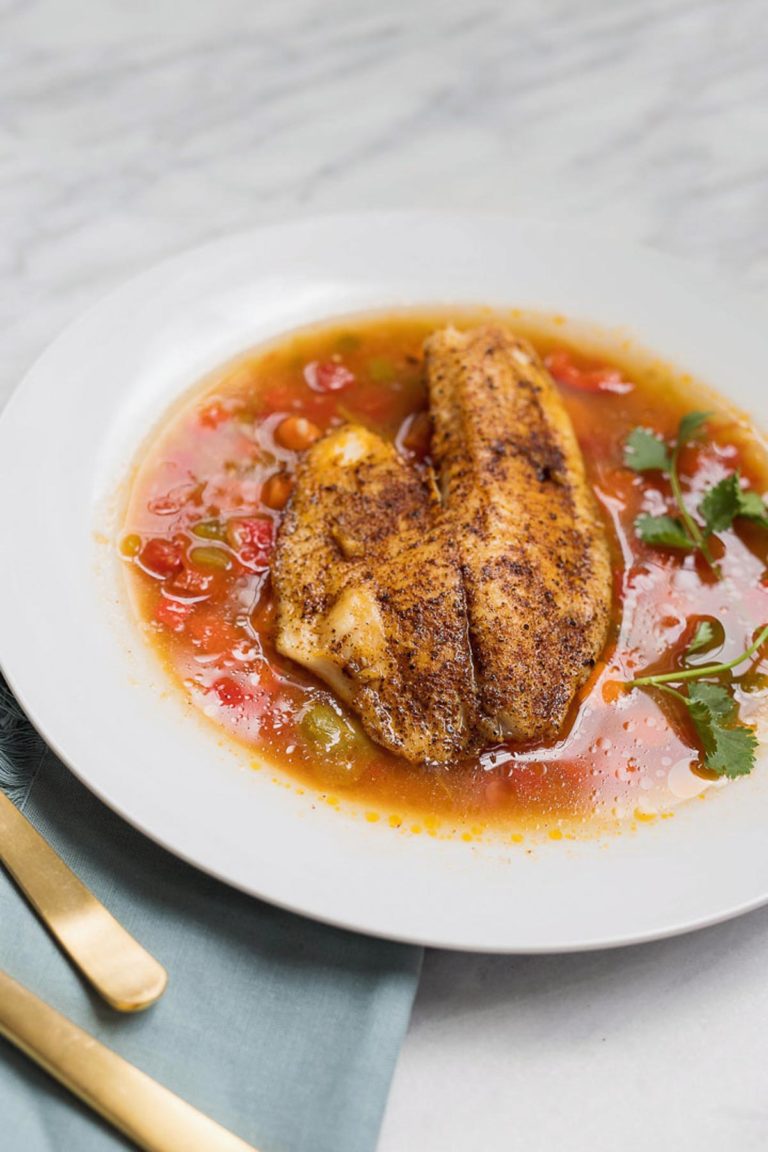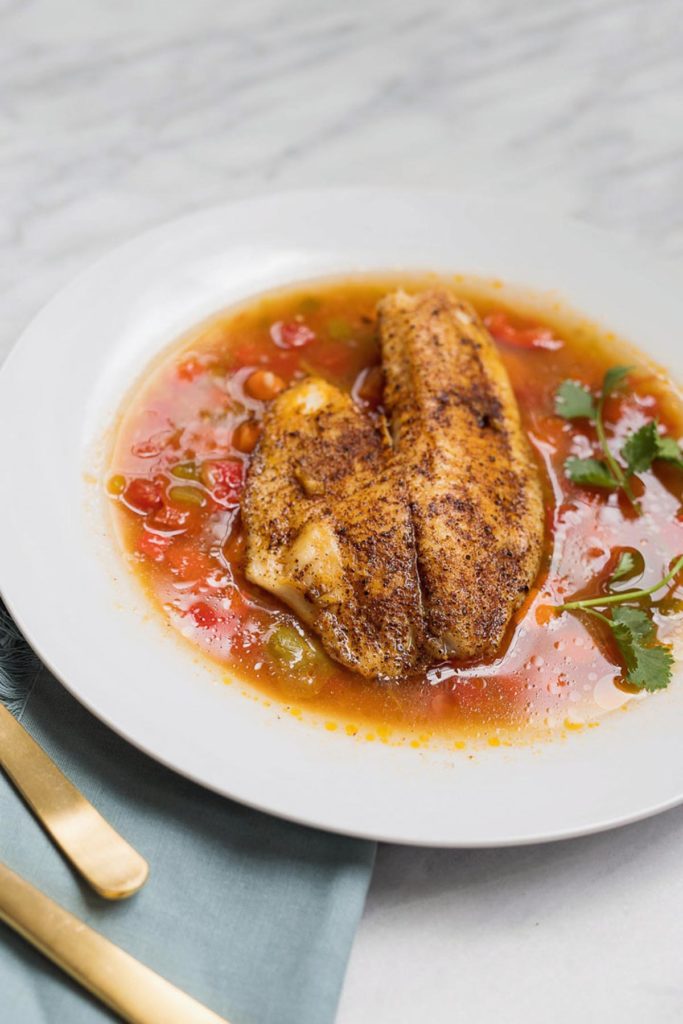 HOW DO YOU MAKE MOQUECA?
Moqueca (pronounced moo-kek-a) is a dish that's been made for over 300 years in Brazil. It's a fish stew recipe using fish caught off the coasts of Brazil such as swordfish or shark, and usually has prawns in it as well. The fish is slow cooked in a blend of coconut milk, tomatoes, onions, garlic, fresh cilantro and palm oil (aka azeite de dendê).
My version is a slightly modified version using ingredients I have here in the US. For example, the palm oil makes this truly authentic, so if you'd like to go that route you can usually find it at whole foods or order online at Amazon.com. And I also kept out the prawns, to save money as it's delicious with just the tilapia. And decided to keep the coconut milk optional for those out there that prefer it without that.
WHAT OTHER FISH CAN I USE WHEN MAKING MOQUECA?
You can use almost any firm white fish such as halibut, haddock, swordfish, cod, striped bass, or mahi-mahi in place of the tilapia. And feel free to add in different kinds of shellfish if you like too such as prawns, lobster, crab, shrimp or mussels.
DOES THE SIZE OF MY CROCK POT MATTER?
The one I use is this 6 quart Crock-Pot (Amazon) but you can use anything from a 4 to a 7 quart slow cooker. The smaller ones may not be able to fit the full recipe, so you may have to only cook half of it at a time, and freeze the other half for later.
WILL THE FISH IN THE SLOW COOKER BE OVERCOOKED?
Honestly this question crossed my mind too when I started testing it in the slow cooker, but no! By slow cooking it, it makes is tender and creates a beautifully flavored broth for the fish stew recipe.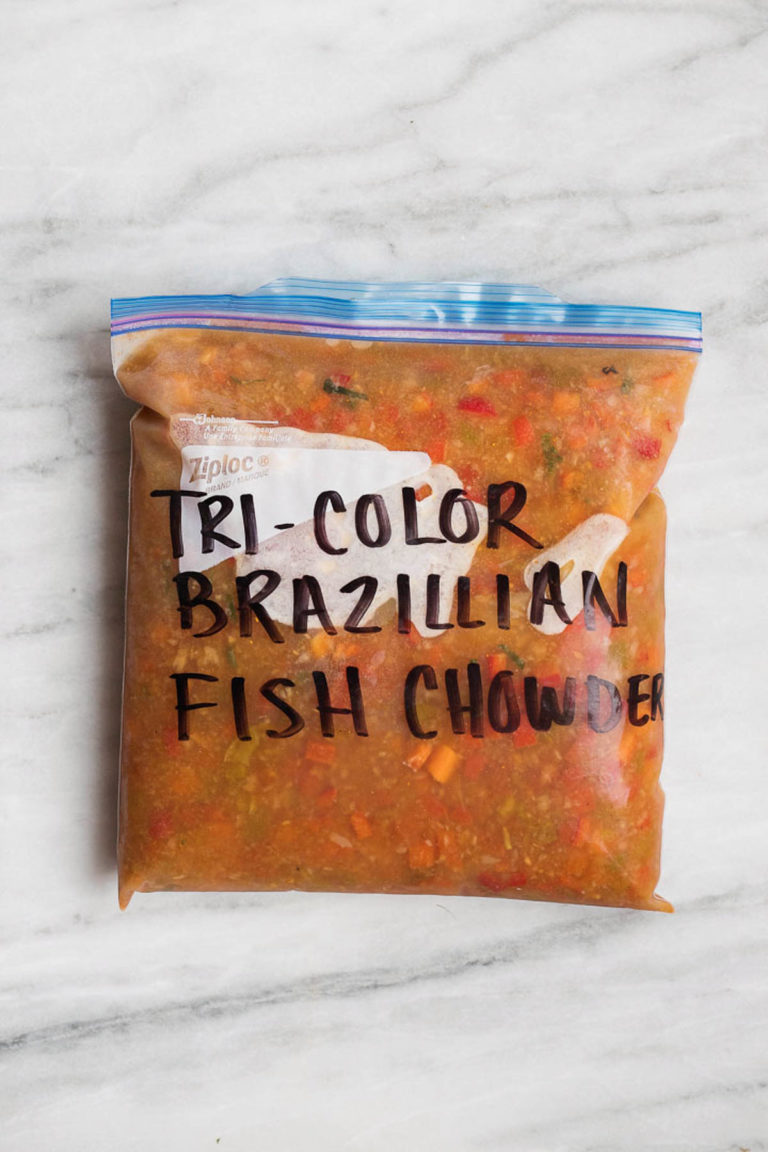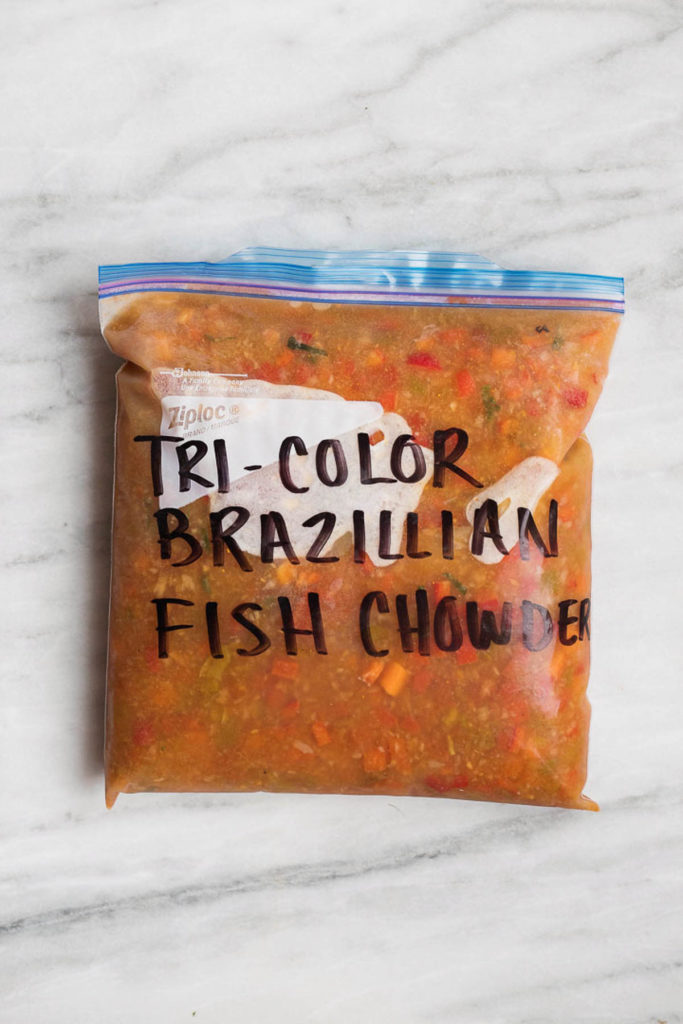 HOW TO MAKE MOQUECA INTO A FREEZER MEAL?
All you need to do is freeze the ingredients mixed together raw. I don't recommend freezing this soup already pre-cooked as the textures will be off with the fish. To properly freeze this add your ingredients to a gallon sized freezer safe bag. Seal the bag, removing as much air as possible and freeze. Getting all the air out is a key step to properly freezing moqueca.
HOW LONG CAN YOU FREEZE FISH STEW?
Fish stew retains its freshest quality for 4 to 6 months if properly prepared and stored in the freezer. It will remain in safe to eat indefinitely , as frozen food doesn't grow bacteria, however after the 6 month mark the flavors and textures may change and risk for freezer burn could occur.
DO I HAVE TO THAW MY FREEZER MEAL FIRST BEFORE ADDING TO SLOW COOKER?
It is best practices to thaw your meats before adding and cooking in a crock pot. So I like to put my freezer meals in my refrigerator overnight and by the next day they are usually thawed and can be added to my slow cooker.
WHAT IF I DON'T HAVE A SLOW COOKER?
I personally prefer slow cooking this soup, however, if you don't have a slow cooker you can easily make the soup part in a large pot. Saute the veggies, add the broth and other ingreidents, bring to boil then reduce heat to low and simmer 15-20 minutes. Then just brown the tilapia in a skillet and serve it on top of the stew.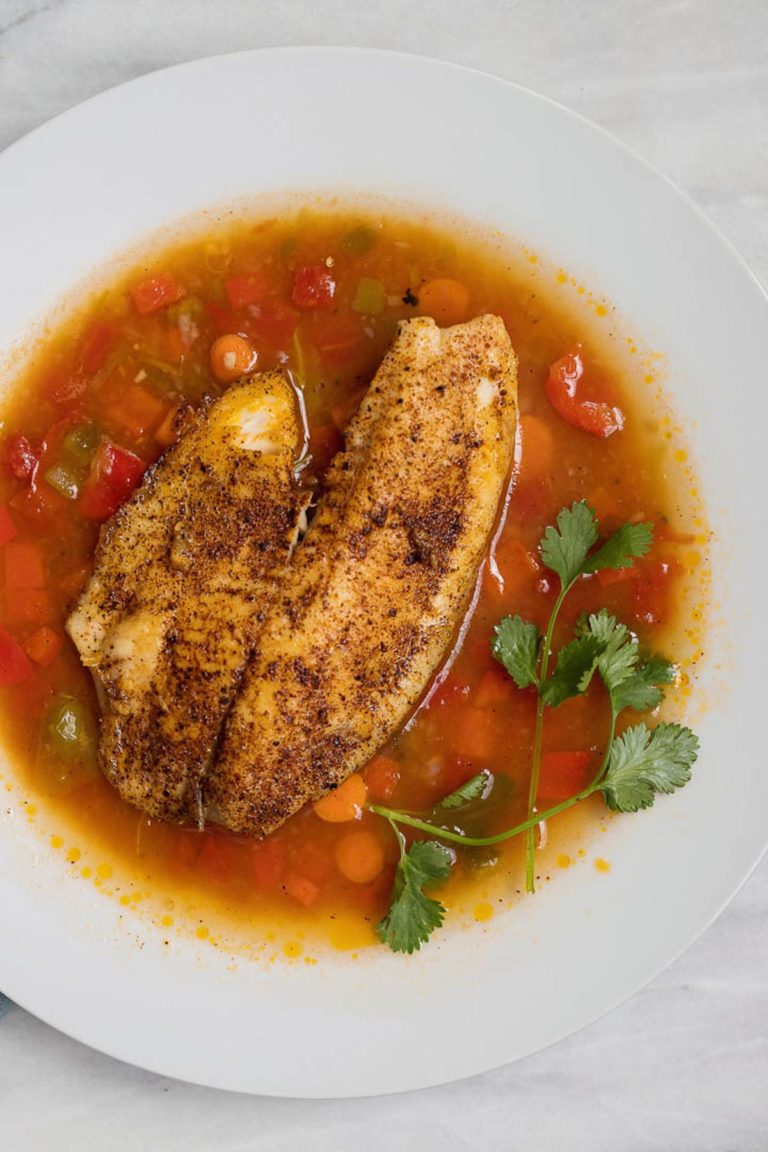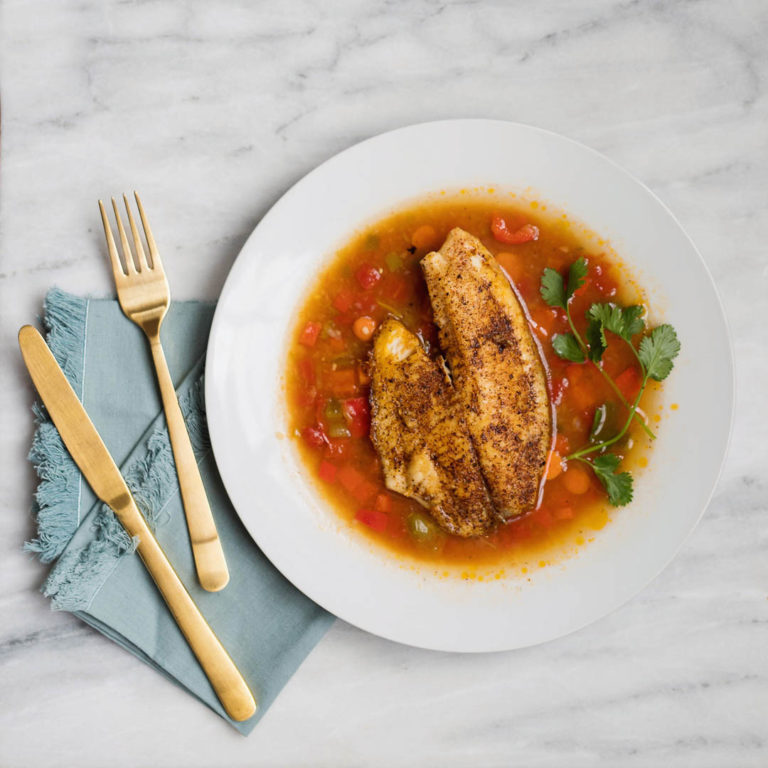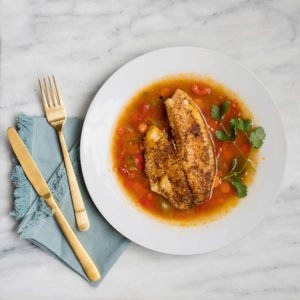 Moqueca Brazilian Fish Stew Recipe (Slow Cooker)
I didn't know a fish stew recipe could be so bright with flavor and so colorful too! This dish makes me want to take a boat ride up the amazon…oh look, an anaconda! No worries, this tasty soup will appease his appetite too!
Print
Pin
Rate
Ingredients
1

lb

tilapia filets

32

oz

vegetable broth

15

oz

can diced tomatoes, with juices

4

oz

can diced green chilis

1/4

cup

lime or lemon juice

2

large red bell peppers

seeded, de-stemmed and diced

1

medium yellow onion

pureed or diced small (about 1 cup)

2

large carrots

diced (about 1/2 cup)

1

tbsp

garlic minced

1

tbsp

taco seasoning mix

1

tbsp

palm oil (optional)

14

oz

can coconut milk (optional)

salt and pepper to taste

1/4

cup

cilantro leaves, chopped (for garnish)
Instructions
Do all your pre-prep steps like juicing your lemons/limes, dicing your bell peppers, dice or pureeing your onion, dicing your carrots, chopping your cilantro and mincing your garlic.

In a large bowl combine vegetable broth, diced tomatoes with juice, green chilis, lemon or lime juice, bell peppers, carrots, garlic, onions, taco seasoning, and palm oil (if using). Stir to combine.
MAKE IT NOW
Place contents of bowl in a slow cooker, add whole tilapia filets. Cover and cook on LOW 6-8 hours/HIGH 3 to 4 hours. Optional: whisk to combine can of coconut milk, then add to slowcooker and heat until warmed through. Ladle into bowls and garnish with fresh chopped cilantro. Salt and pepper to taste.
MAKE IT A FREEZER MEAL
Pour contents of bowl into a labeled gallon-size (4 L) freezer bag. Place tilapia filets in same bag. Seal, removing as much air as possible, and freeze flat.
THAW AND COOK
Place bag in the refrigerator for at least 12 hours or up to 24 hours to thaw. Place contents of bag in a slow cooker. Cover and cook on LOW 6-8 hours/HIGH 3 to 4 hours. Optional: whisk to combine can of coconut milk, then add to slow cooker and heat until warmed through. Ladle into bowls and garnish with fresh chopped cilantro. Salt and pepper to taste.
Nutrition
Serving:
1
serving
|
Calories:
209
kcal
|
Carbohydrates:
11
g
|
Protein:
13
g
|
Fat:
13
g
|
Saturated Fat:
10
g
|
Cholesterol:
28
mg
|
Sodium:
661
mg
|
Potassium:
536
mg
|
Fiber:
2
g
|
Sugar:
4
g
|
Vitamin A:
3865
IU
|
Vitamin C:
53
mg
|
Calcium:
48
mg
|
Iron:
2.9
mg
Make sure and adjust the seasoning to your tastes! Add salt, extra lime or lemon juice and if you like it spicier, feel free to add in a few slices of fresh jalapenos.
MORE SLOW COOKER RECIPES
If you liked this recipe you might also enjoy these other Happy Money Saver slow cooker recipes.