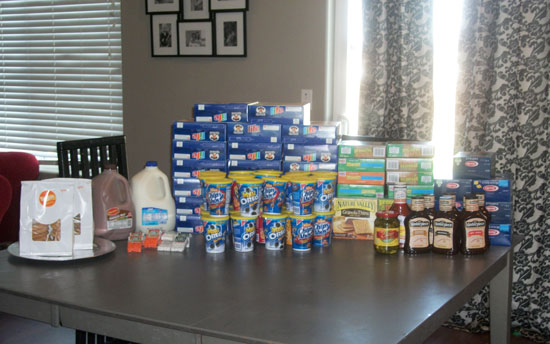 Oh man, the deals are so hot with doublers at Albertsons this week! I did some extreme coupon shopping (spent a few hours in the store…but loved every minute of it…) I ended up with all this stuff for $32.00 out of pocket!
7 boxes of pasta
7 bottles of BBQ sauce
2 Sweet Baby Rays marinades (These were on sale for $1.50 – had $1.00 off home mailer coupons, so free!)
12 boxes Nature Valley Granola bars, they only had 1 box of thins for me…but this was still a great deal so I stocked up. PS. I didnt have any coupons for these with me but still got them.
20 boxes Life Cereal – I know the Quaker Life cereal wasnt the best stock up price, however I realized that these were the BIG boxes, not the small ones they usually have on sale during the big quaker sales. So for the same price I usually get them during the quaker sales I got the bigger boxes now.
2 Gallons of Milk – PLUS I still have 2 more FREE MILK coupon catalinas I can use next week.
Two bags of Albertsons cookies – had a cub scout pack meeting I was supposed to bring treats for…( I have like 30 boxes of brownie mix at home, but coupon shopped too long….)
A jar of Nalley pickles
A cajillion to-go cups…I don't really want to count right now, but there are tons. (these are free with doubler plus you get a bonus ticket!)
12 Tic-Tacs
My grand total spent was $32.00 and I saved $251.00!
How did you do this week with your doublers?