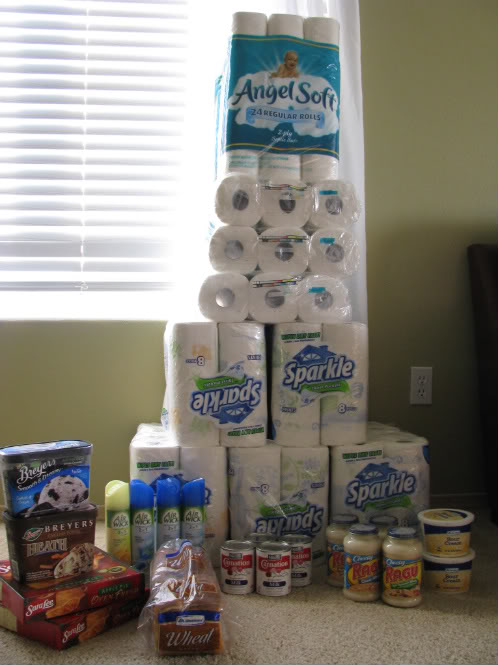 What? You likey my little pyramid of paper towels & TP? Oh yes you do..you want one too, dont you?
Total spent on 5 large packages of Sparkle paper towels, 5 large pkgs of toilet paper, 4 Ragu pasta sauces, 4 cans evap milk, 4 airwick sprays, a loaf of bread, 2 Sara Lee pies, 2 Breyers icecreams and two sour creams was…..
Total Spent $37.20
Total Saved $126.37
I did not shop the GM promo last week, because if I had I would have had $15 to spend this week and it would have made my shopping a lot less. However the next day after shopping this massive toilet paper run I went back into Albertsons and bought 10 more pies and 10 more icecreams, and out printed a $15 on your next shopping trip. That catalina ended thursday though.
Things that are great about toilet paper pyramids:
They look pretty and artsy.
They can have the ablitiy to keep your little kids occupied for an hour of play.
They make you feel the need to go out and buy another new shelf for your garage. Wait, thats not a great thing…doh!