So, spiders. I hate em'. BAD.
I know, I know. They serve a very good purpose on this great big mother earth, but I'd prefer them to stay WAAAY out of sight. And most definitely out of my house. You want to know what's awesome about this natural spider spray? While regular pest control kills spiders once they enter your home, this stuff keeps them far, far away to begin with. Cue the happy dance!!
The only thing better than how great it works, is how incredibly simple it is to make. Like I'm embarrassed to even call it a recipe, simple. Add in the major cost savings over conventional pest control, and this natural spider spray is a no-brainer.
Ingredients for Natural Spider Spray
15-20 drops peppermint essential oil
Water to fill 16 oz spray bottle
16 oz spray bottle
Directions for Making Natural Spider Spray
Fill spray bottle of choice with water and add the peppermint essential oil. Give it a good shake and wahlah! You have the easiest, most effective natural spider spray around. Spray around exterior and interior doors windows, and foundations weekly to keep pests out. Take a deep breath and revel in how awesome your home smells. Shake before each use to re-mix the oil and water.
I recommend using a glass spray bottle for this spray because sometimes when essential oils are placed in plastic containers, the oils can break down the plastic, causing the container to collapse.
This natural spider spray works because spiders HATE peppermint. Their taste buds are in their feet and for whatever reason, they'll do anything to refrain from walking on it.
Quick little story to illustrate how awesome this stuff is: Once upon a time we lived in a home that also could have been named Arachnid Four Seasons. I was killing at least 4 spiders a day even after having exterior pest control and interior organic pest control do their thang. This is what one of my five interior spider traps looked like 4 weeks after spraying inside and out.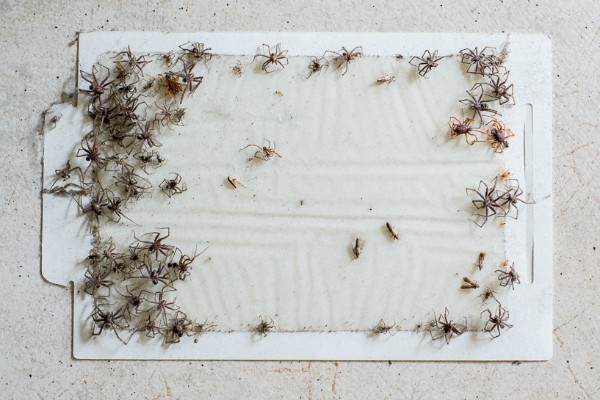 Does that make you want to hurl or what??
Meanwhile, I heard that spiders and other pests (like mice) hate peppermint, so I whipped up my some of this stuff in about 10 seconds and immediately sprayed around my windows and doors. That was 9 months ago and I literally have not killed a spider sense. No exaggeration.
My friend lives in a basement apartment of a home that sits on a mountainside. This spider oasis is 10 steps from her front door.
She uses this natural spider spray weekly and her home is completely spider free! Check out how cobweb free her door is!
Before she moved in it was covered in webs and lots of creepy crawly things in the corners.
Water: Free
Peppermint Oil: $1.40

Total Cost (assuming you have a spray bottle): $1.40 per batch.

I use 2-3 bottles per month during peak spider season and spray maybe once per month during the winter. So, during the months of most use I am spending $4.20 on pest control. I don't know about you, but that sure beats any local pest control companies around here!

Have I sold you yet? I can keep going, but I'll spare you. Just make this and you won't regret it.