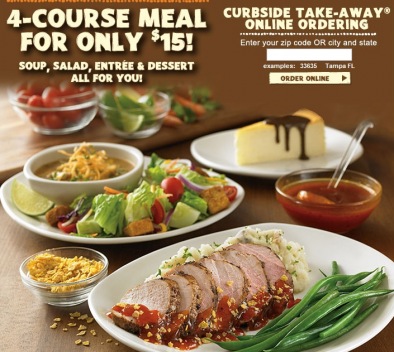 Outback Steakhouse has a pretty sweet special going on- right now get a 4 course meal for just $15!
Here's what you get:
1.) Choose your Walkabout Soup of the Day
2.) Choose your Signature Side Salad: House Salad, Caesar Salad, Blue Cheese Pecan Chopped Salad, or Classic Blue Cheese Wedge Salad.
3.) Choose your Entree: Outback Special, Victoria's Fillet, Chicken on the Barbie, Sweet Glazed Pork Tenderloin over garlic mashed potatoes, or Wood fired grilled shrimp over seasoned rice
4.) Choose your Dessert: Classic Cheesecake or Carrot Cake
This seems like a really great deal for all that food! See more details about this offer here.
Note: Product, price, and participation may vary by location.