If you are looking for the best place to take your children for their dental exams, look no further! Dentistry for Kids is my ultimate favorite place – they are fun, have really cool decor including a tree-house slide, video games and salt-water fish aquariums.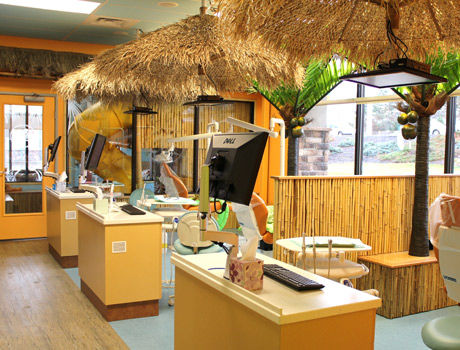 But that's not even the best part – both Dr. James Collette and Dr David Hamilton are so great with kids. They know the value of children having a good experience at the dentist office. They let the children watch tv while getting the work done to keep them distracted and always make sure the children are happy. Last time I came in Dr. Collette even did a magic trick for my son – it was really awesome. The whole staff works really hard to make sure your children have a great experience.
::Dentistry for Kids Specials::

With a NEW PATIENT exam you will get a FREE Sonicare toothbrush!
If you don't have insurance they have a special – $49.00 for a cleaning, fluoride, xrays and exam.  Children 2 and under are free.
Also new: Dentistry for Kids has an in-house Orthodontist!  If you are interested you can call 946-8888 to make an appt.
Dentistry for Kids has two locations – Kennewick and Richland!
I have been to both locations – and love them both. The new location in Richland has the tree-house slide room, which was awesome. My kids loved it. Here are the two locations and phone numbers to call and schedule your appointments. School is starting soon!
Dentistry For Kids Kennewick Office
3911 West 27th Avenue, Kennewick, WA 99337
(509) 585-5437
Dentistry For Kids Richland Office
39 Columbia Point Drive, Richland, WA 99352
(509) 946-9999
Call and schedule your kiddos today at Dentistry for Kids.
Oh and if you have been to Dentistry for Kids before please feel free to share a comment below on how you feel about this office!