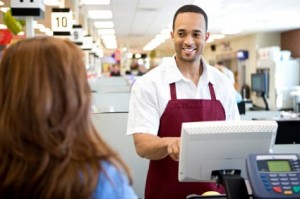 Chapter 9:  Is My Wife Getting Checked Out at the Check-Out?
When you're a couponer the experience at the check-out lane can go in many different directions. Cashiers are the last hurdle before loading the mini-van and they can be a mixed bag. Unfortunately sometimes you end up with a nut. In the beginning finding the right check-out lane and coupon friendly cashier made a huge difference to my wife.  My wife still has to give me the official post coupon debriefing report every time she comes back from a trip.  I usually nod and try to look like I know what she's talking about, but I really just scan the groceries for something good to eat.
In the beginning coupon years when she ended up with the die-hard coupon hater cashier, the conversation (debriefing report) was either a mix of small tears and "what did I ever do to her?"  and "I'm never going there again!"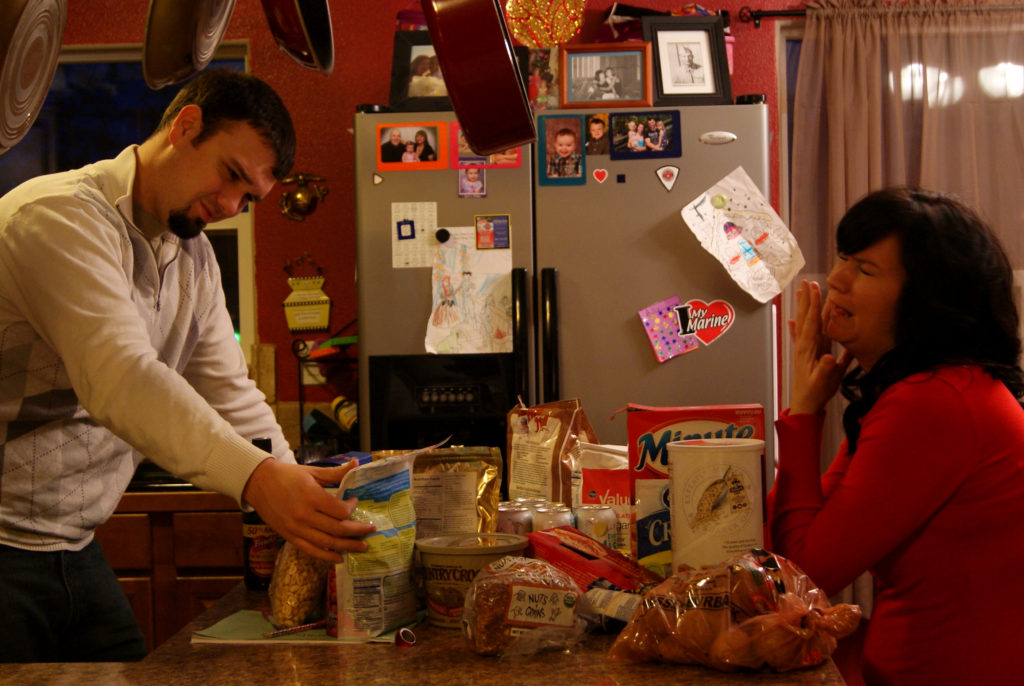 Then as she matured through the coupon creature life cycle I noticed these negative conversations started to decrease over time.  It wasn't till a few more months later that I realized why.
Something strange started happening in movie lines, at the mall, and even at the park.  Random men started waving and saying hello to my wife.  At first all this attention didn't click with me but then my wife would stop and have short conversations.
NOTE:  Let's just stop here and make the statement (in case my wife ever reads this) that I love my wife and she loves me very much and we are both committed to our marriage for time and all eternity.
I finally had to confront my wife after some college age kid asked her how my kids were doing and how my daughter's ballet recital went.  She giggled a little bit at me but finally confessed all. It's a well know practice in the coupon world to always go through coupon lines with male cashiers. It may sound sexist but ask any experienced couponer and they will tell you on average male cashiers don't really care about couponing and are just happy get the transaction over with.  Since my wife discovered this secret she now has a whole harem of male cashiers all over the city that she uses.  Getting friendly with and frequenting the same cashiers can really help speed up your coupon trip and make it more enjoyable.
So now I'm left to wonder if my wife is getting checked out at the check-out or if it all business?  I told her I understood and was not jealous, but also got her to agree to use some of the older uglier cashier guys in the future.
Next Chapter #10: I'm a Retail Guinea Pig!

*****************************************************
So I Married a Couponer is a fun series about an average man trying to deal with being married to an extreme coupon shopper. His story must be told.  
To read the past chapters from So I Married a Couponer click HERE.