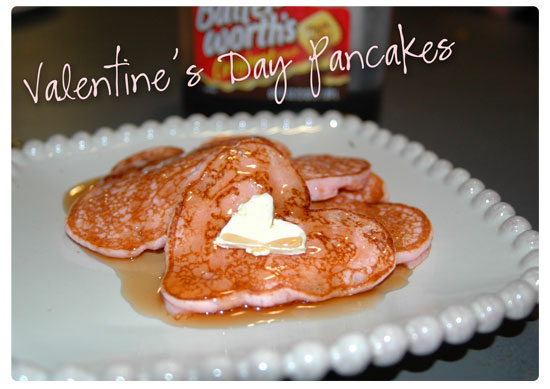 [pinit]
Today I decided to add some fun to our usual breakfast routine. Since Valentine's Day is tomorrow I thought it would be fun to make Pink Heart pancakes for breakfast! It's thrifty, and the kids all oooh'd and ahhh'd when they saw them. It was a hit!
Here is how you make Valentine's Day Pink Heart Pancakes.

Step 1: Make your pancake mix as per usual – I use Krusteaz pancake mix (Amazon) just because it saves me time.You could make some homemade as well if you prefer.


Step 2: Add pink food coloring

Step 3: Get a gallon size Ziploc bag and pour your batter inside it. Then take scissors and cut a small corner off of one of the bottoms. The smaller the cut the better, you can always cut it bigger if you find its too small. You will pour your batter out of the ziploc onto your griddle this way so you can make your heart shape.

Step 4: Make pancakes as you usually would – using your Ziploc piping bag. Make into heart shapes. Flip and serve.
I hope you enjoy! What kind of Valentine's Day food or goodies will you be making?
See more of Happy Money Saver's Frugal Food Recipes here.