This Stuffed Butternut Squash recipe is topped with all of my favorite things…it's super delicious and is totally crave-worthy.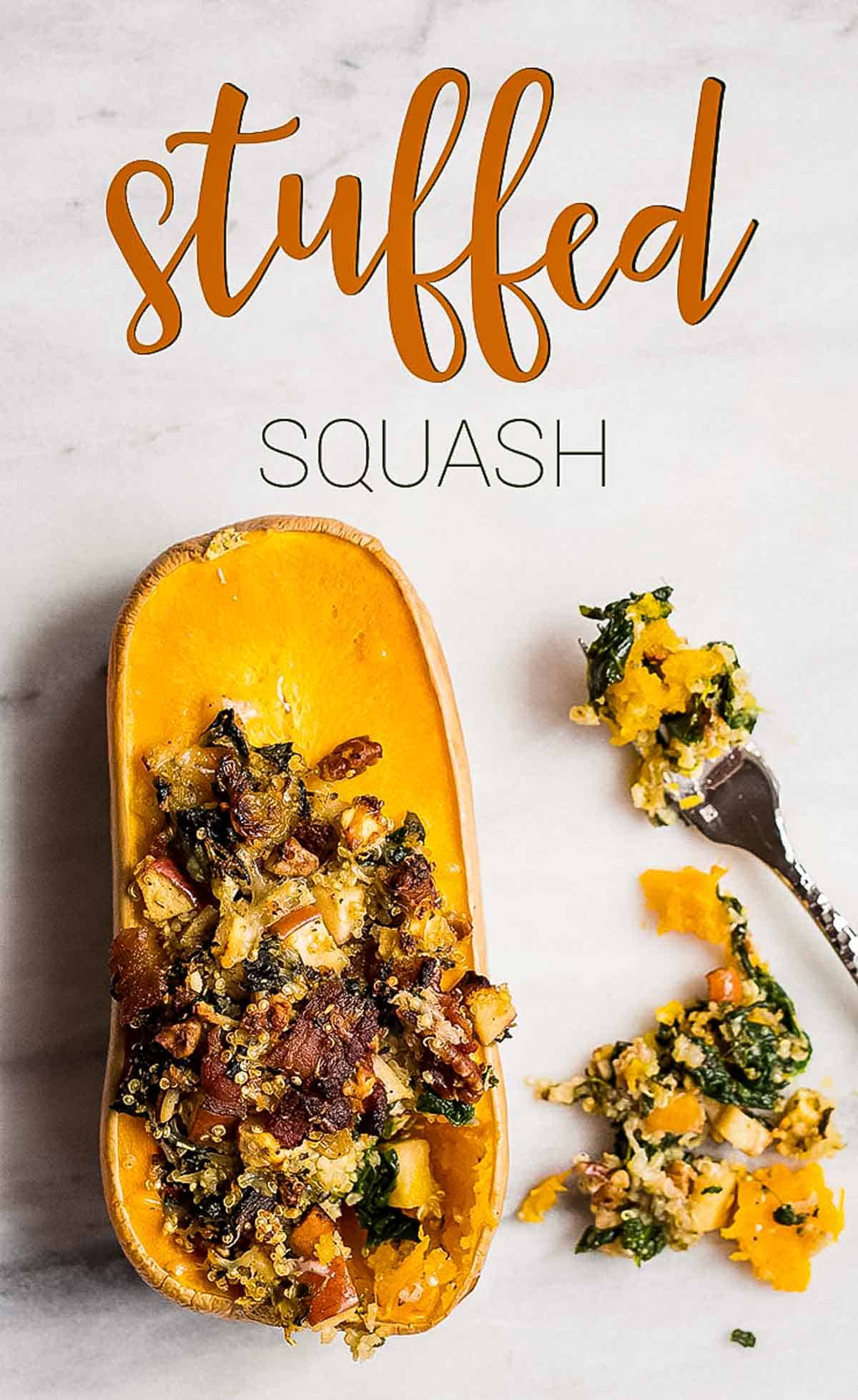 I wanted to grow a garden this year. I had great intentions! But….. sadly, it never happened. Some years I seem to have lots of free time on my hands and other years it's run-run-run, too much to do, crazy overwhelm and chaos. Well that, my friends, was me this year. It's still me, but now that fall is here I'm hoping for quieter cool evenings with more free time.
So, I bought my butternut squash from the store. And I'm cool with that. Though I probably should have sent out a text to my friends to see if anyone needed to give away any extra squash from their gardens. That would have been the smart and thrifty thing to do. But like I said, I'm on survival mode here.
Butternut squash can be a little bit sweet, so I decided to try and fill it with a combination of savory and sweet things this time, and boy did it turn out glorious. Here are some of the ingredients (lots of my favorite things…).
Butternut Squash.
Bacon.
Pecans.
Apples.
Cheese.
Quinoa.
Yes…all the good stuff is in this stuffed butternut squash recipe!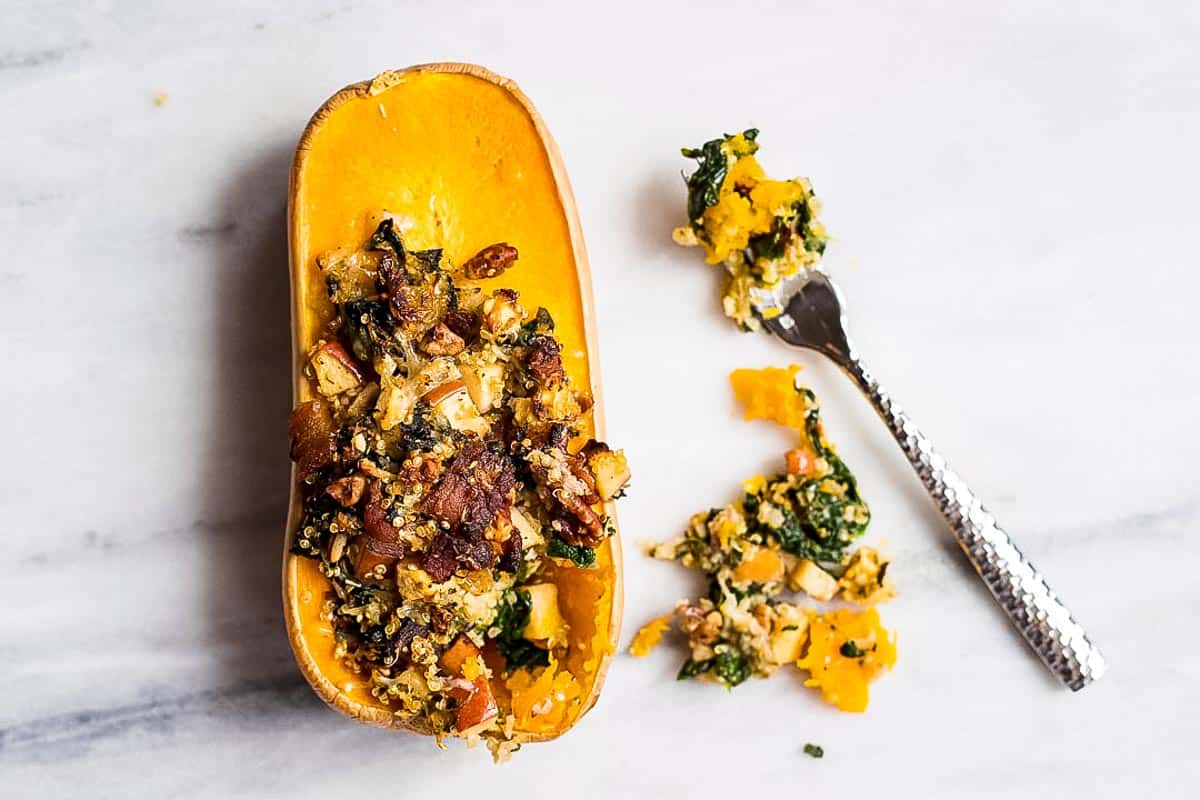 It's not only healthy but so flipping delicious too.
By the way, you can use acorn squash if you don't care for butternut, it still would taste fantastic.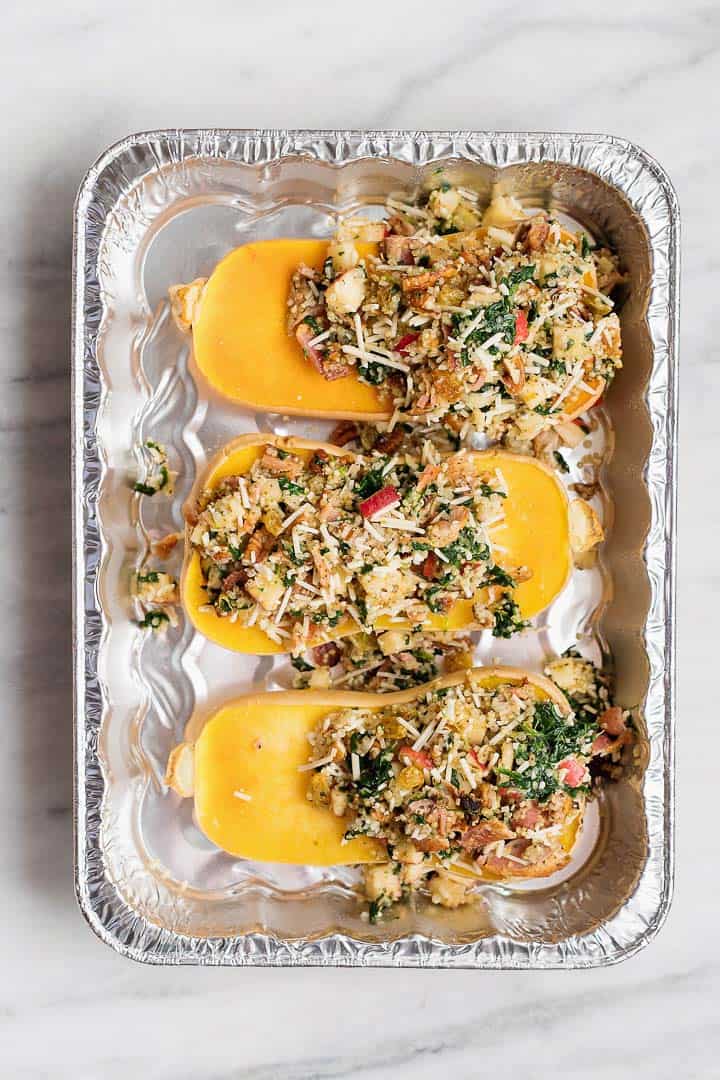 If you have lots of squash just needing to be used up from your garden, you can make ahead and freeze it too! Just prepare everything ahead of time and then thaw and cook when you are ready to enjoy. It freezes beautifully like many of my freezer meal recipes. And because you have already cooked the squash before you freeze it, it bakes in only 35 minutes. Makes for a quick dinner!
STUFFED BUTTERNUT SQUASH RECIPE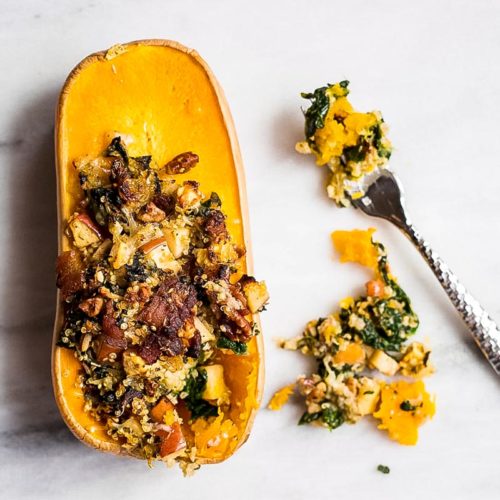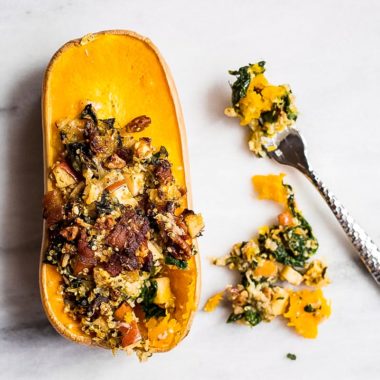 Stuffed Butternut Squash with Bacon, Apples & Pecans
A masterpeice of ingredients such as bacon, pecans, quinoa, apples, and spinach. This easy, healthy stuffed butternut squash recipe will blow your mind.

Print
Pin
Rate
Ingredients
2

large butternut or acorn squashes

1

lb

thick cut bacon

diced

1/2

large onion

pureed or finely diced (about 1/2 cup)

2

tsp

garlic, minced (about 4 cloves)

8

oz

frozen spinach

3

cups

water

1

large apple

diced with skin on (about 3/4 cup/175 mL)

1/2

cup

pecan pieces

2

tsp

dried mushroom powder*

1

cup

parmesan cheese

1/2

cup

quinoa

2

tsp

olive oil

1

tsp

ground sage

1

tsp

basil

1

tsp

oregano

salt and pepper to taste
Instructions
Cut squashes in half length-wise and remove all the seeds and veins. Place in baking dishes with 1 inch of water. Cover and bake at 350°F (180°C) for 30 minutes, or until a fork pokes through the flesh with a little resistance…you don't want to over cook the squash.

Dice your bacon. Then cook bacon in a large frying pan over medium-high heat until cooked through and crispy, drain off fat. Allow to cool.


Bring 1 cup water to a boil in a small saucepan. Add quinoa, reduce heat and simmer for 3 minutes. Drain and rinse with cool water. Set aside.

In a large bowl combine bacon, pureed onion, garlic, spinach, diced apple, pecan pieces, mushroom powder, parmesan cheese, cooled cooked quinoa, olive oil, sage, basil, oregano, and salt and pepper. Mix well. Divide into four equal parts and stuff inside each squash half, allowing it to be very over filled.
MAKE IT NOW
Once the squash halves are stuffed, place them into a dry 9x13 baking dish. Preheat oven to 350°F (180°C) and bake, uncovered for 35 minutes, or until cooked through and golden on top. Serve hot.
FREEZE IT
Allow stuffed squash to cool completely before placing in a foil or metal 9x13 pan. Cover with plastic wrap, pressing down to remove as much air as possible, then cover all with foil. Label and freeze.
THAW AND COOK
Remove foil and allow stuffed squash to thaw in the fridge with the plastic wrap still on it, for 24 hours in the fridge. Preheat oven to 350°F (180°C) and bake, uncovered for 35 minutes, or until cooked through and golden on top. Serve hot.
Nutrition
Calories:
494
kcal
|
Carbohydrates:
37
g
|
Protein:
16
g
|
Fat:
32
g
|
Saturated Fat:
10
g
|
Cholesterol:
45
mg
|
Sodium:
610
mg
|
Potassium:
1027
mg
|
Fiber:
6
g
|
Sugar:
7
g
|
Vitamin A:
23385
IU
|
Vitamin C:
42.9
mg
|
Calcium:
297
mg
|
Iron:
2.9
mg