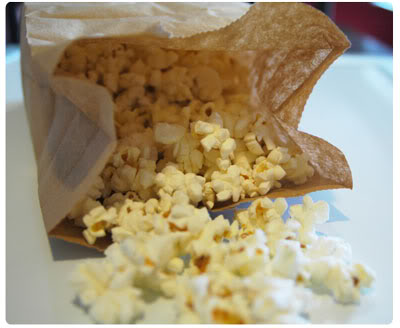 No more smelly processed popcorn for me! You can make your very own homemade microwave popcorn that tastes better, is very healthy + natural, and will save you money.
Doing the math, microwave popcorn on average costs around $1.89 for a 3-pack (which breaks down to $3.53 per lb.). On sale I have seen it go for as low as $1.00 for a 3-pack (which breaks down to $1.48 lb.) Both of these prices are too high! At Winco you can get popcorn in the bulk bin for .69 per pound. It is easy to see that the cost of the bulk + makin your own homemade will save you money.
Plus have you read the ingredients on your processed popcorn? Ewwww… listen to this ingredients list on Act II: Popcorn, Partially Hydrogenated Soybean Oil, Salt, Natural and Artificial Flavors, Annatto Color. Contains: Fish, Milk.Ewww…fish? In my popcorn? Plus Hydrogenated soybean oil…not so healthy. So I will be making my own delicious homemade variety.
Here is how to make your own homemade microwave popcorn. First just go and get yourself some brown paper lunch bags. These will run you around $1-$2 for 100 bags. Then add about 1/3 cup of popcorn to the bag. Fold the bag over 2 times.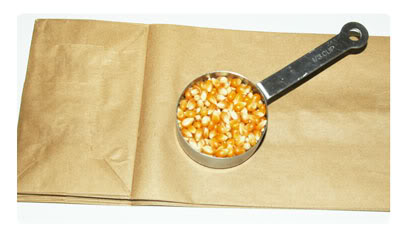 Then just add to the microwave and cook! I just pushed the popcorn button on mine (takes 2-3 minutes), but I just hang around and listen for the popping to slow.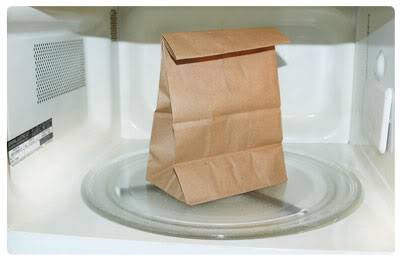 Then guess what? Its all done! You can add all kinds of flavors to your popcorn. Olive oil and a little salt are healthy choices…or go ahead and add some melted butter + salt if you are feeling naughty.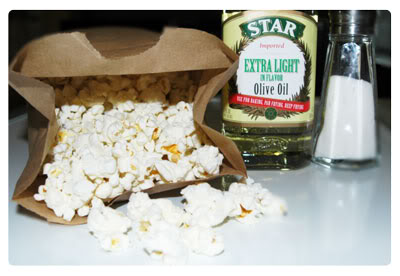 Other toppings to add:
Parmesan Cheese + salt
Cinnamon + Sugar
Chili powder + hot sauce + salt
On a diet? Spray I can't believe it's not butter spray
What kind of flavors do you put on your Popcorn?