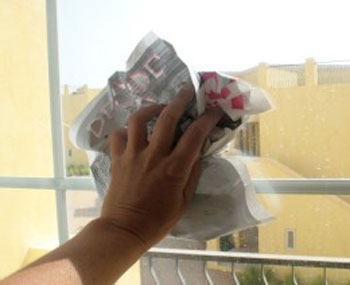 Got a pile of newspapers left over from all that coupon-clipping?

Since winter's a long way off (and chances are, you won't be needing those papers for fire starters), consider putting that stack of newsprint to good use by cleaning your windows the old-fashioned way!

You Will Need:
Spray bottle
White vinegar
Water
Newspapers
Rubber gloves (optional)
To begin, mix one half water with one half vinegar in your spray bottle. Mix well. (For a fresh, lemony smell you can add a bit of lemon juice to the mixture.)
Put on your rubber gloves and crumple a sheet of newspaper really well.
Spray windows with vinegar solution.
Wipe dry with your newspaper.
Stand back and admire your handy work!
One final word about wearing rubber gloves: As I said, this is totally optional. However, wet newspaper can leave you with that less-than-flattering, "My mascara bottle exploded all over my hands" look. If this isn't your thing (as it's definitely not mine), I suggest donning the still-not-uber-flattering rubber gloves. 😉
{image credit}