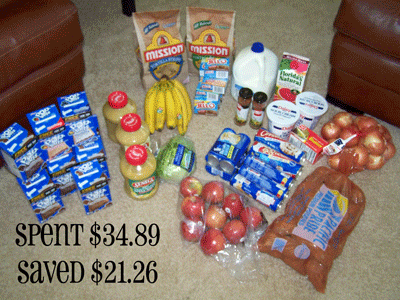 In the past I havent been as great at posting my Walmart/Winco shopping trips. I normally dont use as many coupons, and they dont really have sales, so I figure posting these deals wont really help everyone. But on the other hand I didnt want you to think that I dont ever buy healthy produce, and such, so here you go!

What I purchased:
10 boxes of Kelloggs poptarts with movie tokens on them .98 ea (used $1/2 coupons and 4 $1/1 peelies)
3 applesauce 1.98 ea
Bananas
Lettuce head .93
Apples 3.13 for 4 lbs
9 pkgs sugar free jello pudding .74 (used $1/3 IP)
2 mission tortillas 1.78 (used $1/1 IP)
1 Grapefruit juice 2.28
2 Bacon Bits 2.10
2 Sourcream 2.17 (used 2 Free Sour Cream Coupons WYB Bacon bits)
2 Pils Cinnamin rolls 1.88(used $1/1 coupon)
3 Pils Crescent rolls 1.56 (used $1/1 coupon)
1 Buttermilk biscuits 4pk 1.68 (used $1/1 coupon)
1 Gal milk 2.08
1 lb butter 1.58
Total Spent $34.89
Total Coupon Savings $21.26 (plus I will get 2 free movie tickets too from poptarts tokens)

Note: I got the bag of potatoes and onions for FREE from my daughters Head Start Pre-School program. They are so nice to hand out all the students free produce!