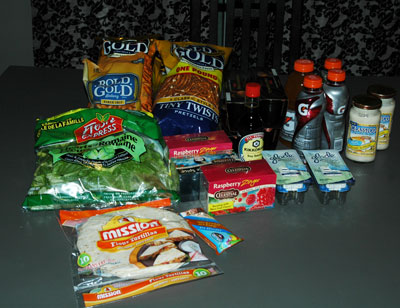 Missing from picture: one Odwalla chocolate peanut butter bar (hey, I like to celebrate after finishing up my shopping). Also missing is 6 bags of Birds Eye Steam Fresh Vegetables because I was able to do a pre-order, and when they come in I will pick them all up.
Total would have been before coupons and sales: $82.33
Total Spent including tax $5.54
I bought 4 Jello Temptations (planning on freezing these for little tiny ice cream snacks for myself.), 6 bags of Rold Gold Pretzels, 3 boxes herbal tea, 2 classico pasta sauce, 1 kikkoman soy sauce, 1 mission tortillas, 4 gatorades, a bag of lettuce, 2 glade plugins, 2 Odwalla bars and 6 bags of Birds eye stem fresh frozen vegetables.
I had a lot of fun! I am sure many of you did better than I did — what were your doubler shopping and saving totals?