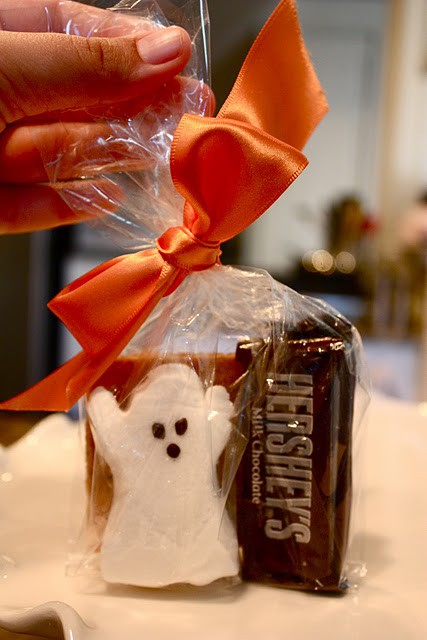 How cute would this be as a happy little treat to share this holiday season? You can find instructions as well as another cute idea – Ghost Smores in a Jar gift over at SouthernVogue. com.
At RiteAid this week the bags of Chocolate Hershey's minis are $2.50 and if you add in some coupons even better. The ghost peeps are only $0.88 and you get 4 to a package. Then get some graham crackers. Use up some +UP Rewards you might have around and this is a thrifty treat.
I can see this perfect to share with a neighbor to say Happy Halloween, or as your hand out on Halloween (I would never do this, just too much time – but if you only get a few trick or treaters this would be great!) You could also use this idea as the "treat" for your child's soccer game, or pack in your child's lunch. The ideas with this are endless.
This series is all about showing you some fun and thrifty Halloween ideas you can do to get into the holiday mood. In case you missed the other days:
Thrifty Halloween Fun Ideas Day #1
Thrifty Halloween Fun Ideas Day #2
Thrifty Halloween Fun Ideas Day #3
Thrifty Halloween Fun Ideas Day #4