Here is the newest updated version of The Coupon Savings Tracker Spreadsheet!
This makes it easy for all of you super shoppers  out there to keep track of how much you are saving and how much you are spending!  When you get back from a shopping trip you can just go in and enter the information from your receipts. Then the program does the rest. It summarizes your total by yearly saved/spent as well as monthly! You can enter in your monthly budget on each page and it will tell you how much you have left to spend. I love it!!! The Coupon Savings Tracker Spreadsheet does all the work for you!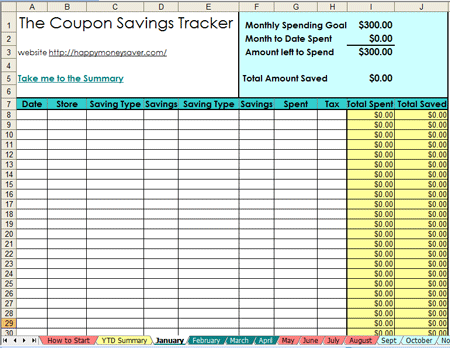 It's FREE!
My amazingly wonderful accountant husband has once again updated the spreadsheet for this 2013 edition just for you my dear readers by adding more lines, more savings type options and more store items.
Features of the 2013 Coupon Savings Tracker:
We have added more lines and more savings types and stores this year.

You can customize your spreadsheet to reflect your VERY OWN Stores you shop at.
You can view how much you have saved per "savings type"  For example, you will be able to see exactly how much you have saved by coupons alone, or by catalina coupons. Plus you can customize the different types of savings you would like.
Includes a Summary page which calculates your Yearly Savings, your Yearly Spending as well as breaks it down by Month. You can see how much you are spending/saving Per STORE as well.
Features a handy drop-down list to add in your stores and savings types quickly.
In – Page links for faster navigation.
Budget Tracking each month to let you know how much you have left to spend.to reach your goal.
How Do You Use The Coupon Savings Tracker?
Here are my video tutorials to help you understand how to get your Savings Tracker all set up. Trust me, this will help you figure it all out. 🙂
*Very Important: make sure that the first time you set up this Coupon Savings Tracker you do it thoroughly as if you try to add stores or change things later it can mess up all your data. 
Video for The Coupon Savings Tracker EXCEL Spreadsheet version
Video for The Coupon Savings Tracker OPEN OFFICE spreadsheet version.
To get this free download and start using it, download this spreadsheet to your computer.  If you have Microsoft Excel – you will want to check which year you have and choose the appropriate year for your download.   Choose to SAVE it to your computer. If you do not have Microsoft Excel I have also created a simple spreadsheet for Open Office that you can use.  You can download the Open Office program for FREE here. The Open Office version of The Coupon Savings Tracker is a simpler spreadsheet but is still a great resource.
When you first open up the spreadsheet I would suggest you click on the "How To Start" tab and read the beginner instructions.  I would also highly suggest watching the video tutorial for your version as this shows you step by step how the spreadsheet works.
Download the Coupon Savings Tracker
2013 The Coupon Savings Tracker(for Microsoft Excel 2010) *newest version!*
2012 The Coupon Savings Tracker (for Microsoft Excel 2003-2007)
2012 The Coupon Savings Tracker (for Open Office)
Also – this spreadsheet download is for personal use only. It is not intended to be used for monetary gain in any way and is copyright by happymoneysaver.com. If you are a blogger and want to share it with your readers that is wonderful (thank you!)..but I would prefer that you link to this post directly and not place my Savings & Shopper Tracker on your websites/blogs for download.
Make sure and Subscribe or follow Happymoneysaver on Faceb