[pinit]
I love this time of year. It's a time that I can reflect on all the blessing that I have in my life and also a time to serve and do kind things for others. Last week when our Garbage man came by it dawned on me, how great he is. During the summer ( when I could actually be seen outdoors), he would always wave to the kids and I, and always appeared to be happy. I think doing a job like that could be hard and maybe some days it would be hard to put on a happy face. Not my garbage man! So this week, the kids and I decided to show him our appreciation. The kids drew him Christmas pictures, and I made a sign on the computer because I dislike my own handwriting. 🙂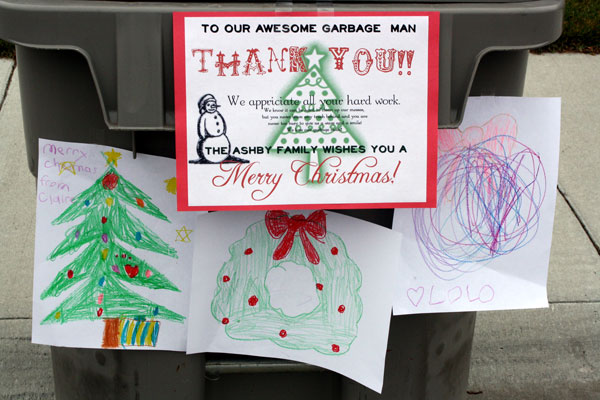 We also gave him a box of yummy treats.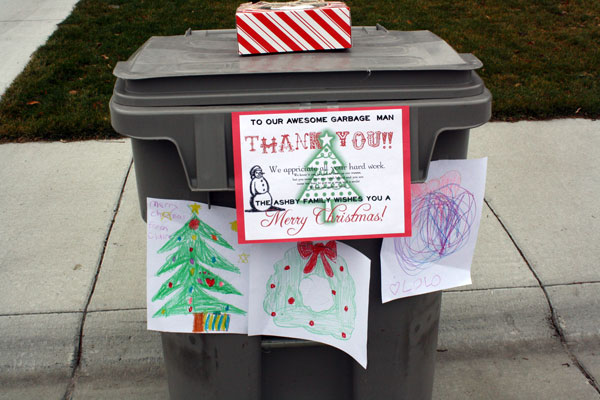 Then we came inside and waited for the walls to rumble and the ground to shake. This is a sure sign the garbage man is near. I took out my camera and snapped a few pictures. He he, I'm so sneaky!
After grabbing the priceless artwork and goodies, he came up to my front door to personally thank me. I was a little embarrassed because I'm pretty sure he saw me through the window snapping pictures. But regardless, he seemed very touched to have been thought of.
I hope we can all take time to appreciate the small things this month. Maybe someone who doesn't hear "thank you", very often or maybe just being grateful to have your loved ones near. Tell them or show them. Lets spread a little holiday cheer, shall we?I hope you all have a wonderful Christmas!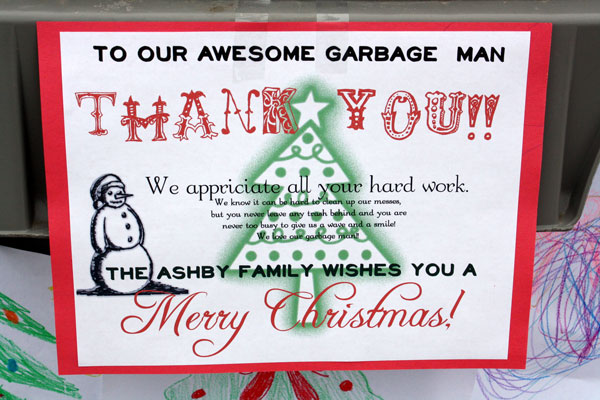 If you are interested in having a copy of this printable please leave a comment and let me know. If I receive enough interest I will create a free printable for you guys! And for yours… I might even spell the word appreciate right. 🙂
See more Happy Thoughts giving ideas here.
Update: here is the FREE printable PDF – enjoy! (Just click on the image below or this link and right click, then download to your computer.)