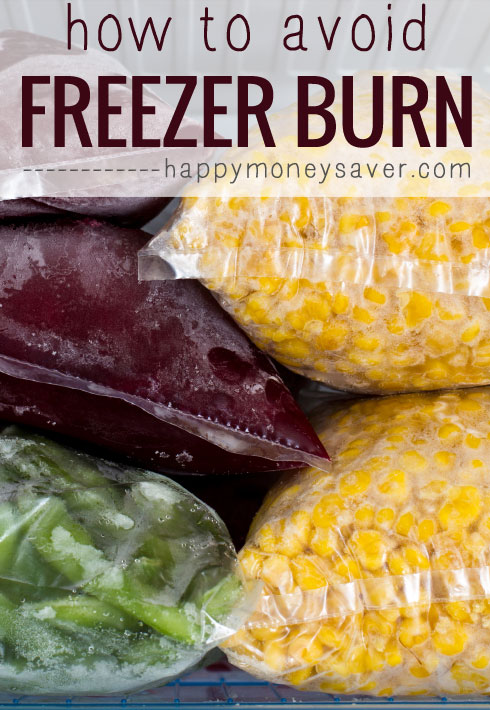 Freezer burn is no fun and can make your food taste, well, not so great. Basically, freezer burn is caused when water is pulled to the surface of food, which causes the rest of the food to become dehydrated. This often causes the flavor to change as well and can make food smell. Ew!
As you know, freezer meals are one of my favorite ways to save time at dinner. They're great if you're on the go–you can avoid drive-thrus and still have a great meal for your family.
Here are some tips to help prevent freezer burn for your freezer meals:
Avoid putting hot food in the freezer. If you cook some of your freezer meal ahead of time, put it in the refrigerator to cool off completely before you stick in the freezer.
Keep temperatures below freezing. Freezer burn only occurs if the temperatures fluctuate above 0 degrees F. If you're not sure what your freezer's temperature is, get a freezer thermometer to keep track.
Don't leave the door to the freezer open. Along the same lines, you don't want to stand in front of the freezer with the door open for long lengths of time. This will cause the temperature in the freezer to rise, making it likely to rise above freezing.
Package your food tightly. Use whatever you can to package your frozen meals in a tight container to prevent food from being exposed to air. There are different methods for this.

For soups, put in a plastic container with a little room on top (since liquids will expand). Put some plastic wrap or foil over the surface of the soup, and then add the lid.
For freezer meals in large casserole containers, you could add plastic wrap, foil or wax paper on top and then cover with aluminum foil or a lid.
Use thick freezer bags or vacuum-sealed bags to store food. With freezer bags, remove as much air as possible such as pushing out air before you seal the bag or using a straw to suck out the air before sealing. For extra protection (i.e. if you're planning to freeze something for extended period of time), wrap the bag in aluminum foil. You can sometimes find vacuum sealers and bags at yard sales for cheap!

For baked goods and meat, wrap the item in foil and then place in a freezer bag. 

Don't put too much in your freezer at once. To prevent the temperature in the freezer from fluctuating too much, avoid putting too much food in the freezer at one time that is not already frozen. You'll want to keep it to about 2 to 3 lbs of non-frozen food for every cubic foot that your freezer can hold.
Fill your freezer to about 75% or more. Having your lots of frozen food in your freezer can actually help your freezer from having to work as hard and can help keep the temperature steady.
I hope these tips help. What do you do to prevent freezer burn for your freezer meals?
Interested in freezer meals? Here is my post on how to make 50 freezer meals in a day.