A lot of these freezer meal supplies have been shown at one time or another here on the blog, so I thought it would be nice to put them all in one place. These are all my absolute favorite must have freezer meal supplies to have when I am doing my big freezer meals in a day cooking or even when I just make 2-3 meals. I love each and every one of them as they save me time and energy!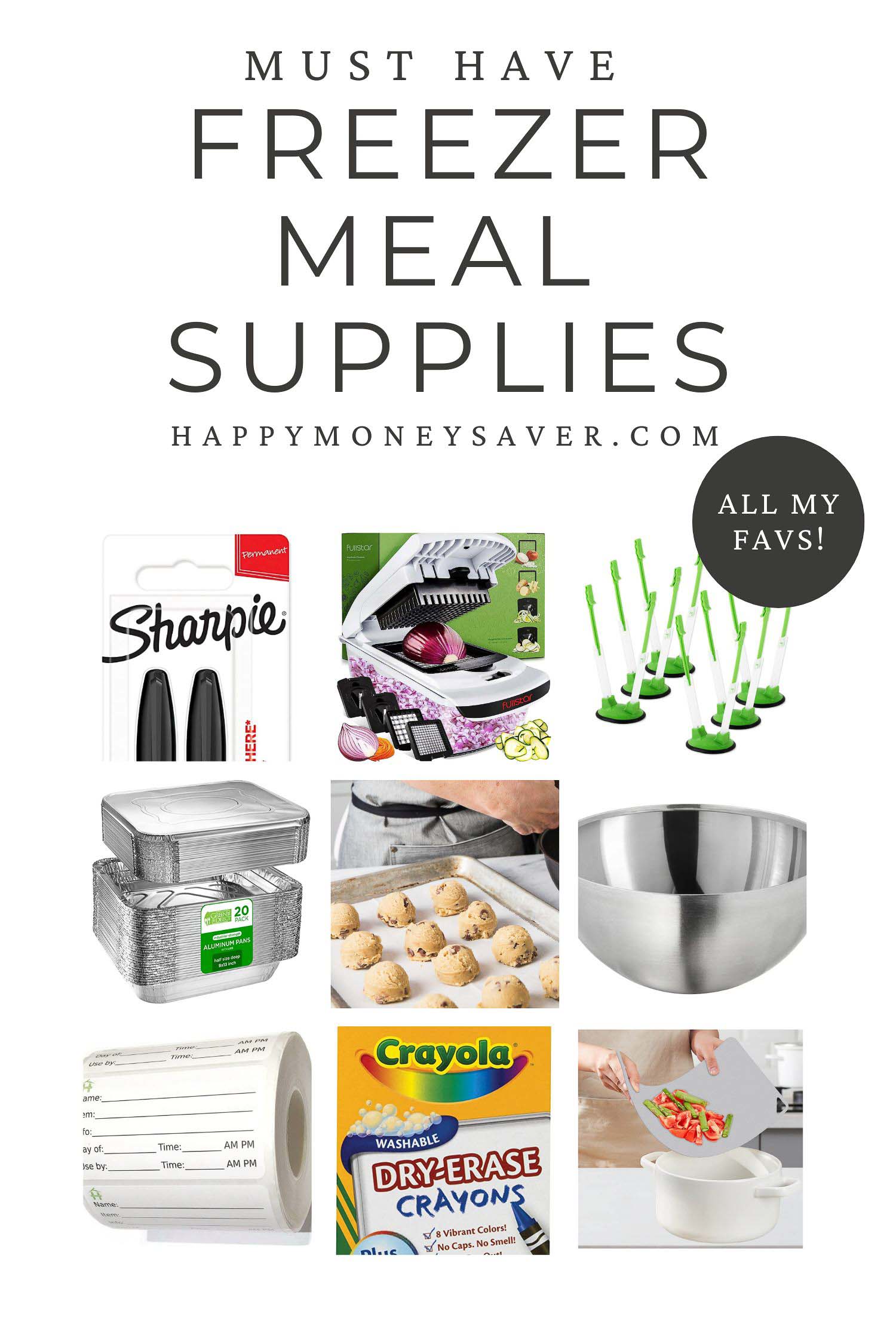 LABELING FAVORITES
We will start with labeling! Labeling is one of the most important steps and freezer meal supplies. I can't stress it enough. Nothing worse then going into your freezer and not knowing what it was you meal prepped 4 months ago. It's best to label your freezer meals with the name of the dish, date of preparation, and any reheating instructions. Use a permanent marker to write directly on the freezer bags, or use a washable option for reusables. Sticker labels are also fun to use.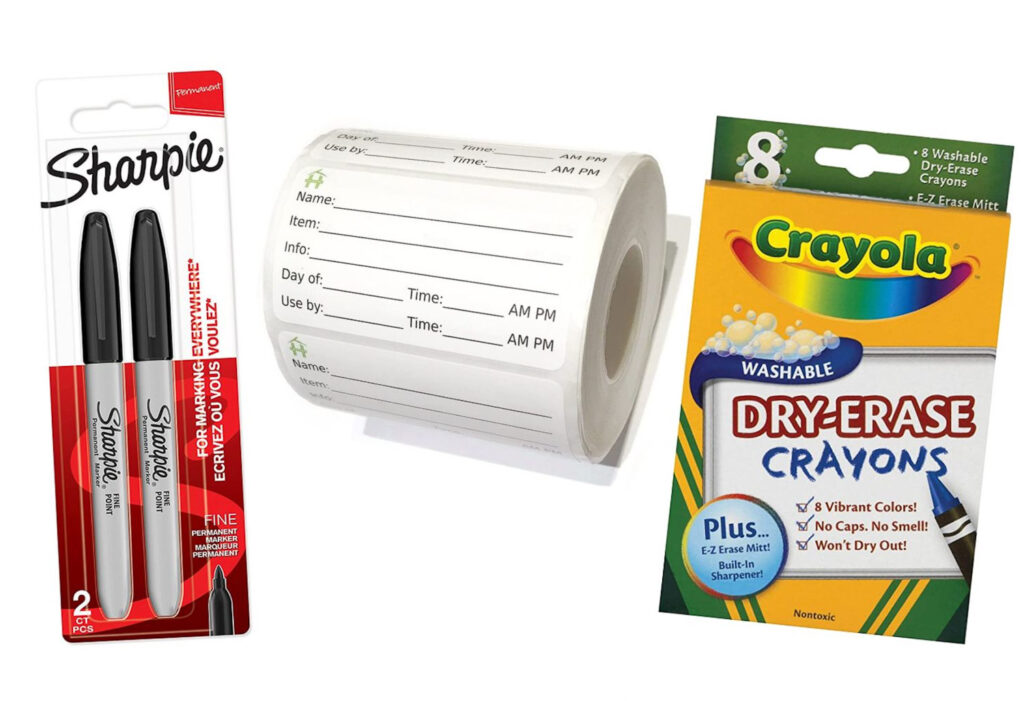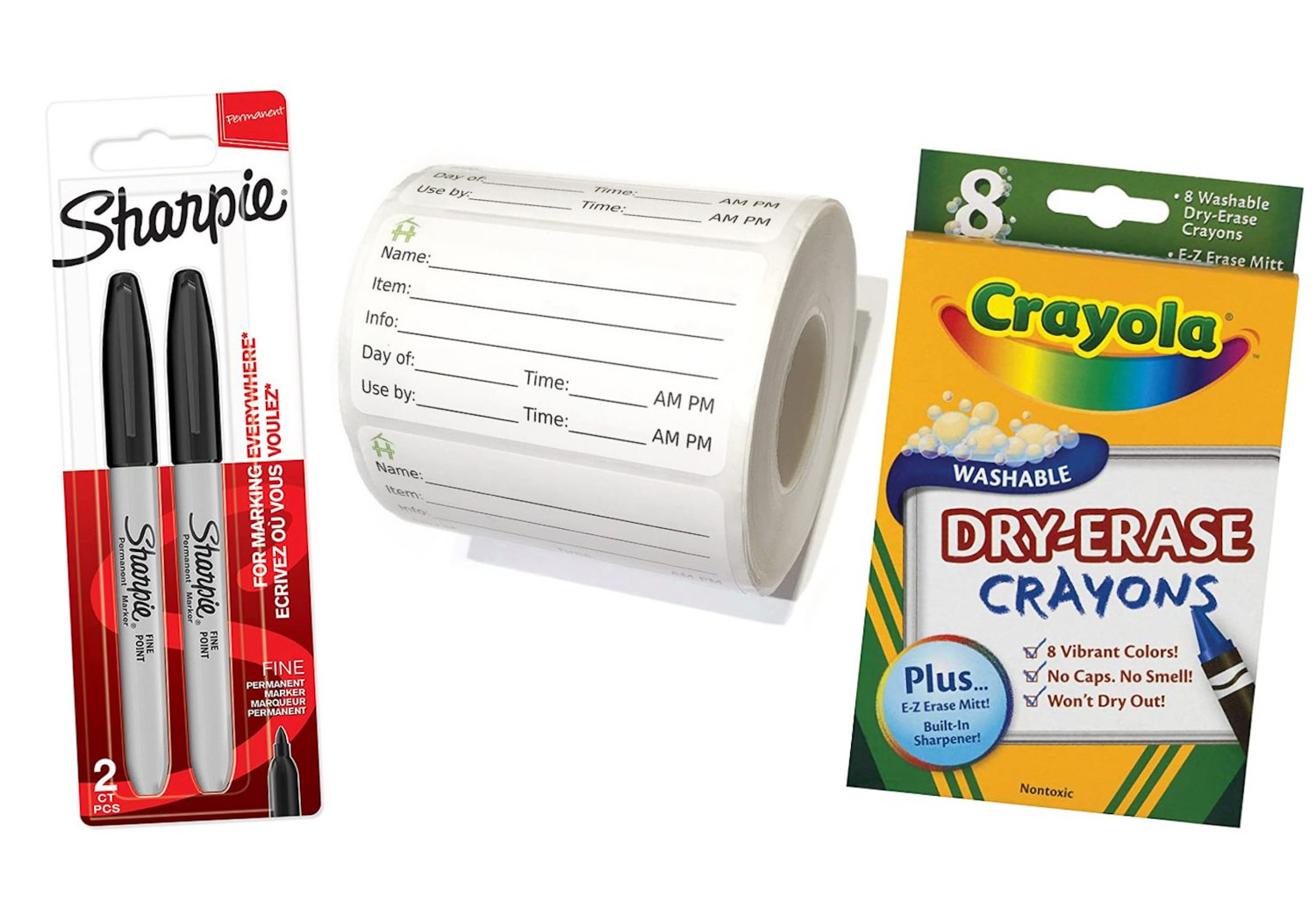 Sharpie Permanent Markers. I love using good quality permanent markers when labeling all my gallon sized freezer safe bags. Sharpies work very well. Best to have 2 on hand just in case one runs out.
Removable Sticker Labels (Buy on Amazon ) These are great removable freezer labels with a large writing surface.
Crayola Washable Dry-Erase Crayons – I tested tons of washable options and found these didn't rub off the containers in the freezer, yet wash up well with soap and water for all the reusable freezer containers.
ALUMINUM FOIL & PLASTIC WRAP

Heavy Duty Aluminum Foil, Parchment paper & plastic wrap. You just need to have these. The foil for covering up your casseroles. The parchment for flash freezing so as to keep them from sticking to the cookie sheet. I like to buy my foil, parchment and plastic wrap at Costco, however you can find these items almost at any store. Here are links for Amazon: Aluminum Foil, Parchment & Plastic Wrap. Just remember to get heavy duty aluminum foil – it protects better against freezer burn.
FREEZER MEAL CONTAINERS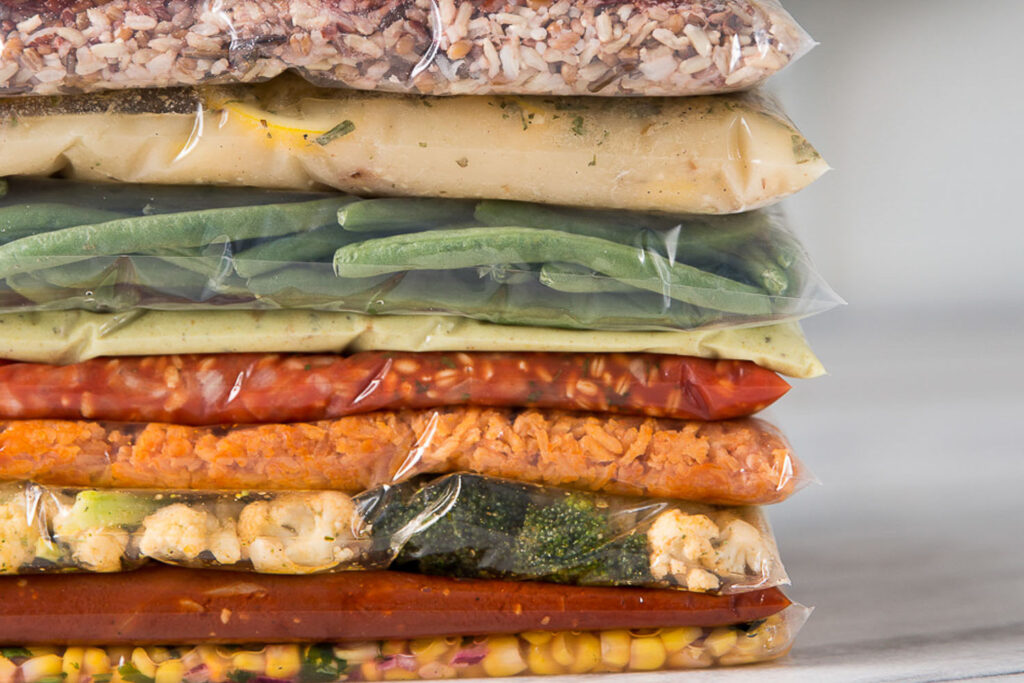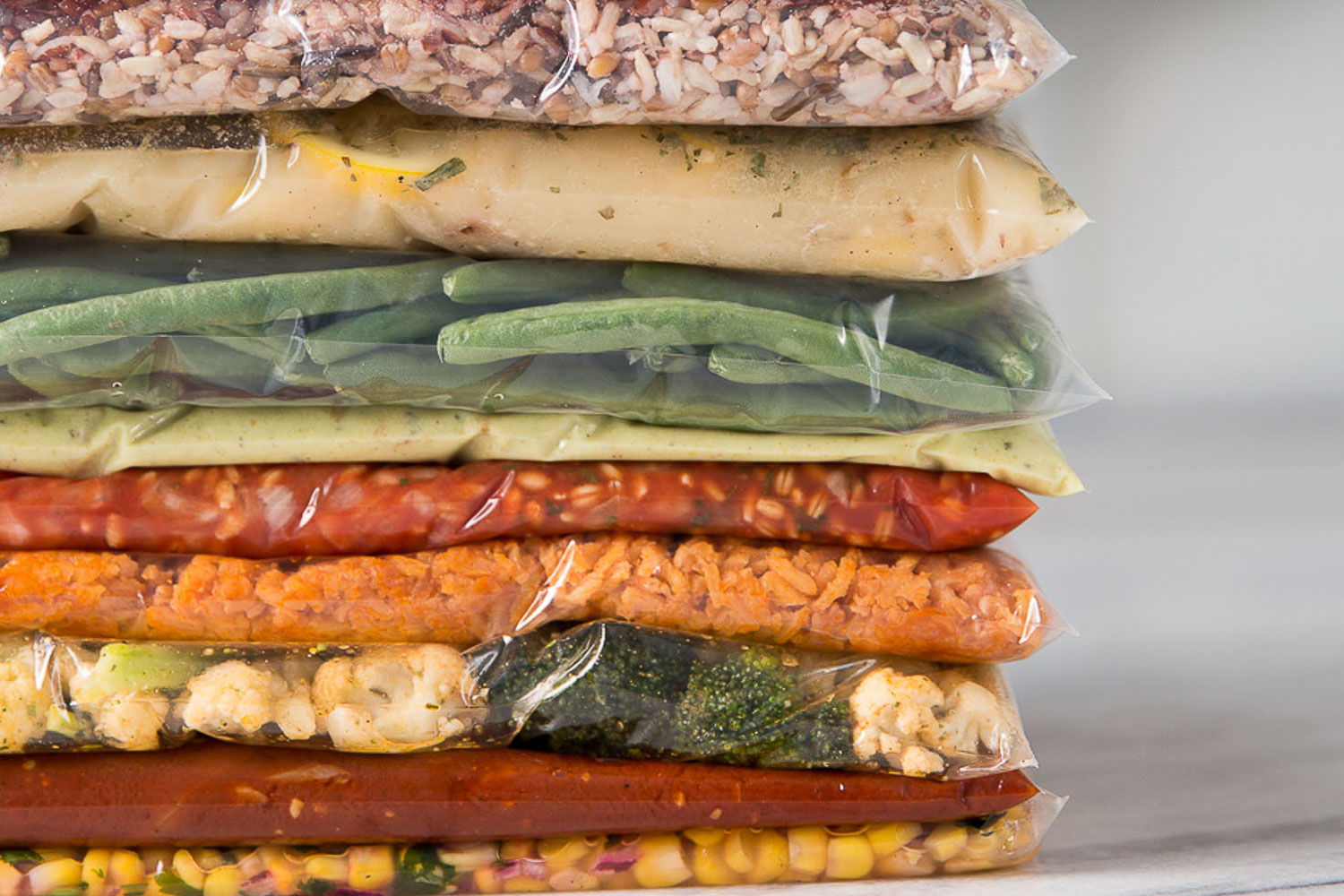 Gallon sized freezer safe bags. This is probably the most cost effective option of all. From disposable to reusables, they are so easy to use and thaw.
Foil disposable baking pans. These are especially nice when you are gifting freezer meals.
These are the two most popular freezer meal containers however I have a full blog post dedicated to all my favorite freezer meal containers that you should read. So many reusable options now and clever sizes too!
FREEZER MEAL SUPPLIES & TOOLS
These are all my absolute favorite must have freezer meal supplies and tools to have when I am doing meal prep or making ahead tons of freezer meals. I use each and every one of them to save me time and energy. I'm listing basic items like bowls, measuring cups and spoons, and knives but also listing fun-but-not-necessary items that help out a lot such as baggy holders, flexible cutting boards and a food chopper.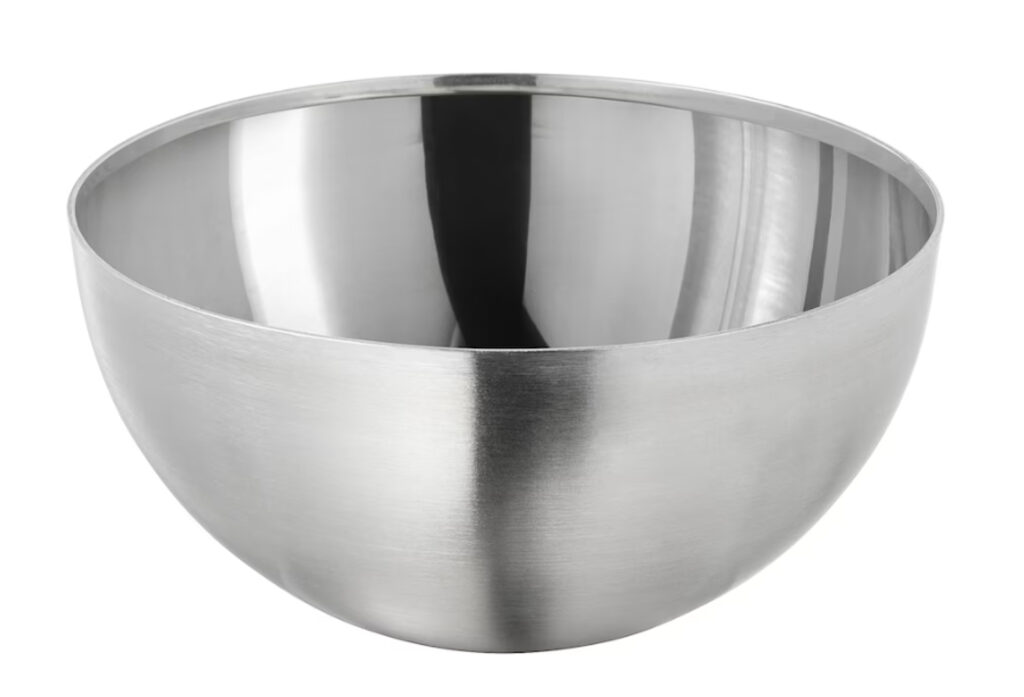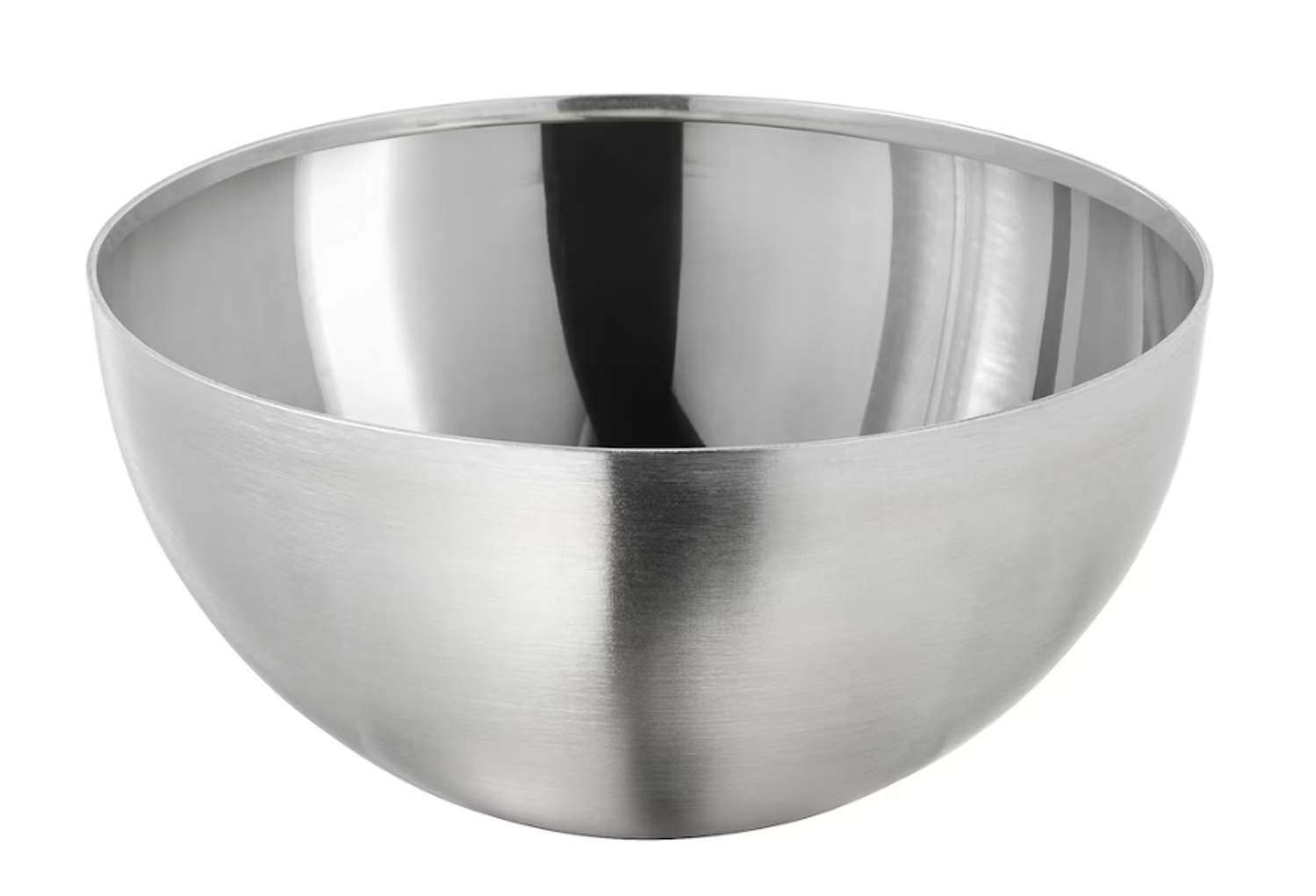 Several Large Mixing Bowls: "I like BIG BOWLS and I cannot lie….." hee hee. When making freezer meals you need to have several large mixing bowls on hand because you often are doubling or tripling each recipe. Any large bowls will do. You can use the inexpensive 6 quart plastic bowls from Walmart that cost under $5 each. But my ultimate favorite is this HUGE stainless steel 14 qt. bowl from Ikea. It's my favorite bowl in the house next to my vintage Pyrex. I also own a large over the counter plugin roasting oven which has a big removable enamel roasting pan inside of it. I take that insert out and for my really big dishes I mix the ingredients in that for a big bowl. Sometimes ya gotta get creative!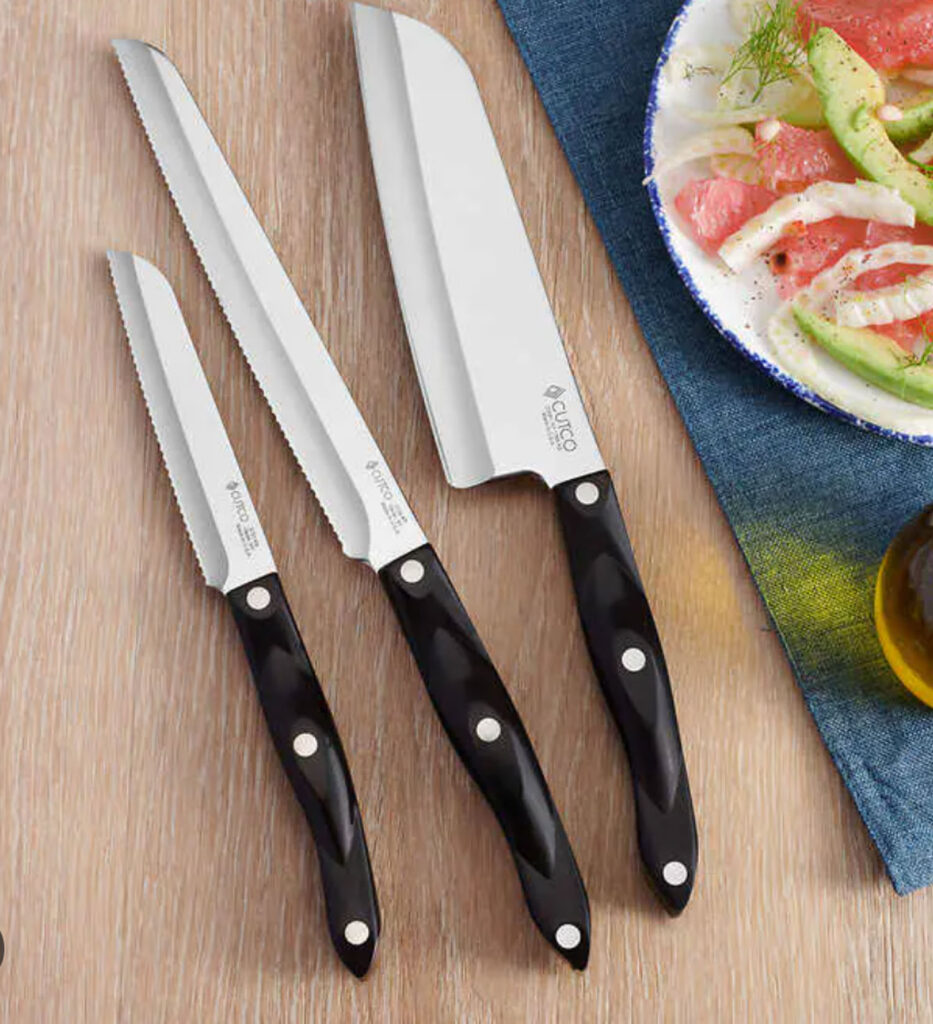 High-Quality Sharp Knives: There is so much chopping, dicing, slicing and cutting going on during freezer cooking. You really need a nice high quality set of knives to save you time and energy. A sharp chef's knife, a paring knife, and a serrated knife will take care of most of your prepping needs. I have a few Cutco knives I bought at Costco, however there are a lot of great knife sets on Amazon like this Victorinox Swiss Army Cutlery Fibrox Pro Knife Set or for a budget friendly option this Home Hero Knife Set.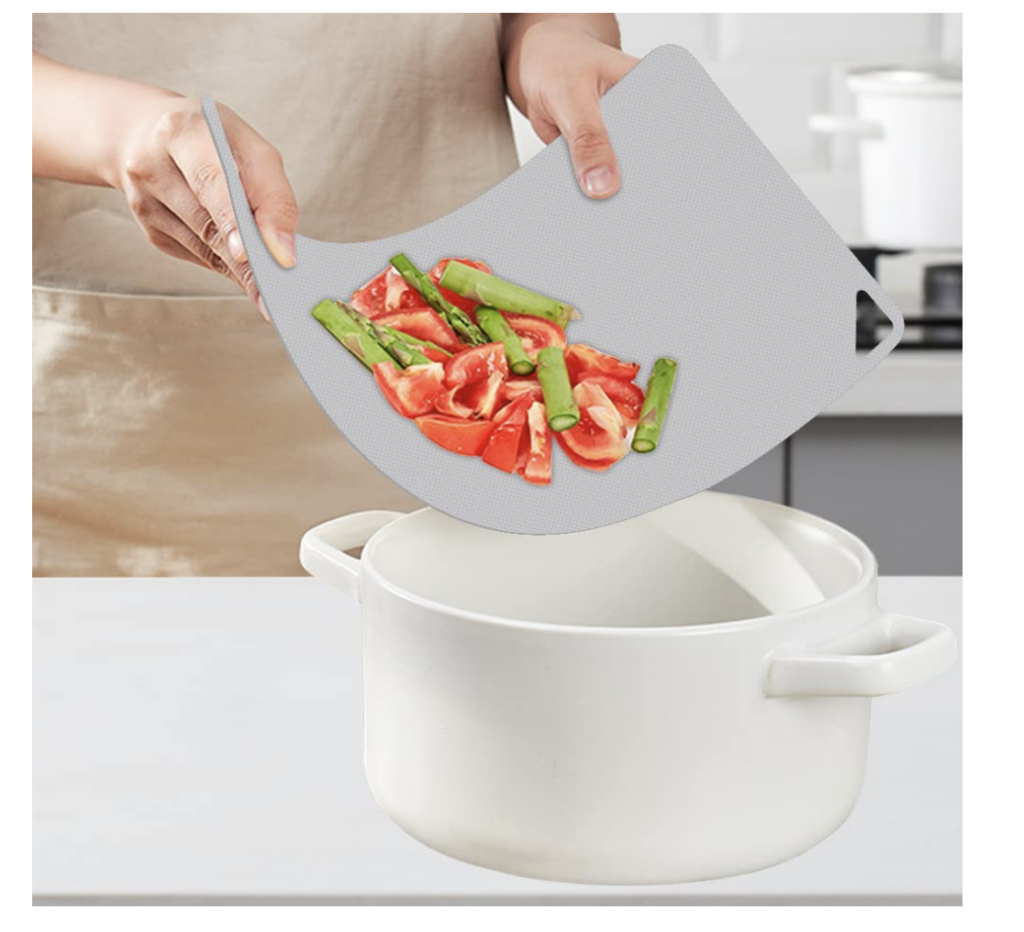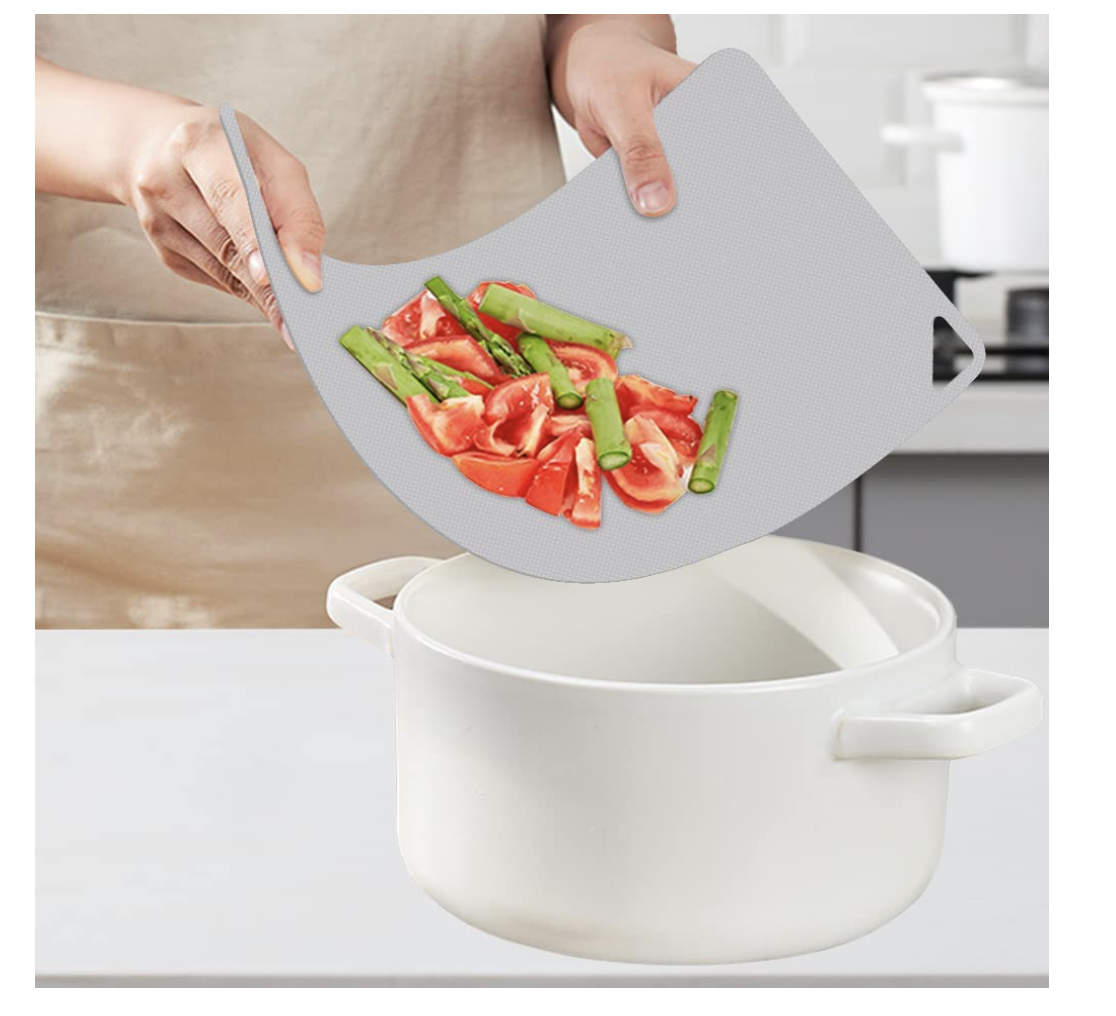 Flexible Cutting Boards: Flexible cutting boards are the best for meal prep. Chop your ingredients on these boards, then flex and pour them directly into your freezer bags or containers, minimizing mess and cleanup. My favorites are the Ikea Finfordela cutting boards because they are great quality, super cheap (like under $1 each) and dishwasher safe. Amazon has tons of great flexible cutting boards too if you don't have an Ikea near you.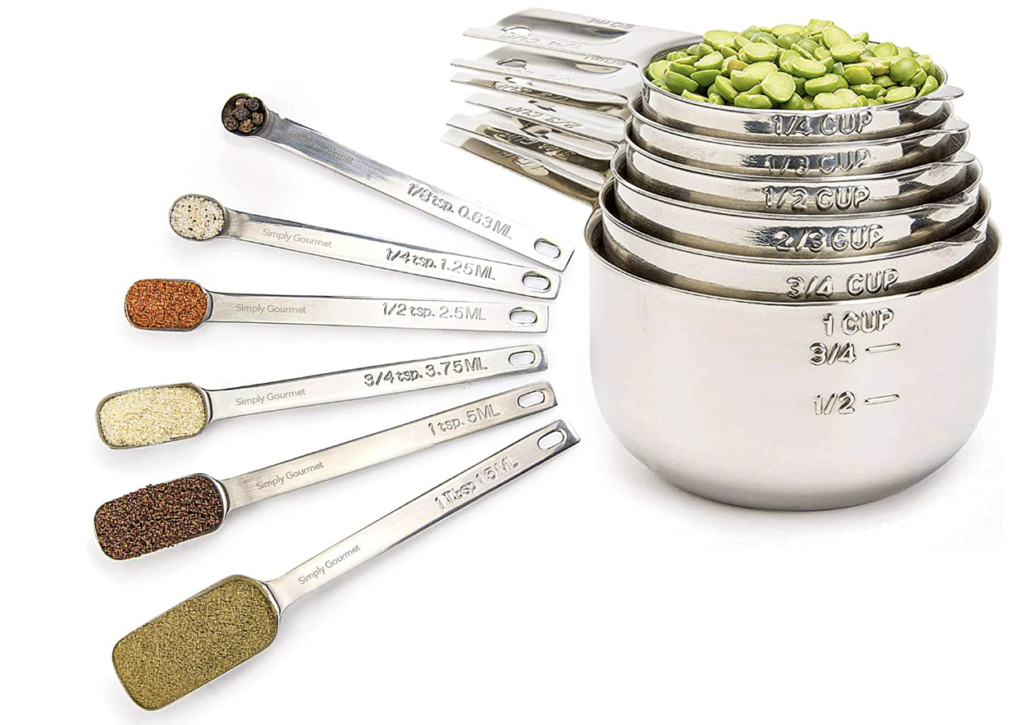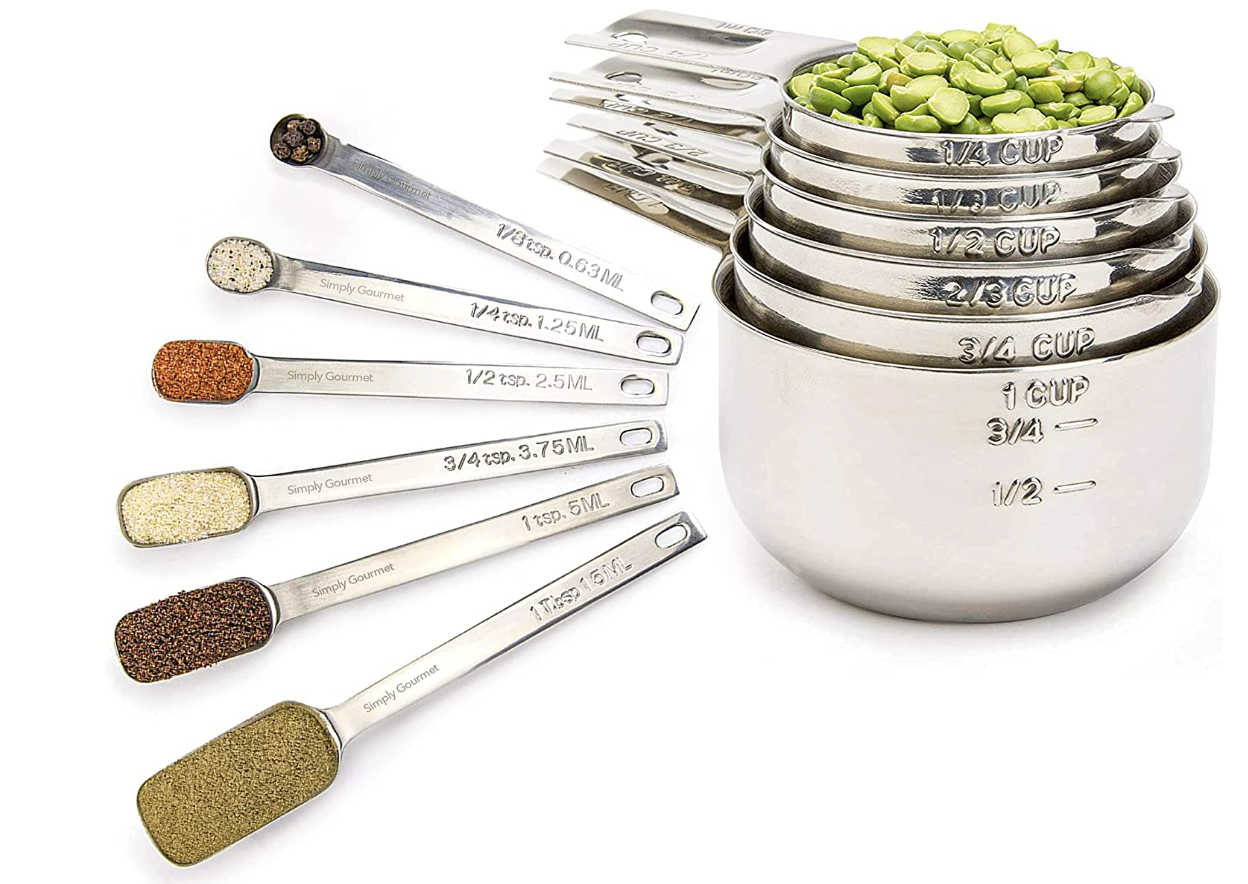 Measuring Cups & Spoons: I use 3-4 sets of measuring cups and spoons when I'm doing a big make ahead freezer meal cooking session. You can get some inexpensive sets at your local dollar or thrift store but look for stainless steel or the measures carved into the handles as paint on plastic wears out quick. These are very important freezer meal supplies.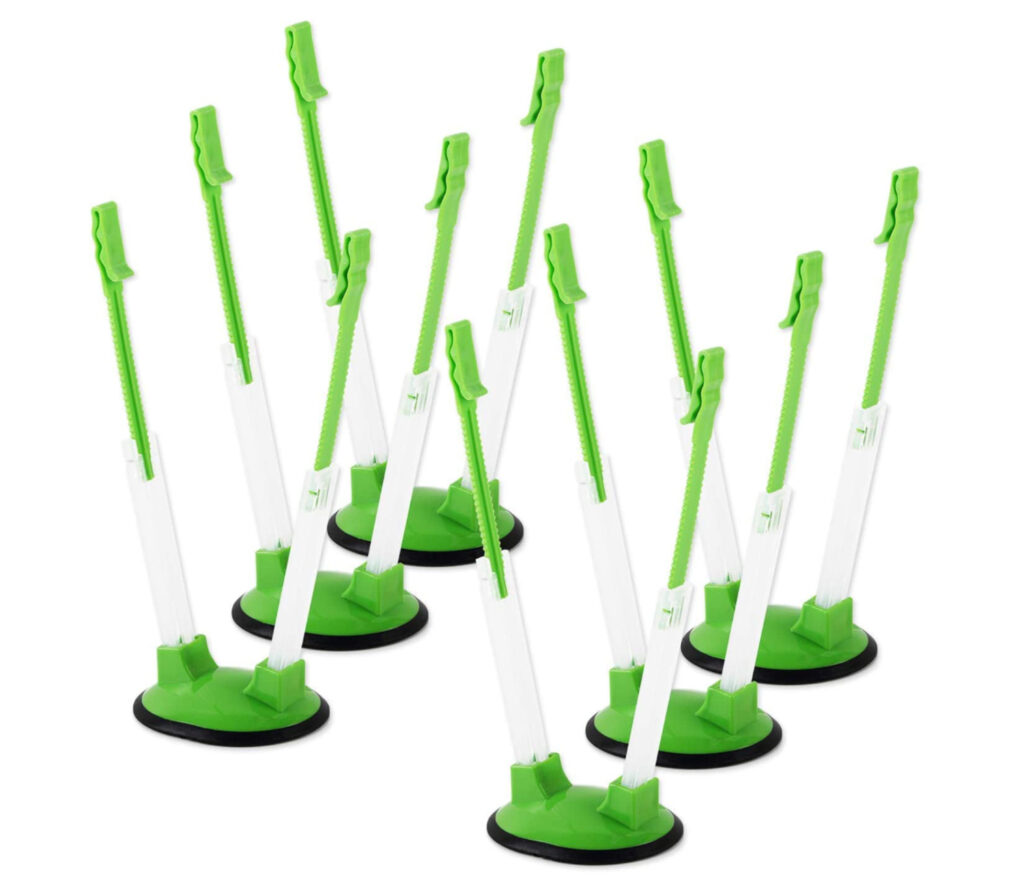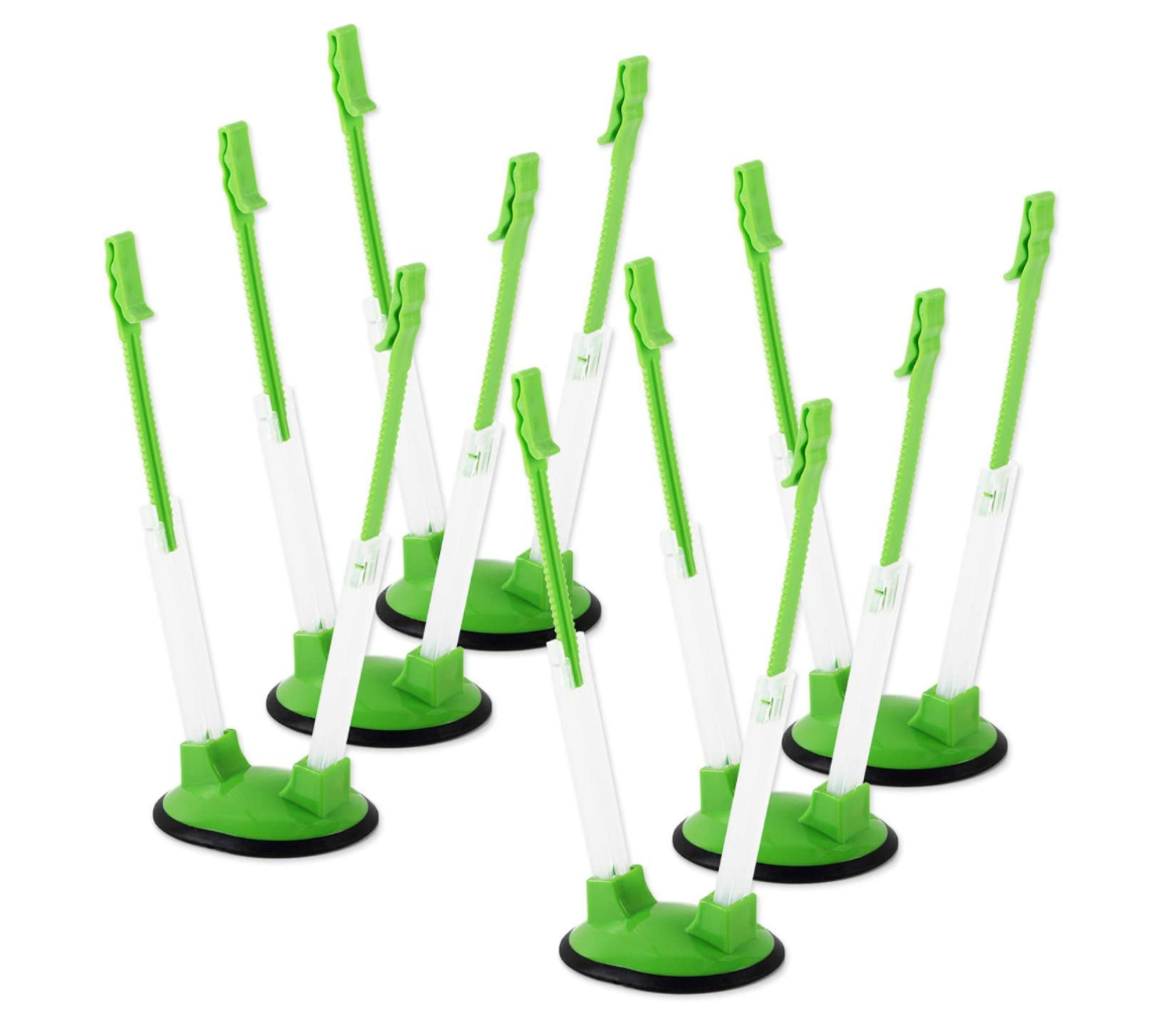 Baggy Holders: Baggy holders are ingenious tools that hold your freezer bags open, making it easier to portion out and fill them with ingredients. This eliminates the need for an extra set of hands!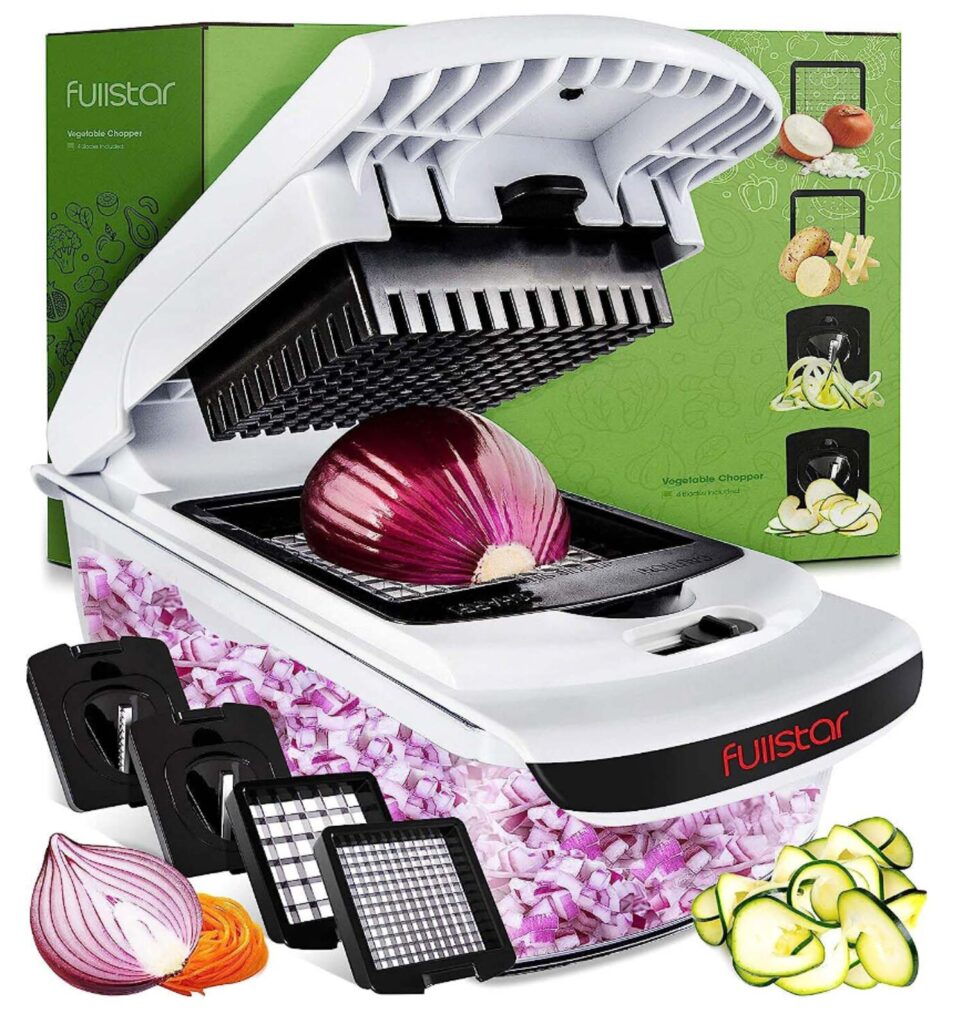 Vegetable Chopper: These veggie choppers are seriously a game changer. I don't know how I ever did freezer meals without them long ago. You place onions, potatoes, basically any vegetable and slam it down to get perfectly diced sized pieces in seconds. Find one with a bigger holding base like this one.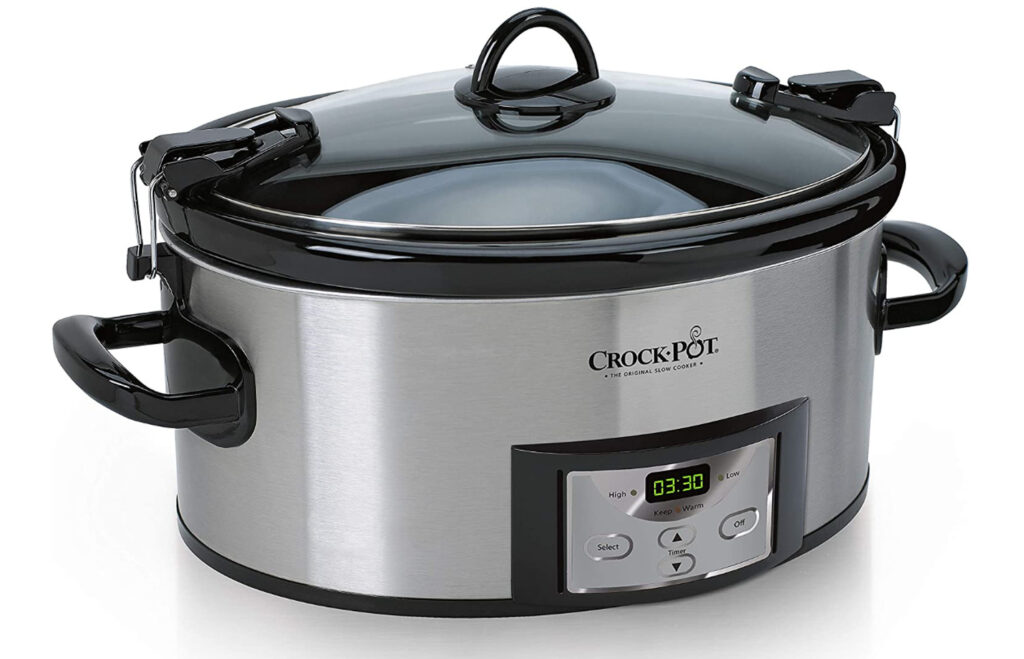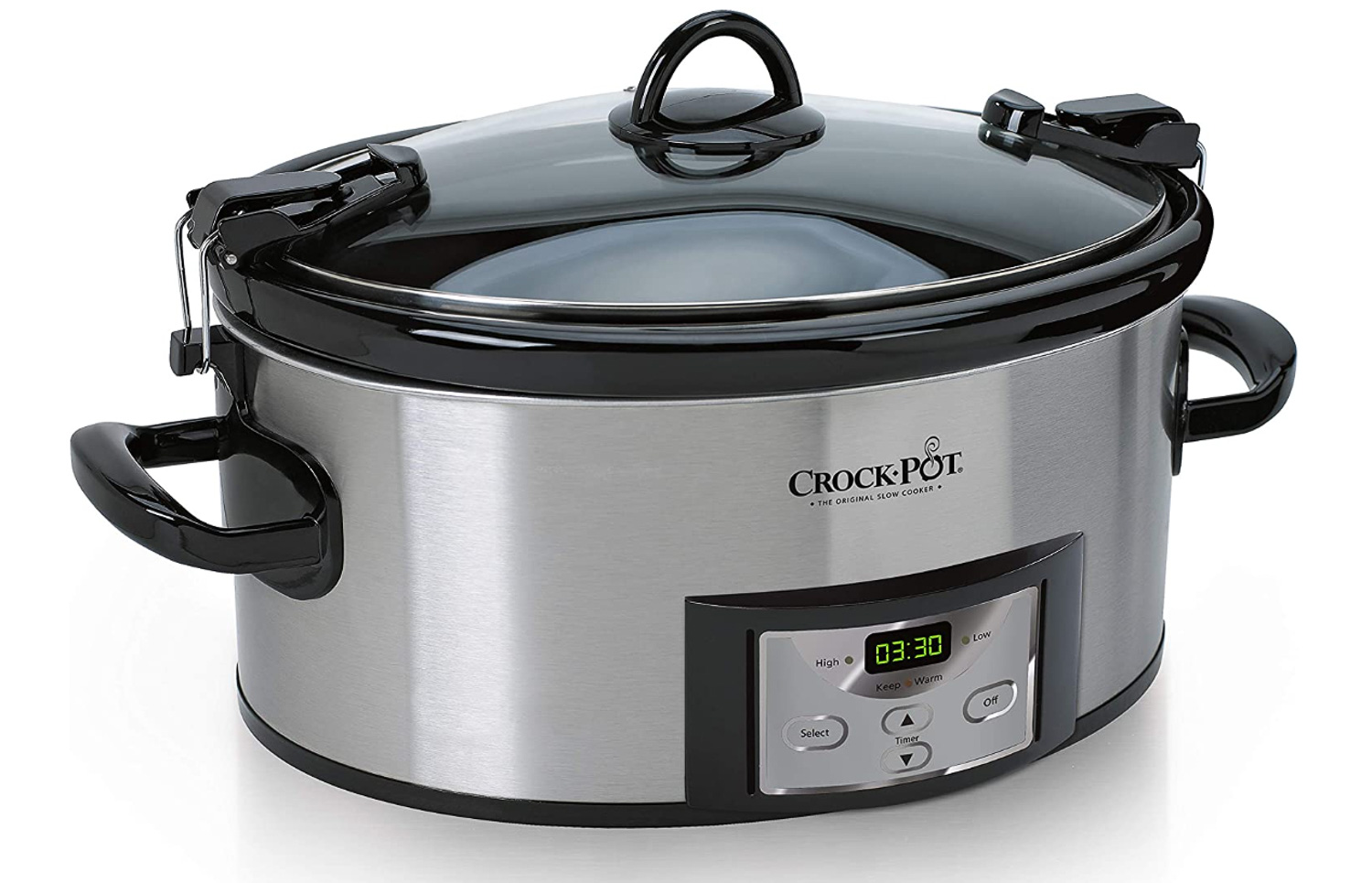 Slow Cooker: A slow cooker is a must-have for easy and flavorful meal prep. I use it to make my homemade spaghetti sauce for lasagna or baked ziti on freezer cooking days. Plus you will love having one of these to make your freezer meals in. Set it in the morning, and come home to a delicious, fully cooked meal in the evening.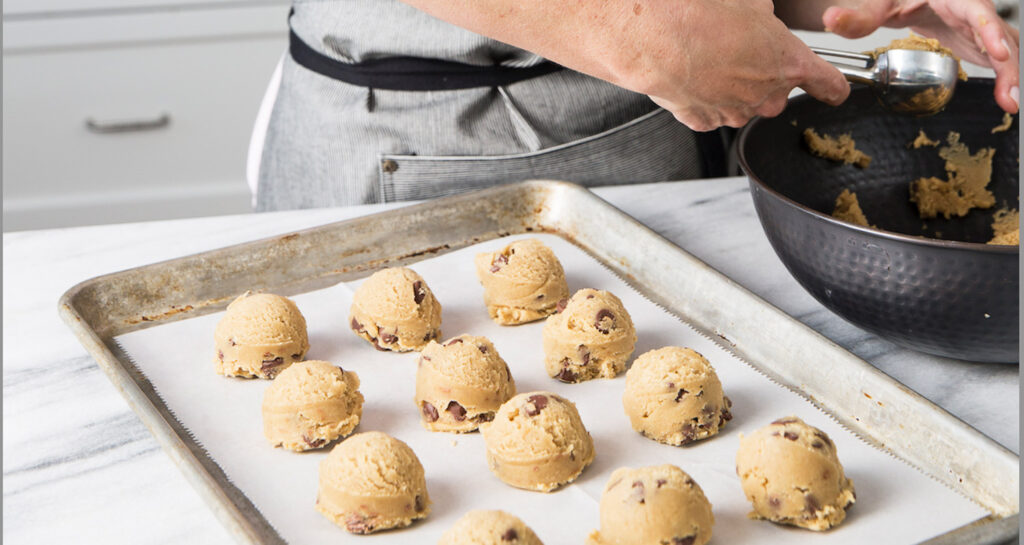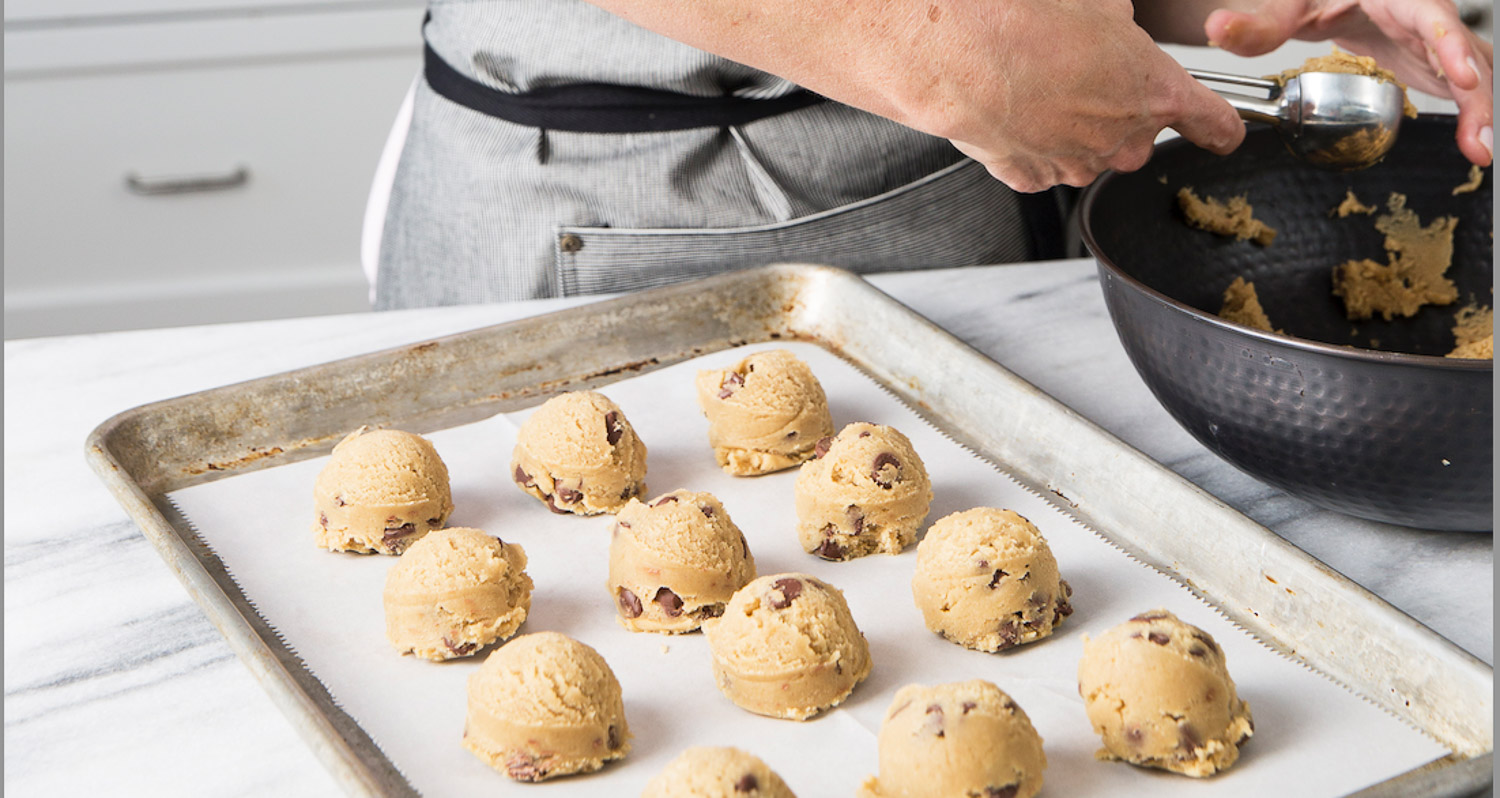 Baking Sheets/Pans: Cookie Sheets. And lots of them. I get my Nordic Ware cookie sheets at Costco (they usually have them under $15 for 2 of them). You can also get them on Amazon as well here but they are usually more expensive. I use cookie sheets to layer different foods to flash freeze, and also to freeze gallon bags of dinners flat. Very helpful when doing make ahead freezer meals.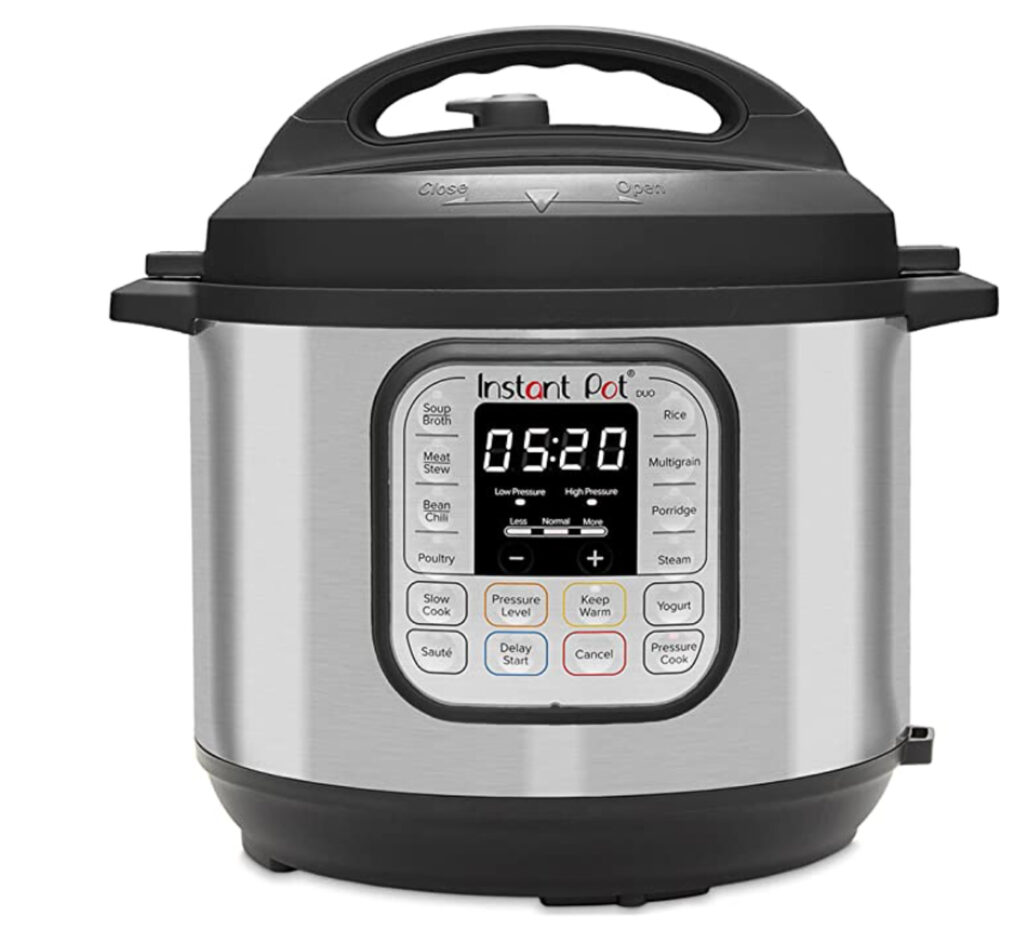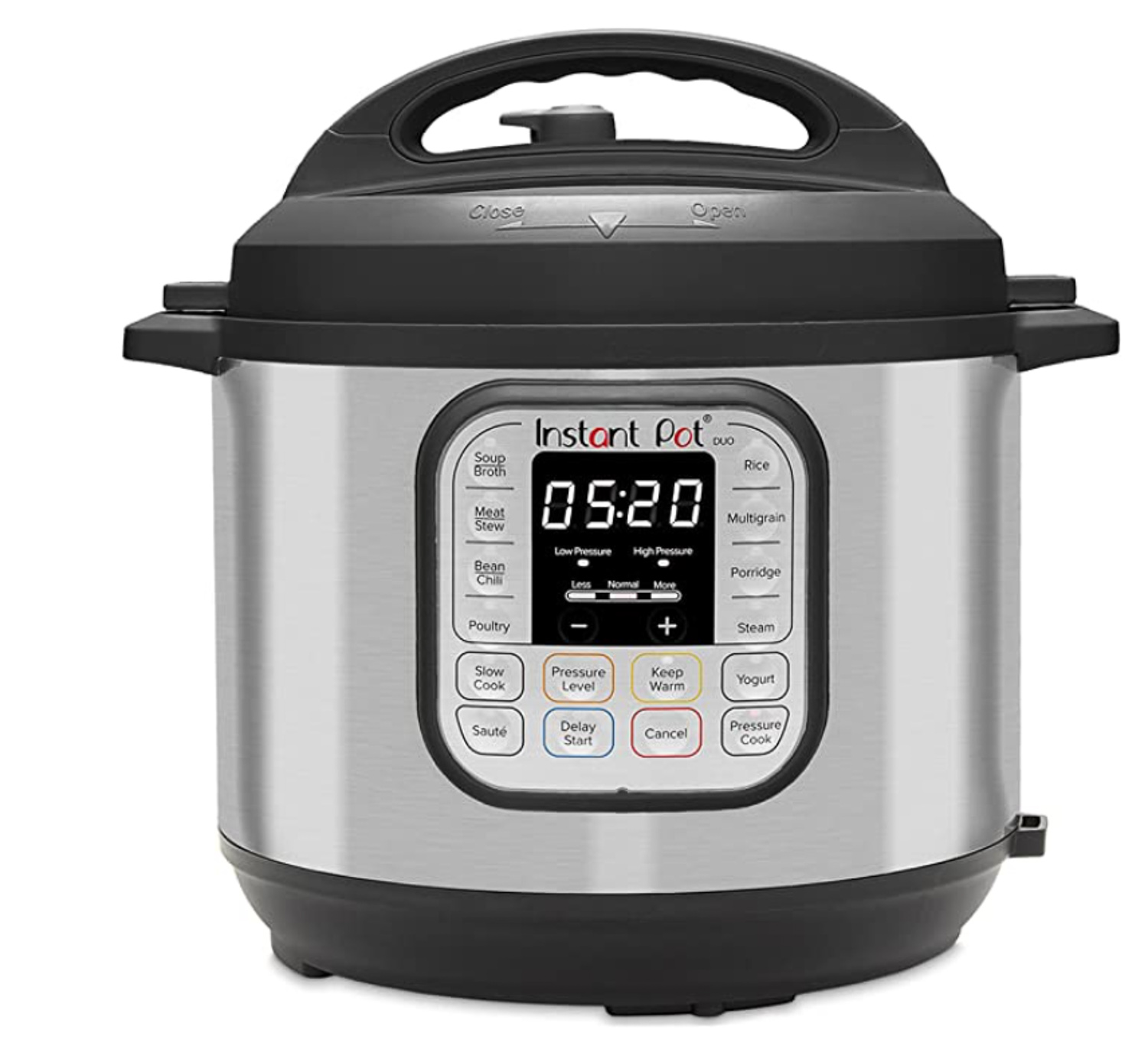 Instant Pot: Use them to quick cook items that usually take a long time to bake or roast like chicken or pork. Saves a lot of time for meal prep. I use this one.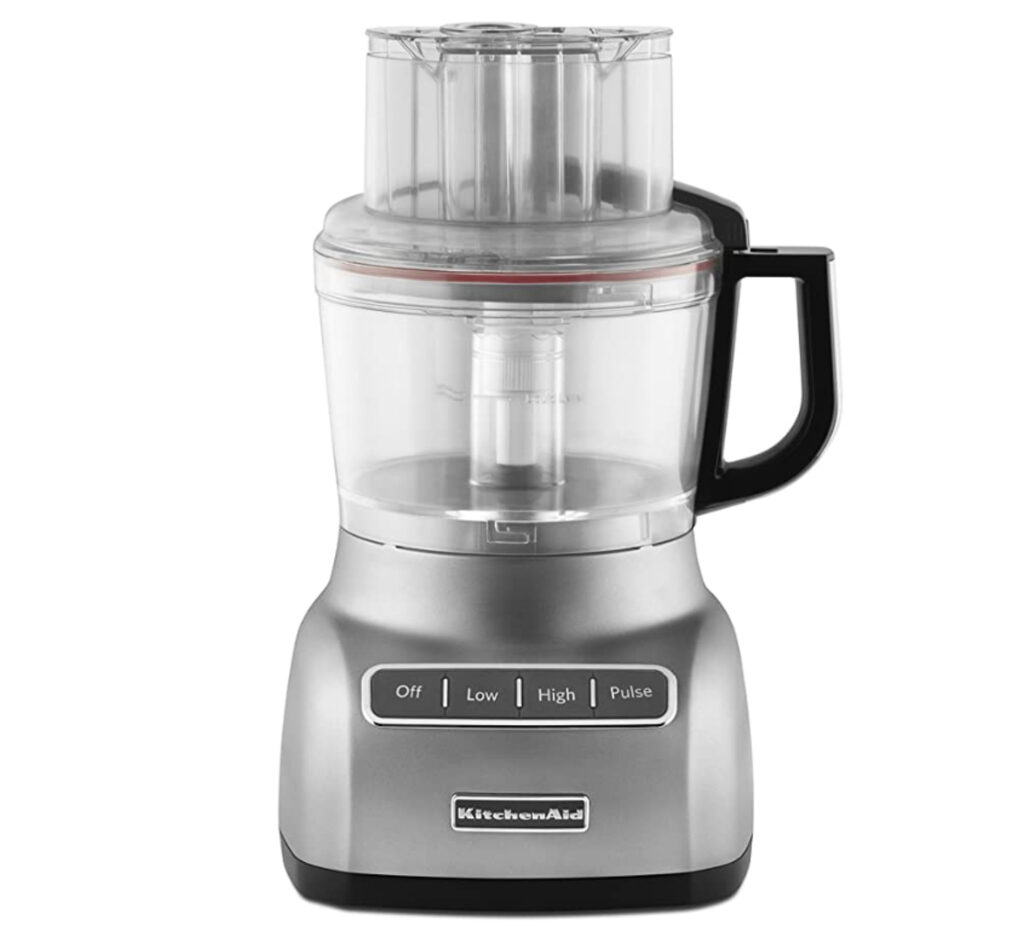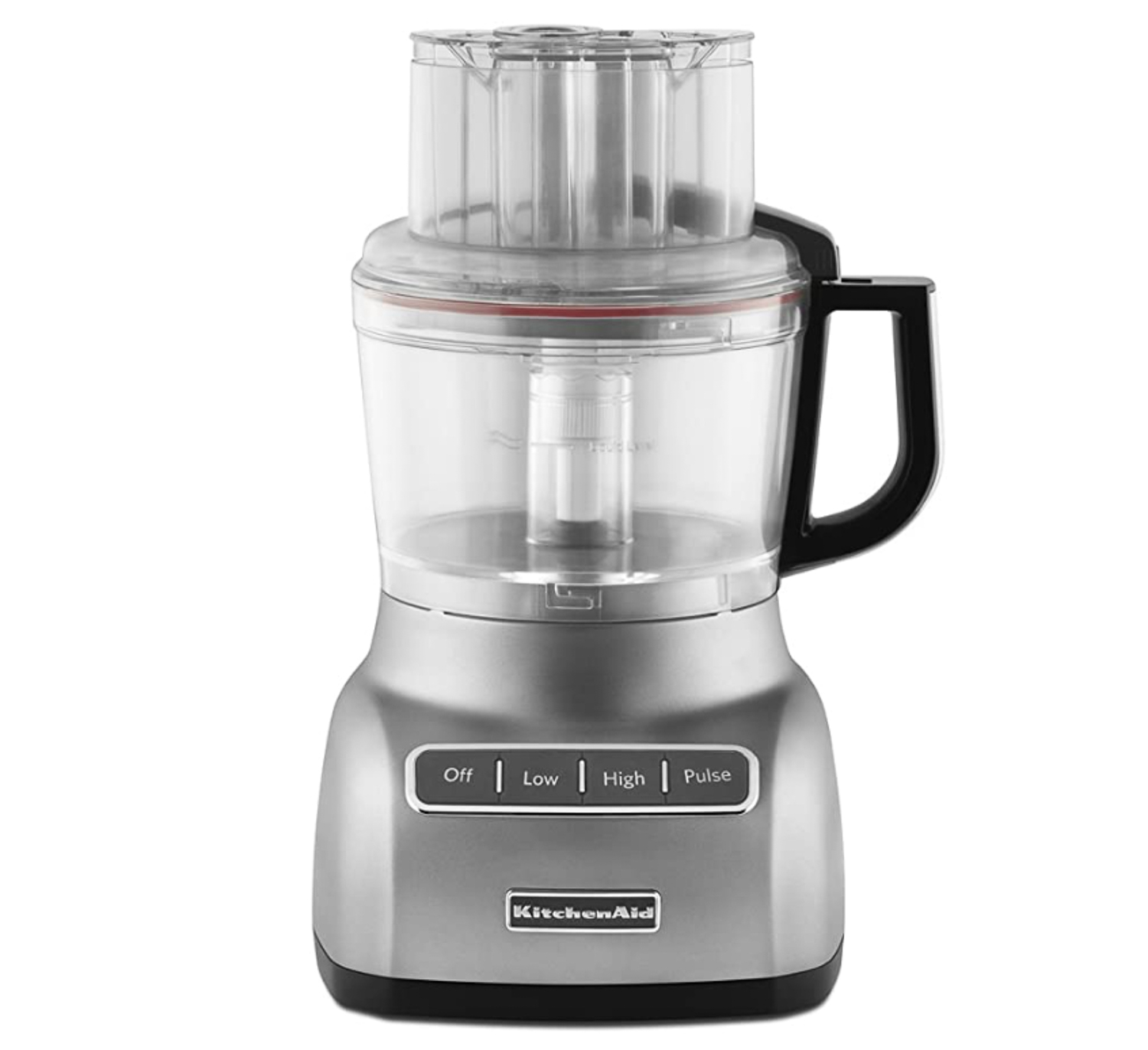 Food processor. This one isn't necessary, but it saves SO much time with all the cheese grating, vegetable chopping and more. I use a Pro Kitchen Aid food processor I found on a daily deal site years ago, and it works great still.
VACUUM SEALERS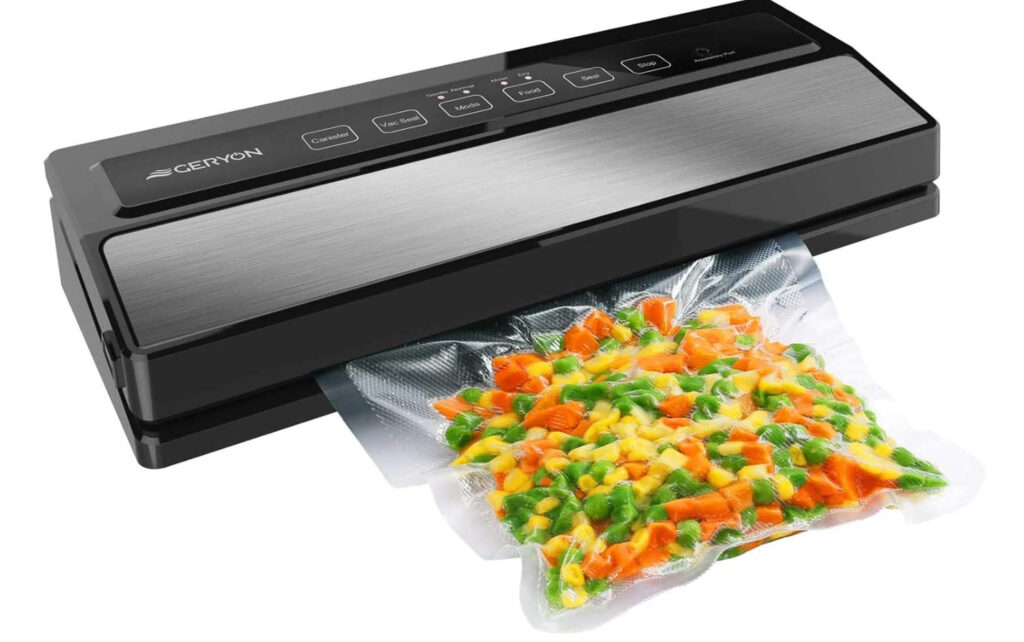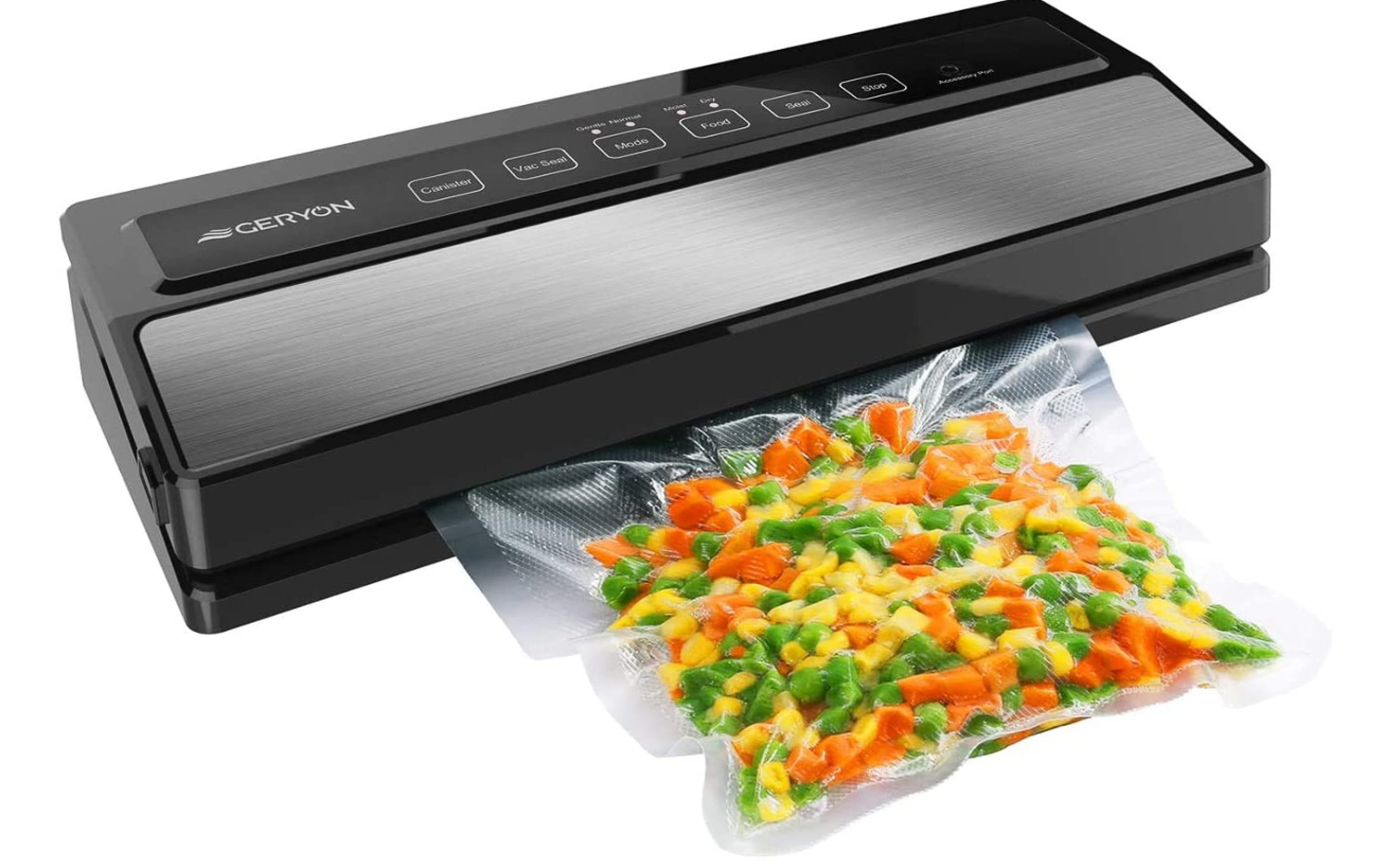 While a vacuum sealer is not essential for making freezer meals, it is a valuable tool for removing air from bags. This air removal helps preserve the flavor and texture of the food. Vacuum-sealed bags are especially beneficial for ensuring the longevity and quality of items like meats, vegetables, and fruits in the freezer. I love to freeze meats, and avocados using my vacuum sealer. The most popular brand of sealer is this FoodSaver Vacuum Sealer, however there are plenty of great less expensive sealers available out there like this Geryon Sealer.
LEARN MORE FREEZER MEALS TIPS