If you have ever pulled something out of your freezer to discover it dry, rubbery, and tasteless you have fallen prey to freezer burn. Here are 13 of the best ways you can prevent freezer burn from happening to your food.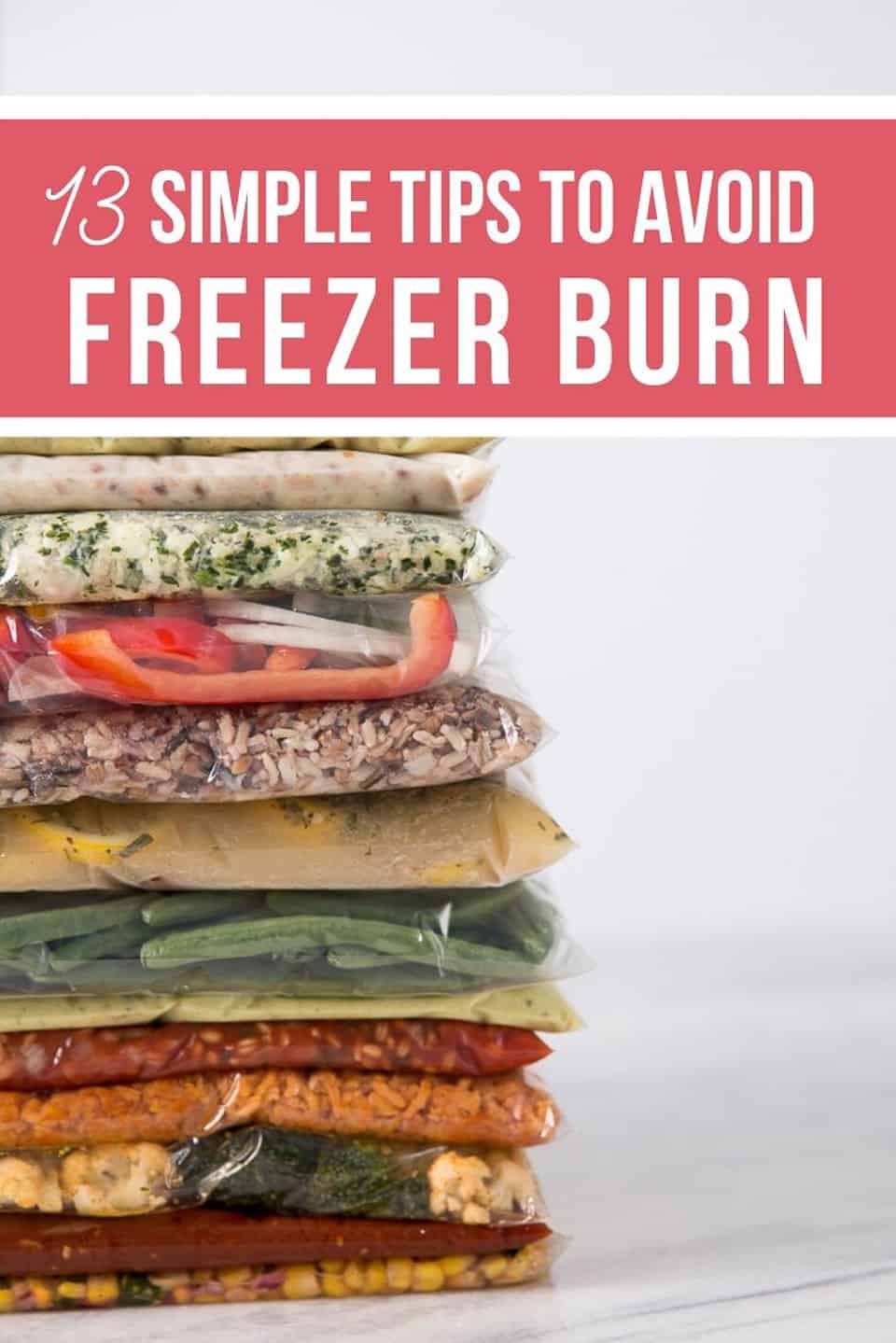 When it comes to long term food storage, freezing is one of the easiest ways to preserve food. Your freezer can extend the life of foods from 2 to 12 months. This is a great way to take advantage of sales, or a thriving home garden to save money when feeding your family. Sadly if you are not careful you can lose food you worked so hard for to freezer burn.
If you want to know more about freezer burn or how to use freezer burnt food, check out everything you've ever wanted to know about what freezer burn really is.
13 SIMPLE TIPS TO PREVENT FREEZER BURN
---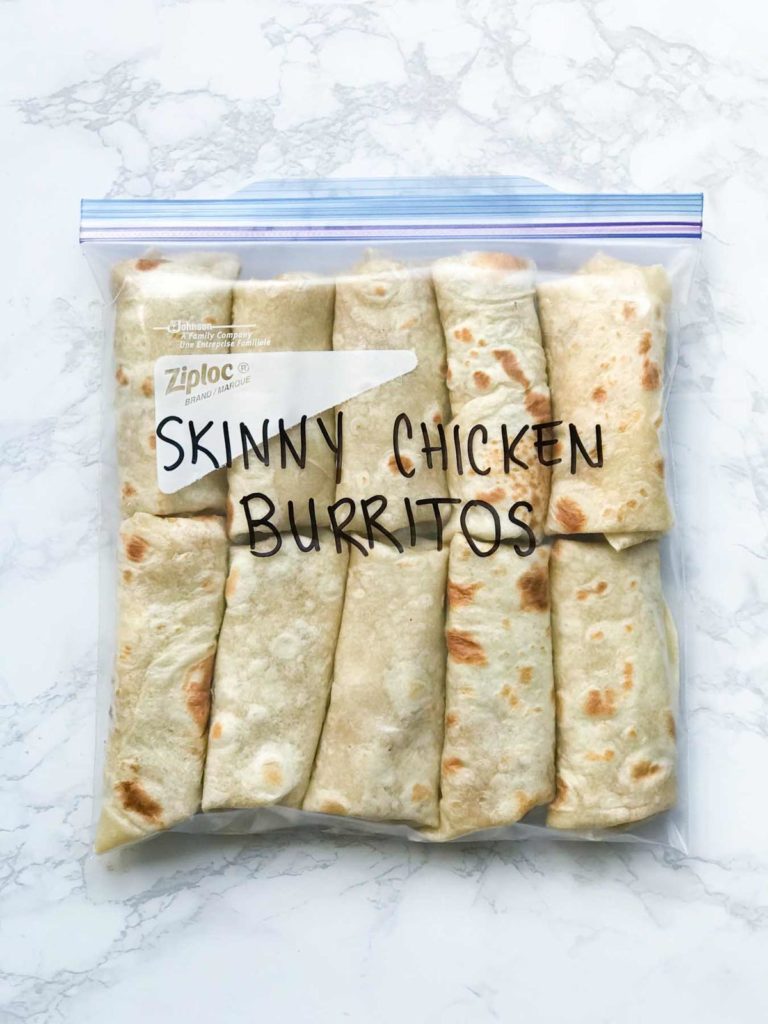 1. AVOID PUTTING HOT FOOD IN THE FREEZER.
When you add your food or prepared freezer meals to the freezer, always make sure they are at room temperature or cooler.
If your food is warm, place it in the refrigerator first to cool off completely before you stick it in the freezer. This will speed up how quickly your food freezes and help to prevent evaporation and ice crystals from forming. The faster your food freezes the less likely you will see freezer burn issues.
2. GETTING THE AIR OUT
Completely remove air from your packaging. Air is the worst enemy of your frozen foods. Air tight packaging leaves no room for evaporation that leaves your foods dehydrated and freezer burnt.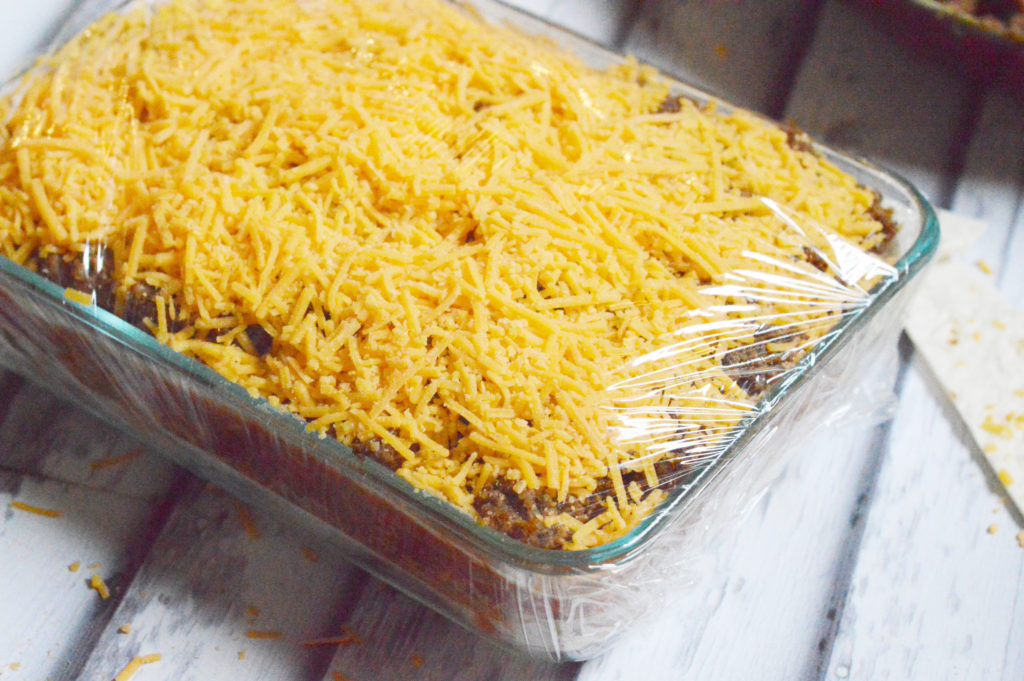 Here are some ideas on packaging your food to protect it from exposed air.
For soups or individual sized containers of food, put in a freezer safe container, leaving a 1/2 inch head space on top for soups (since liquids will expand). Place a piece of plastic wrap over the surface of the soup or meal, pressing down gently to remove air, and then add the lid.
For freezer meals in large baking dishes or casserole containers, wrap first with a piece of plastic wrap (or freezer paper, parchment or wax paper) over the surface of the food, pressing down gently to remove air, and then cover with aluminum foil or a 2-gallon freezer safe bag.
Use thick freezer-safe bags or vacuum-sealed bags to store food. With freezer bags, remove as much air as possible, such as pushing out the air before you seal the bag or using a straw to suck out the air before sealing. For extra protection (i.e. if you're planning to freeze something for an extended period of time), you can double layer the freezer bags or even wrap the bag in aluminum foil. But for longer storage vacuum sealers are the absolute best at keeping air out.
For loaves of sliced bread, freeze in sections of 5-6 slices. Simply wrap the group of 5-6 slices in plastic wrap, freezer paper or foil, then place in a freezer-safe gallon sized bag.
For containers of Ice Cream – place a piece of plastic wrap over the unused portion of the ice cream, pressing down to remove air pockets, then cover with the lid.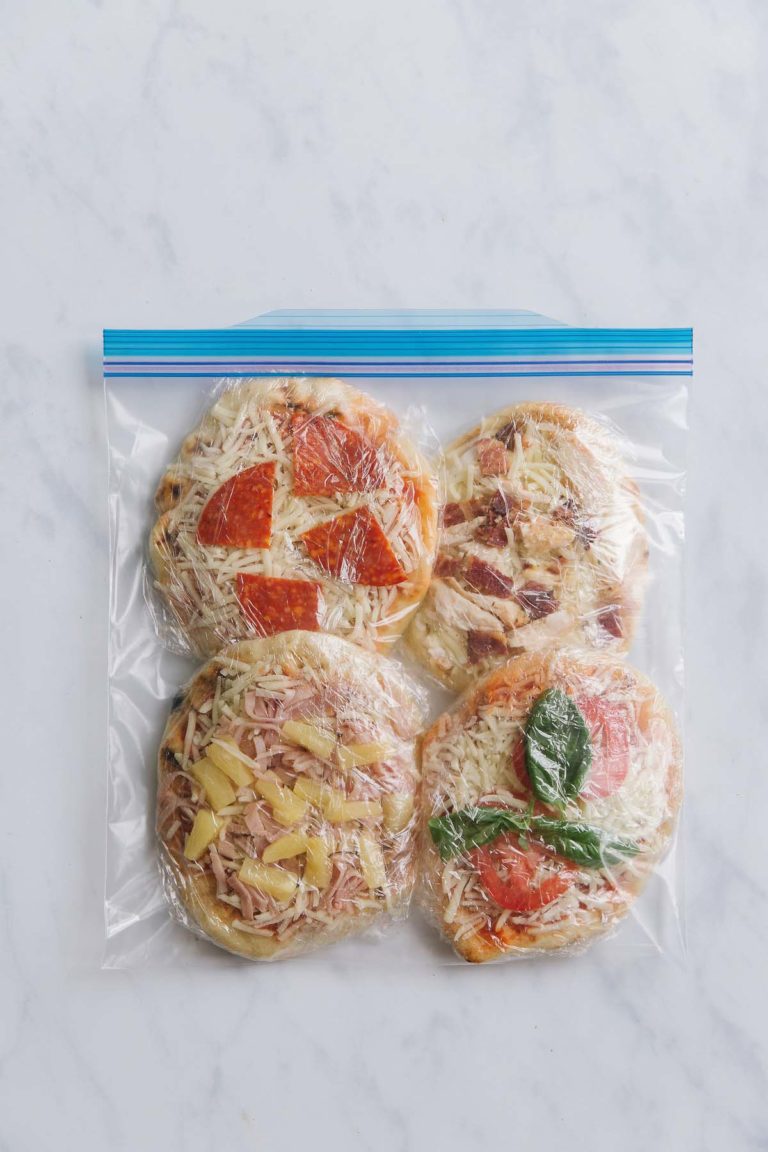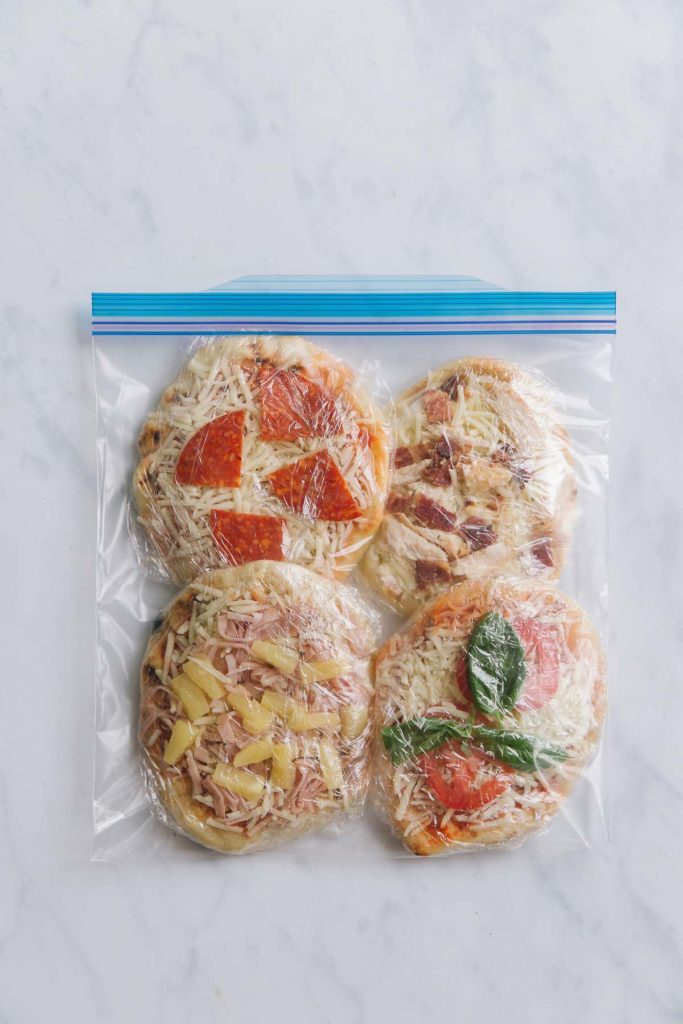 3. ADJUST THE TEMPERATURE ON YOUR FREEZER
You want to keep your freezer cold to help prevent freezer burn.
For the best results set your freezer below 0ºF ( -17.8ºC). If your freezer is fluctuating above 0ºF freezer burn is a bigger possibility. To ensure your freezer is at the right temperature you can use a freezer thermometer (I recommend this one on Amazon) to track the temperature so you can properly adjust the settings.
4. REPACKAGE STORE-BOUGHT FOOD
Most foods sold fresh in the supermarket are not packaged for freezer storage. The packaging used in meat departments is thin and allows air to get in along with containing large air pockets where the moisture in your food can evaporate and form ice crystals.
Sliced loaves of bread also need repackaging if storing in the freezer as the bags are thin and allows air to get to the bread, drying it out.
Remove the items from their store-packaging and add them to freezer-safe bags or containers, removing as much air as possible.
5. AVOID OPENING FREEZER DOOR FREQUENTLY
Try not to open the freezer door often. If you have a spare freezer to store food for longer periods of time install a lock on the freezer to prevent people from going in it just to take a peek at what is inside out of boredom. Opt for a peel and stick lock as drilling can damage your freezer.
Also, don't leave the door to the freezer open for a long time as this will cause the temperature in the freezer to rise, making it likely to rise above freezing. If you have family members that had a tendency to leave the door cracked consider adding a wireless freezer thermometer (I recommend this one on Amazon) to track the temperature and it will alert you if it's left open on accident.
6. DON'T FREEZE TOO MUCH AT ONCE
Freeze food in smaller batches to avoid fluctuating the temperature of your freezer. Unfrozen food is warmer and will warm up the entire freezer. Stick with only 2 to 3 pounds of non-frozen food for each cubic feet of space at one time. Plus it's most ideal to have your food frozen within 2 hours.
7. USE UP FROZEN FOOD SOONER
Frozen foods can be stored for a certain time for each item. How long food can be frozen varies by each item. The longer food stays in the freezer the more likely it is to become freezer burnt. To avoid this plan your meals to be used as quickly as you can.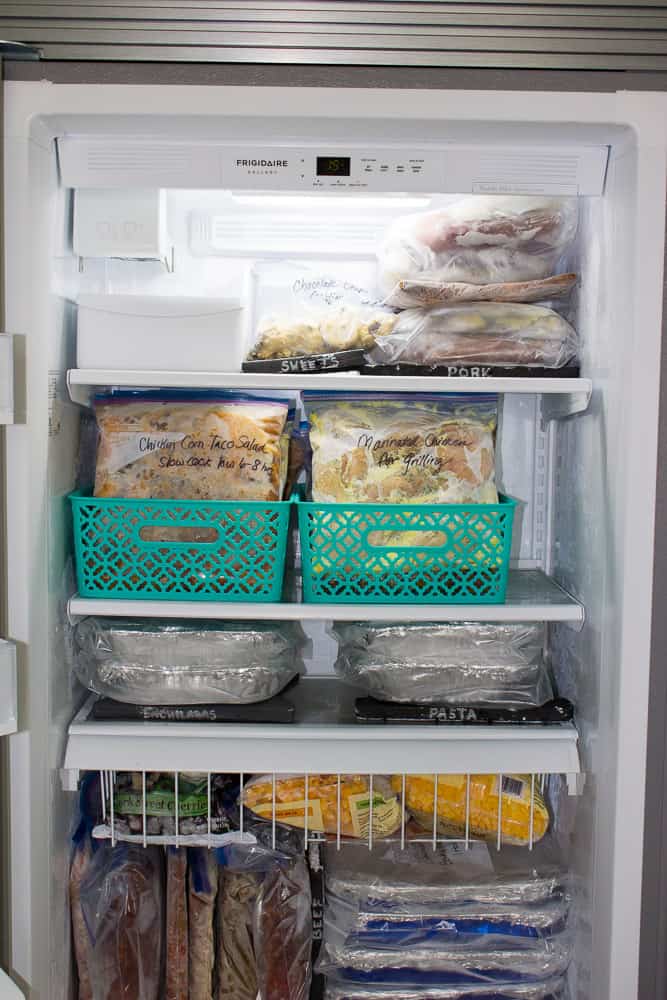 8. KEEP YOUR FREEZER FULL
A freezer kept at least 75% full keeps your freezer at the right temperature and helps keep your freezer running efficiently overall. This not only will protect your food from freezer burn it will also lower the amount of power needed to run your freezer saving you money on your power bill. If you have a lot of open space in your freezer fill them in with bottles or gallons of water.
9. FREEZE FOOD QUICKLY
Try to freeze your food within 2 hours for ideal freezer burn prevention.
When your food takes a long time to freeze it is more likely to allow moisture to escape your food and form ice crystals. This means you want your food nice and cool before it goes into the freezer and keep your freezer very cold.
If you have a deep freezer use it to initially freeze food before moving it to your main freezer. Another helpful tool is the freezer cube (buy on Amazon) for freezing food quickly.
10. USE A VACUUM SEALER TO PREVENT FREEZER BURN
While there are several great ways to store your frozen food the absolute best option is a vacuum sealer with quality vacuum sealer bags.
The vacuum sealer machine bags are made specifically to keep air from coming in and out of the bags. This makes it so moisture cannot leave the food or evaporate out, thus preventing freezer burn.
Note: Regular store-bought plastic freezer bags are made from polyethylene, which moisture and other gases can get through. That being said, I still freeze my meals often in freezer-safe bags, getting as much air as is possible out and have gotten little if any freezer burn this way.
11. ALLOW FOR CIRCULATION IN FREEZER
Allowing air to flow through your freezer can help your freezer keep everything frozen solid. While you want to keep your freezer full you can leave small gaps to help air flow. To do this try organizing your freezer with baskets that will split things up just a bit and help create a little airflow.
12. FLASH FREEZE & TRANSFER
To keep items with frozen fruit and vegetables split up when bagged frozen you can use the flash freezing method to freeze everything individually.
To do this you place your items to be frozen spaced out in a single layer on parchment lined baking sheets. Once items are frozen solid move them to your freezer bags or containers as quickly as possible and remove as much air as possible.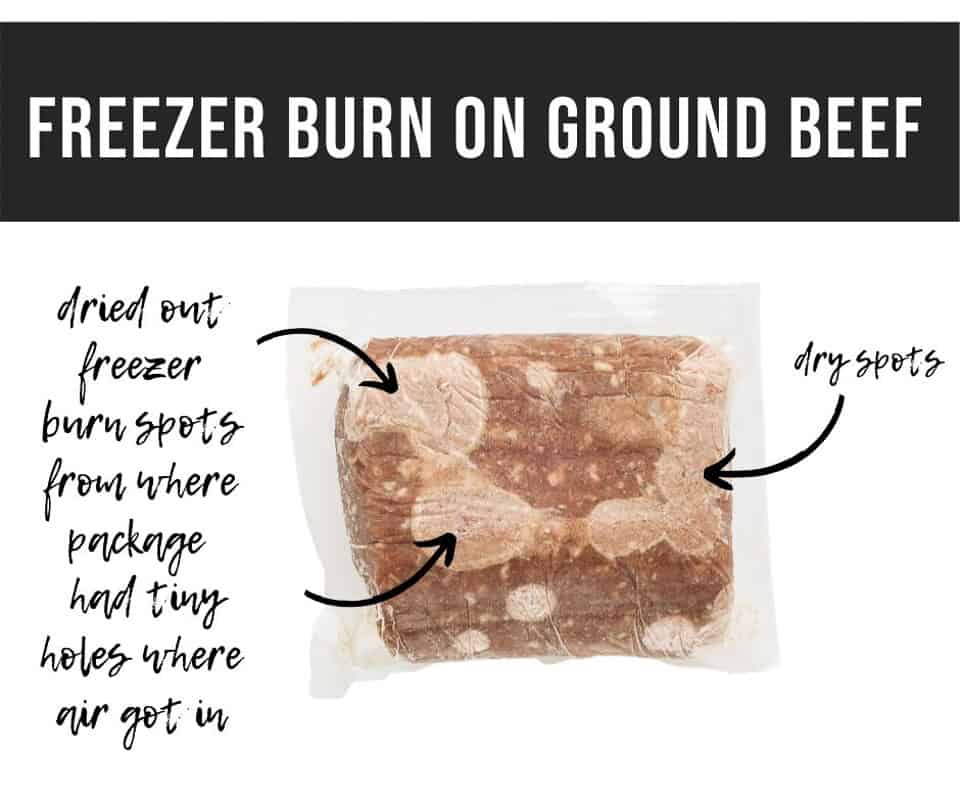 13. BE GENTLE WHEN MOVING FROZEN FOOD AROUND IN YOUR FREEZER
It's easy to get holes or dings in your plastic bagged or vacuum bagged meals once frozen so you need to be gentle when moving items around.
This ground beef was vacuum sealed, however due to dings and holes on the package air was able to get in and create freezer burn.
---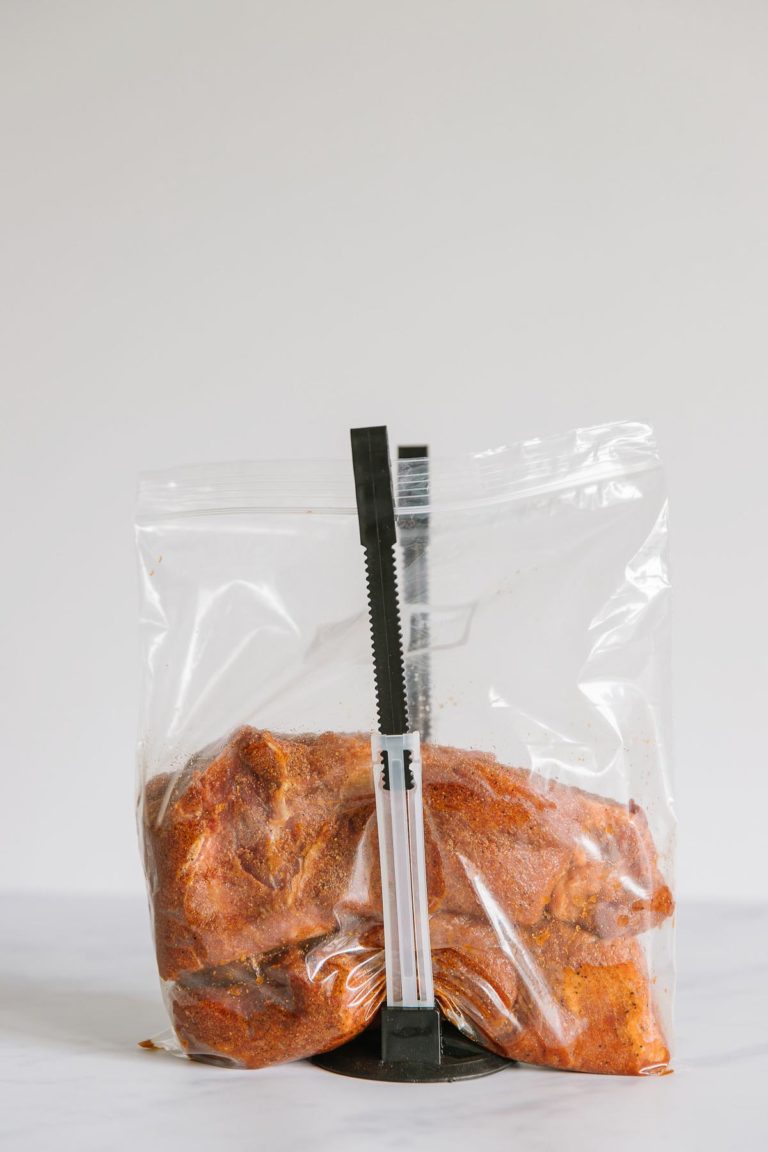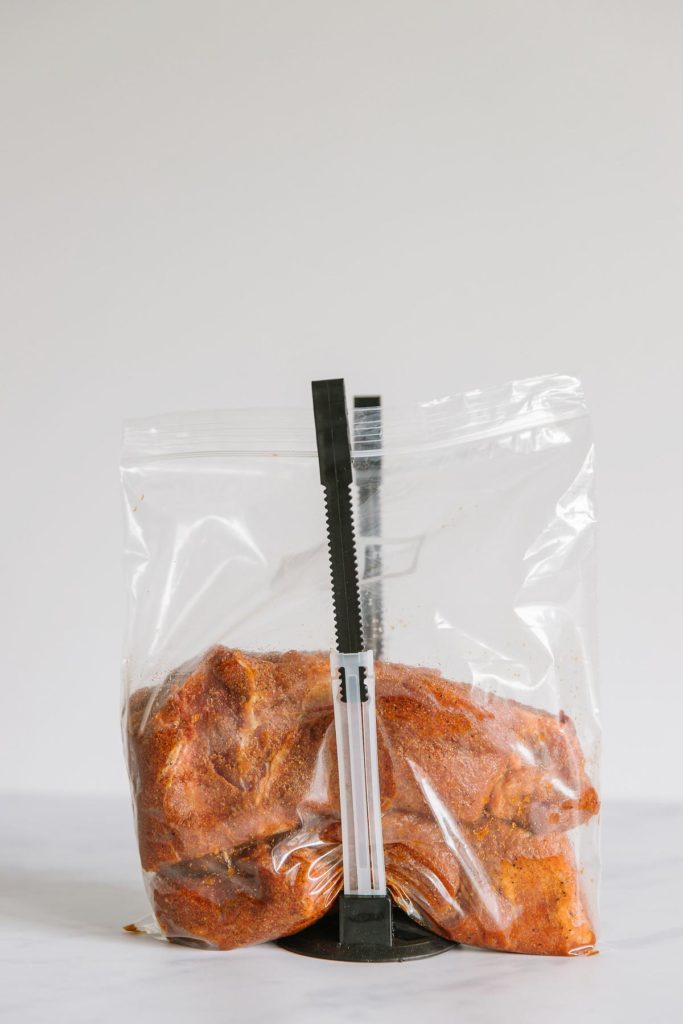 WHAT IS THE BEST METHOD TO PREVENT FREEZER BURN ON MEAT?
Remove the meat from the original store packaging. Place into freezer-safe bag, removing as much air as possible or use a vacuum sealer. For added protection you could also wrap the meat first in freezer paper, aluminum foil or saran wrap, then place in a freezer bag, removing air.
To prevent freezer burn on meat you want to repackage the meat and freeze it as soon as possible. If you do not plan on using your meat within a few days of bringing it home from the store repackage and freeze it.
WHAT IS THE BEST WAYS TO PREVENT FREEZER BURN ON VEGETABLES?
Vegetables can be a bit tricky. Some vegetables freeze much better when blanched so you will want to blanch those ones first. Remember to get as much air out of the bag as possible when freezing vegetables.
For storing vegetables you may want to use the flash freezing method (tip #12 above) to prevent you from having a thick block to thaw and cook. After flash freezing quickly move your vegetables to a freezer bag or vacuum seal them.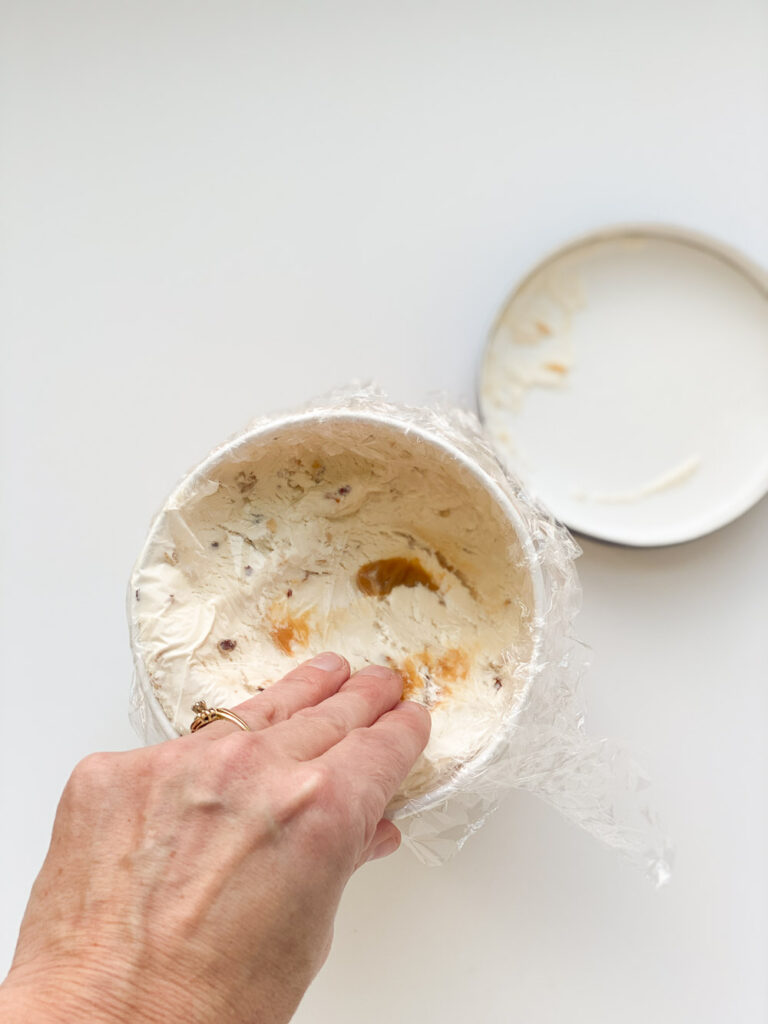 WHAT ARE BEST WAYS TO PREVENT FREEZER BURN ON ICE CREAM?
Have leftover ice cream you want to protect from getting freezer burn? To protect your ice cream take a layer of plastic wrap and press it down on top of the unused ice cream before returning the lid and placing your ice cream back into the freezer.
Another tip is that when you take out your ice cream be careful to not allow it to thaw too much or the sides of the ice cream that thawed will be more likely to get freezer burn.
WHAT ARE BEST WAYS TO PREVENT FREEZER BURN ON BREAD?
With specialty breads on the market, more and more people are turning to using their freezer to make quality bread last longer.
To freeze bread and prevent freezer burn take small sections (such as 5-6 slices) and wrap with freezer paper, foil or plastic wrap before placing your bread into a freezer-safe bag. Remove as much air as possible without crushing your bread before freezing.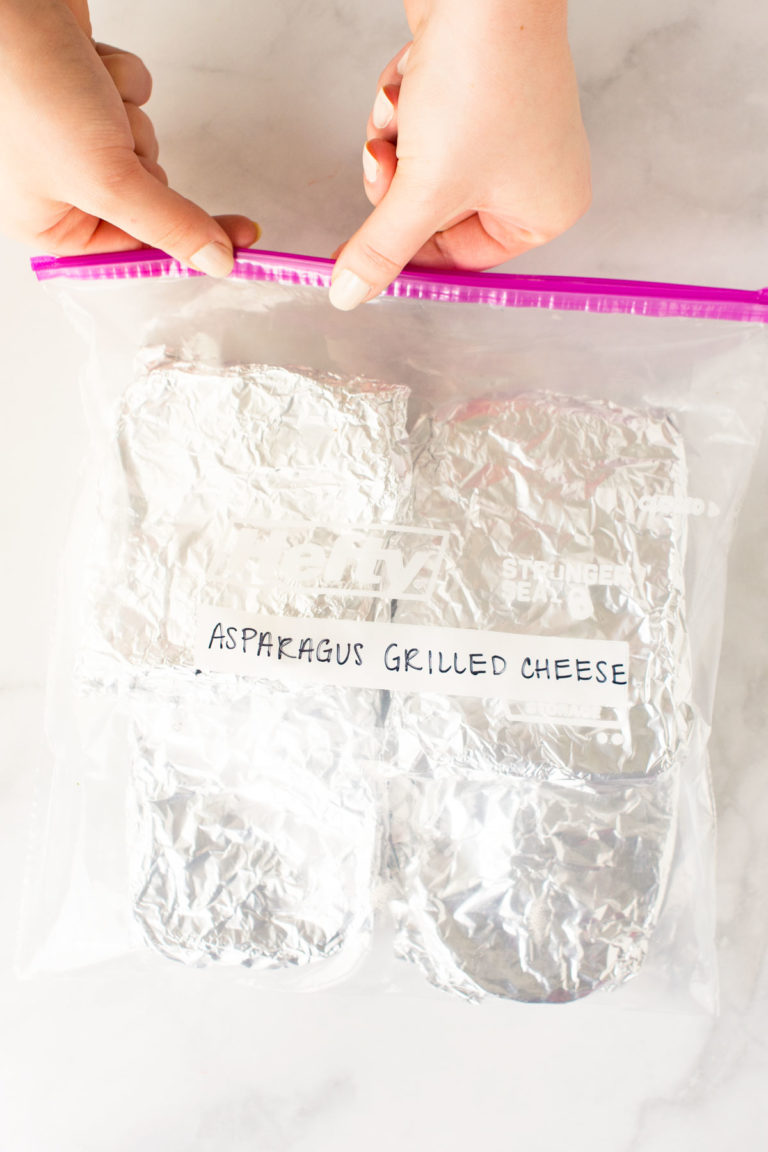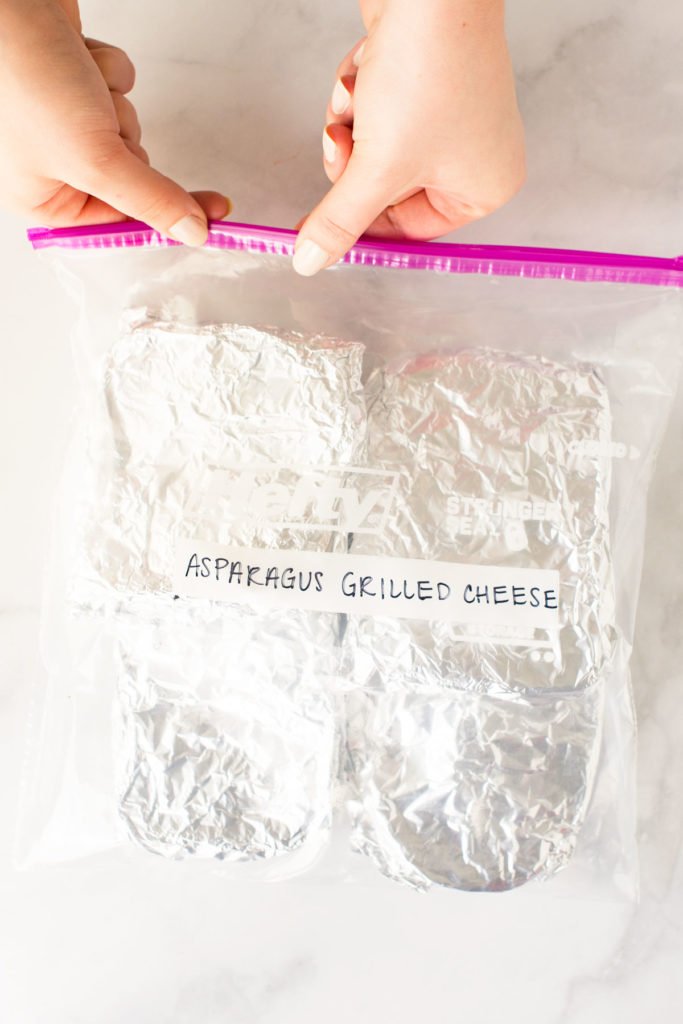 Freezing food can be a great way to save money and make your food budget stretch.
With following these tips you can ensure you've taken the steps to prevent freezer burn and know your freezer meals are preserved at their highest quality. Knowing how to prevent freezer burn you can now go and fill your freezer with confidence!
---
Freezer Meal recipes pictured above are Skinny Chicken Burritos | Easy Burrito Pie | Mini Naan Pizzas | 15 Easy Freezer Meals | Pulled Pork Sliders | Asparagus Grilled Cheese Sandwiches.
LEARN MORE FREEZER MEALS TIPS