After extensive testing and reviewing over 15 different reusable brands, I'm sharing my top picks and best quality gallon sized reusable freezer bags.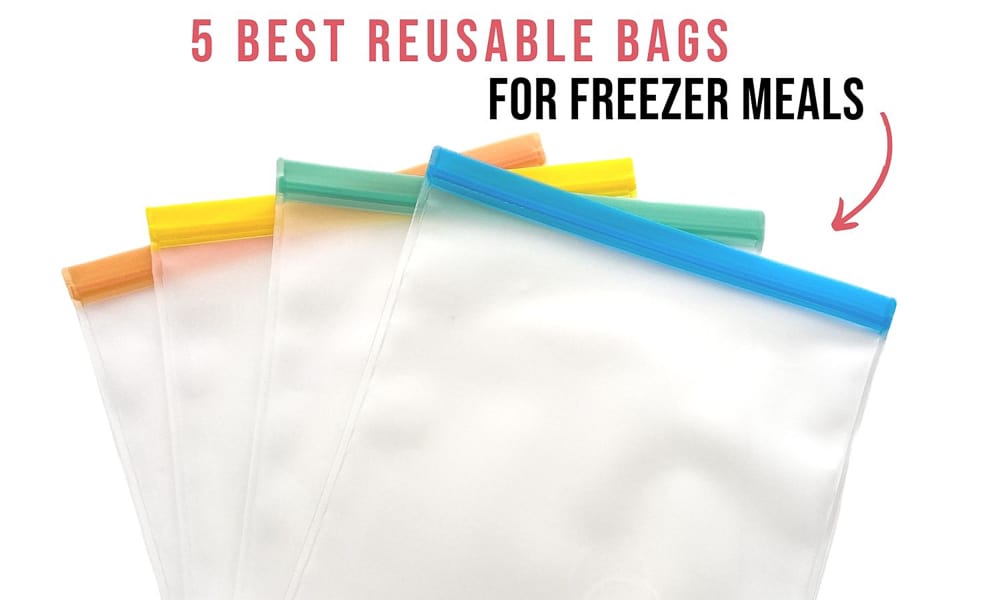 There are so many different varieties of reusable gallon sized freezer bags out there from silicone to PEVA, lay-flat to stand-up styles, single seam and double seam varieties and even different kinds of zipper close tabs.
So, to find out which ones are the best, I researched and ordered in all the different types or reusable gallon sized bags. I tested them all for strength, capacity, stains, smells, leaking and used them to make freezer meals.
This post shares all my research data, the winning reusable bags, and my full research processes.
Also make sure to scroll to the end of this post for bonus info & tips on how best to label and clean your reusable bags too!
WATCH THIS VIDEO TO SEE HOW I PICKED MY FAVORITE BAGS!
Best Overall Reusable Freezer Bag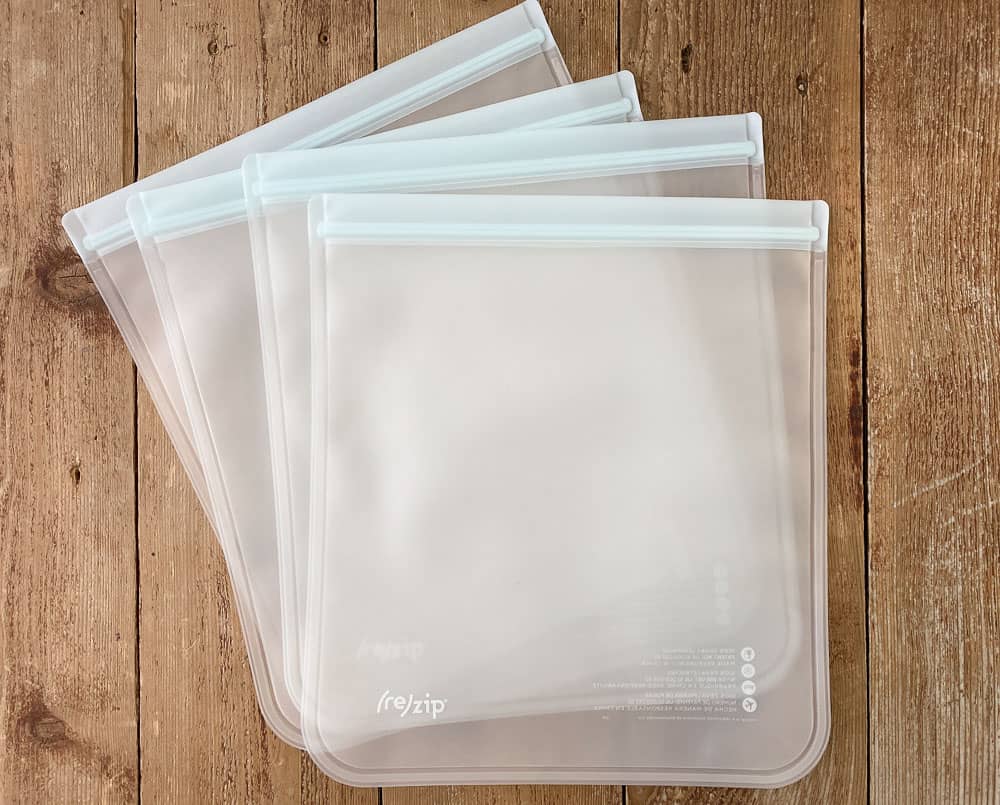 The Rezip bags are made of food safe FDA-grade PEVA material and my absolute favorite gallon sized freezer safe reusable bag of all. This 16 cup capacity bag is the closest I have found to the quality of the traditional Ziploc freezer bag. Each bag has a strong & easy to grip zipper seal that didn't break or leak with all my tests. It's dishwasher safe on low heat, double pressed sealed, and kept the air out of my freezer meals during testing. It costs around $7 per bag, so it's more pricy than some of the others, but the quality of the bag makes up for it.
Best Budget Reusable Freezer Bag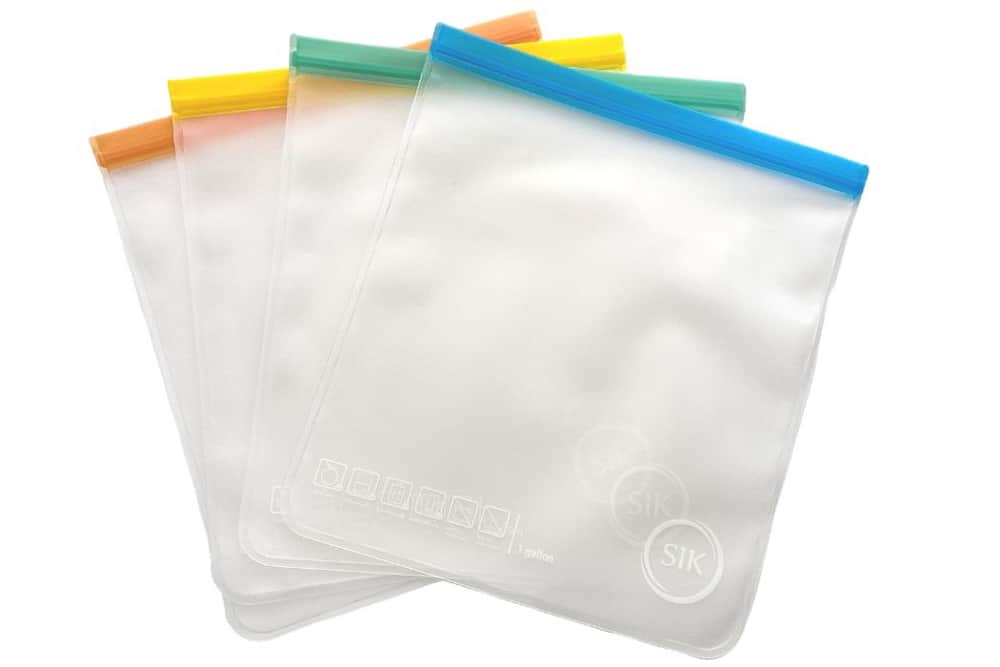 The SIK reusable freezer bag holds a whopping 16 cups of liquid easily and held up to all my strength tests as well. And with a price of $2.50-$4.00 depending on the sales this bag truly is a bargain. This bag has a single seam vs the double seam, and the zipper tab is not quite as big, and you cannot wash it in hot water or in the dishwasher. These are the reasons the Rezip bag above beat it for the number one pick. But these SIK bags are great quality and at this price, you can't go wrong.
Bag with the Best Zipper-Seal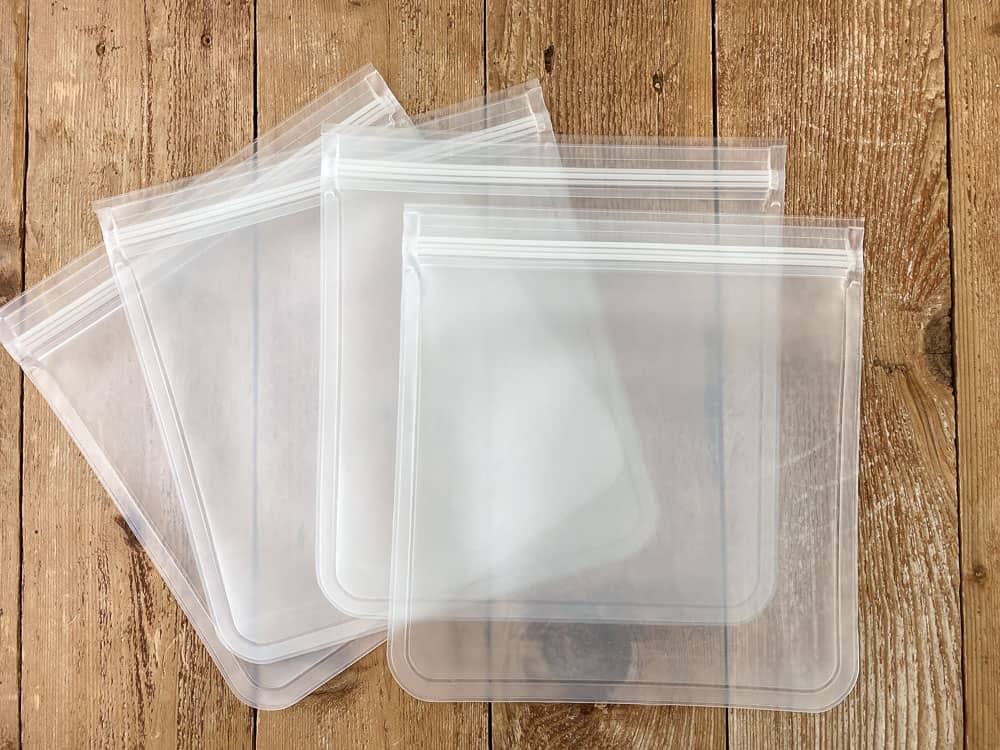 The Bealy reusable freezer bags have a triple zipper system which I LOVE and wish all other bag companies had. It made it so nice to open and close the zipper of the bag as you can really get your fingers in there and grip it. I love that there are not logos on the bags and they are double seamed too. The problem with this bag is that it NOT a true gallon size – as it only holds 12 cups of liquid while the top two reusable bags above hold 16 cups, which is a gallon. It passed all the tests, is a great quality bag and only costs around $2.45 per bag. So if you don't plan on making large batches of freezer meals these bags would be a great pick.
Best Silicone Reusable Freezer Bag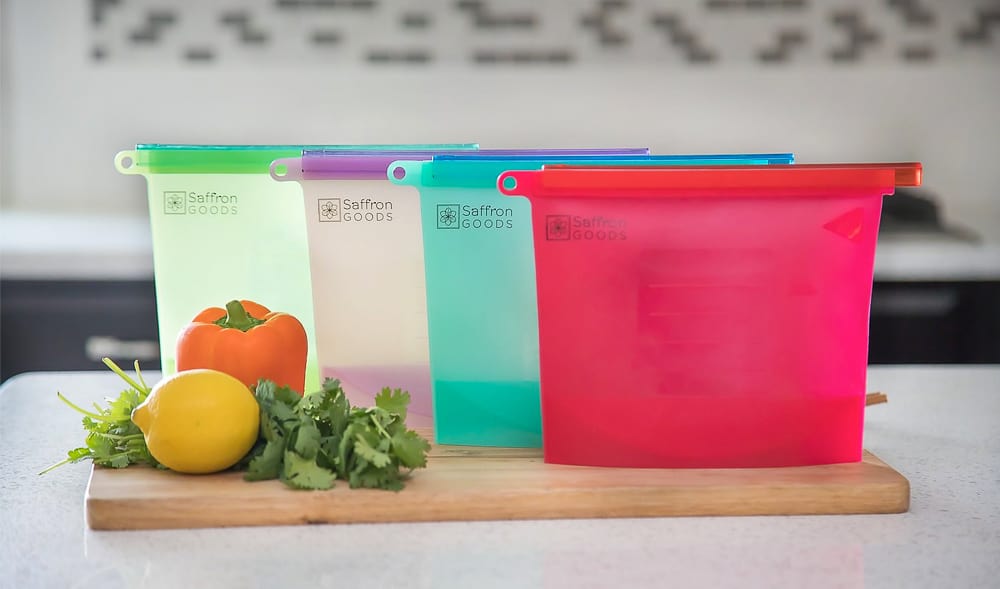 If you love a good silicone bag the Saffron Goods bags are my top pick. While I'm not a fan personally of silicone bags due to them not stacking well in the freezer, being hard to open and close and not having a full gallon sized option available anywhere yet, they are a favorite to many and offer many benefits that other bag types don't offer. For example these bags are dishwasher safe and you can clean them with soap and hot water unlike the PEVA bags. They can go from freezer to Instant Pot or Slow cooker, as they are the perfect size.
After testing several different silicone bag brands including the Stasher bag, Saffron Goods out performed the others with their leak-proof 6-cup capacity reusable bag. Plus they passed all my tests when others didn't.
Best Recycled Plastic Reusable Bag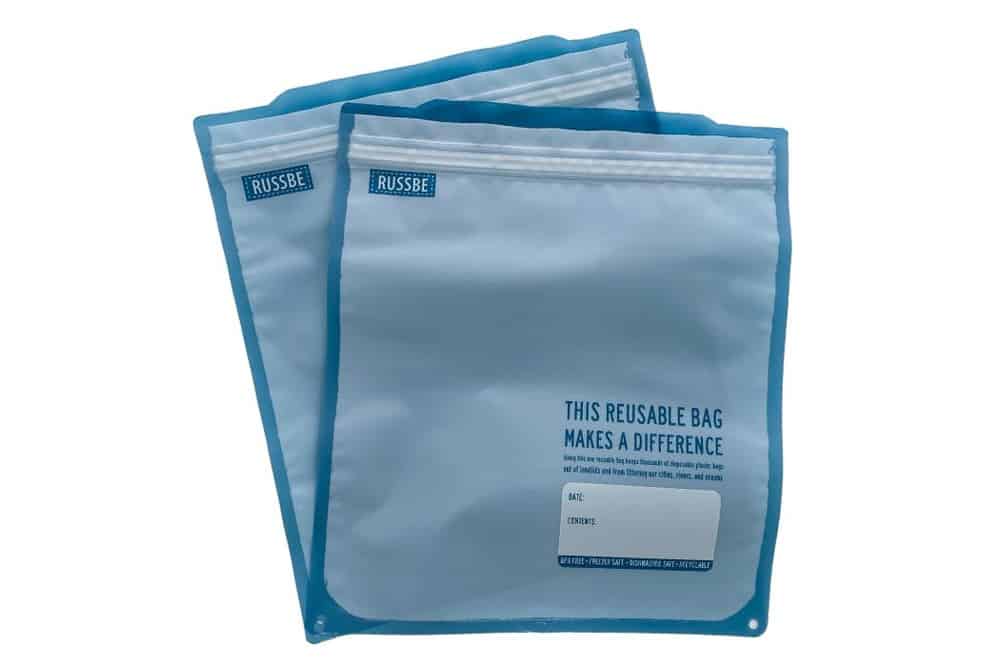 The Russbe recycled plastic reusable bag is different from the others. It will hold 16 cups so it's a true gallon size freezer safe bag. It is dishwasher safe as well, however my tests showed that after going through the dishwasher the seal to the bags weren't holding as strong, so I'd recommend hand washing so they last longer. These are strong bags and held up to my tests, but the reason I don't like them as much as the others is that filling them and removing the food from the bag isn't ideal as the bag doesn't fully open. With shipping it breaks down to about $2.37 per bag, which makes this a great option too.
FINDING THE BEST REUSABLE BAG
I started a spreadsheet listing all the reusable bags I could find on amazon.com and other websites online. I added the bag size dimentions (as you'll notice there are so many different options out there). Added regular price and sale price. And calculated the price per bag.
Then I added categories for all the different tests I wanted to do on them.
Then from there I ordered in the ones with a good price value, and with interesting enough characteristics to be able to compare one from another. One was dishwasher safe, one had double seams around the bag, one had a triple zipper, one had a tab to hang them dry on. Some were bigger, some were smaller. Lots of options.
I mean, look at all these bags to test!! So many different reusable bags.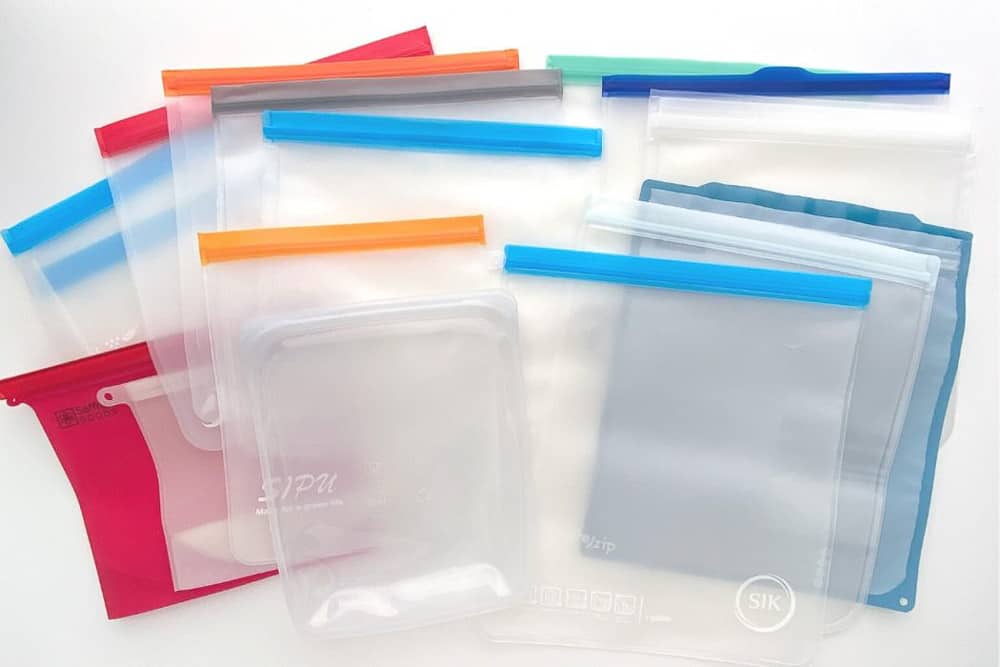 PUTTING THE BAGS TO THE TEST
Once all the bags arrived it was time to compare and figure out which reusable bag was the very best! My main comparison was that the bags needed to be just as tough as Ziploc freezer bags.
Here are all the tests I put the reusable bags through:
Capacity: how many cups of liquid could they hold?
Flexibility: Were they flexible enough for easy storage?
Seals easy to open: Were the bags easy to open and close?
Easy to fill? Would the bag openings hold open well when placed inside a bowl? I wanted to make sure it would be easy enough to add food into the bags.
Strength of bag seals: For this I filled the bags with water, and sealed them. I checked to see if when I flipped them over the seal would hold. Then I did a gentle squeeze to see if it would still hold. And lastly I squeezed hard with pressure to see if it would hold.
Freezing liquid: How would they hold up to freezing liquid? I filled the bags with water, sealed them and placed in freezer to freeze.
Stain tests: would the bags stain after freezing tomato puree, yellow curry, or beets?
Smell test: After freezing diced onions, then thawing and washing the bag, would it still have an onion smell?
The tried-n-true Ziplock gallon sized freezer-safe bags passed all these tests.
The reusables…. ? Well, many brands didn't even make it past the strength of seal water hold test! And if they didn't make it past that test, I stopped their testing process and only continued on with the ones that did.
Using all that testing data, I was able to come up with the absolute best reusable freezer bags for 2020!!
I also tested out several different ways to label the reusable bags and found the very best method! Check out those results here.
I also ended up testing out methods for cleaning these bags as many of them say you can't use hot water on them. Read those findings here.
WHICH TYPE OF REUSABLE BAG IS BEST?
There are three main types of reusable bags available on the market right now – reusable silicone bags, reusable bags made of PEVA and reusable bags made from recycled plastic. Let's talk about what those mean and look at the pros and cons of each.
Reusable Bags Made of PEVA (my Favorite!)
Most of the options available on Amazon.com are made using FDA-grade PEVA materials and feel a lot closer to traditional Ziploc gallon sized freezer bags than any other type. These bags are my favorite as they are easy to use, work great and are typically inexpensive too!
What is food safe PEVA material exactly? It's a non-chlorinated vinyl material that is low in toxins. It's often used in making dog toys or baby teethers (and reusable bags now). It's a much safer material than others according to this article from Clear + Well, the Center for Health, Environment & Justice saying they "recommend the avoidance of PVC and the alternate use of EVA and PEVA as safer substitutes. "
The bags I recommend are PVC-, lead-, phthalate- and BPA-free. They are food safe and are perfect to use in your freezer too!
PROS
Inexpensive. There are so many options available now with prices as low as $1.25 per bag.
Feel similar to Ziploc freezer bags. Easy to open & close bags.
Transparent – you can see through the bags to see what's inside.
They last a long time, can be reused over 300-400 times.
Easy to store.
Easy to stack your freezer meals using them.
Strong materials that hold your food well and help to keep air from entering bags.
Many of them hold open well for filling with your meals.
CONS
Most have to be cleaned with COLD or room temperature water, because hot water or using them in the dishwasher will damage the zippers of the bags.
They usually capture smells like onions that can linger in the bags even after cleaning.
Yellow curry can stain the bags yellow after usage.
REUSABLE SILICONE FREEZER BAGS (My Second Favorite)
Reusable silicone bags are typically made of food grade silicone which contains no BPA, no PVC, no phthalates, no petroleum, is plastic free & latex free; is non-allergenic; and is non-toxic.
PROS
Thicker materials
They can go from freezer to a pot of hot boiling water (you can use silicone bags for sous vide)
They can be cleaned with hot water and soap or in a dishwasher
They last a long long time and are practically indestructible
The ones I recommend above can go from freezer to Instant Pot or Slow cooker as they are the perfect size.
CONS
They are flippin' HARD to open and close! You have to slide the plastic pieces over the tops of the bags, and man… I have to put my back into sealing them!
They don't hold open too well when it's time to fill them up (especially with liquids)
They are more expensive/ cost more money per bag
Say they are dishwasher safe, but actually don't hold open well inside of the dishwasher (especially when you get larger capacity sized bags).
No gallon sized ones available yet – the largest ones are 1/2 gallon sized.
Reusable Bags Made from Recycled Plastic
The bags made from recycled plastic aren't as widely available as the other two types. Bags like Russbe are an example of what these look like. They are usually made of durable, recyclable plastic that is free of PVC, latex and phthalates. They are also freezer and dishwasher safe too.
But my opinion on them is that the seals don't work as well after being run through the dishwasher. And they are harder to open up to fill and empty the bags.
PROS
Inexpensive.
They last a long time, can be reused over 300-400 times.
Easy to store.
Strong materials that hold your food well and help to keep air from entering bags.
dishwasher-safe and hot water cleaning options available
CONS
Say they are dishwasher safe, however I found it damaged and weakened the zipper seals
Not easy to add and remove food due to design of bag opening.
Harder to clean inside
slippery materials makes it a little more difficult for stacking in freezer
---
AND THE WINNERS ARE….
Here are my top picks for the best reusable freezer bags for 2020:

1. Best Overall Quality Bag: ReZip Reusable Gallon Sized Bag
2. Best On A Budget: Sik Reusable Gallon Bag

HONORABLE MENTIONS: (passed important tests)
Best Zipper Seal: Bealy Reusable Freezer Bags
Best Silicone Reusable Bag: Saffron Goods
Best Recycled Plastic Bag: Russbe Reusable Gallon Bags
Least Expensive Bag: Baturu Bag
Thicker Style Bag: JonyJ Bag
---
HOW TO LABEL YOUR REUSABLE BAGS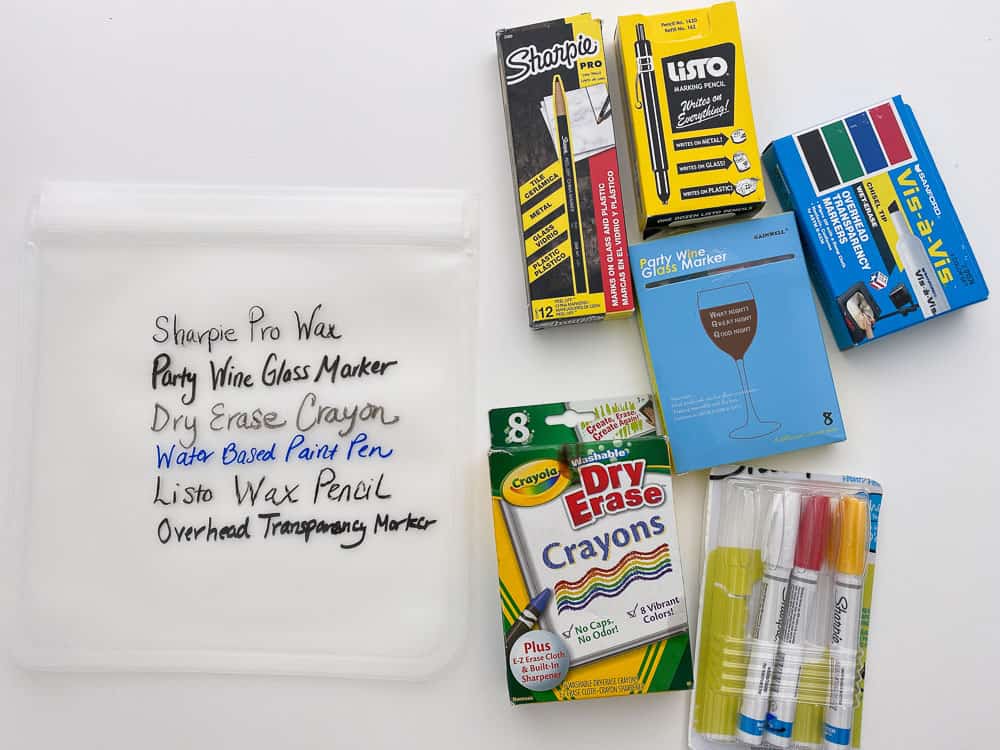 I tried out several different ways to label these for the freezer. But as you might know you need something that won't wipe off, won't be affected by water or condensation in the freezer. And should be able to be washed off with cold water and soap.
I tried out dry erase crayons, Sharpie pro wax pencils, party wine glass markers, water-based paint pens and more. I also considered dissolvable labels like they use with canning, but since this is a post about less waste I figured some sort of marker would be a better solution.
AND THE BEST METHOD IS…
The best way to label your reusable bags is to use Dry Erase Crayons. They don't smudge even with other bags rubbing against it and being in the freezer. Plus they wash off simply with cold water and dish soap.
The second best would be the Overhead Transparency Marker. It took a few minutes to dry, but once dry wouldn't smudge and washed off perfectly with cold soap and water too.
If you don't mind using rubbing alcohol to clean the label marks off, my third choice would be the Sharpie Water Based Paint Pen.
The other options I wouldn't recommend at all. The Sharpie Pro Wax pencil / Listo Wax Pencils didn't wash off well with cold or warm water and soap or alcohol. Also smudged when bag rubbed against other bags. The Party Wine Glass Marker left residue behind after cleaning with rubbing alcohol.
---
HOW TO CLEAN REUSABLE BAGS
One of the questions I had when testing out these bags was how to clean them and would they still be safe to use after holding raw meat in them. After searching online I couldn't find any data so I decided to order in some bacteria tests and test them out myself.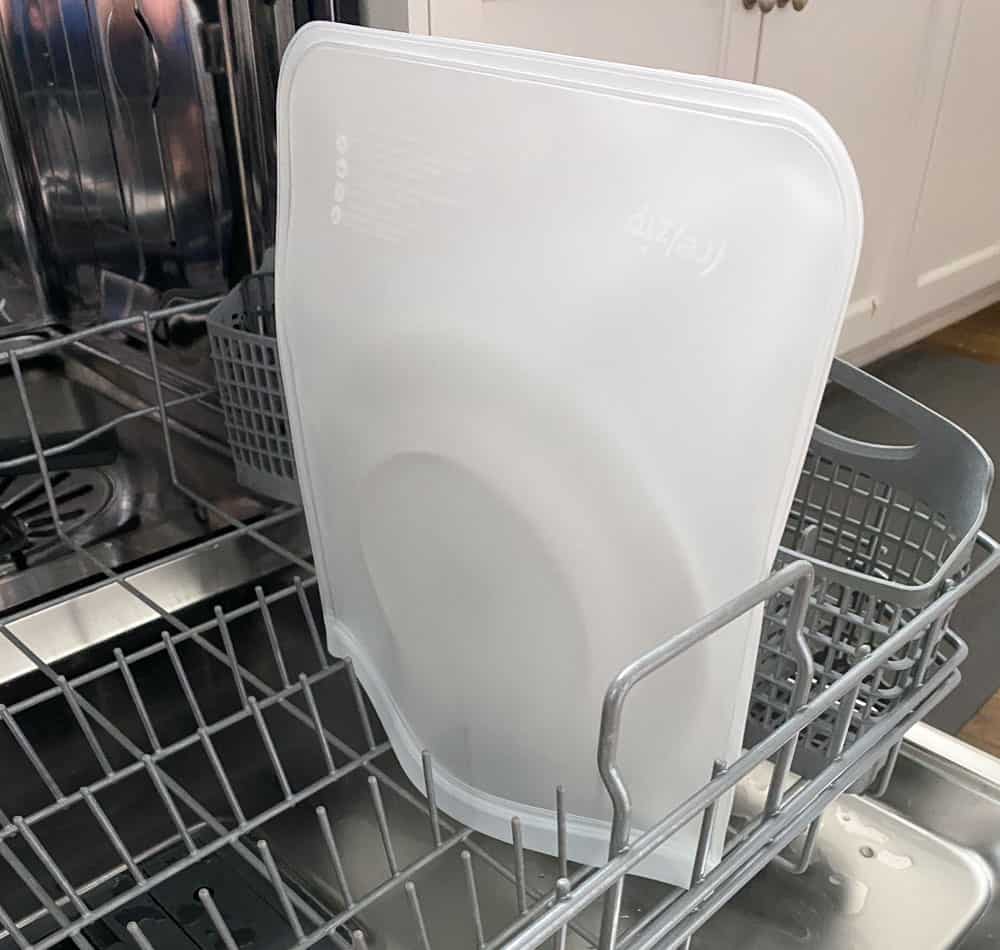 Dishwasher Safe Reusable Bags
For the gallon sized rezip bags I placed them over a large dinner plate so they'd stand upright in the dishwasher. The seams held strong after being washed on low in dishwasher. However when I tested the bag for bacteria after using raw meat inside, it tested positive. The reason was that the top of the bag never got clean as the bag folded over in the dishwasher. So I'd recommend hand washing all reusable bags instead of washing in the dishwasher.
Cold Water Washing Only Reusable Bags
Many PEVA reusable bags say to only wash in cold or room temperature water to keep the zipper seals from breaking down. I decided to test the bags with several different sanitization methods after having raw meat inside them. Using a cold water and soap only didn't work. Using a vinegar-water solution after washing with cold water and soap also didn't work.
The only two methods that worked to destroy raw meat bacteria were
1. Wash using warm soap and water and air drying
2. Wash using cold water and soap, then following with a 30-minute bleach-water solution soak, pouring it out and allowing it to air dry. (To do this, after washing the bag with cold soap and water, rinse it out, then fill it up with cool water. Add 2 tsp regular Clorox bleach to a gallon sized bag. Seal bag, flip it over a few times and then let it sit in your sink for 30 minutes. Then pour out solution and air dry our bag.
---
HOW TO DRY YOUR REUSABLE BAGS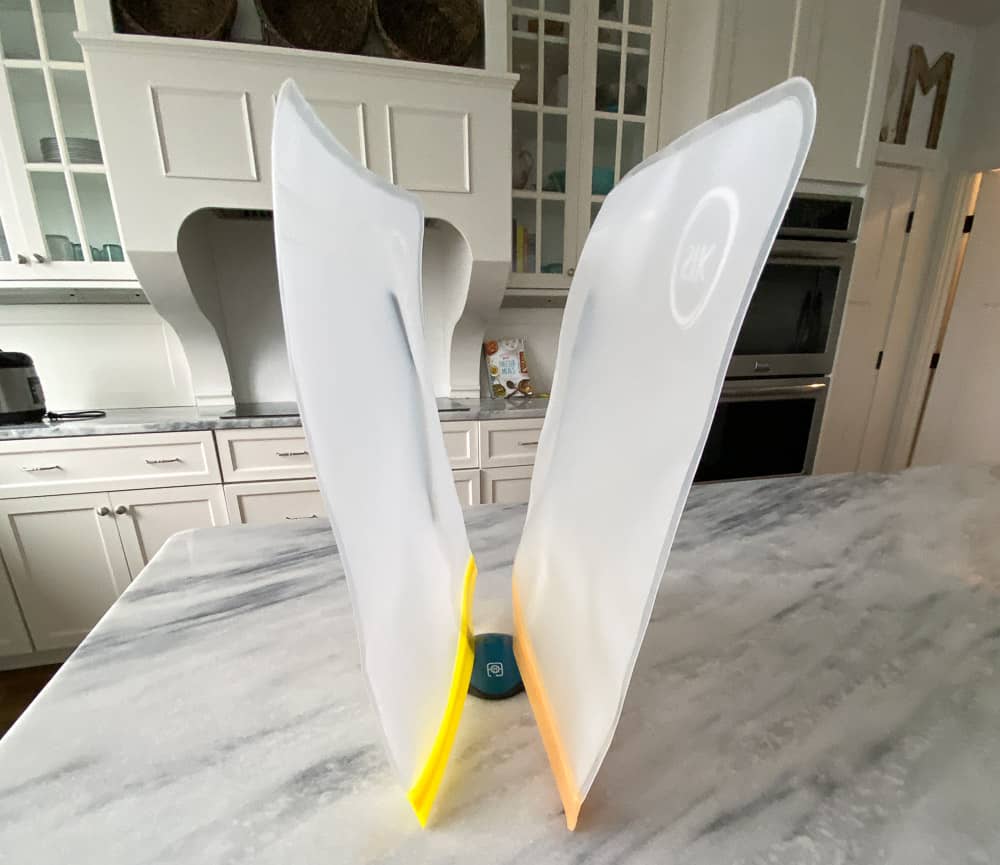 After cleaning your bags, you can hang your bags upside down to let air dry. Some people use a simple towel and try to get the bags to stand up straight to dry, but that can be a challenge. I had some freezer meal bag holders hanging around and gave them a go, they worked great! You can balance and dry two reusable bags perfectly.
---
Hope you enjoyed this guide to the very best reusable freezer bags!
Also make sure and check out my list of 15 Actually EASY Freezer Meal Recipes if you'd like to get rid of the dinner time guilt, save time, money and maybe even your sanity. Ha!
LEARN MORE FREEZER MEALS TIPS