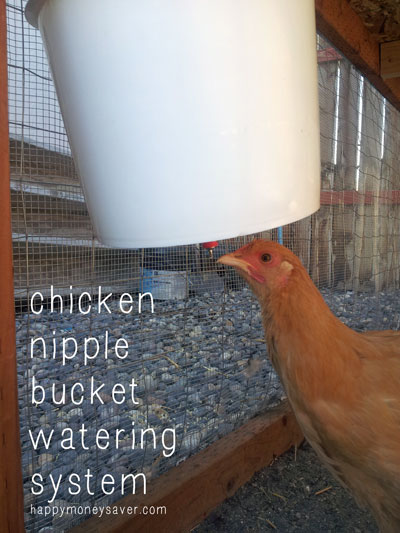 Having lots of chickens can make for some serious chores. Cleaning out bins, changing the food and water can be a frequent workout. When my pal Trish showed me how to set up a chicken nipple waterer system for watering her chickens I just knew I needed to make it too. It keeps the dirt and other bacteria from getting into their water, and makes it so you don't have to bring new water to them for up to a week. Plus using 5 nipples will keep a flock of up to 20 chickens well hydrated.
So here is my little tutorial on how to make a Chicken Nipple Waterer using a 3 gallon bucket.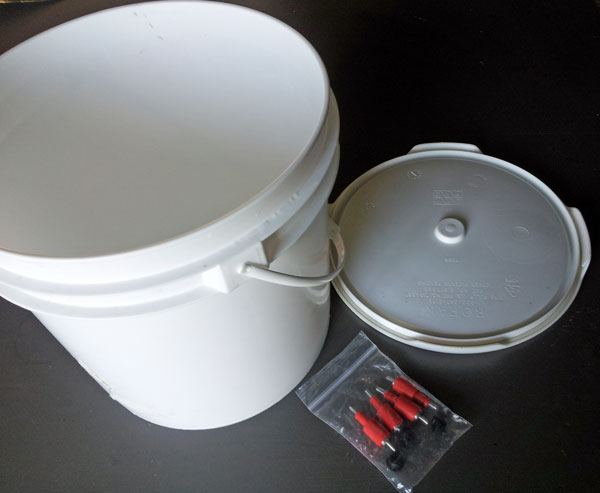 Supplies
Push style Chicken Nipples with Grommets (not the screw type chicken nipples)
3-5 Gallon plastic bucket with lid
11/32 inch drill bit + drill
pliers
Where to buy Push-style Chicken Nipples you ask?

Didn't you know chickens don't have nipples? Tee hee. Okay, I could go on and on with jokes about chicken nipples but I will stop there.

Here are the three places I found that you can order the chicken nipples with grommets.

Amazon.com: 5 pack of push in style chicken nipples is $12.25 + free shipping with Amazon prime or free with orders of $25 or more.

Ebay.com: Buy them individually for $2.00 each plus $1.75 shipping. I purchased 3 and paid a total of $8.55 with combined shipping

FamTek.com: $2.49 each, but shipping was ridiculous.
Next you will take a 5 Gallon bucket with lid (I used a 3 gallon size since I only have 4 chickens and didn't have as much room to hang a large one in my coop.) You can get the buckets for free from bakeries or Costco. I have even seen them for sale at Winco as well.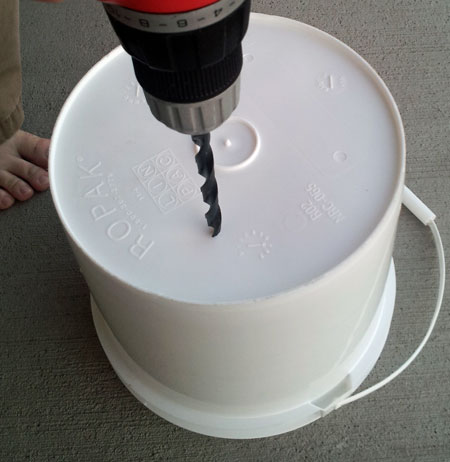 Using a 11/32 drill bit drill 3 holes in the bottom of your plastic bucket.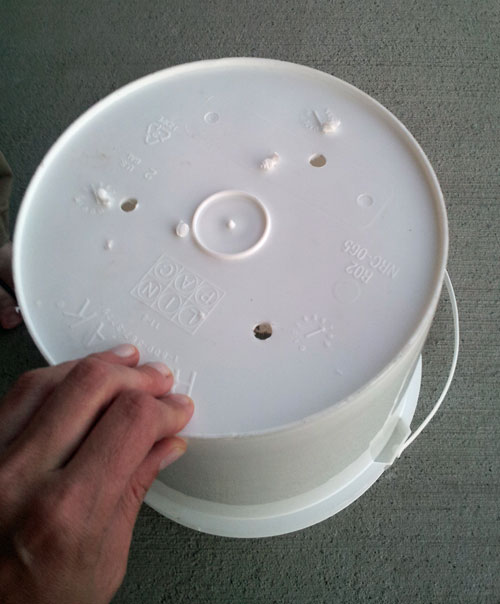 Wipe away the plastic residue from drilling.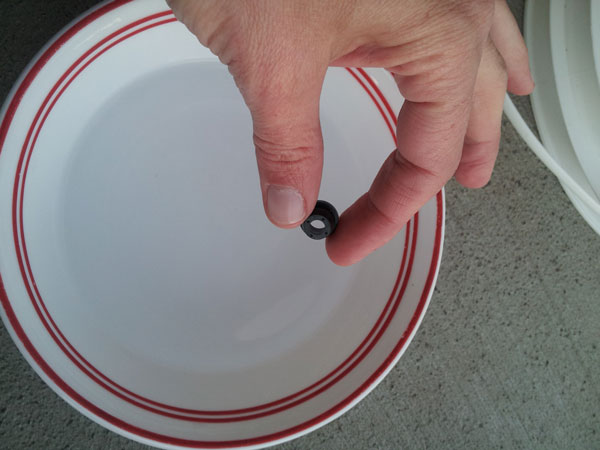 Then dip your grommets into water.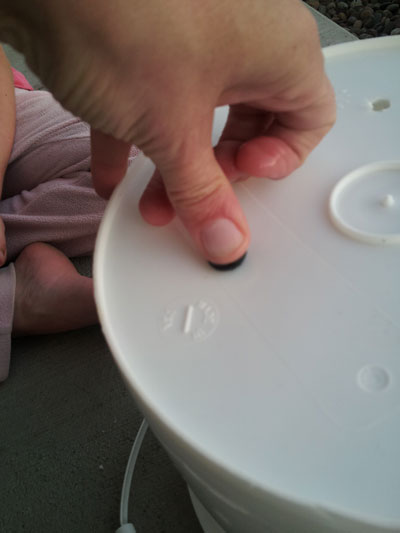 Push them into the holes on the bottom. It can take some elbow grease folks, so push hard.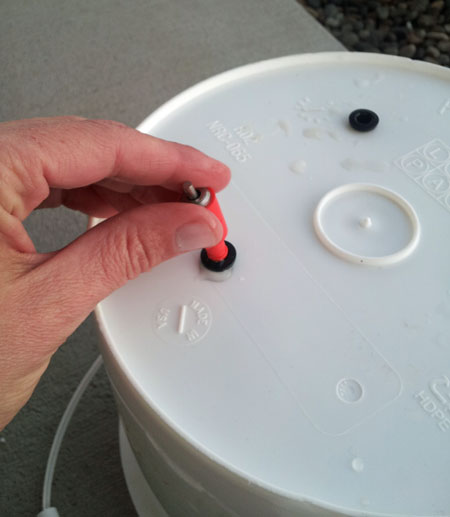 Then get the chicken nipples wet and push them through the grommet holes as well. You will most likely need a pair of pliers to push them through. We did.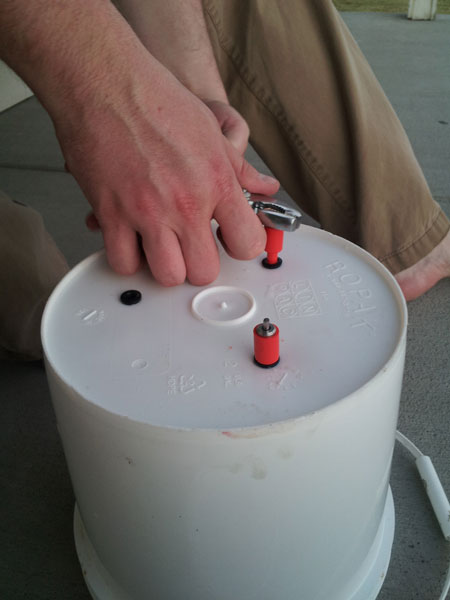 Then fill your bucket with water and test to make sure they all work. When you push on them droplets of water will come out.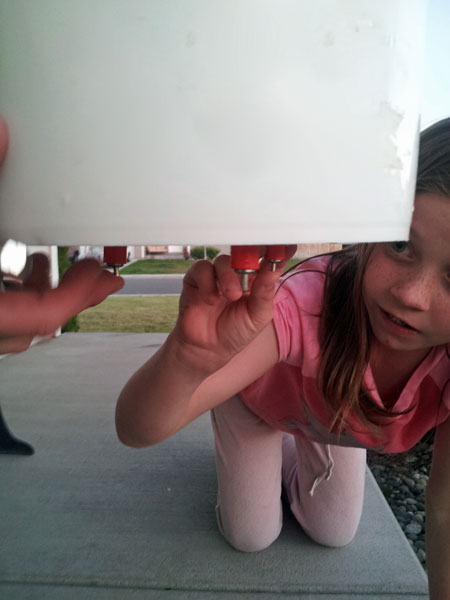 Hang your bucket onto something inside your coop and put the lid on.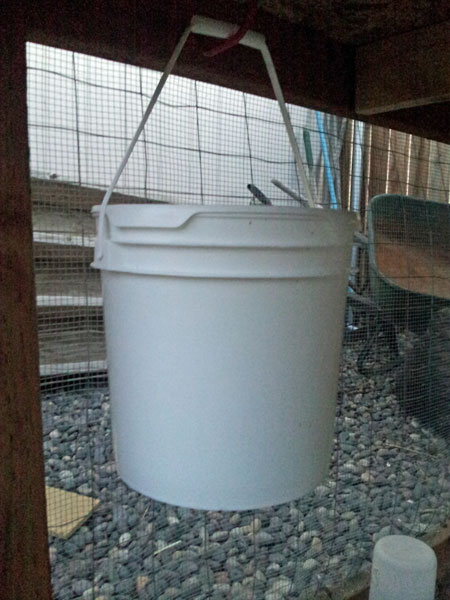 Let the chickens enjoy! Just show them that water can come from the nipples and they will learn quickly how to use it. There are little droplets of water that hang onto each of the nipples so the chickens learn there is water there quickly.
Here is a little video showing you how my chickens are using the nipple system.
By the way, our chicken coop is coming along…here is a little sneak peek at the paint color.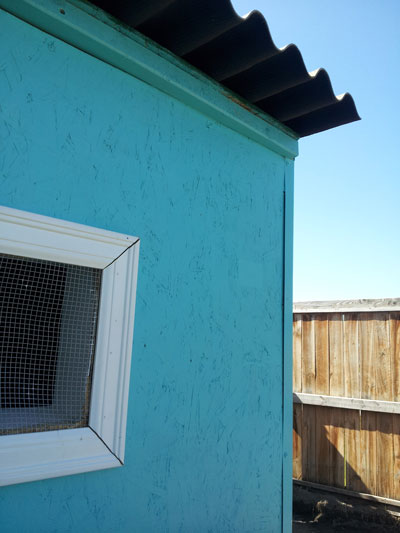 It's a bright color, no?
This is what happens when "DAD" promises the kids they can pick the color….
More pictures to come soon…stay tuned.