Instant Pot Corned Beef is the PERFECT St. Paddy's Day meal. Juicy beef, cabbage, carrots, and potatoes make an easy, delicious dinner ready in 115 minutes!
And this recipe is hands-down the best flavored corned beef on the planet according to my husband, who knows his corned beef.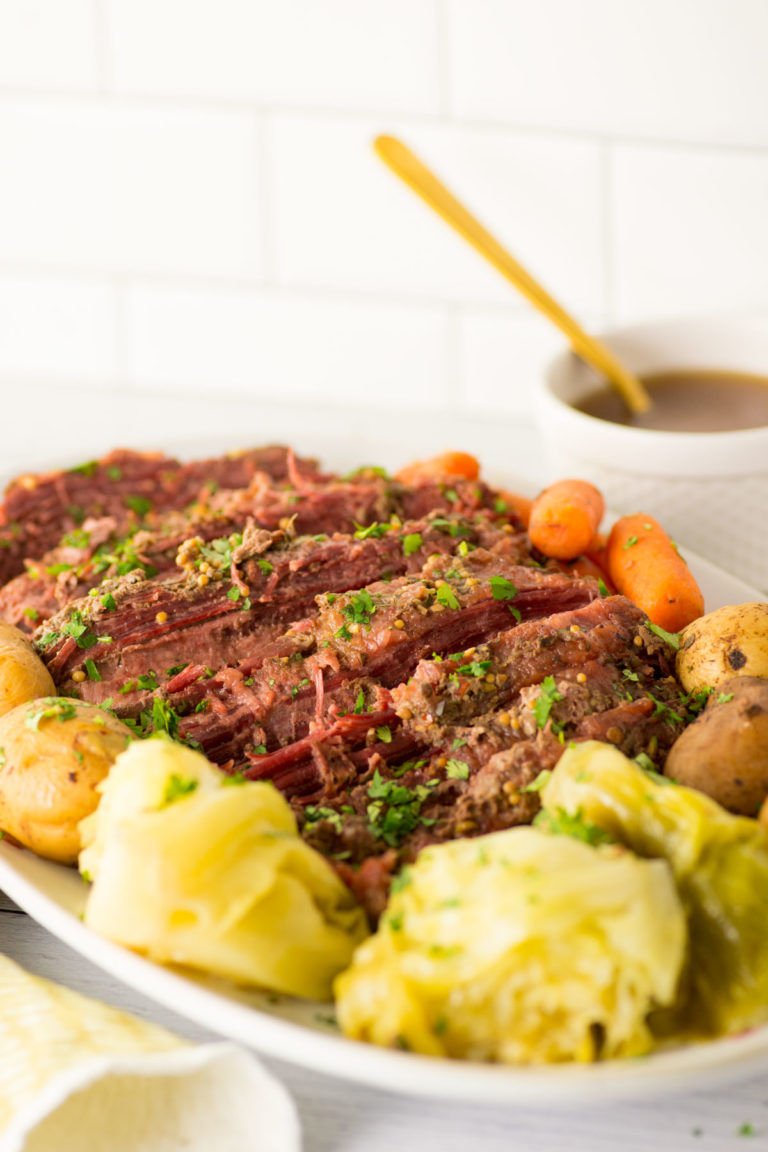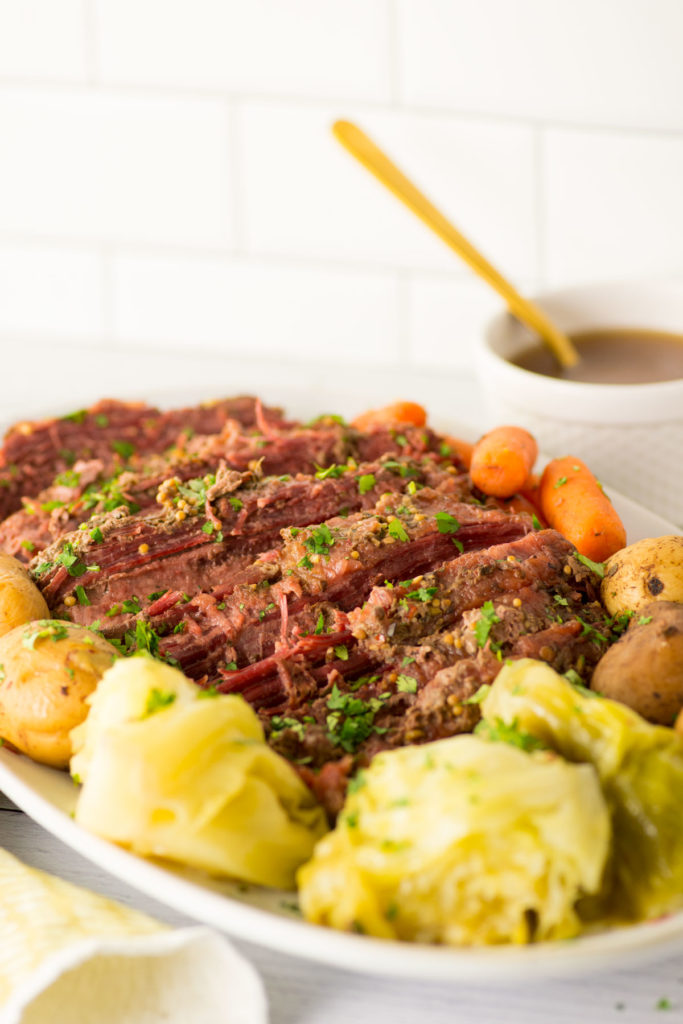 This is it.
THE recipe.
The recipe where I finally got the food reaction I've been waiting for my whole life from my husband. And it was totally unexpected.
And YES…..I know this is a blog post about corned beef and cabbage, and I will get to that part too eventually. So if you don't care or have time to read my life-story part, just click on that little button at the top of my post that says "jump to recipe. " I won't mind at all.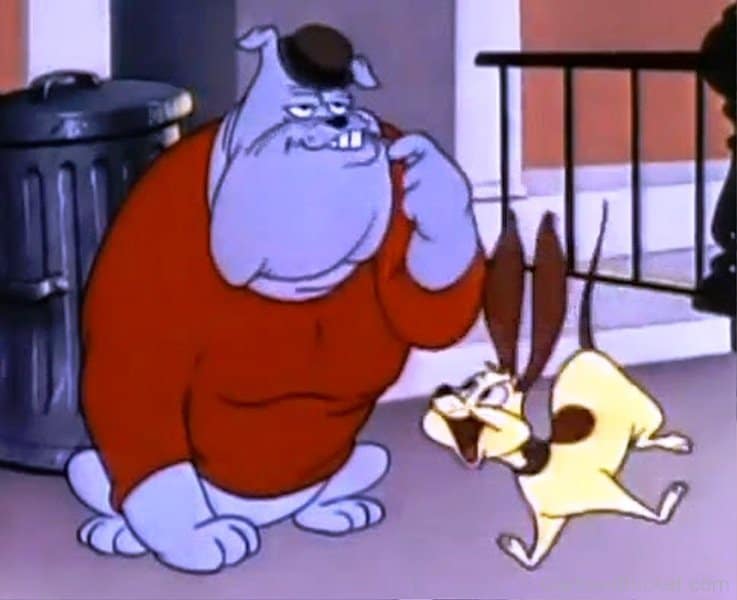 Marriage isn't easy. I'm not perfect, he's not perfect. And we have such different personalities. Do you remember the Looney Tunes characters Spike & Chester?
I feel like I'm the hyper Chester and he's the calm & cool Spike.
In the beginning years of our marriage, I would make a really delicious meal and then wait for his reaction, which was never the "over-the-top- lights-from-heaven – this is the best meal of my life" production I was hoping it would be. It was more like, "Thanks babe for the dinner, it was delicious," said in a calm manner and leaving a little kiss on my cheek.
I'd say.. "Did you like it? Did you like it, Spike?" "Did ya? Did ya? Did ya? hee hee." Or something like that. But he never really gave me the reaction I was wanting. It's not his personality.
He maybe wasn't raised the same way I was – where food is my love language. Which, by the way, is the best way to be raised.
It's a fact. It just is. Don't believe me? Ask my mom. 🙂
So I eventually stopped begging for a reaction I knew I wouldn't get. When I let that go, I wasn't so disappointed all the time.
Then kids came and I, of course, tried that tactic with them… "Do you like it? Do you like it, baby?" When the peas and green beans were spit out and spoons pushed away, I knew this wasn't going to work out how I planned.
And as they grew I tried every year or so, because it's just in my nature, and it was mostly all frustration and disappointment. Most days now I'd be happy with a "thanks Mom" or if they put their plates away. So yeah, I never really got the over-the-top reaction I wanted with food. Until this recipe.
This Corned Beef Instant Pot recipe!!!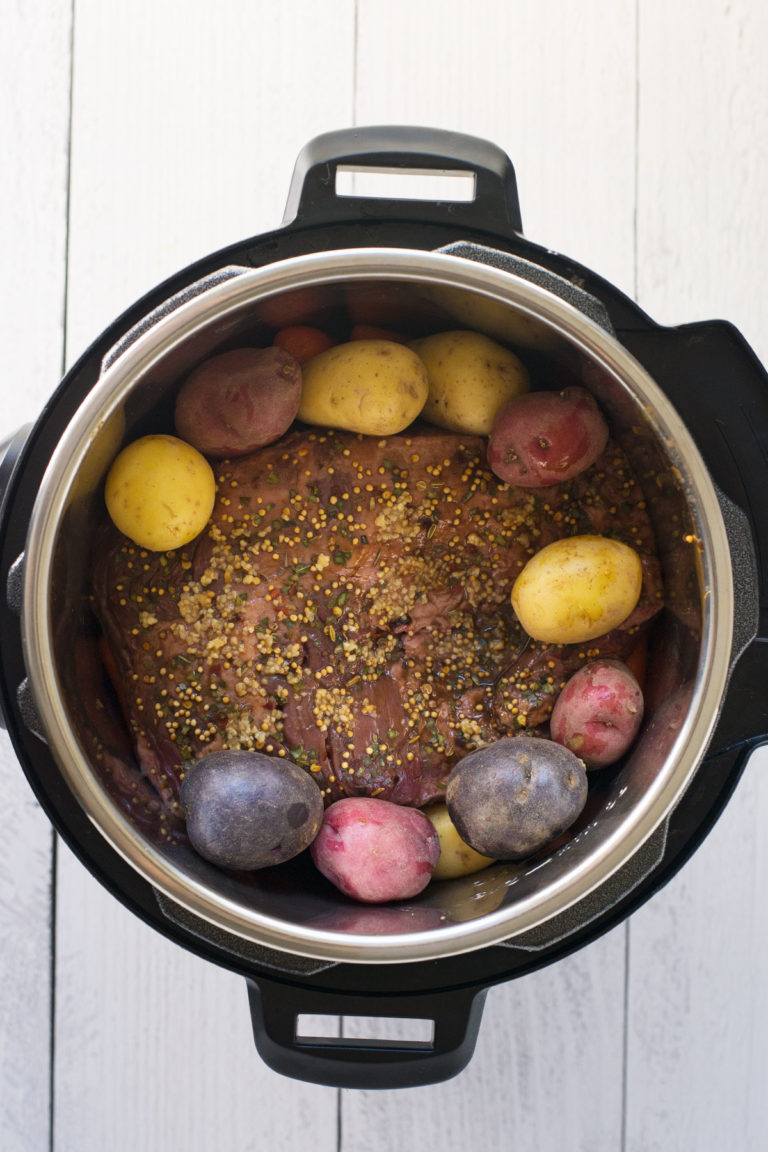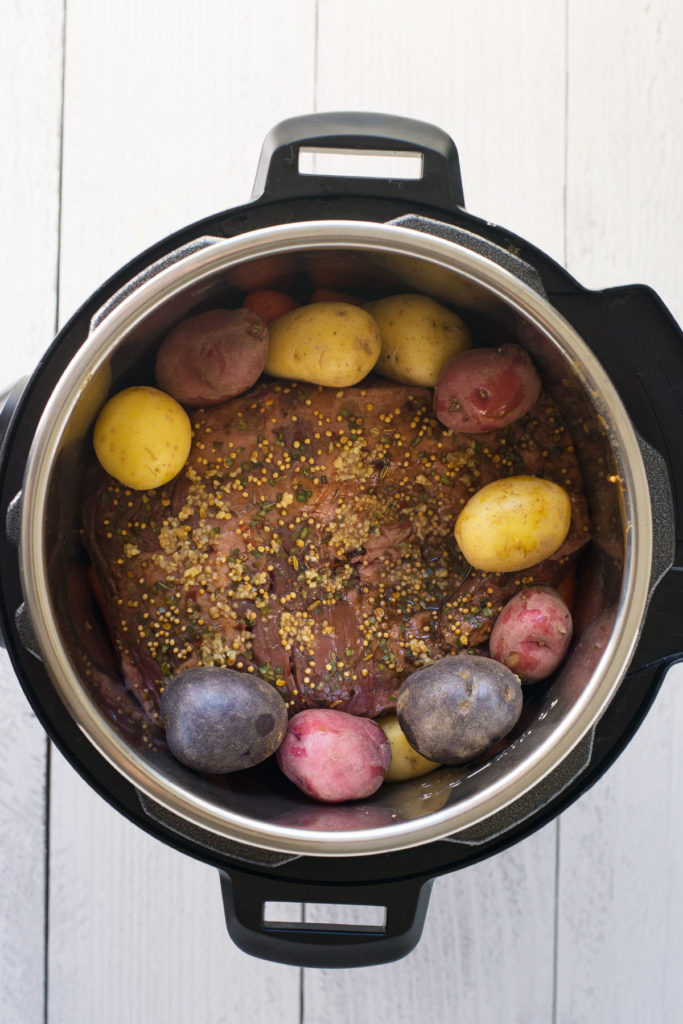 DEVELOPING THE RECIPE
Each month I try to do a big group of recipe developing and testing for my blog. With St. Patrick's Day coming up, I wanted to make a pressure cooker corned beef and cabbage version since my crock pot version is so popular.
In all honesty, I'm usually am not a huge fan of corned beef – I'll have a little bit of the meat on the holiday, because it's a fun tradtion, but I mostly fill my plate with the potatoes and carrots.
BUT… I do LOVE making corned beef hash from the leftover corned beef. I will gobble that stuff like you wouldn't believe. I know… it's weird. Why I am not a fan of corned beef but love corned beef hash… who knows?
So I began developing the recipe by googling online to see if there were any gourmet versions of corned beef and cabbage, to see what ingredients they used. But really found nothing… everyone just uses basic ingredients and the spices that come with the corned beef package. I called my mom, and she said she added a dark beer to hers once and it was good, but I didn't want to try that style.
So, I thought about the process of how food cooks in the instant pot, the pressure builds and the liquids bubble up in the container. I decided to put the onions on the bottom, so when the water bubbles up in the instant pot it would reach the meat, and the potatoes and carrots too.
WORCESTERSHIRE SAUCE IS THE KEY
I thought about how I love corned beef hash, but not so much the corned beef and thought… I'll try adding some Worcestershire sauce to the meat, as that's a flavor I use and love when making homemade corned beef hash. So after adding the corned beef to the instant pot, I poured Worcestershire sauce over it, placed the lid on top and let it cook.
When it finished, I didn't even taste it at first, mostly because I was super full from testing 10 pans of macaroni & cheese + other 6 other recipes. I was more concerned with if it was cooked through and the vegetables cooking times.
So I checked the meat and it was perfectly shred-apart-tender and looked absolutely beautiful. Checked the veggies, added & cooked the cabbage focusing on the doneness levels only and not tasting them.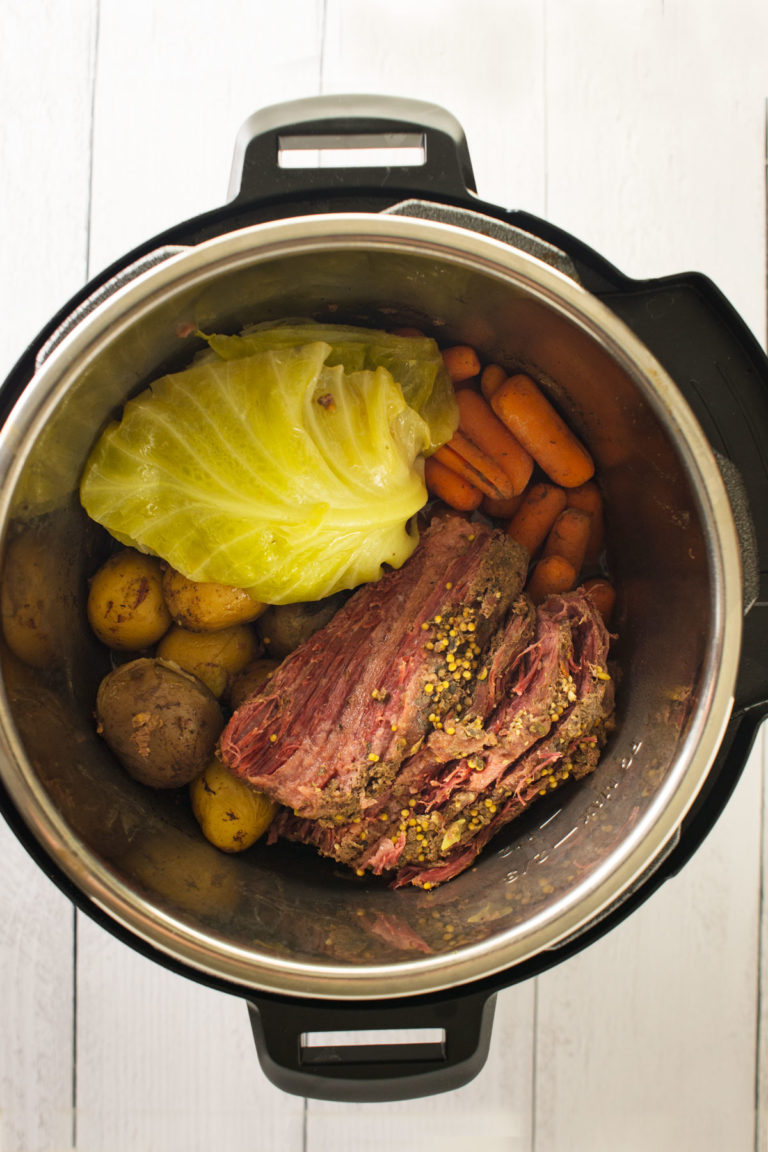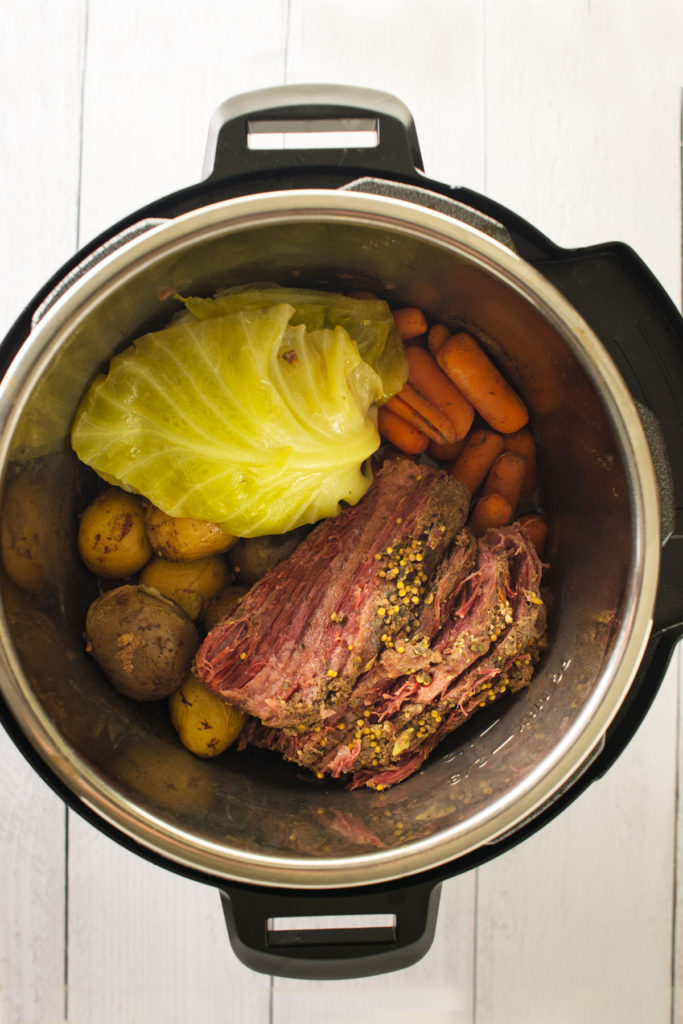 The finished corned beef and cabbage recipe was sitting in my instant pot when my husband arrived home from work.
By the way, he loves my big cooking days. Ever since I made him taste test recipes constantly for a year while making my cookbook, he has become Gordon Ramsey. He's actually quite picky… which I love and think is so cute. He says stuff like "Well, that one is.. just NO. No. Not good at all." And with others he's like… "Oh this one is excellent. I like it! It's a keeper. " He tells it like it is and I love it.
I quickly hurried him over excited to have him test all the recipes I'd been working on that day. Here… try this pork chili verde, and these pulled pork sliders, and these blueberry lemon sweet rolls. I honestly didn't think about the corned beef when he lifted off the lid to the instant pot and said, "What's in here?" I said, "Oh, it's just corned beef and cabbage for the instant pot. Just testing out that one to give another fun version for my readers."
Now something you need to know about my husband is that he LOVES corned beef. Like literally when we go out to eat at sandwich shops he always orders Reuben sandwiches. He's never been excited about my corned beef recipes in the past though so when he grabbed a fork and tasted it, I wasn't expecting the reaction.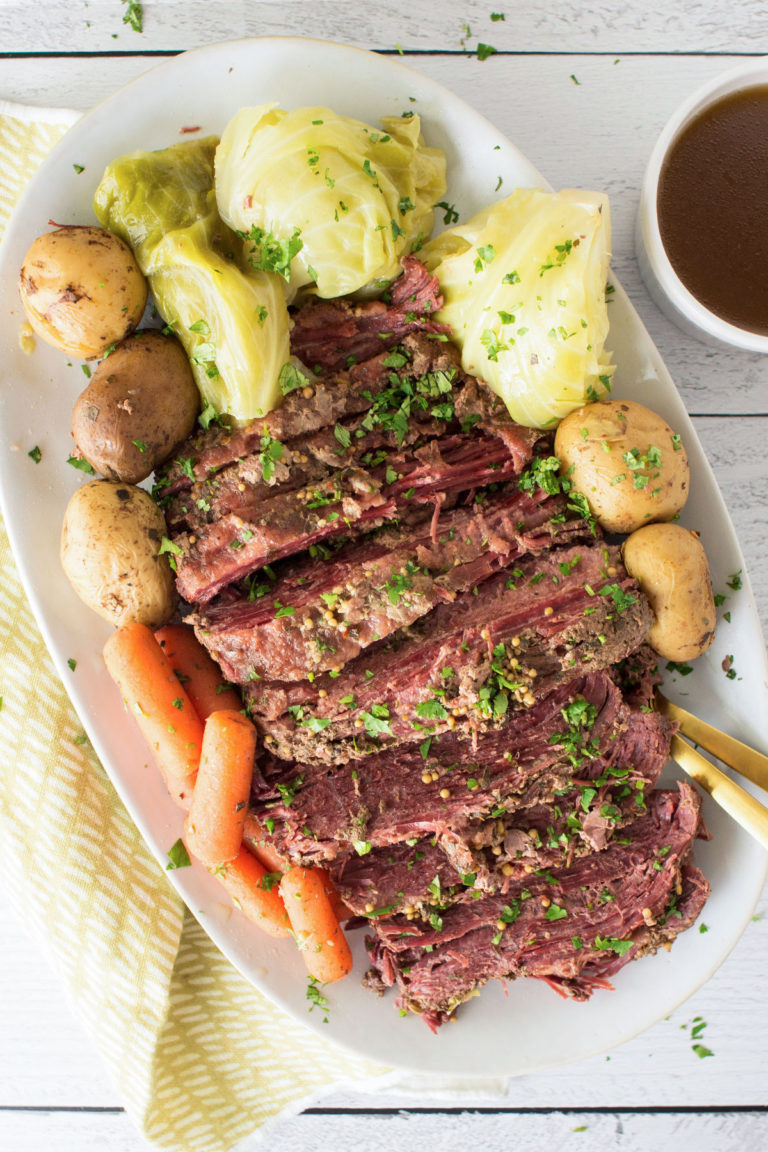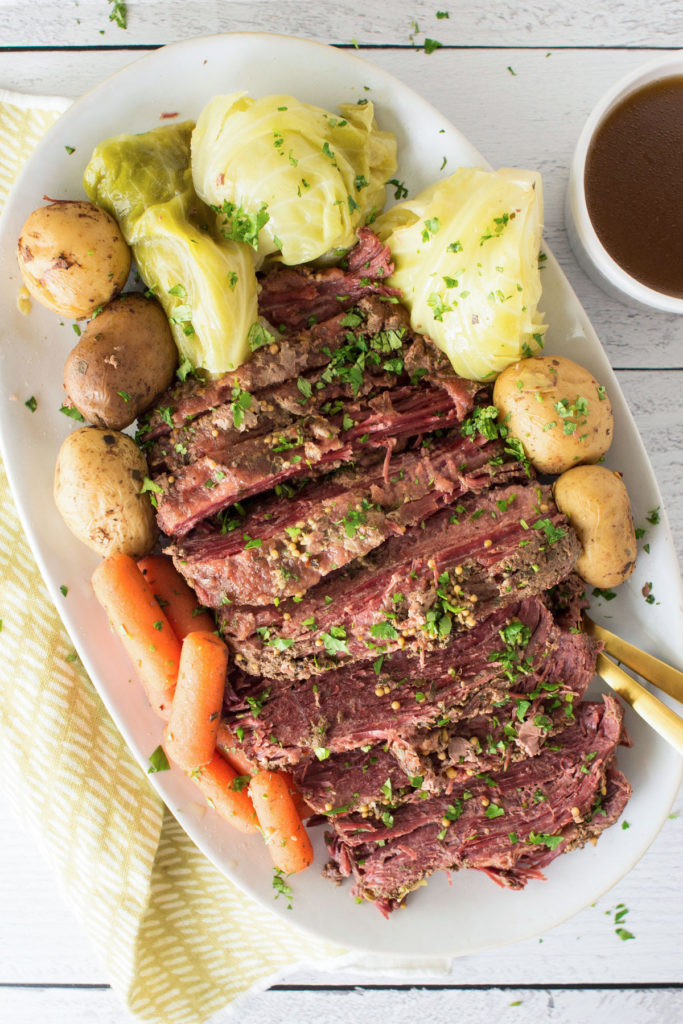 THE REACTION
He stopped, looked over at me and said. "OH MY GOSH…." Then took another bite. "Mmmmm… Oh my gosh! Karrie!! This is THE best corned beef I've ever tasted. I'm not even kidding. Oh… my…. gosh!"
He seriously couldn't contain himself.
He called the kids in and told them to get a fork. They had to try THIS!
And all along he was taking bites and Ooooohing and Aaaahing. And saying things like "What did you do to this? It's SOOOO good!"
Then his brother called and when my husband answered he had to stop his brother from talking to tell him "I'm eating the BEST EVER corned beef of my life. I'm serious!" No, really! Jake, you wouldn't believe this! Karrie outdid herself!"
My jaw just dropped. Uhhhhhh…. blub blub blub… I mean, whaaaaat?
Aaaaannnnd the part that makes me laugh the most is that we had a double date that night with another couple and my husband put some corned beef in a little baggy because his buddy HAD to try this.
Yeah. It was the best reaction ever.
I'm still in shock I think.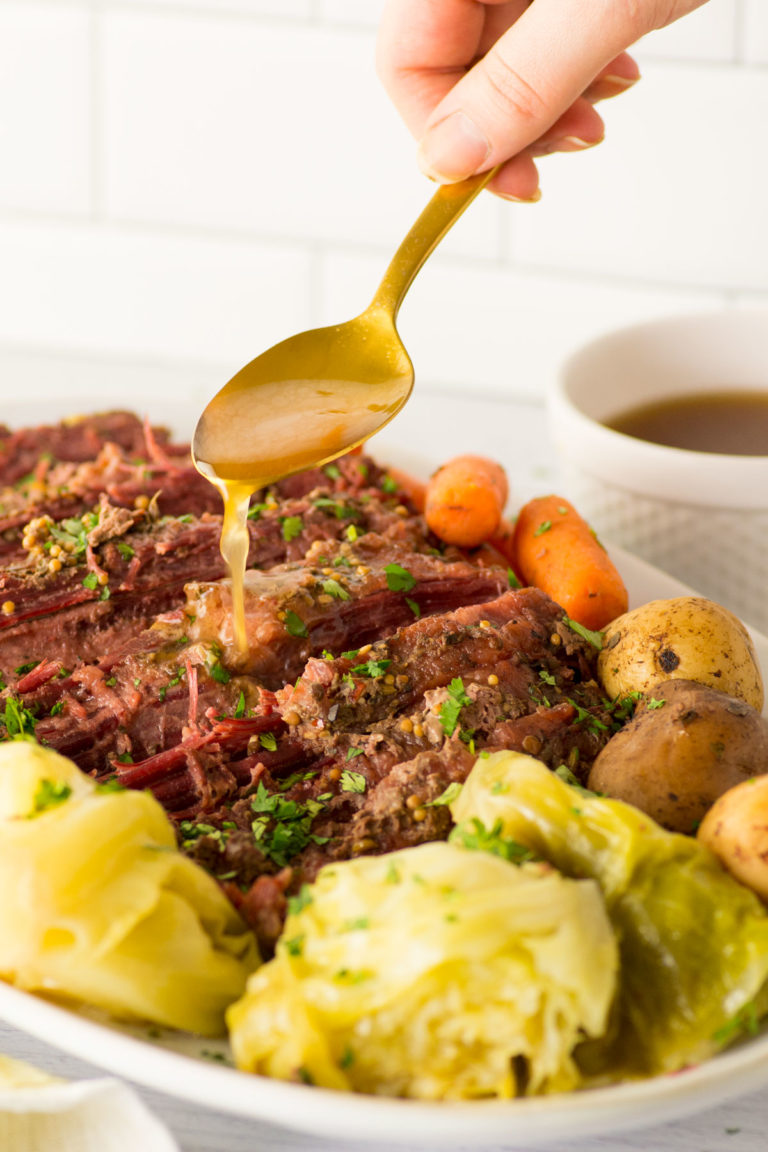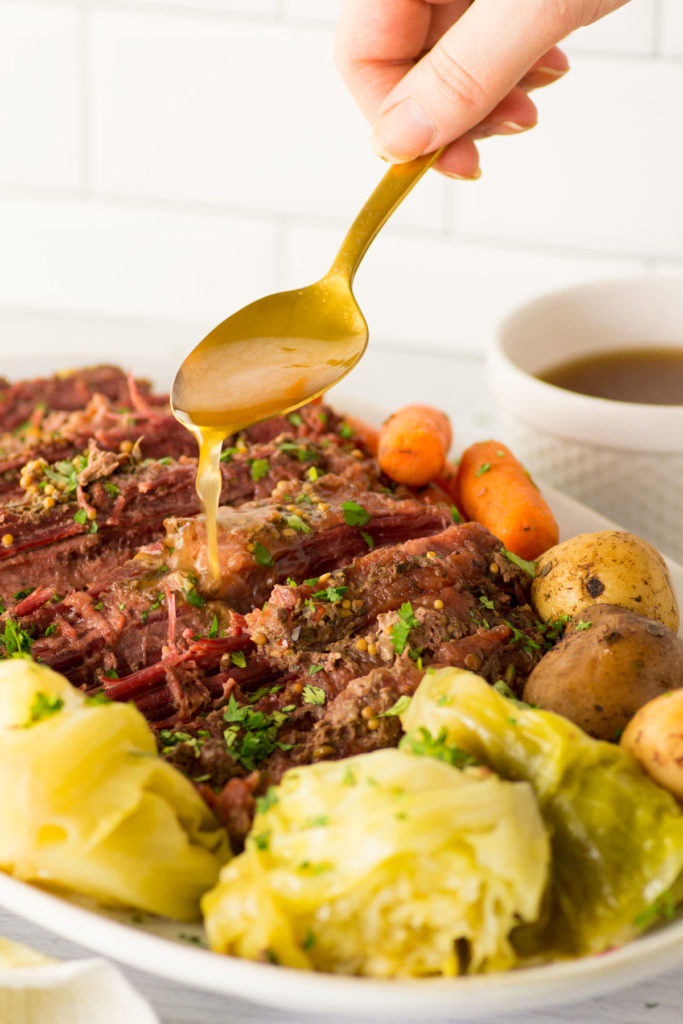 So – in all it's glory..here is the king of all Corned Beef Instant Pot recipes. I hope you love it as much as my husband does. 🙂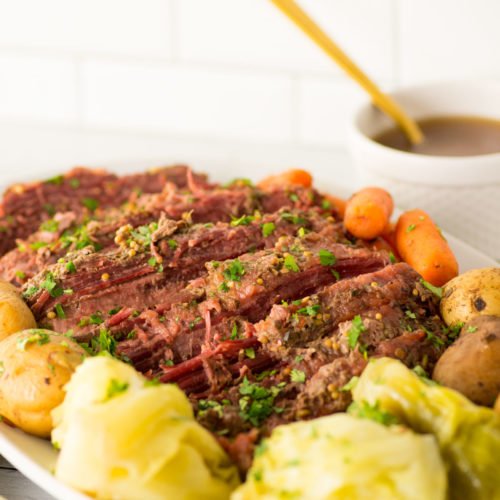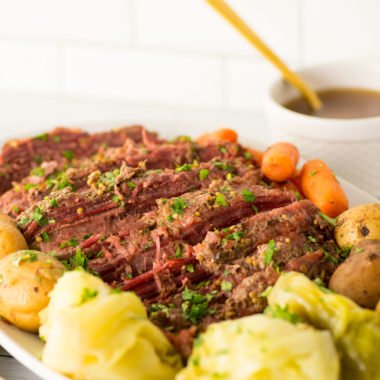 Instant Pot Corned Beef and Cabbage
Instant Pot Corned Beef is the PERFECT St. Paddy's Day meal. Juicy beef, cabbage, carrots, and potatoes make an easy, delicious dinner ready in 90 minutes!

Print
Pin
Rate
Ingredients
2.5

lb

corned beef

½

medium onion

chopped

1

lb

baby carrots

10

baby potatoes

1

tbsp

minced garlic

2

tbsp

worcestershire sauce

½

cup

water

1

head cabbage
Instructions
Place onions and carrots on bottom of Instant Pot. Place corned beef on top. Season with seasoning packet if it came with one. Place potatoes around edges of beef. Add water. Sprinkle roast with garlic. Pour worcestershire sauce on top of roast.


Cook on high pressure for 90 minutes, then do quick release.

Quarter cabbage and place into Instant Pot. Cook on high pressure for 1 minute, then allow a 5 minute slow release, then quick release. Serve.
Nutrition
Serving:
1
g
|
Calories:
272
kcal
|
Carbohydrates:
19
g
|
Protein:
16
g
|
Fat:
14
g
|
Saturated Fat:
4
g
|
Cholesterol:
51
mg
|
Sodium:
1225
mg
|
Potassium:
791
mg
|
Fiber:
4
g
|
Sugar:
5
g
|
Vitamin A:
5285
IU
|
Vitamin C:
67.4
mg
|
Calcium:
62
mg
|
Iron:
2.9
mg
WHAT IS CORNED BEEF?
One of the MOST asked questions! Corned beef is made from beef brisket. The meat goes through a long curing process using large grains of rock salt and then it is brined. Next, it is slowly cooked where it takes a tough cut of beef into one that is super tender and flavorful!
WHY DO WE EAT CORNED BEEF ON ST. PATRICK'S DAY?
When the Irish immigrants came to the U.S., they were too poor to afford the high price of pork and bacon products so they bought the cheapest cut of meat available: beef brisket.
And the corn? It refers to the corn-sized salt crystals used during the brining process. The corned beef was paired with cabbage because it was one of the cheapest vegetables available.
CAN YOU FREEZE CORNED BEEF?
Of course! You can cook raw or cooked corned beef. Just place it in a gallon-size zippered bag and seal it, removing as much air as possible and freeze. Raw corned beef is best used within one month as it will start to have flavor loss. Cooked corned beef can be frozen for up to 2-3 months.
To thaw & cook the raw corned beef: Let it thaw completely in the fridge for 12 to 24 hours and cook in your instant pot as directed below. I also have this fantastic Corned Beef and Cabbage Crock Pot recipe version that is also delicious.
More St. Paddy's Day Recipes