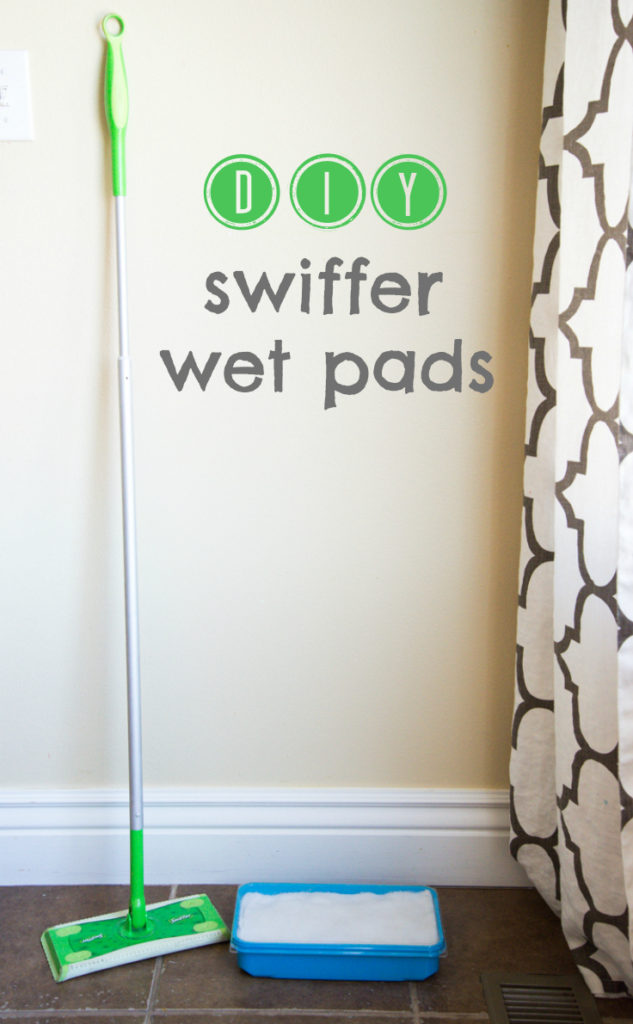 A few years ago, before I was enlightened about all of the nasty chemicals lurking in so many cleaning products, I bought a Swiffer. This was before the Wet Jet time, so it was just a good ol' Swiffer that you used with the wet pads you can still buy in stores.
After a few uses I stopped buying them because of the smell. It had an "off" smell to me—Off enough that I didn't dare step on the floor while wet, not because of getting it dirty, but because I was leery of what unknown toxic ingredients would be seeping into my foot. I guess I've always been a little granola at heart. And then when my floor would dry, it felt slightly sticky so I would never walk on my kitchen floor without socks. And then I decided that was ridiculous so I switched over to what I've been using ever since—My trusty 2/3 water, 1/3 vinegar solution mixed in with some essential oils when I'm feeling fancy.
Then it dawned on me.. Why not combine my favorite floor cleaner with the convenience of the Swiffer? And that's how a star was born.
To make your own Swiffer wet pads you'll need the following:
4 C distilled water
2 C white vinegar
10-14 drops of pure essential oil 
(12) 11"x11" clean rags
an empty Swiffer pad container, or a 2 gallon Ziploc bag
Directions for making your own Swiffer wet pads:
Pour the distilled water and vinegar into the empty container or Ziploc bag. Add your essential oil. I chose to use lemon today because of its de-greasing properties. You can see how far up this solution fills my container, below:
Next, place your clean rags in, one at a time into the container. They should soak up most of the solution between all of them. I've found the "11 x 11" cleaning rags are the perfect size, and because their edges are already sewn, they'll last through lots of cycles in the washer. Here's what it looks like when all 12 rags are in:
Store with the lid on, or if using the ziploc bag, with the top zipped.
To use, attach a rag to your Swiffer mop, just like you would the other wet pads. Make sure the rag is pulled taught. And by all means, feel free to flip the rag over and use the other side.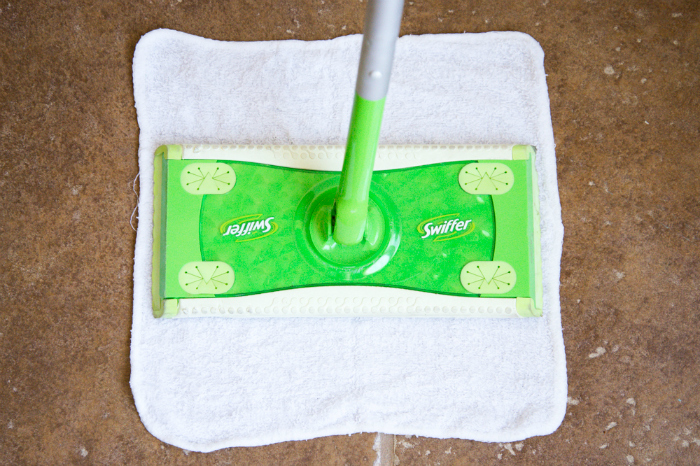 Here's what my rag looks like after just a few minutes of mopping, and I just mopped my floors last week!
We don't wear shoes in the house, so this is just from regular living traffic. Moral of the story? It does the job. To clean, just throw the rag in with your other cleaning rags and wash in the washer.
How does our solution cost compare to what you would pay for a container of wet pads in the store?
Distilled Water: $0.22
Vinegar: $0.22 (I buy my vinegar in bulk from Costco for $3.49)
Essential Oils: $0.81 (I used 12 drops of Lemon essential oil)
I already owned the rags, container, and mop so my total cost is $1.25 per batch. A container of 12 Swiffer wet pads at my nearest Walmart costs $4.47.
That's a 72% savings!!!!!
I'd be willing to save 72% any day, especially when you consider that our version comes sticky-chemical & residue free.
How about you? Are you in love with your Swiffer? Do you have any other hard floor cleaner favorites?