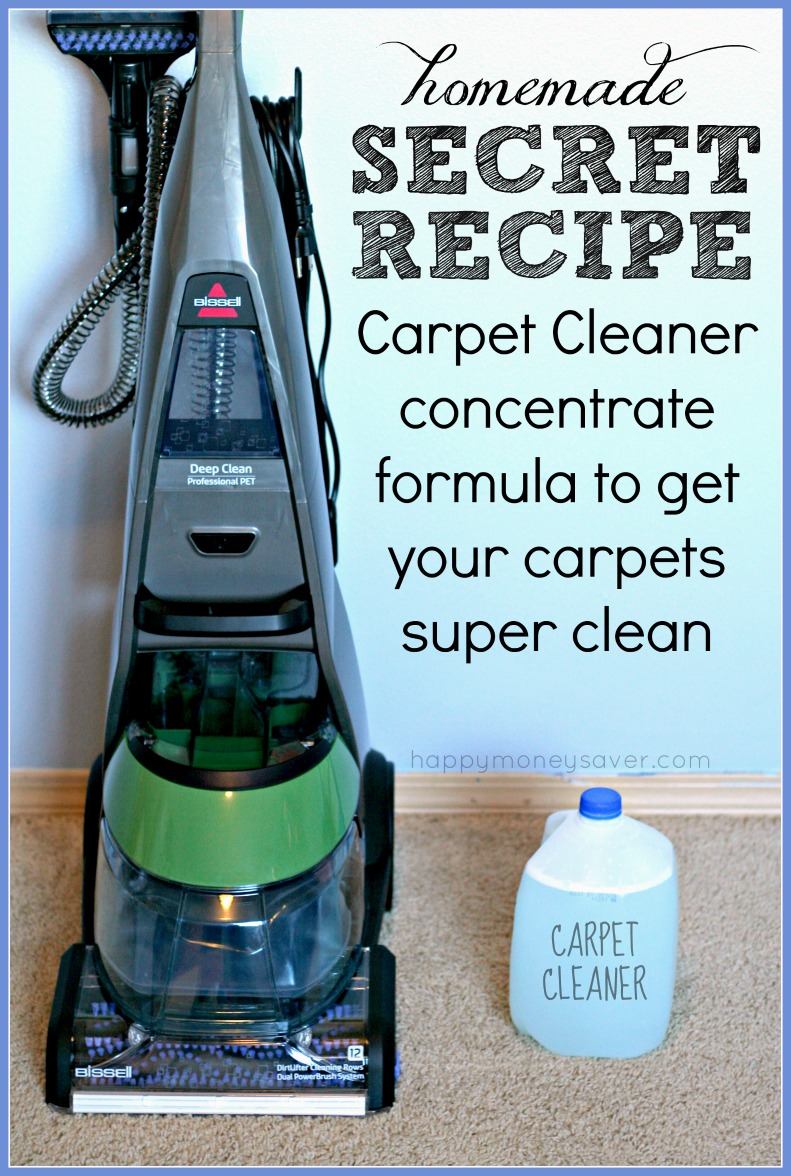 I have four messy kids and a big dog. My carpets are downright gross much of the time, and I have really struggled with finding the time to keep those carpets clean. I am also one of the worlds biggest cheapskates and hate having to rent one of those Rug Doctor machines for shampooing. Not to mention that fancy-smanchy $20 bottle of carpet cleaning solution too. Then of course after spending all the money you get to only have the carpet cleaner machine for 24 hours which means a whole day of non-stop-sweaty-hard work shampooing. Not fun at all.
While I can't help you with the work or the shampoo machine I can help you save money on the carpet cleaning solution! Woo hoo! You see, I have been making this super secret recipe for homemade carpet cleaning for about 4 years now. This formula was created by my amazing sister Tiffany – who tested many different homemade recipes and came up with this one. It works like a charm and makes your house smell amazingly awesome!
Disclaimer: make sure and read your instruction booklet that comes with your carpet cleaning machine for warranty information. Some machines warranties are no longer valid if you don't use a certain type of cleaner with the product. AND of course always test a small area of carpet for color fastness before you do the whole floor.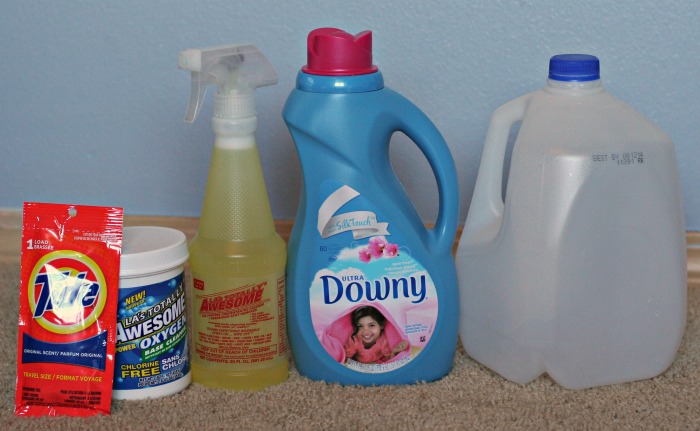 Homemade Carpet Cleaning Solution — My secret recipe!

Here is what you will need:
2 Tablespoons Liquid Tide Laundry Detergent
1/4 cup Awesome cleaner (dollar store brand)
1 scoop Oxyclean (I used generic dollar store brand)
1 teaspoon Downy Fabric Softener (optional)
Hot Water, one gallon

Method:

Mix together in a pitcher or large bowl the tide, awesome cleaner, oxiclean and the downy (optional). Then add in hot water gently so you don't make too many bubbles.

Mix gently until oxyclean is dissolved. Pour in a gallon sized jug for storage. This recipe makes this a concentrated mix just like the fancy $20 rug doctor solution where you only add in like 1/4 cup of the solution to a gallon of water. So add in only a little bit of this solution each time you add water to your carpet cleaning machine. Or better yet just follow the instructions per your machine.

Note: always test a small spot on your carpet first, and wait 24 hours for it to dry before doing your whole carpets/rugs.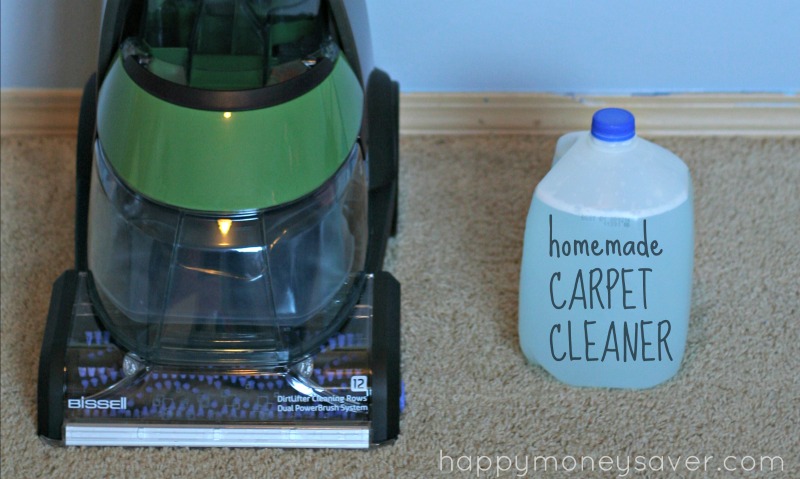 Now… I know what many of you are thinking.
This isn't the most natural method.
And I know most of my recipes have been more natural, and non-toxic for the most part. But I wanted to be honest and tell you that I use this one myself because it WORKS. It gets the stains out and when I have 24 hours to shampoo I can't afford to mess around with a carpet cleaning solution that doesn't get the stains out.
Here is a dark stain that was in my son's room. Now you see the spot. Then you don't. Boom!
I love the way this cleaner works. And if you add in that teeny bit of downy fabric softener it will leave your carpets nice and soft too.
Price breakdown:
The Rug Doctor concentrated formula runs around $19.59 for a 1/2 gallon.
For my homemade recipe I spent:
$.97 for the Tide packet (of which I used maybe 1/2 of, so $.50)
$3.97 for the Downy (of which I used $0.15 worth if that)
$1.00 for the Awesome cleaner (of which I used $0.15 if that)
$1.00 for the Oxiclean cleaner (of which I used .20 if that)
==> Grand total $1.00 for a GALLON of concentrated mix solution for carpet cleaning machines.
Yeah, that is some serious SAVINGS folks!!! Wow.
All-Natural Carpet Cleaning Solution Recipe
Okay, so what about a non-toxic and thrifty recipe? Well, I will tell you I have tried out using 1/2 part vinegar and 1/2 part water and a few drops of essential oils and it works very nicely too. Maybe not as amazingly awesome as my main first recipe, but if the toxins are a worry for you this one works well.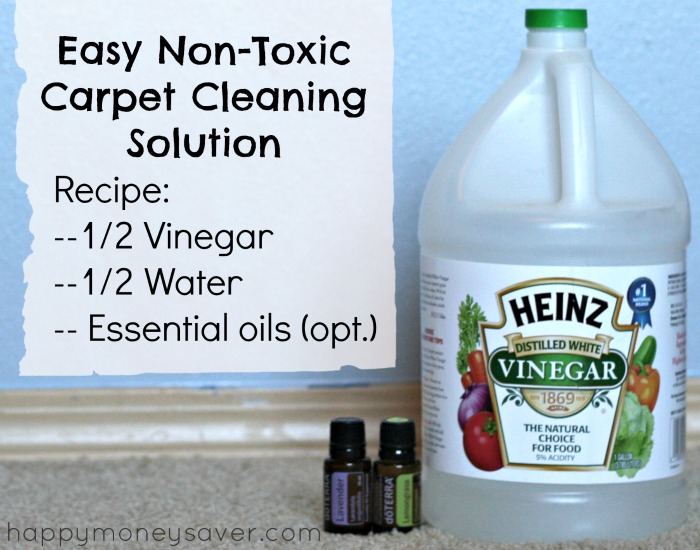 Non-toxic Carpet Cleaning Solution Recipe (my second favorite carpet cleaning recipe)

1/2 part Vinegar
1/2 part Water
5-6 drops essential oils, or more as desired (optional)
Add to your carpet cleaner machine and shampoo. It will smell like vinegar pretty strongly while you shampoo them. But after it dries you will be left with a nice clean smelling house.
I have used this solution on my carpets, in the interior of my cars and even on couches. It works great and gets out the stains, which makes this mama very very happy.
Happy cleaning everyone! And happy saving money too.