So easy to make, this homemade diy hand soap castile recipe uses only four ingredients and will keep your hands soft, clean and moisturized.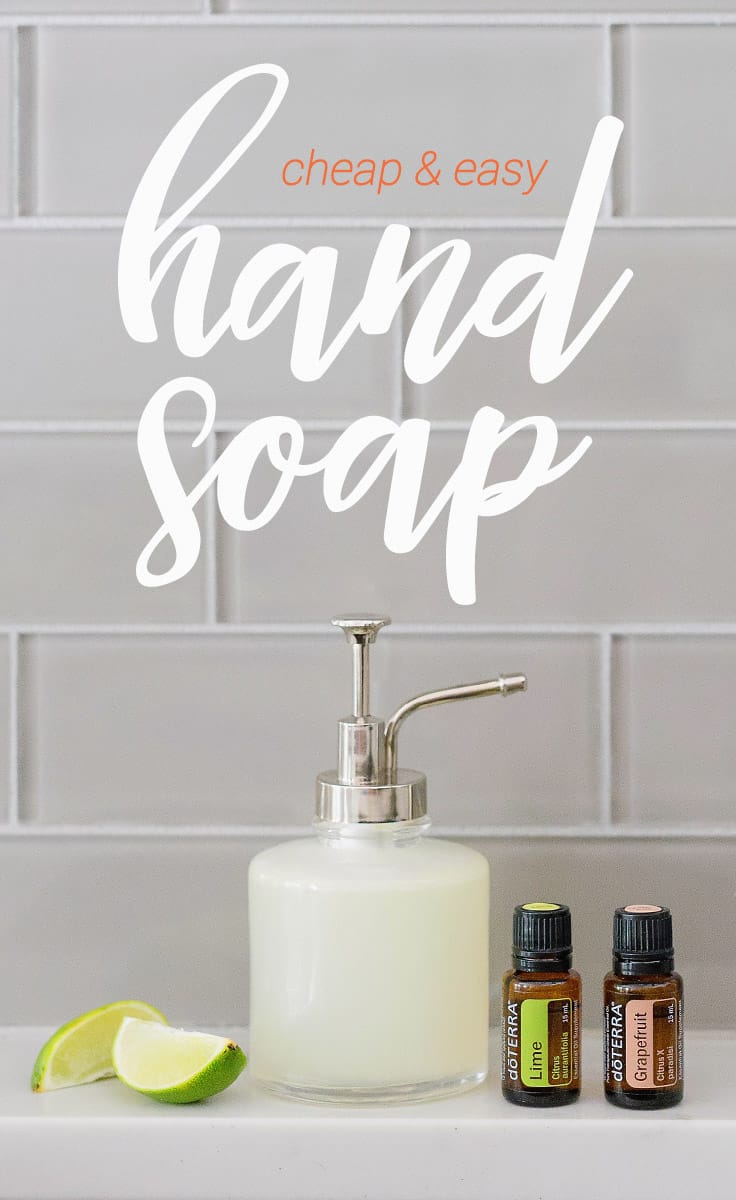 I love making homemade recipes from ingredients I have at home. Gives me peace of mind knowing if that in an emergency type of situation I can make some of the products I use without having to go to the store. Some other homemade recipes you will love are homemade carpet cleaner, homemade laundry soap, and homemade poo pourri.
Have you ever purchased hand soap from the bigger box stores, only to find out they smell weird or totally dried your hands out after using? That's the kind of stuff that drives me to spending way too much at Bath & Body Works or expensive mall stores. And often left me wondering if I could actually make a hand soap myself that I could refill all my dispensers with to save money.
My dream homemade diy hand soap castile recipe needed to be:
easy to make
actually would foam up in my hands
be moisturizing, and not dry my hands out
be a recipe I could use my essential oils in
actually smell good
Guys…. I did it. I actually did it. It is seriously the easiest homemade anything you'll ever make – promise! This homemade liquid hand soap castile recipe met all my dream goals. And I am so excited to share the recipe with you!
WHAT ARE THE INGREDIENTS FOR MAKING DIY HAND SOAP?
Water: Water helps to dilute the soap, helping your dollar stretch further while not reducing the effectiveness. Use distilled water.
Liquid Castile Soap: An olive oil soap base, liquid castile soap is friendly on the environment and safe for those with sensitive skin. Does not contain any harmful chemicals or foaming agents.
Fractionated Coconut Oil: Extremely moisturizing to the skin and helps to evenly distribute essential oils.
Essential Oils: Essential oils are naturally cleansing and disinfecting. Feel free to play around with the aroma to customize a scent for your home. I personally prefer citrus oils in my soap, but lavender or floral oils would be great too.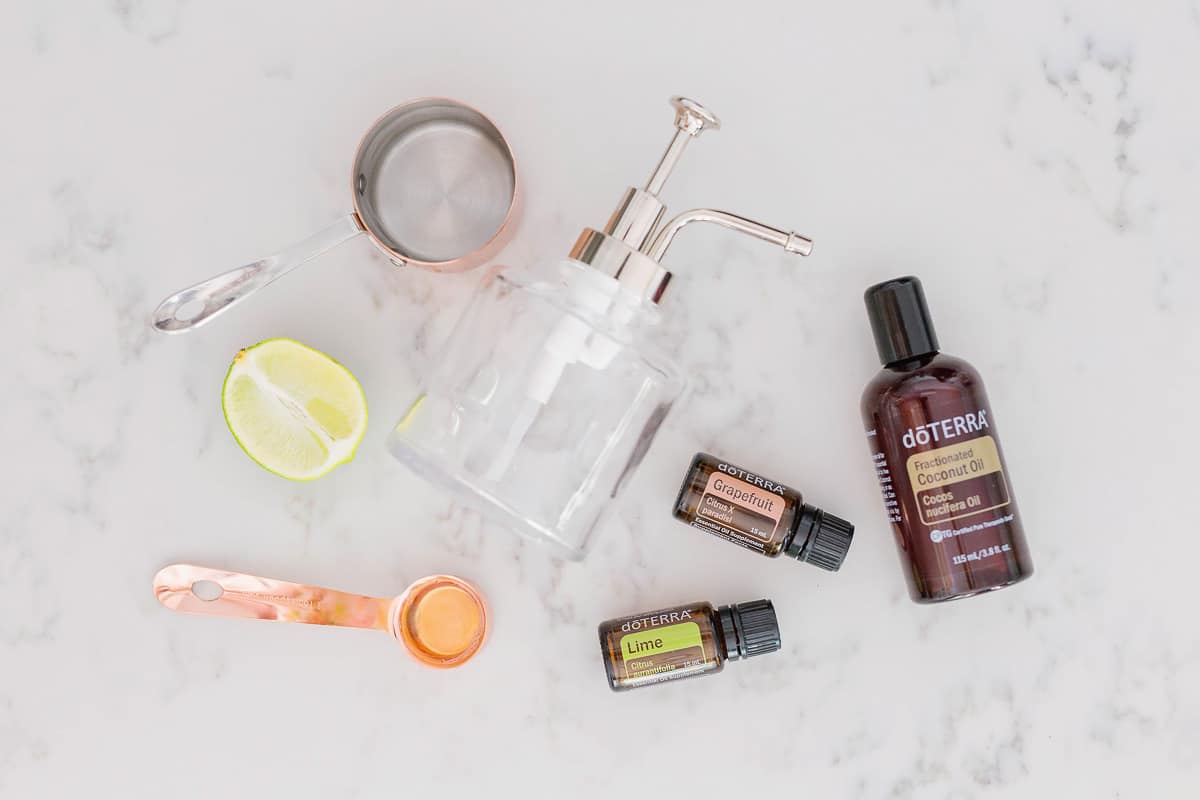 HOW DO YOU MAKE DIY HAND SOAP?
All you need is some liquid castile soap, some water, essential oils for fragrance and fractionated coconut oil to keep it from drying your hands out. So quick to put together. Just mix it all up and put into your soap dispenser.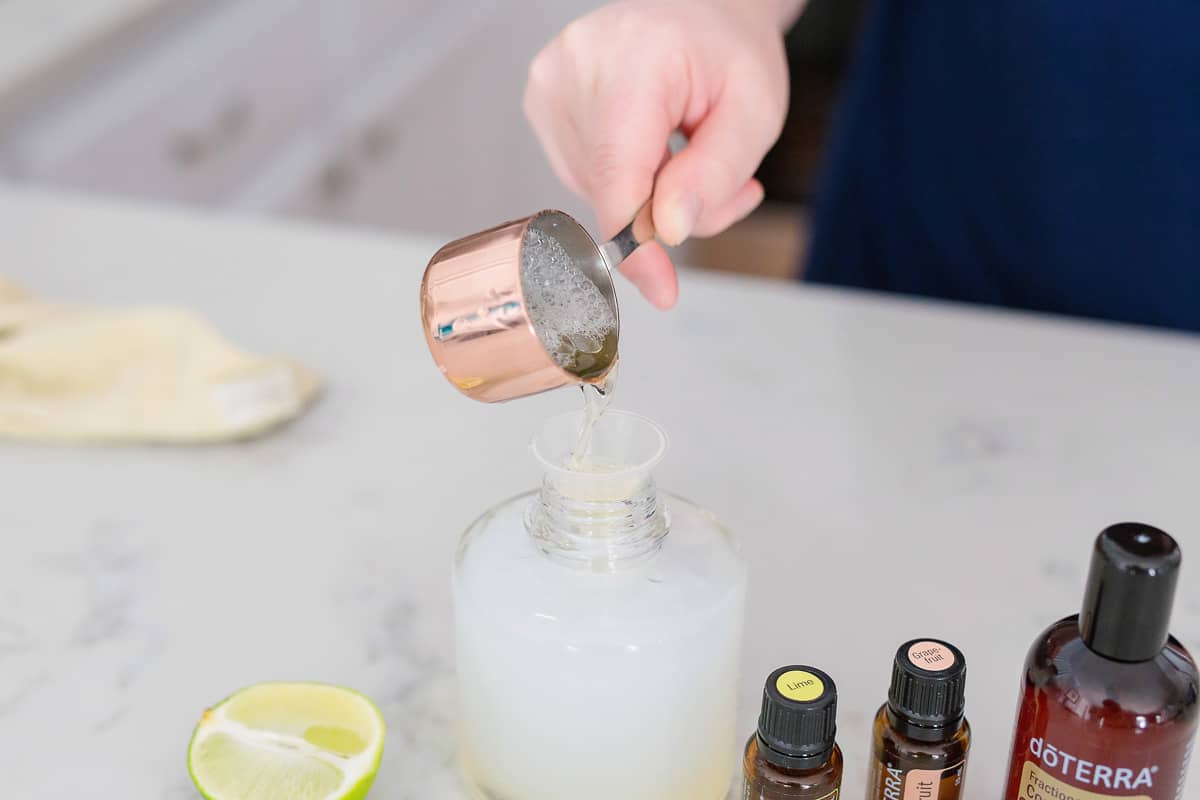 CUSTOMIZING YOUR LIQUID HAND SOAP
The key to was to use fractionated coconut oil for the moisturizer and the perfect blend of essential oils for the custom scents. I love customizing the fragrance! Citrus oils are bright and perfect for the summer months. Florals are ideal to put you in a blooming spring mood, and spicy oils are excellent for warming your senses and hands all fall and winter long. Try mixing and matching your essential oils to get your perfect, custom scent.
Here are a few essential oil blends to try:
Fall: 3 drops Cardamom + 2 drops Cinnamon + 2 drops Clove + 8 drops Wild Orange
Fall: 4 drops Cypress + 5 drops White Fir + 5 drops Sandalwood
Fall: 5 drops Bergamot + 8 drops Wild Orange + 2 drops Ginger
Winter: 8 drops Siberian Fir + 7 drops Arborvitae
Winter: 9 drops Peppermint + 6 drops Ylang Ylang
Spring: 6 drops Lemon + 7 drops Lavender + 2 drops Rosemary
Summer: 6 drops Bergamot + 7 drops Orange + 2 drops Elevation
Fresh smell: 7 drops Grapefruit + 8 drops Lime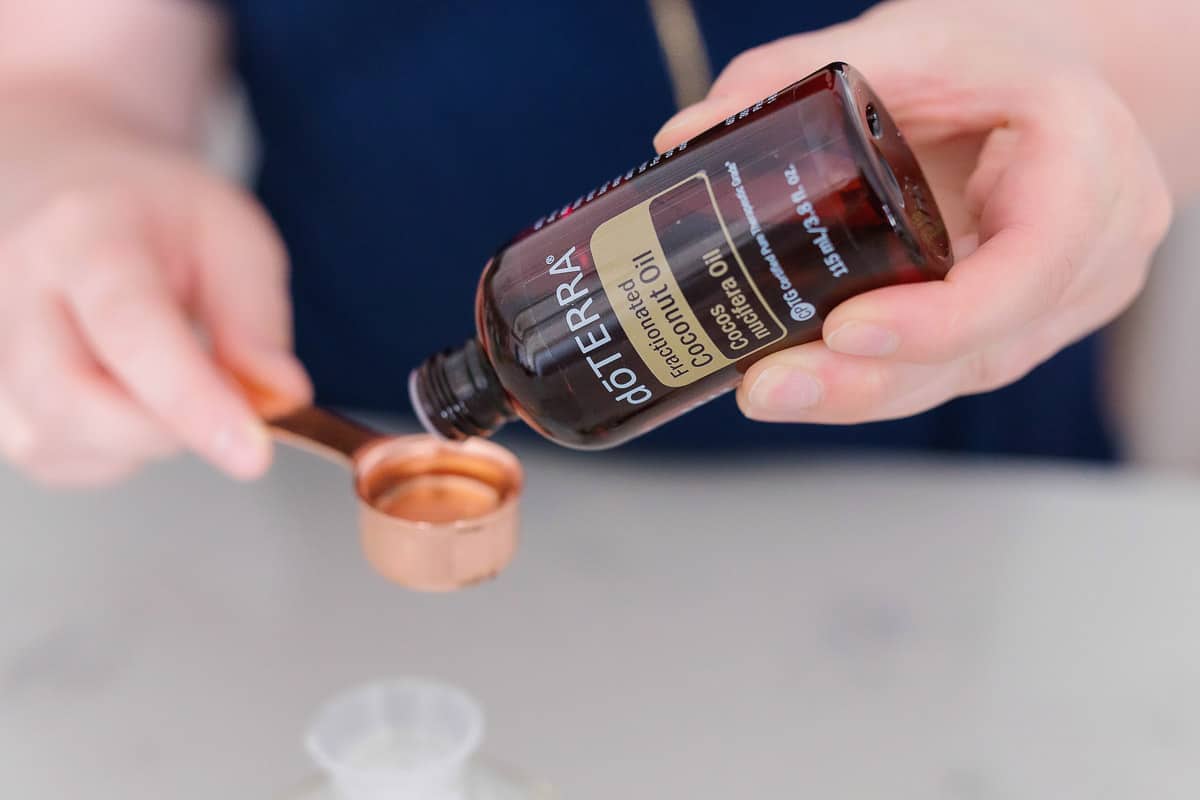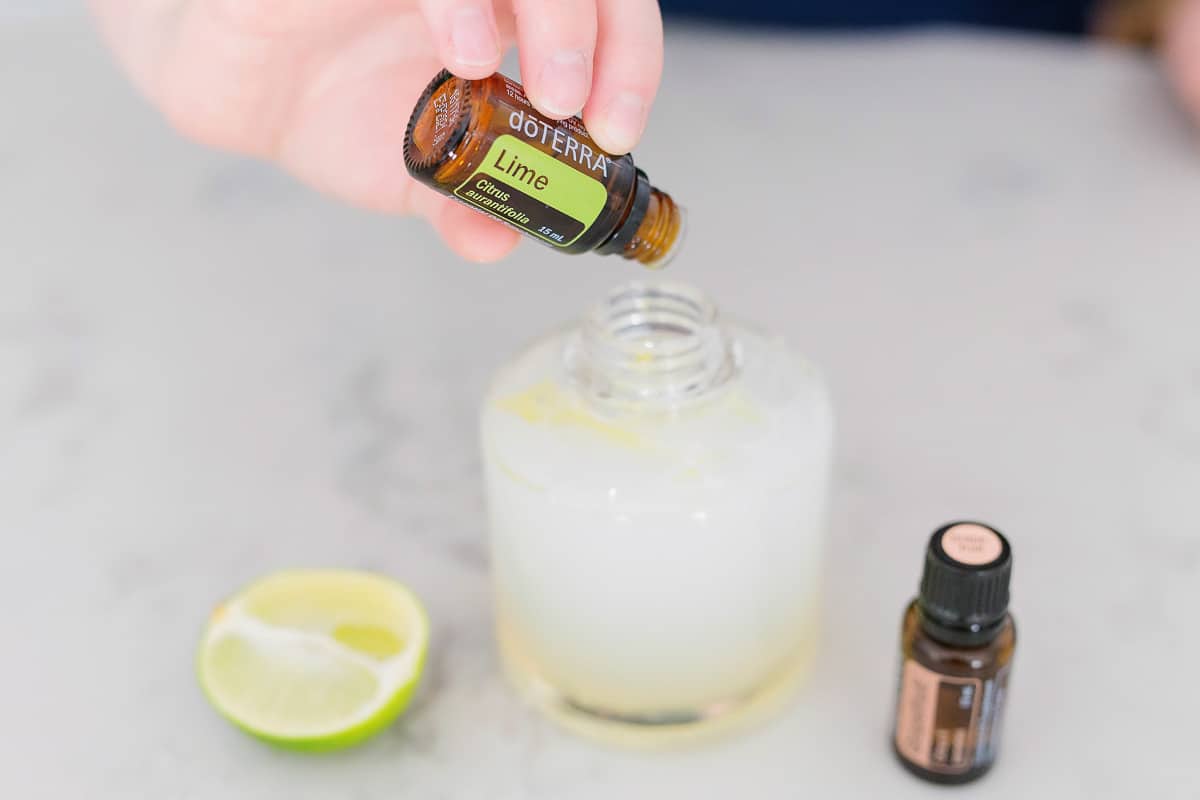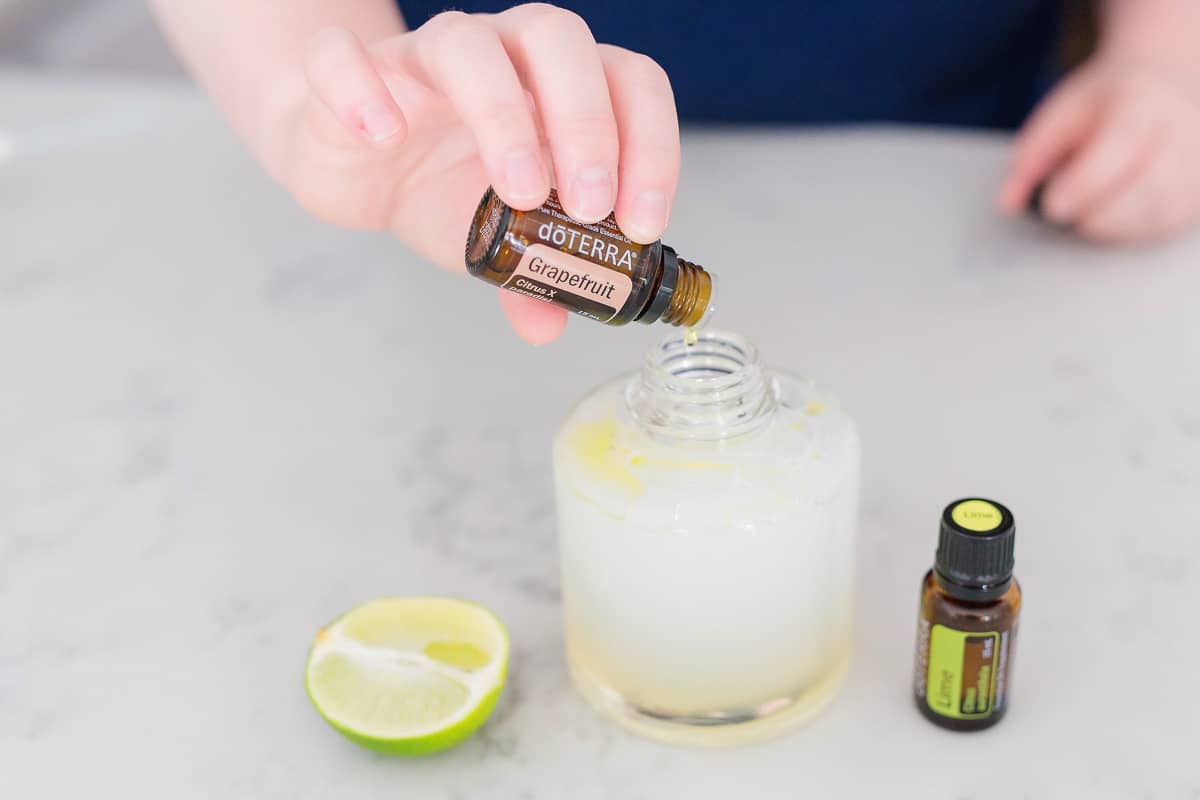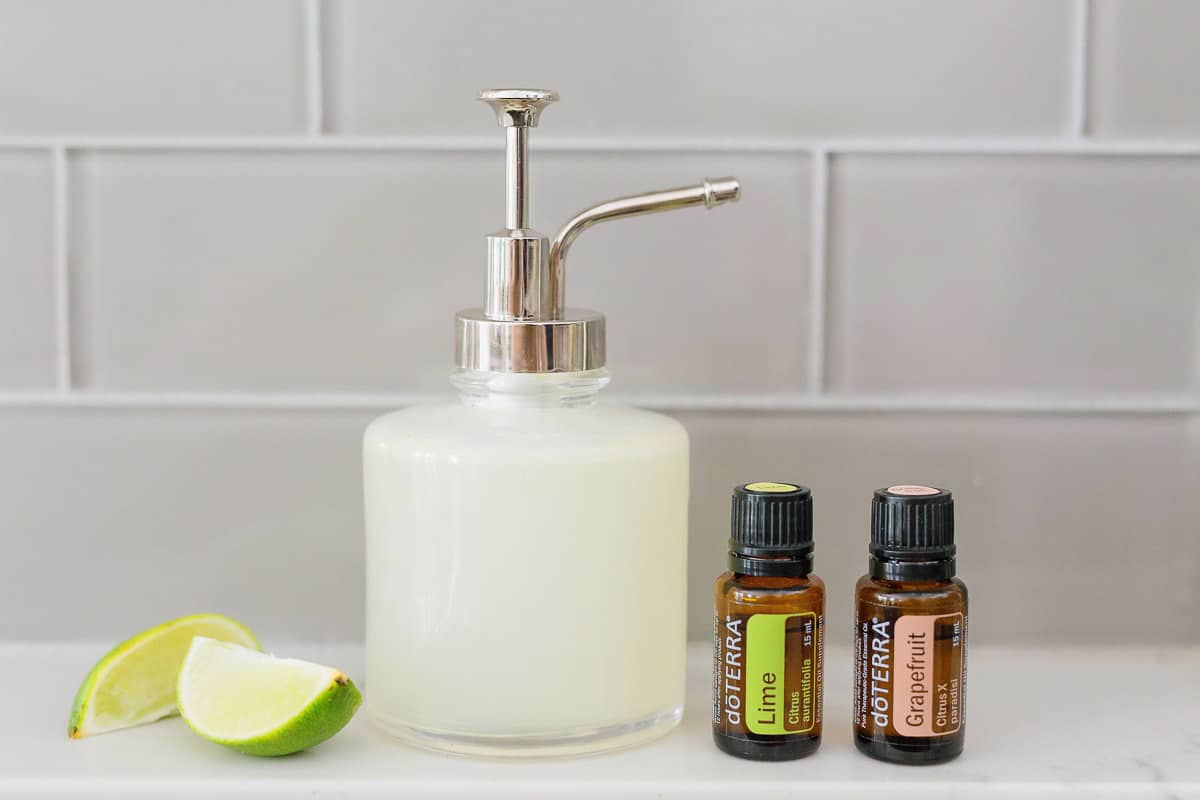 HOW DO YOU MAKE HOMEMADE FOAMING HAND SOAP?
If you have some of those foaming hand soap dispensers ready to refill, or prefer the foaming soap style, I have great news. This recipe can be used for that too. However, the process is a bit different. You see, the little foaming soap dispensers you see at the stores are actually filled with mostly water and a teeny bit of soap. Seriously, they are like 80% water and 20% soap! It's actually the dispenser that does all the work and makes it turn into foam.
So, for foaming hand soap you'll need a foaming soap dispenser bottle. You can order some online here if you like, or just wash out and use old ones. Then fill them about 80% full of distilled water, add in about 2 tablespoons castile soap, 2 teaspoons liquid coconut oil and a few drops of essential oils. Shake it up and pump away! You may need to shake it up from time to time to remix the oils and water together too.
HOW MUCH DOES IT COST TO MAKE LIQUID HAND SOAP?
Here are some helpful links of some of the items I used, but you might find these items cheaper in your own stores or craft stores. The essential oils though you need to get nice pure ones, so I prefer DoTerra essential oils.
Price per recipe breakdown:
1 cup distilled water: $.00
1/4 cup unscented liquid castile soap: $.93
1 tablespoon Fractionated Coconut Oil: $1.57
15 drops essential oil of choice (I used 7 drops Grapefruit and 8 drops Lime): $.87
Total: $3.37
Hope you enjoy making this homemade liquid hand soap castile recipe! Please share any essential oil blends you come up with and love in the comments below.
PRO TIPS
You can substitute the fractionated coconut oil for olive oil, grapeseed oil, jojoba or sweet almond oil.
Use an essential oil to add fragrance to the soap. Try out difference combinations for different smells. Don't add in fragrance oil to the recipe – it can affect the texture of the soap.
Make sure you always dilute castile soap in water. It comes in a concentrated form so it needs water before you use it.
I prefer to use glass bottles when making soaps that include essential oils. My favorite bottles are mason jars – cute, cheap and always on hand!
OTHER GREAT DIY CLEANING RECIPES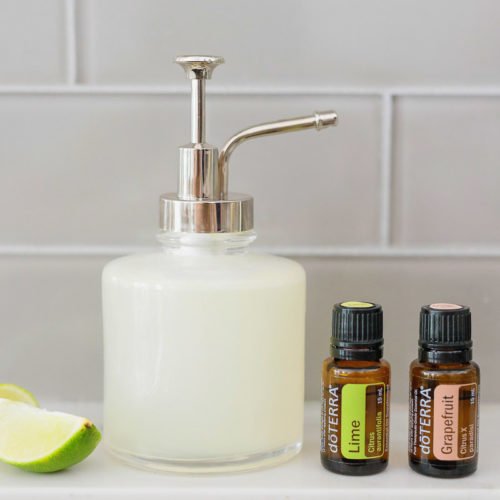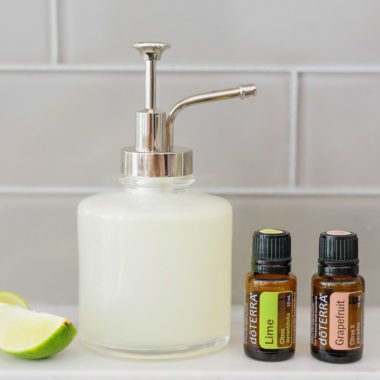 Homemade DIY Hand Soap


So easy to make, this homemade liquid hand soap castile recipe uses only four ingredients and will keep your hands soft, clean and moisturized.
Print
Pin
Rate
Ingredients
1

cup

distilled water

1/4

cup

castile soap, liquid

1

tbsp

fractionated coconut oil

15

drops

essential oils
Instructions


In a soap dispenser, add all ingredients and stir/shake until everything is combined.


Wash hands using soap and rinse off.
Notes
Fall Blends
3 drops Cardamom + 2 drops Cinnamon + 2 drops Clove + 8 drops Wild Orange
4 drops Cypress + 5 drops White Fir + 5 drops Sandalwood
5 drops Bergamot + 8 drops Wild Orange + 2 drops Ginger
Winter Blends
8 drops Siberian Fir + 7 drops Arborvitae
9 drops Peppermint + 6 drops Ylang Ylang
Spring Blend
6 drops Lemon + 7 drops Lavender + 2 drops Rosemary
Summer Blends
6 drops Bergamot + 7 drops Orange + 2 drops Elevation
7 drops Grapefruit + 8 drops Lime