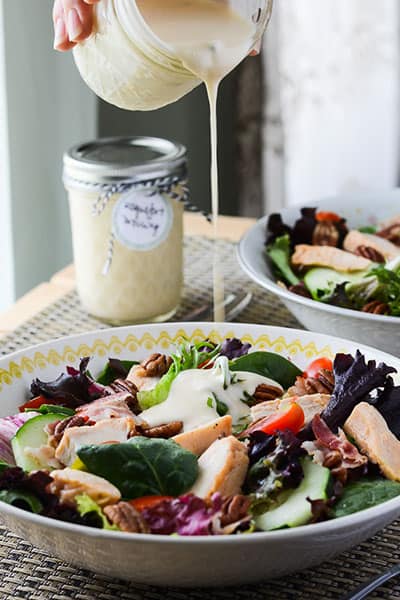 So, folks, how do you feel about blue cheese dressing?
Does the thought of the stinky stuff make your nose wrinkle, or your heart sing with delight? Do you turn away at the smell, or do you douse your plate with piles and puddles of it?
I'm personally a fan, and when I found the card for this Roquefort salad dressing recipe in Great-Grandmother's recipe box, I was excited to try my hand at a homemade version of one of my favorite salad toppings.
While recreating this lovely recipe, I could actually vaguely recall Great-Grandmother making it herself! In my mind's eye, I could see the big hunk of blue-streaked cheese sitting on the countertop, and could almost smell the pungent aroma as she stirred it all together.
Memories are a heady feeling.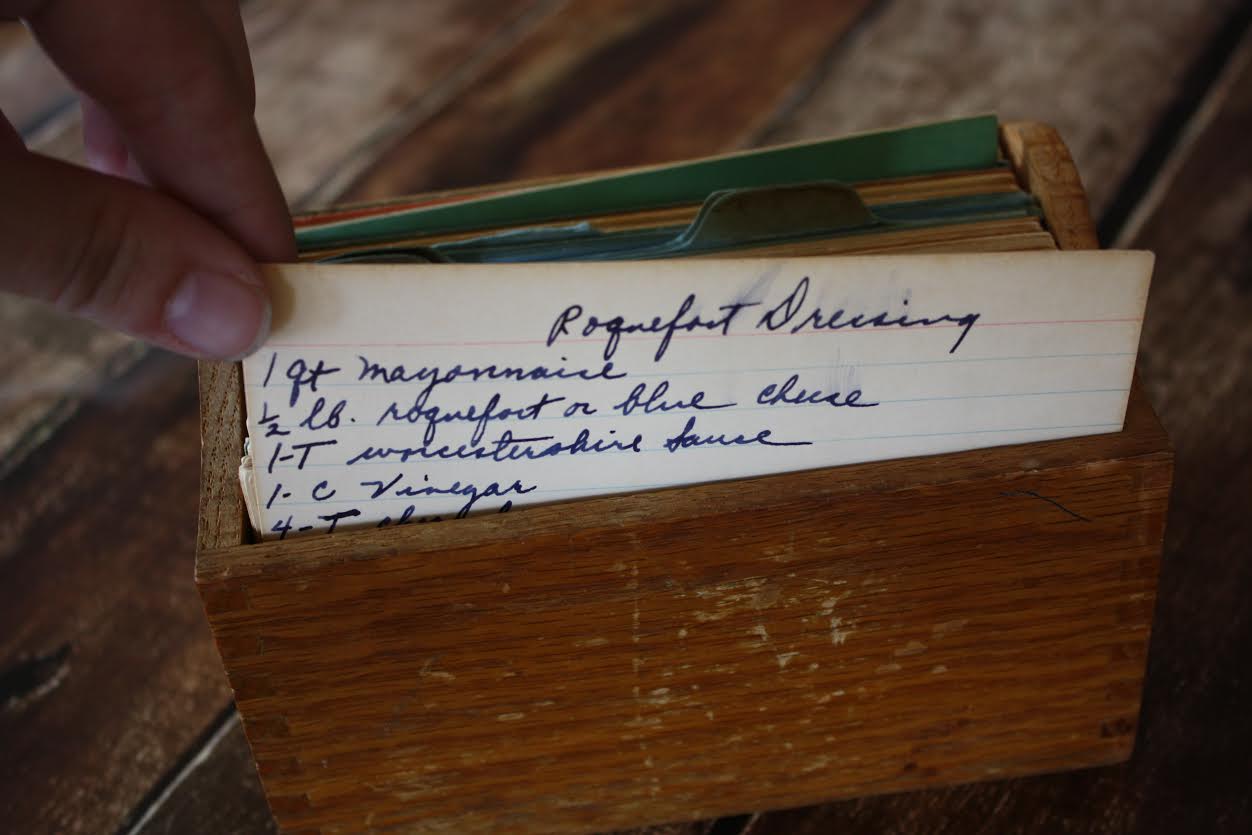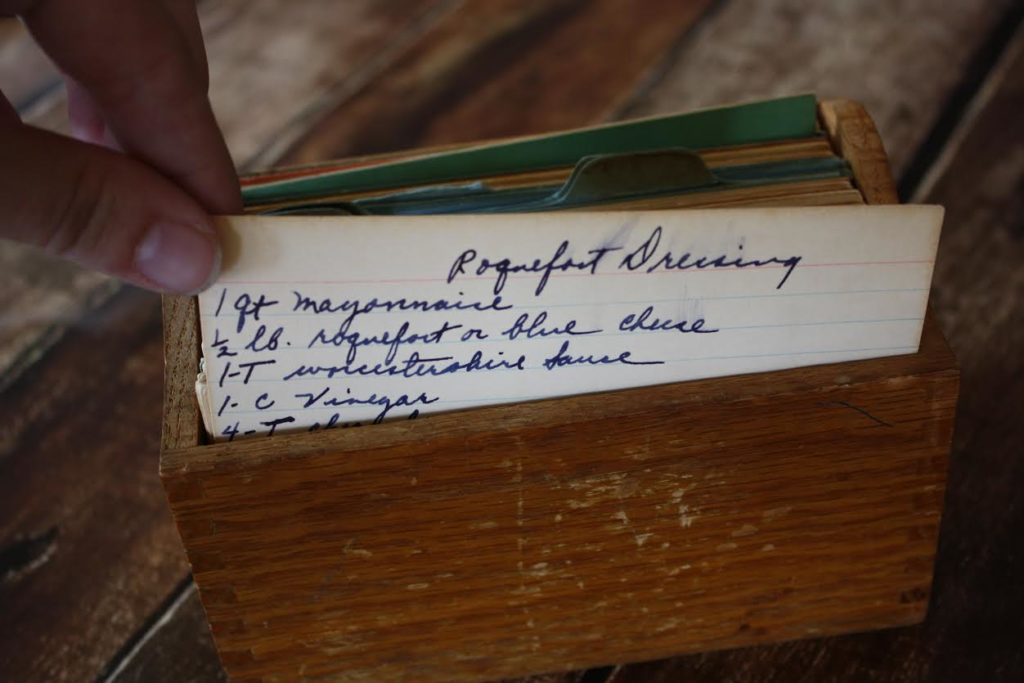 I will admit to never knowing the real difference between Roquefort cheese and plain old bleu cheese. It starts with the animal; Roquefort can only be called such if it comes from a particular breed of sheep called the Lacaune. It must mature in the Combalou Caves in the village of Roquefort in the south of France, and must be processed and cultured with a fungus called Penicillium roqueforti.
Aside from the history lesson, Roquefort cheese is much smellier than regular bleu, and can be a big turn off to a lot of people. But once you get past the smell, it's so creamy and yummy, and makes a great dressing ingredient!
If you like this sort of dressing, but aren't the biggest fan of the smell, I recommend just using a Danish or American bleu cheese (which is also much cheaper than Roquefort, for all you frugal folks!)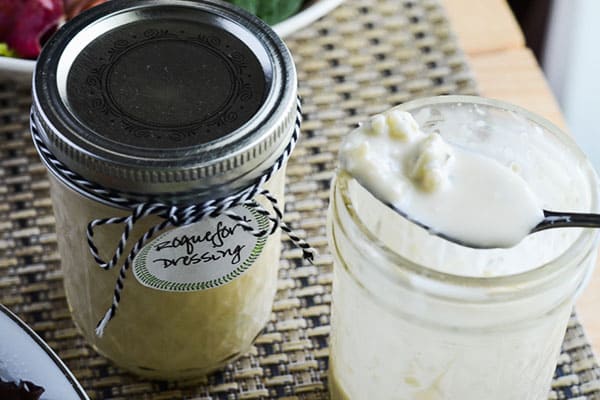 So, without further ado, I'd like to present to you, straight from Great-Grandmother's recipe box…
Roquefort Salad Dressing Recipe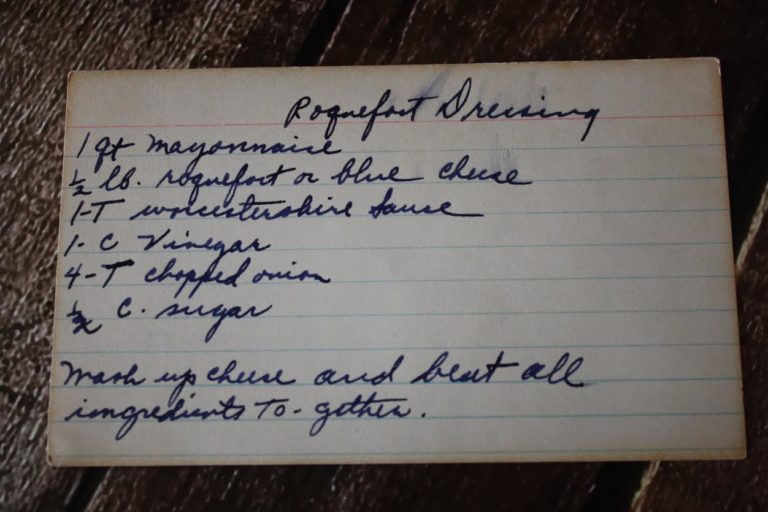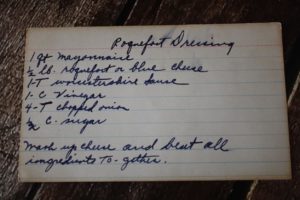 Great-Grandmother had just the neatest handwriting, didn't she?! So easy to read.
This Roquefort salad dressing recipe was super simple and quick to throw together in time for dinner! My only issue was THE AMOUNT we ended up with! A quart of mayonnaise, plus the rest of the ingredients, is a lot! And while half of my family loves this kind of dressing, making the whole recipe left us with enough to give all of our neighbors down the road a mason jar full.
Which is exactly what we did. They made the cutest little gifts, too, especially since we delivered them with some freshly picked tomatoes and cucumbers.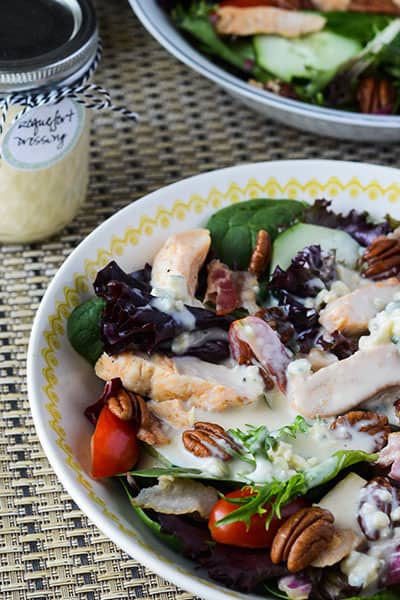 Of course, if you don't have any neighbors to share with, or just don't want to, the recipe is easily halved or quartered, depending on the size of your family.
Big batch or little, I highly recommend it! Try it with the Roquefort – you won't regret the indulgence!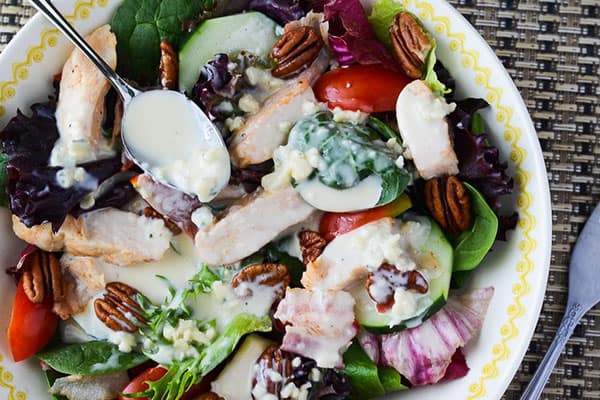 I've provided a printable version of Great-Grandmother's recipe card down below for your enjoyment! Now, go whip up a huge salad and a batch of this great stuff, and let me know how much you loved it!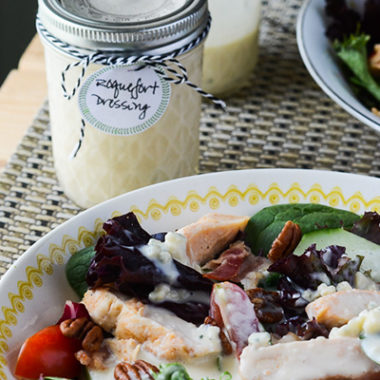 Roquefort Dressing
This homemade Roquefort salad dressing recipe rivals any bottled dressing on store shelves - it's creamy, tangy, and downright perfect!
Print
Pin
Rate
Ingredients
1

quart

mayonnaise

full fat or light

1/2

pound

Roquefort or Bleu Cheese

1

tbsp

Worcestershire sauce

1

cup

white vinegar

4

tbsp

onion

chopped

1/2

cup

granulated sugar
Instructions
In a blender, combine all ingredients except Roquefort together and pulse until you reach a smooth consistency.

Mash Roquefort to desired chunk size with a fork, then add to pureed dressing mix. Store refrigerated in tightly covered mason jars for up to 1 week.

Drizzle on salad, chicken wings, spread on wraps, use as a veggie dip, or anything else your heart desires!
Notes
This recipe makes a large amount of dressing! Luckily, it can be easily quartered, and will result in about 16 ounces of dressing.
Nutrition
Serving:
395
g
|
Calories:
1282
kcal
|
Carbohydrates:
19
g
|
Protein:
9
g
|
Fat:
128
g
|
Saturated Fat:
25
g
|
Cholesterol:
94
mg
|
Sodium:
1557
mg
|
Potassium:
160
mg
|
Sugar:
20
g
|
Vitamin A:
390
IU
|
Vitamin C:
0.8
mg
|
Calcium:
218
mg
|
Iron:
0.6
mg
Now, I'm really craving some Buffalo wings, of all things.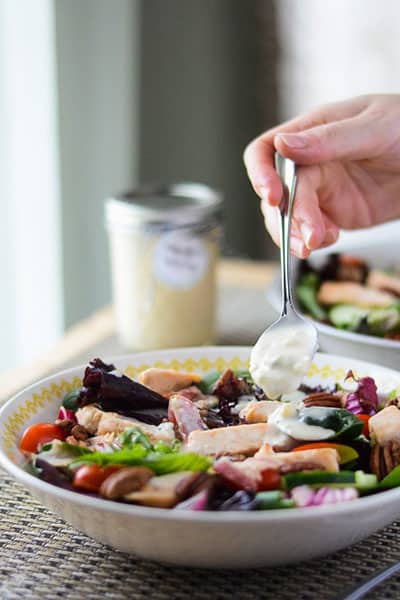 If you love to cook, try these out!