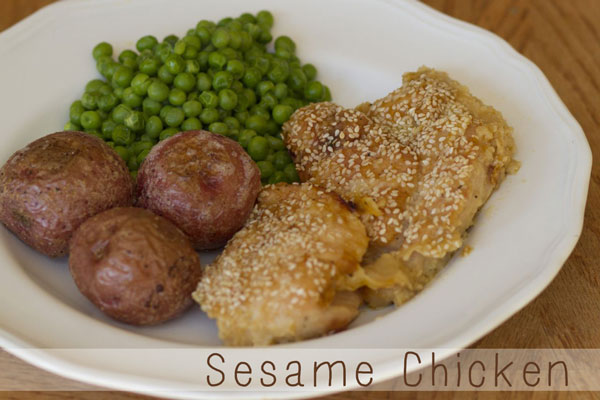 Come closer my friends, today I am sharing with you my all time favorite, super easy, delicious Sesame Chicken recipe. Mmmmm….so crispy and buttery.
Oh how I love sesame seeds. Especially when there is butter involved with them.
Are you excited???
ALL my kids LOVE this chicken. And most of the time if one of the kids likes it another one doesn't, so this recipe passed that huge hurdle! Whew! This Sesame Chicken recipe is mild, with a little bit of crunch and flavor from the sesame seeds. Its super yummy. You gotta try this one out.
Leftovers? Slice and freeze the chicken to dethaw and top a salad or throw into a chicken soup!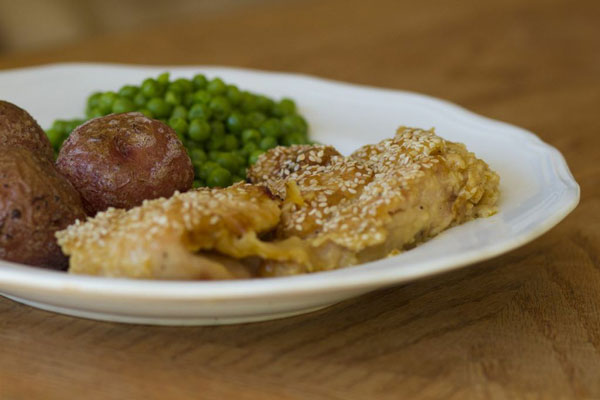 Sesame Chicken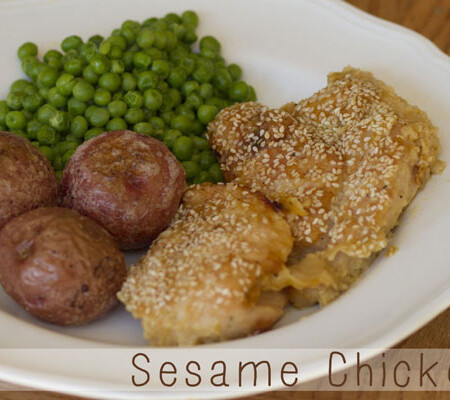 Recipe Card
love it? rate it!
Sesame Chicken
Servings 6
All time favourite, super easy, delicious Sesame Chicken.
Ingredients
4-6 Boneless Skinless Chicken Breasts
1 Large Egg
2 Tbsp Soy Sauce
2 Tbsp Water
1/2 cup Flour
1/4 - 1/2 cup Butter
Sesame Seeds
Instructions
Preheat oven to 350 degrees and put 9×13 pan in oven with just butter in it (butter will melt and bubble). Beat Egg, water and soy sauce together. Then wash + dry chicken, dip in egg mixture, then in flour to coat both sides. Take pan with melted butter out of oven. Add chicken into the melted butter, and turn to coat both sides with the butter. Sprinkle sesame seeds on top and bake for 45 minutes.
Nutrition
Serving: 65g | Calories: 179kcal | Carbohydrates: 9.67g | Protein: 8.2g | Fat: 11.78g | Saturated Fat: 5.6g | Polyunsaturated Fat: 1.4g | Monounsaturated Fat: 3.7g | Trans Fat: 0.004g | Cholesterol: 63mg | Sodium: 158mg | Potassium: 127mg | Fiber: 0.7g | Sugar: 1.08g | Vitamin A: 600IU | Calcium: 20mg | Iron: 1.1mg