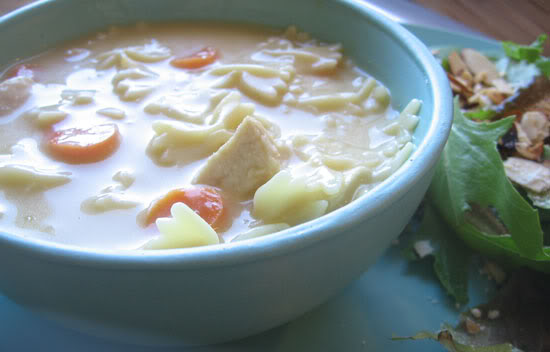 Meal #4: Creamy Chicken Noodle Soup
This meal is part of a series of meals I made out of one roasted chicken.
Read Meal #1Roast Chicken instructions (plus that was dinner!)
Read Meal #2 Chicken Fried Rice
Read Meal #3 Fancy Chicken Spaghetti
I previously posted this recipe, as it is one of my favorites. Its so warm and wonderful…and quick to make if you already have the chicken left-over from making a Roast Chicken the few days prior.
Note: if you don't normally eat leftover meat 3 days after the original meal because you are worried about freshness and taste, or the meat getting old you can always freeze the chicken in packets and pull them out each night.
Creamy Chicken Noodle Soup: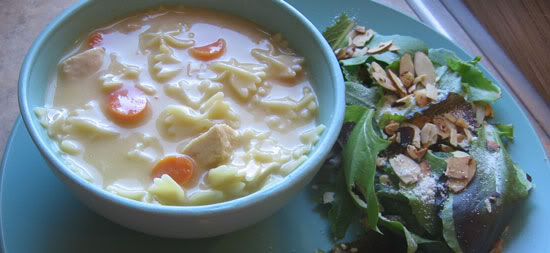 Here are the Ingredients:
Leftover Roast Chicken or 1-2 Boneless, Skinless Chicken Breasts, cooked + cut into bite sized pieces
2-3 small cans or 1 Large Can Cream of Chicken Soup
chicken broth, 1 carton
2 cups diced fresh carrots
Mini Bow Tie Pasta (or any pasta you choose..example No Yolks ect.)
Directions: Use roasted chicken or cook your fresh chicken + cube/chop (if I have time I just place my chicken in a 9×13 pan with a couple of Tbsp of water, cover and bake at 350 degrees for one hour, this makes the chicken taste so much better than pan frying or boiling.) Place the chicken stock in a large pot and add carrots. Bring to boil and cook carrots in stock until softened (about 15-20 minutes). In the mean time bring water to boil in a separate pot for the pasta. Boil the pasta according to package directions, then drain. Add the pasta, cream of chicken soup + cooked cubed chicken to the chicken stock/carrot pot mixture. Stir to combine and serve. I normally like a salad + bread with my soup. Bon appetit!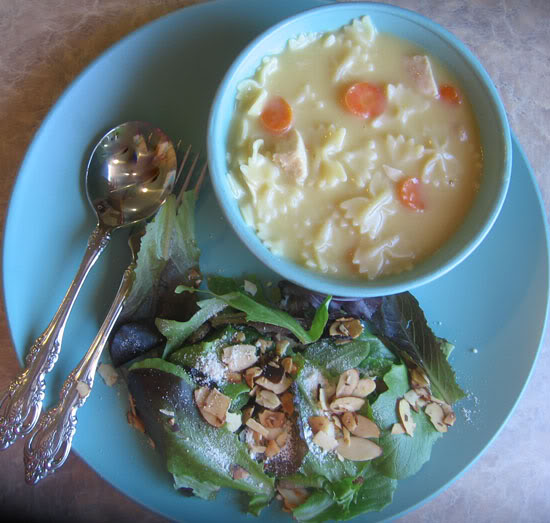 Okay, so now it's your turn! What kind of favorite meals do you make out of leftover Roast Chicken?