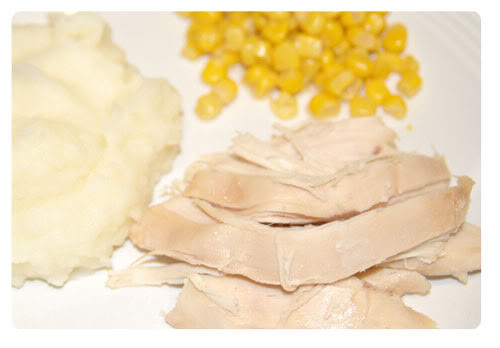 When I am really trying to be thrifty I like to cook up a whole chicken and turn it into a few more dinners for the rest of the week. One whole chicken typically will cost on sale between $2-$3.00 or $5.00 regular price. I can usually get about 3-4 dinners worth of meals from that one chicken. So in the next few days I will be sharing the dinners I made last week with my leftover roasted chicken…..get your kitchen ready to try out some more of my frugal food!
Note: Of course if you have a big amount of boneless, skinless chicken breasts in your freezer from you could also just toss a bunch of them in a crock-pot, slow cook it & turn that into some meals for your family through the week as well.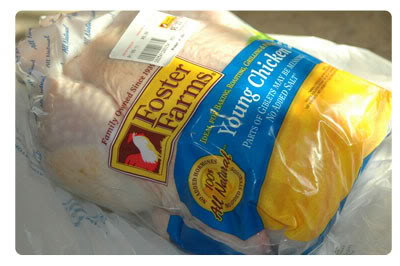 Directions:
Take that whole chicken out of its bag and carry it over to a sink. Yes,you have to touch it…I know, I know… it's gross! Rinse the chicken, then put it into your crock-pot. I usually add some salt & pepper on top (or any other seasoning you feel necessary. Try garlic, thyme, seasoning salt..whatever.) Cover that baby up and slow cook on low 9-10 hours or high 6-8 hours – I like to make sure it's cooked all the way through.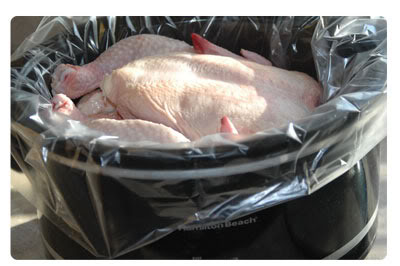 When it's done…open up the lid, and turn off the heat. Remove chicken from crockpot to a large plate or platter. Start removing the chicken meat from the bone. I was able to get a whole lot of chicken out of mine.

We have the roasted chicken for dinner the first night. I like to make mashed potatoes and a vegetable with it most of the time.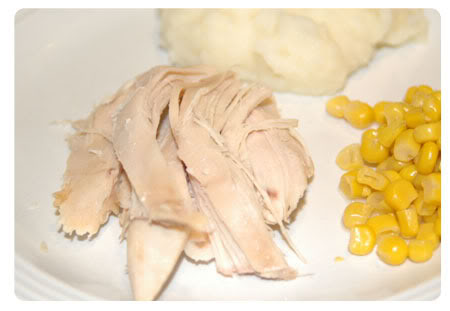 After dinner is over make sure and bag up the rest of that roasted chicken for the next few dinners. Stay tuned for more recipes this week.
Here are the links to the other recipes I made with this one chicken:
Meal #2: Chicken Fried Rice recipe
Meal #3: Fancy Chicken Spaghetti
Meal#4: Creamy Chicken Noodle Soup